Bespoke Wedding Dress Service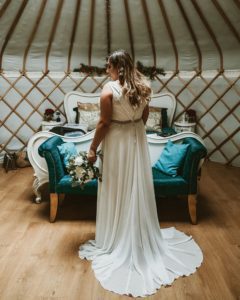 I have always wanted to design my own collection of wedding gowns, I think it is something that every little girl dreams of. I would spend hours drawing designs and making them for my dolls.
When I started setting up Boho Bride it was one of the first things I put on my business plan. To be able to offer brides a bespoke service, to design and make beautiful wedding gowns for brides who knew exactly what they wanted but couldn't find the perfect gown for them. Plus a collection of wedding gowns under my own label. The problem was I cannot draw to save my life but I do know what I want the collection to look like and the sort of bride that I want to design for. So you can imagine how thrilled I was when Laura Callard popped into the boutique one day to see if I needed an alterations lady. As we chatted I realised Laura was a very talented designer in her own right and had designed and made wedding gowns for many years. Light bulb moment!!
I asked Laura if she would be interested in being Boho Brides in-house designer so we could offer brides an unique opportunity to have a gown especially designed and made for them. Plus designing a collection of gowns for me based on a capsule separates collection consisting of two simple dress designs, a skirt and five different tops that can be mixed and matched in different fabrics and lace. We would make each gown unique to the bride and within her budget, depending on which fabrics and lace the bride chose.
Our Bespoke Wedding Dress Service
We offer brides the opportunity to have a wedding gown designed and made only for them, to their own specific requirements. This is not as expensive as you may think and we can advise you ever step of the way to make sure that the gown is on-budget, unique and will fit you perfectly.
Having a wedding gown designed and made for you is very special – something you will remember and cherish for ever.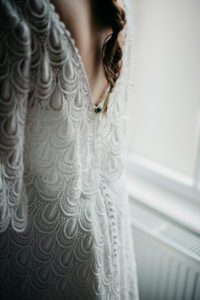 How it works
Book a no obligation design consultation with us and bring images of the sort of gown you would like – a sketch, a photograph or a Pinterest board you have created. Laura is a designer in her own right and will not make exact copies of other designer's gowns.
Laura will make a rough sketch and offer suggestions on the style and fit which will best suit your shape. We will also advise you on the sort of fabric and lace needed.
Laura will then take all your measurements to get an exact fit of your body shape so she can create a toile – the first version of your gown – which she will make in calico or linen.
The next stage is the toile fitting. You will be invited back into the boutique to try on the toile and the dress can be expertly altered to fit you perfectly. At this stage we talk about the shape of the neckline, the back and all other aspects and details which will make your wedding dress truly unique and beautiful.
Laura will cut out your chosen fabric using the toile as a pattern. The fabric can be something you have found yourself or you can accompany Laura to our suppliers to choose the fabric, making the experience even more personal. She will be on hand to advise you on the weight of the fabric and the sort of lace that would work best.
At the next fitting, your dress will still be in its rough form and more alterations and tweaking can be made until you are 100% happy that the dress fits you perfectly. We can put extra structure into the bodice at this stage to give you the support and look you require.
After the final fitting your dress will be ready to take home – a very special moment when everything comes together! We can still make some minor alterations at this stage so don't worry – we won't let you walk out of the boutique until you are absolutely in love with your dress!
All the fittings are included in the cost. You will have to pay for your own fabric, lace and other bits but we can advise you on how to keep these costs within your budget. We will ask for a 50% deposit when you are sure you want to go ahead with our bespoke service and the balance is due when you are 100% happy and ready to take your dress home.
"Giving myself only a few months to organise my 'micro' wedding in Cornwall, I knew finding that 'perfect' wedding gown may be a challenge. I had a specific dress in my head I wasn't sure it even existed. Walking into Boho Bride was the start of an amazing journey, creating my own bespoke gown. I was introduced to Laura from Lola & Em, a local designer and amazing dressmaker who instantly filled me with confidence. I was able to walk through each step of the process, from the initial sketches, choosing fabric and inputting on all the tiny details I didn't realise existed – who knew there were so many types of boning?! I was made to feel incredibly special through the entire journey. Boho Bride's attention to detail was amazing and never settled for anything less than perfection. I was so pleased with the final outcome, It was everything I could have hoped for and a lot more. An experience I will never forget". Emily Page
Sadly Our lovely Laura has passed away after a long struggle with cancer, but without her dedication to our brides and her amazing talent Boho Bride would not be where it is today. Rest in piece lovely Laura
Photos by alexapoppeweddingphotography.com
Designer Bio: Lola & Em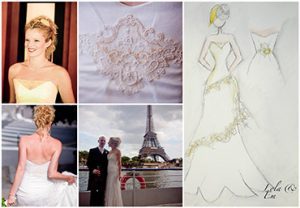 My first experience of sewing was watching my grandmother, who then gave me a needle and thread and taught me the basics and instilled in me my love and excitement of producing something from a scrap of material.
I have always had a passion for art and believe that all of my artistic work to date was to inspire feelings of happiness and nostalgia.  This has not altered since my progression into theatre, fashion and bridal wear.
I have a BA Hons in Fine Art and virtually all my projects had material in some form or other in the finished piece – I think I may have had one paintbrush, but my main tools were a Black and Decker Quattro and a sewing machine!  I also started making my own clothes at university when I struggled to find clothes to fit my shape.  When I finished university I wanted to dedicate myself to learning everything I could about fashion and the construction of clothing.  I fell in love with theatrical costume, especially corsetry, and its eclectic and dramatic styling.
I studied and achieved a number of City and Guilds and NOCN qualifications in Fashion Corsetry, Theatre Costume, Embroidery, Tailoring, Machine Embroidery, Costume Realisation, Decorative Techniques, Beading, Hand Embroidery and Lace.
From creating clothes for my own curvaceous and generous frame to creating garments for a variety of shows, I realised that no one is a standard size – even the fashion models I have worked with have their own little variances.  Because of this I took a course in pattern cutting as I realised that commercial patterns still had to be adjusted.  And, for theatre costumes or bridal gowns, it is nigh on impossible to get the pattern to match your designs. Creating my own patterns has given me the ability to analyse a design and to know how to cut and construct a garment from the ground up.
I very much enjoy working with people and this naturally flowed into teaching.  The passion I have for creating the physical embodiment of a client's dream dress is matched with encouraging a student's own love for the craft.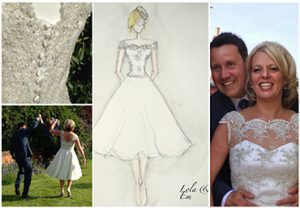 When my amazing husband proposed I did 'the thing' – went dress shopping! I was reluctant to explore beyond what I thought would suit my shape, but once cajoled into trying a variety of gowns, I was actually stunned when I discovered I did actually suit something the opposite of what I imagined I would have to wear.  But I still couldn't find 'The One' because I liked the beading from that dress, the fabric from that one, the sleeve length from another and so it continued.  And, from that experience I set out to design and make my gown incorporating all those likes!
Since making my own I have brought other brides' dreams to life.  From the bride who asked for the lace from her grandmother's dress to be incorporated into her gown to the bride who had a hand-fasting ceremony and wanted autumn colours shown prominently on her dress, but her mother desperately wanted her to have a traditional gown, and thankfully I achieved both their wishes.  It really is just the most incredible feeling when you do produce that dream.
I can alter dresses to fit non-standard shapes as well as realising the dreams of little people, who want a special fancy dress costume. I give as much love and dedication to the detail on these as I do on everything I make.
Since Laura's death Lucinda Holbrook-Hase has taken on the roll of head designer and seamstress. Luci and Laura knew each other for many years and Luci was Laura's bridesmaid. Luci is hugely talented and extremally experiences fashion and bridal designer in her own right. Boho Bride is in very good hands.