Boho Bride's Top Tips to Wedding Gown Shopping
---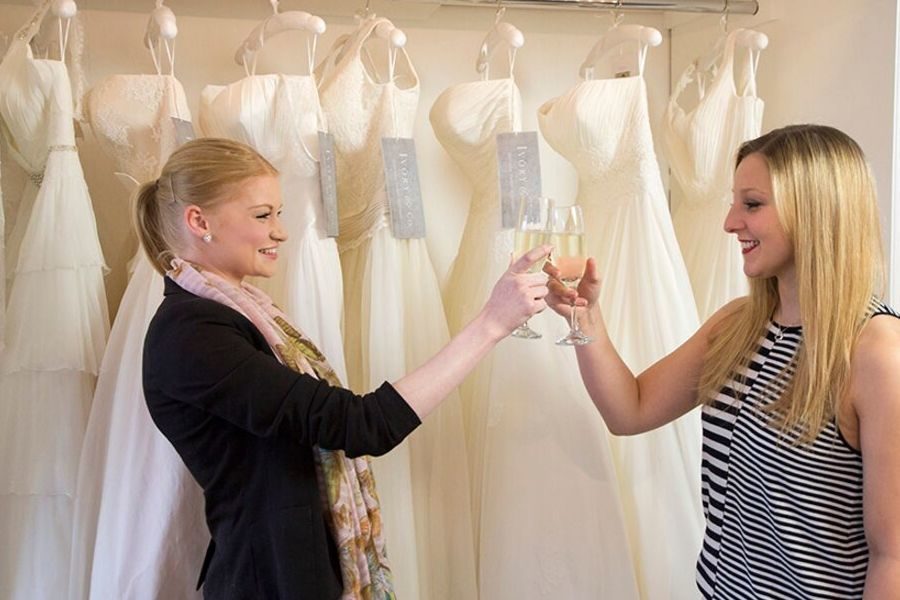 10 things you should know before you buy your wedding gown
#1     You may been seen naked or semi naked so be prepared!
#2     Wedding gowns can take anything from 5 to 8 months to arrive in the boutique. If you are having a bespoke gown made it may take even longer. Also remember even ready to wear gowns may need altering to fit you perfectly. Alterations can take up 4 weeks so make sure you allow plenty of time to start looking. This means you should allow at least 12 months to find the perfect gown.
#3     Fluctuations in weight can be a real issue. When you order your gown the wedding consultant will take your measurements on that day so if you put on weight or lose weight in the time it takes for the gown to arrive in the boutique and it doesn't fit you will need to allow for the extra cost of alterations. We can make a dress smaller but it is very difficult to make a wedding gown larger.
#4     Underwear is a hugely important part of your wedding trousseau it can make all the difference to the look of your gown. At your final fitting make sure you bring the underwear you will be wearing. Along with all your accessories. A well fitting wedding gown is crucial, sometimes you may not need a bra so decide early on if you want to wear a bra or not and the seamstress will advise you on what is best for your wedding gown to give you the support you need.
#5     Personal hygiene
You may sweat at your fittings so don't be surprised if you do. Putting gowns on and off can be quite hard work and you may have lots of layers surrounding you. A good tip is to wear plenty of non stain antiperspirant. Avoid creams, fake tan and too much makeup the wedding consultant won't thank you for getting makeup or fake tan on the gowns. The same applies at your fittings; you don't want to spoil your gown. Simply wear a little make up so you don't look too au natural.
#6     Limit the amount of friends at your trying sessions, too much advice can be confusing and not very productive.
#7     Try on as many different styles of gowns as possible so that you can see which style suits you the best. What you had in mind as to the perfect style for you may not actually suit you when you put it on so don't panic. A good consultant will advise you what sort of gowns to try on so don't be afraid to go with the flow.
#8     Make sure you move around in the gown to make sure it feels comfortable sitting down dancing and walking around. Also think about the practicalities, will you need help going to the loo? Perhaps something the chief bridesmaid can help you with!!
#9     Set your budget and try to stick to it and allow extra budget for accessories, and lingerie they can add up to quite a bit. Try not to try gowns on that are out of your prise range its just bridal torture!!!
Sometimes your venue can inspire the type of gown you like so if you're having a beach wedding in a hot country don't choose a gown with lots of layers.
#10   Don't be surprised if the first dress you try on is 'the one' it just shows you have done your research and you know what suits you. Also don't be too disappointed if the style of gown you have your heart set on doesn't suit you ask the consultant for her recommendations that is her job so be open minded and try on everything she may suggest.
Some bridal boutiques are appointment only so be sure to do your research before you make an appointment. Check that they carry the style of gowns you like. Also ask in you will be the only bride trying on gowns in the boutique. Some boutiques have multiple brides at the same time. If you are looking for privacy and a lovely experience this may not be for you. At Boho Bride we are delighted to offer brides  the chance to try on gowns without an appointment. But for the full bridal experience we recommend you book an appointment. We will close the boutique for you and get the fizz out so you can relax and enjoy the whole experience.
If for any reason you can't make your appointment be sure to notify the boutique as soon as possible. Weekend appointments get booked up way in advance and sometimes there is a waiting list especially on a Saturday so it will give other brides the chance to take the appointment.
Some boutiques take an appointment deposit which is refunded so don't be surprised if you are asked for a fee to secure your appointment especially at weekends.
Paying for your gown
You will be asked to pay 50% when you order your gown and the rest when it arrives in boutique. Any special bespoke requests and/or alterations are usually extra so make sure you get an idea of these costs, they can add up especially for bespoke alterations to a gown.
If there are more alterations than initially quoted for or you have extra embellishments they will need to be paid for before you collect your gown. Read the terms and conditions very carefully, you are entering into a legal binding contract when you order a wedding gown and your statutory rights are different from buying something in a high street store.