Boho Bride Alice: The Last-Minute Perfection
---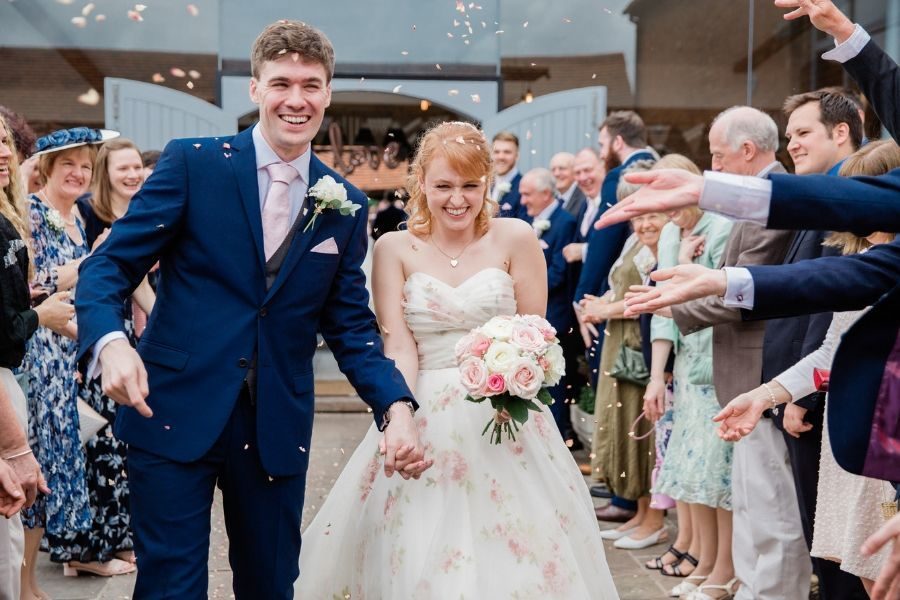 You'd never guess that Boho Bride Alice planned her perfectly-curated wedding in an astonishing 11 weeks!
After the love of Alice's life, James, was offered a job in San Francisco, the couple couldn't resist the opportunity to move out of The Big Smoke in favour of something a little different. Just before they left the pair threw the most beautiful wedding to celebrate their love.
With only a matter of weeks before her big day, Boho Bride Boutique and a very relaxed Alice made the perfect team when ensuring the dress was ready in the nick of time!
From her new American home, the lovely Alice shared her wedding story with us.
Planning a festival wedding? Make sure you read Amiee's wedding day story for inspiration when planning your big day.
Tell us how you found your dress
"I'm not a normal person," Alice chuckled, "so I was looking for something a little different that still made me feel like a bride.
"I got stuck in traffic and I had seven minutes left for my appointment at Boho Bride, so I ran into the boutique at the speed of light and just said, 'oh my God! Found it!'. It was just amazing, I felt that dress was made for me. I feel now, that I could have drawn my wedding dress on myself; it was so obviously the right dress."
Check out Boho Bride's designers for bridal inspiration from leading names in the industry. 
How did you know it was 'the one'?
"I burst into tears when I put my wedding dress on. It was so cheesy! I've always thought, 'as if anyone actually cries when they get the dress'… and then I burst into tears! It's just the best dress in the world, I'm obsessed with it."
"Also my middle name is Rose and I'd already chosen a pink rose theme for the wedding. It was such a coincidence to find a rose-covered dress that I instantly fell in love with!"
In order to find that the dress that will make you burst into tears, make sure you're aware of the most figure-flattering wedding dresses for your body shape.
How did you accessorise your dress?
"I didn't accessorise my dress too much, I'm not really an accessories person. I'd always wanted to wear the gold locket my dad gave my mum for her 21st, so that was my something old and something borrowed!
"I'd given my bridesmaids a delicate silver bracelet with their initials on and I had one made for myself as well, so I wore that too."
Alice finished her look off perfectly with small diamond earrings and a pale blush veil. Our vintage bride grabbed a low pair of heels from Boho Bride and recounts her joy as they turned out to the first shoes she has worn all day that have left her feet blister-free!
How was your Boho Bride experience?
"Lynette was amazing, she was really helpful and made the dress absolutely perfect. It was such a short turn around and they kept me informed the whole time. The seamstress did all the alterations for my dress and the bridesmaid dresses too!"
Read more reviews from our brides here.
"The Boho Bride team were very accommodating. I was working in London during the week and going up to Stratford-Upon-Avon at the weekends, so I was often coming in at really late notice. They got it all done, perfectly on time. I picked the dress up the night before the wedding!"
We love the challenge of matching brides with their dream dresses. One of our favourite challenges has been the lovely Boho Bride Bridgette, who found out she was pregnant after her first fitting, meaning we changed the whole style of her dress to accommodate her growing bump!
Tell us about your venue
"James and I got married in Swallows Nest Barn – just outside of Stratford. It was gorgeous.
"We had the ceremony there and then they turned it around for the reception."
Where did you get your flowers?
"I had two milk pails filled with sunflowers. I actually found my florist, Jemma from The Cottage Garden Florist, because her shop is situated in the same courtyard as Boho Bride. She ended up being so brilliant, I emailed her all the time and she was very chilled out with me doing that! It all just turned out so perfectly."
Read more: Summer Wedding Dresses: 15 Striking Designs
And who made your cake?
"A school friend and I had always said we'd make each other's wedding cakes. When I got engaged I told her she didn't actually have to, but she told me she'd already planned it.
"The cake was absolutely beautiful, it had three different flavours and she'd actually, without knowing, found my wedding florist and covered it with the same flowers."
What did James wear?
"James rented a suit from Moss Bros. It was navy blue and a very classic wedding-y choice. My problem was that I kept being quite direct with the colours I wanted on James's tie. It was because I had roses all over my dress, so he couldn't have, say, a red tie! But obviously I couldn't tell him that."
Read more: Our Boho Bride's Hygge-Style Wedding
Tell us about your bridesmaids and your gorgeous flower girl
"I had three bridesmaids, my sister Laura, who was my Maid of Honour, and then two friends from when I was younger.
"They wore blush pink, strappy dresses from Oasis – they were simple but really pretty. The top of my dress was strapless and it had a criss-cross back so it went really well with my bridesmaids' dresses.
"My flower girl was one of my best friend's daughter's, Millie, who is basically my honorary niece. Mille was two at the time and wore the cutest little white rose dress with a pink ribbon around the middle and she had huge daisies in her hair."
What transport did you have?
"We had cream Rolls Royces and all the neighbours came out and waved us off. I had such a good time in the car with my dad. I made him a little mix CD of our favourite songs and we sang along to them really loudly all the way to the venue.
"I was very relaxed, I don't think people are meant to be this relaxed on their wedding day."
What advice do you have for other brides?
"In terms of advice with planning, I'd say, be selfish. Plan what you want for your big day because then your guests can see what the two of you are like as a couple.
"So many people plan it for everyone else and what they're going to love, and then it ends up being that people come away and they don't know you two as a couple because it has been a generic wedding.
"We had small touches like photos of the two of us up and little games that we'd always played.
"Also, I say this to all my friends, make sure you take half an hour, for just the two of you. I made sure that James and I did that. We went off for a little walk, and took some time to sit down and watch everyone at the reception.
"It was so nice, because it's easy to not spend a lot of the day with the person you're marrying, and I was desperate not to do that because it was our day and we were meant to spend most of it together.
"Don't worry about trying to entertain everyone else, they'll be fine!"
And finally, what was your most memorable moment?
"I hadn't felt any panic about the whole wedding and then just before I walked down the aisle, I had a mini-meltdown. It was the thought that everyone there was to see me, and the pressure to look amazing and to have planned this amazing day.
"As soon as I walked into the venue and saw James, I was completely fine and relaxed. It was so lovely to have been put at ease by James in that moment, and it was almost like confirmation that I was marrying the right person."
Want to hear more from our Boho Brides? Check out Sarah and Phil's Canadian mountain-top wedding or check out our gallery of all our gorgeous Boho Brides.
The Dream Team (suppliers):