Disney and a love of bears!
---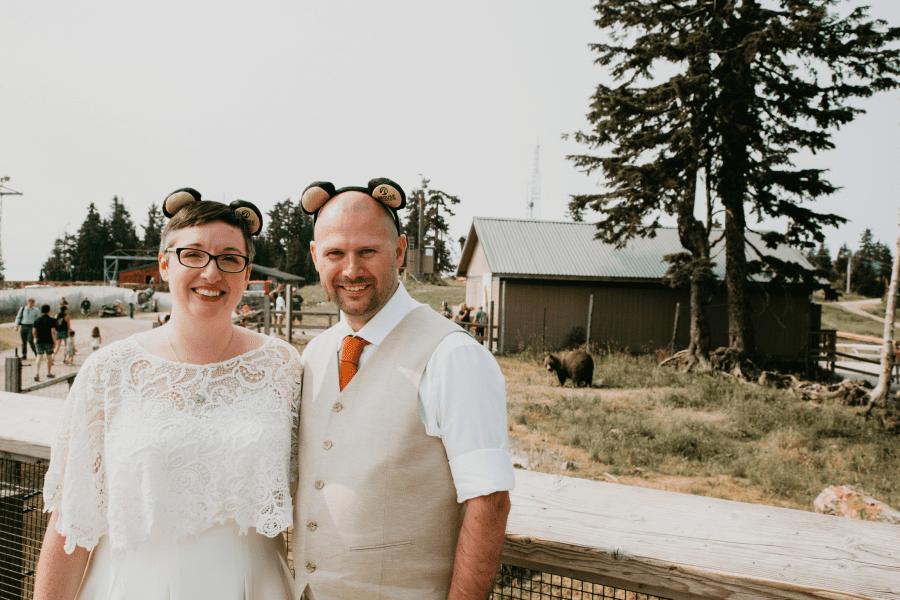 When Sarah and Phil decided to get married they knew it had to be a wedding that included two things that they are really mad about – Disney and bears!
So they opted for a Micky Mouse themed wedding up a mountain in Canada where they could feed the bears before their ceremony. Of course they did!
Sarah came to us looking for a pretty lace bolero, she had already bought her outfit but felt it just needed a little something special to bring it all together. Sarah's outfit had to be practical because she was climbing a mountain on the morning of the wedding to feed the bears! She wore a poncho for the climb, which we created for her from a beautiful piece of guipure lace she already had and we designed and made the sparkly lace bolero that she wore for the ceremony, it caught the sunlight beautifully along with her sparkly Irregular Choice shoes.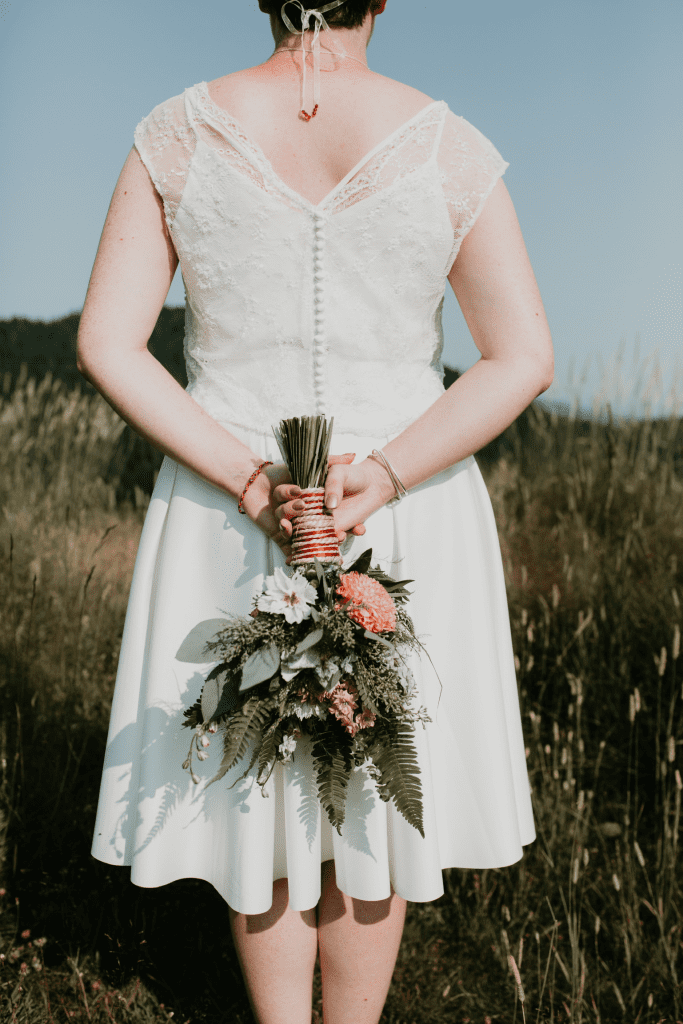 Tell us about the journey to your wedding day?   
Phillip and I have visited Vancouver 5 times now! We fell in love with the city the first time we visited my brother (who lives there). Every time we step off the plane we feel at home. The first time we went up Grouse Mountain it was covered in fog so thick you couldn't see the end of your arm. But the mountain had such a lovely feel, and from the lodge at the top we were able to catch glimpses of the city below. We decided to get married in Vancouver as we wanted to bring our family and friends to our favourite place in the world.

Tell us about your wedding day. What was your theme? Did it all go to plan? What was your most memorable moment?   
Our wedding day started with an 8am minibus pick up from our hotel. And then a 30min drive from downtown Vancouver to the bottom of Grouse Mountain. The only way to the top of the mountain is via cable car, which was a first for some of our guests. Once at the top we were greeted by a park ranger who took us for breakfast with the resident bears. We learnt about the conservation work done to protect the local bears all while enjoying a beautiful Buffett breakfast.
After breakfast our guest made their way to the deck area for the wedding ceremony, while I made a quick change in the ladies loo! Boho Bride and Laura had made me two beautiful tops to wear with my white skirt. I wore my poncho for breakfast and then changed into a beautifully delicate lace and beaded top.
We got married over looking downtown Vancouver and the Pacific Ocean. It was a beautiful ceremony written for us by Shawn Miller our fantastic officiant.
After the ceremony we had group photos and then a 3 course lunch. The only downside of the entire day was that we had to have a desert even though we had cupcakes for our wedding cake. So we ended up with double desert, and A LOT of leftover cupcakes.
We finished the day exploring Grouse mountain and watching their lumber jack and birds of prey shows. The mountain is open to the public we were met with good wishes the whole day.
The day went to plan (we both work in events planning, if it went wrong we never would of lived it down!).
The most memorable moments were watching everyone fall in love with the mountain as we had.

Would you do anything different? What tips would you give couples from your experience of planning your wedding and the day itself?   
Our day was quite long. (8am pickup to 7pm leaving the mountain) and this was a bit much for some of the younger guests. We had planned a walk around Stanley park for the day after the wedding and most of the little ones just wanted to sleep. I wouldn't of changed anything but I hadn't factored in how tired people would be.
My advice to anyone planning a wedding abroad would be to stay in constant contact with all your vendors. We emailed at least once a week in the months leading up to the wedding to keep everyone updated. We also had Skype calls and used software like google docs to edit the wedding ceremony with our officiant. We also travelled to Vancouver 5 days before the wedding to have enough time to meet all the vendors.
Researching the marriage laws in your chosen location is also very important. As Canada is part of the commonwealth we didn't have to get married in the U.K before hand, but there are many countries whose marriage certificates are not valid in the U.K.

Tell us about what you had in mind for your wedding gown? 

I knew I didn't want a 'typical' wedding dress. It was 30 degrees in Vancouver so I needed something light and comfortable for walking around the mountain. I had brought a day dress from Burberry but took it back as my mum thought it was too short. I found a plain white knee length skirt in Ted Baker about a year before the wedding, and it was the last one in my size so brought it on an impulse. I looked at different crop tops, boleros, short sleeve, no sleeve and everything in between but couldn't find what I wanted. I visited Boho bride with the idea that the top would be plain like the skirt, and we started to look at simple lace fabrics with no beading. I then brought the most sparkly shoes from Irregular Choice. When I showed them to Laura and Lynette they suggested the most gorgeous beaded fabric that I never would of chosen. Laura designed a simple cropped top with button detail down the back and lace trim, this allowed the fabric to shown in its full detail. Laura also made me a poncho from some fabric I found in Birmingham market. Cutting the fabric in such precision that you would never know it was originally a table cloth!
  Tell us how you found Boho Bride 
 
A work colleague had her wedding dressed made by Boho Bride and loved the dress and the experience.  
Tell us about your experience with Boho Bride 

I had 5 fittings I think. Each time Lynette and Laura were incredibly friendly and supportive of my alternative ideas. I looked forward to seeing the progress of the outfit and catching up with the ladies. It was wonderful to have the space to try on their large selection of dresses while I was figuring out what I wanted. I never felt rushed or that they were trying to push an outfit that I wasn't happy with.
  Tell us how you accessorised your wedding gown     I wore an Amber tiara which was a gift from my aunt.
What did you feel like in your wedding gown?    I felt like a princess. I know that might sound like a cliché, but I live in jeans and a T-shirt most of the time, so to wear something custom made was amazing.

I can't thank Lynette and Laura enough for all their support and expertise in helping me feel comfortable in my outfit. I was able to run around the mountain and still feel like a bride.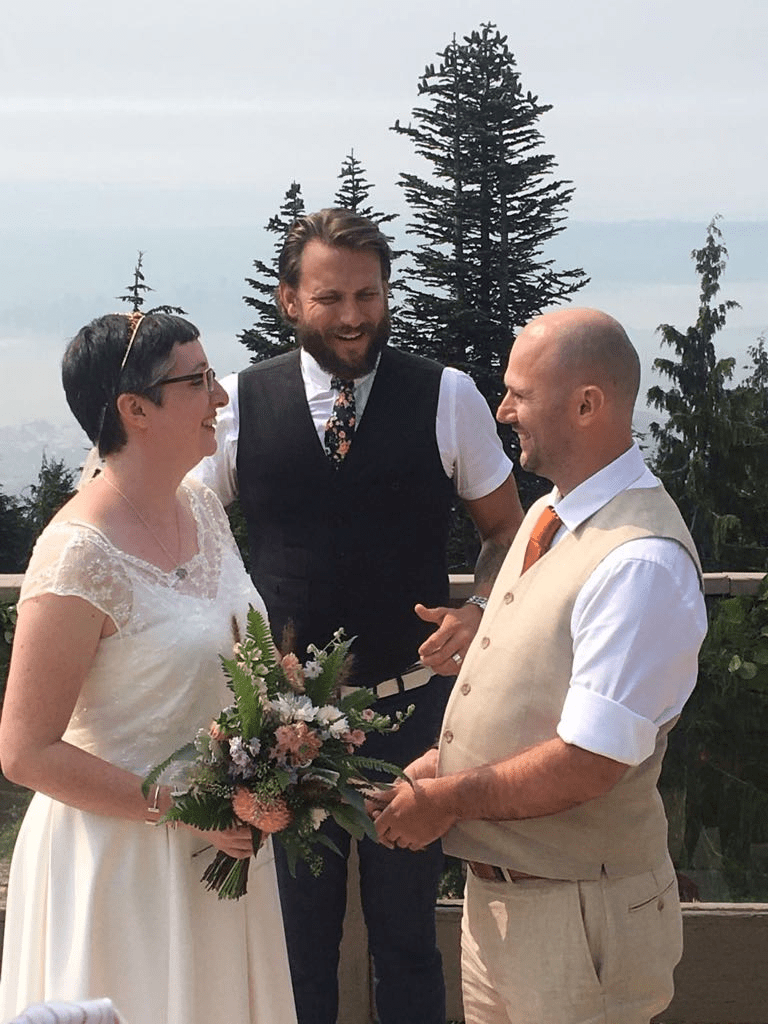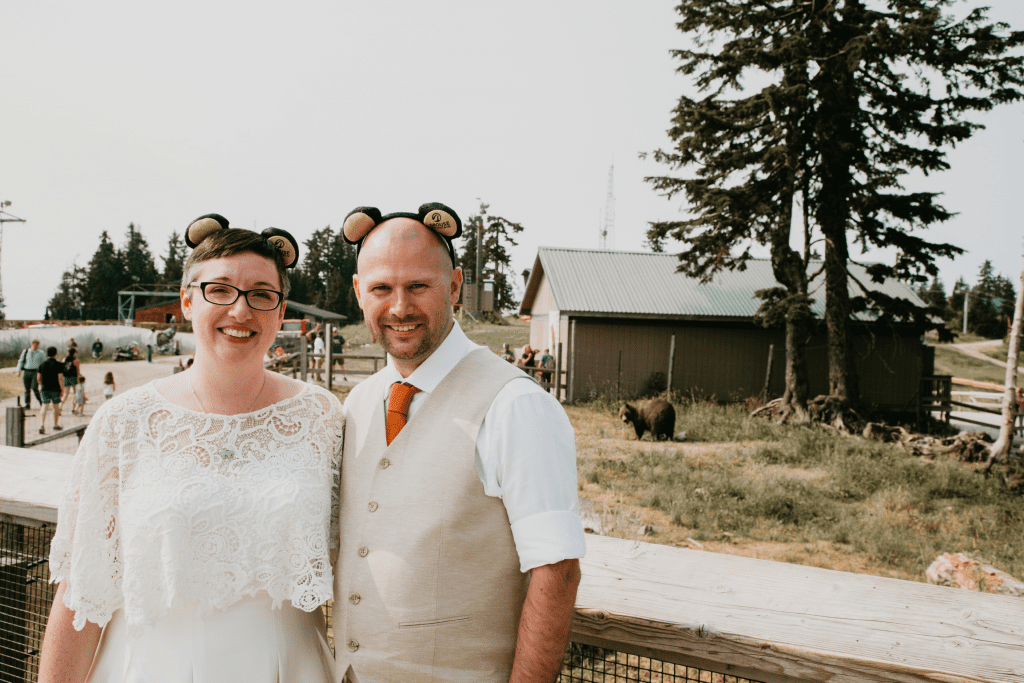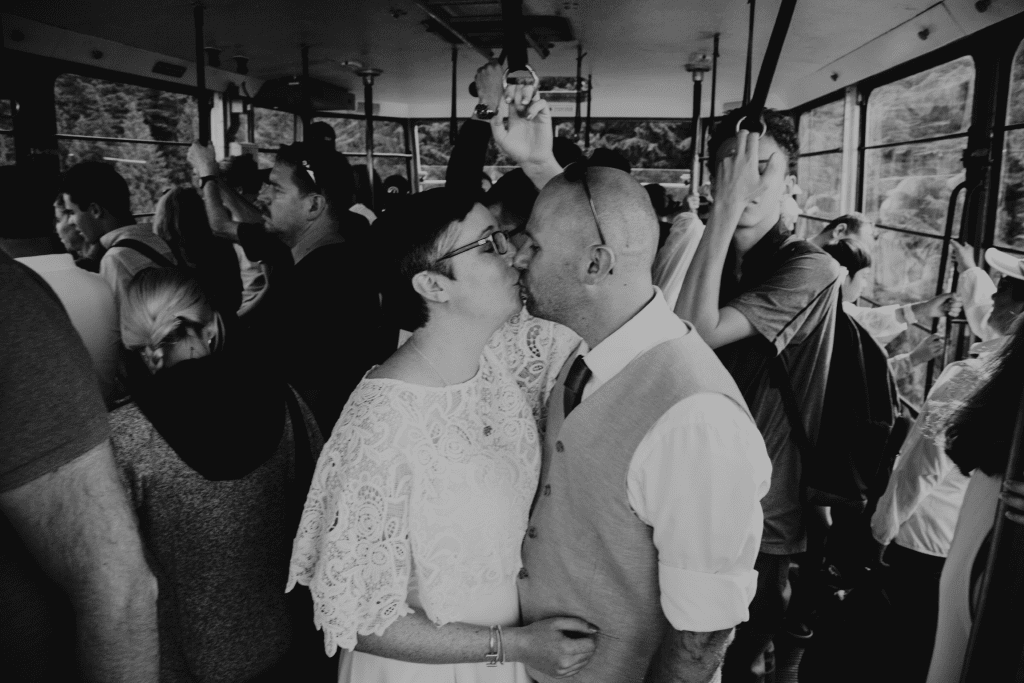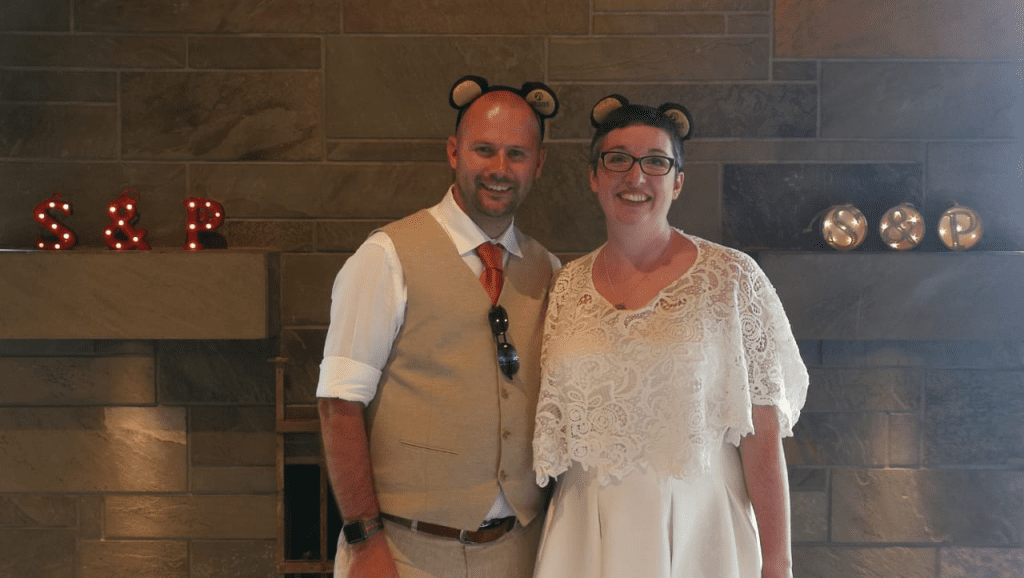 Suppliers
Photographer : Erica Miller, Vancouver, Canada
Venue :  City timber room, Grouse mountain, Vancouver, Canada
Flowers : Wildflowers and greenery V&J plant shop. Granville island, Vancouver, Canada
Cake : Cupcakes. Lemon, chocolate and passion fruit Jaconde patisserie, Vancouver, Canada