How we are going to keep you safe: Covid-19 Secure
---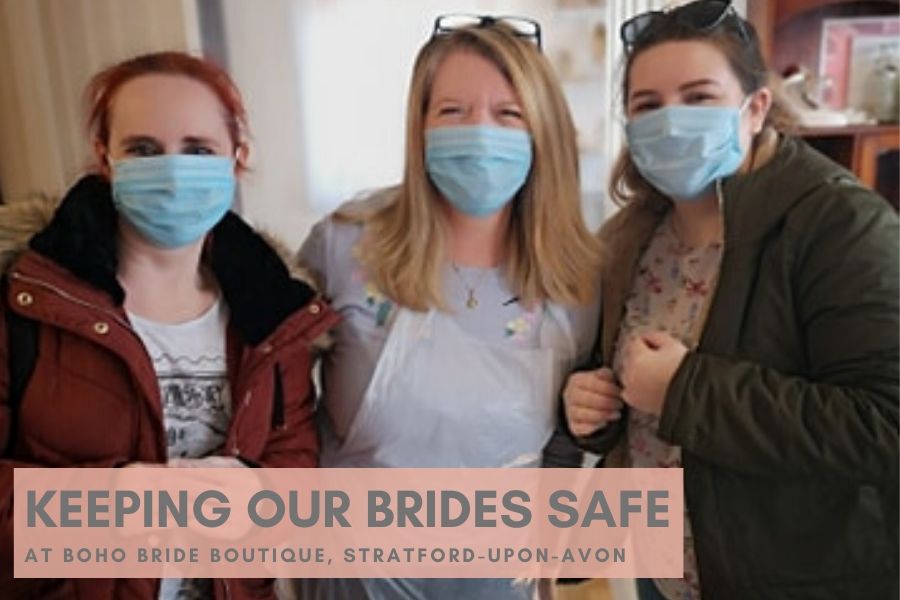 Covid-19 update 16/05/2020: Covid-19 secure and ready
We will be opening our doors to the boutique on the 4th of July….hopefully!
We know we are going to be incredibly busy for the first couple of months, with brides desperately wanting to start their search for their dream wedding gown and haven't been able to because of lockdown. We have created a Bridal Styling Appointment waiting list to make it as fair as possible. The brides on our waiting list will be given priority to book the first available appointments. If you would like to be added to our waiting list please email us as soon as possible [email protected] or head over to our contact page on the website.
Here is how we are going to keep you safe at your appointment:
Things are going to be very different when we are eventually able to open, life has changed dramatically for all of us.
Its been a very tough few weeks and I have spent long hours thinking about the changes we are going to have to put in place to keep everyone safe but still giving our brides a beautiful experience with us at Boho Bride.
We can't get away from the fact that safety comes first and things will look different so I thought I would share with you the changes we are implementing in the boutique.
As yet we have no clear guidelines from the government as to how to operate safely so I have had to do my own research and use some common sense.
Social Distancing
Social distancing in the boutique will be very difficult, we have to help our brides in and out of gowns, which means we have to be less than 2 meters away. Our team will be wearing face visors, surgical gloves and disposable aprons.
Guests
Limiting the amount of people, we have in the boutique at the same time is hugely important, this means that brides can only bring one guest and they have to maintain the 2 meter distancing rule at all times. However, we are very happy for you to set up a group chat with your 'bride tribe' while your appointment is happening. This means they can still be involved and you can get feedback from them and of course shed a few tears of happiness when you say "yes to the Boho Bride dress"
Children
Children and babies will not be allowed in the boutique for the foreseeable future.
Temperature Checks
On arrival your temperatures will be taken with a remote electronic forehead thermometer this will help us to keep everyone safe. If we find that you or your guest have a raised temperature, we will have to cancel the appointment immediately. We ask that if you have any symptoms, even a slight sniffle you cancel your appointment and re arrange for another date. This goes for your guest too. Our staff will also have their temperature taken on arrival so you can be sure we are in good health.
We will then ask you to wash your hands, use the hand sanitizer provided and put the surgical gloves and mask on that goes for your guest too.
Refreshments
Unfortunately, we will not be able to serve refreshments but you are welcome to bring your own in disposable or reusable containers. Please, no alcoholic drinks.
We ask you to be mindful of the 2-meter distancing rules and that your guest remains seated in the bridal suite at all times. We will not be able to come into the changing room area with you, and we ask that you put on your gown behind the curtain and then open the curtains yourself. We can then do your gown up for you. Sock must be worn at all times, please make sure you bring a pair with you that goes for your guest too please.
Other Cautions
You and your guest will not be allowed to touch the gowns on the rails, your consultant will take them down for you off the rail so you can look at them in detail.
Be assured after each appointment we will wipe down the boutique with antiseptic wipes, spray all fabric surfaces and every gown will be turned inside out and steamed to be sure the gowns are safe and hygienic ready for the next bride to try on. This will kill any virus that could be transmitted onto the fabric.
Our Promise!
Our promise to you is that we will do everything we can to make your experience as special as we can under these difficult circumstances and at the same time keeping everyone safe.
Free Gifts Worth £100 when You become a Boho Bride!
Don't forget we are giving every bride that books an appointment a free veil or accessories up to the value of £100 when you order your gown with us. This offer runs until the end of September.
You can also use your £20 booking fee voucher towards anything in the boutique or we can take it off your gown order, so in total you have £120 of credit as a thank you for ordering your gown with us.(the £100 offer can only be used on a veil or accessories)
Thank you for your support and understanding.
Take care and keep safe.
Many thanks,
Lynette x