Keep Calm & Plan Head!
---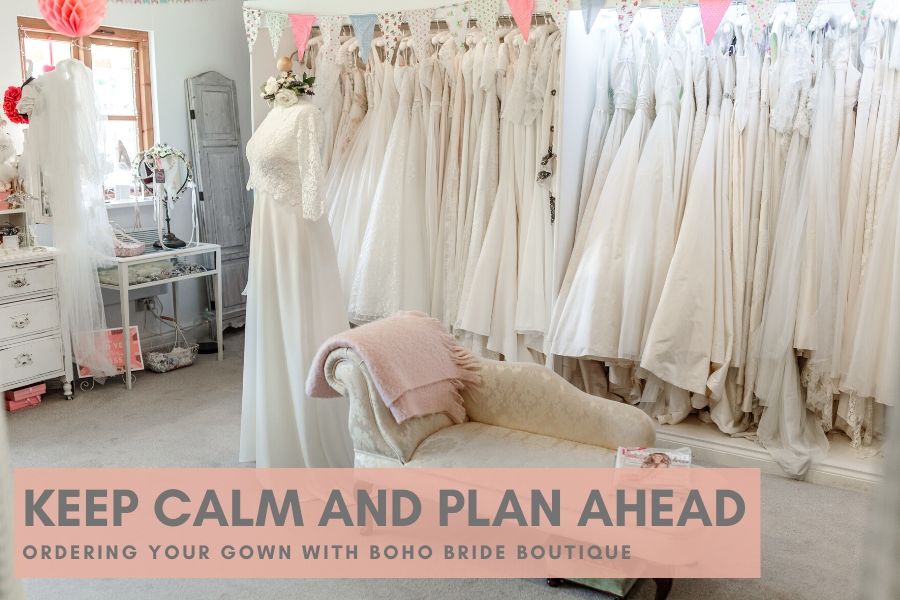 Calling all 2020 and early 2021 brides.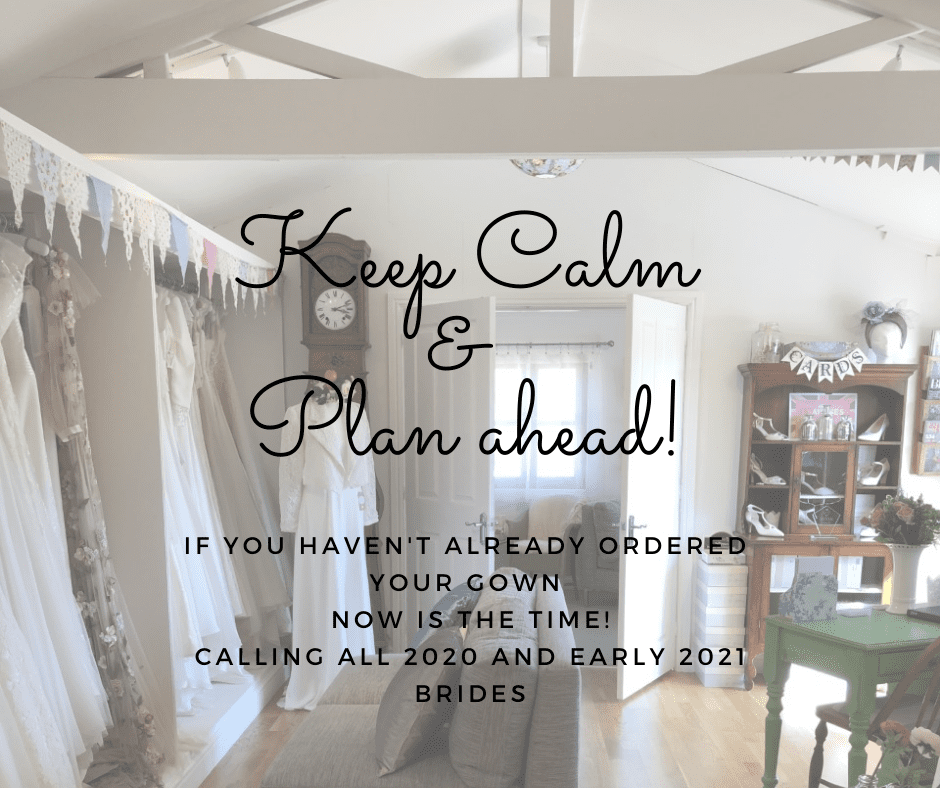 Boho Bride Covid-19 (Coronavirus) your update 14.3.2020
Calling all 2020 and early 2021 brides
Following the announcement from the government on Thursday and the possibility that the Covid-19 outbreak may get worse, with the peak of the outbreak coming in the next couple of months and lasting until August we want to help brides plan ahead.
If you haven't already found your perfect wedding gown and place your order, now is the time! We can't emphasise how important it is.
If you are planning on getting married this year or early next year you need to start looking for your wedding gown now and placing your orders as soon as possible. The sooner you order your wedding gown you know it will be safe and delivered in plenty of time for your wedding. It's better to have your gown hanging up in a wardrobe than worrying if your gown is going to turn up on time.
This might sound a bit dramatic but here are the reasons why.
How we can help you –
If things get worse bridal boutiques all over the country may have to close and the staff including seamstresses may have to self-isolate. This could be for weeks. The same may apply for our designers, their factories and the couriers who deliver your gowns.
This means that if you are planning to get married later this year or early next year your wedding gown may not arrive in time for your wedding if you do not start looking and placing your order now.
When your gown arrives, it will inevitably need some alterations and we like to allow 4 weeks before the wedding date to do this.
Choosing your wedding gown should be really special time and we feel that brides should not have to compromise on this experience. Having to find a gown at the last minute or not being able to get your dream wedding gown in time for your wedding is heart breaking.
To allow us to help as many brides as possible we will be extending our opening times to 8pm in the evenings if necessary.
We suggest you limit the number of guests you bring with you to keep everyone safe and we encourage you to Facetime your 'bride tribe' so they can be involved in your experience of finding a beautiful wedding gown. We only have one bride in the boutique at a time so this limits the amount of people you may come into contact with.
If you or your guests have a cold or feel unwell, please cancel your appointment and we will book you in when you or they are feeling better.
Unfortunately, brides or guests that turn up with a cold or cough will be politely asked to leave. Even if it is minor, we must keep our team, brides and their guests safe. A member of our team is undergoing treatment for cancer at the moment so is extremely venerable to any infections even a common cold.
On arrival you will be asked to wash your hands and use the sanitation gel provided. All our staff have been asked to do the same. We have a rigorous cleaning plan in place and you can be sure that all surfaces you come into contact with will be as clean as we can possibly make them. Our priority is your health and wellbeing and we will do everything we can to stay open as long as we can.
We appreciate your cooperation and look forward to welcoming you to the boutique and helping you find your dream wedding gown.
If you need help or further information please do not hesitate to get in touch. We are here to help.