Millsfest! Festival flags, signposts and giant letters were all part of Aimee's and Dave's wedding
---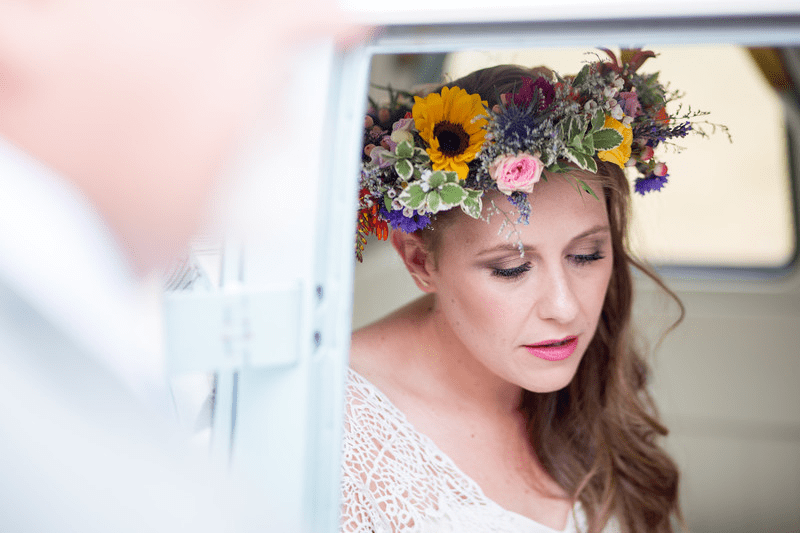 My name is Aimee and I was married to my lovely fella, Dave, at the end of July. We were married at Dovecote Barn on Bo Peep Farm in Aynho, but then surprised our guests with a giant tipi reception (literally only our immediate family knew and as it couldn't be seen from the barn, everyone was surprised!) We had festival bands as save the dates, festival ticket invites, festival lanyards for guests to wear and a matching table plan like a festival poster (Wedfest).

Giant festival flags, signposts, giant letters (Our name is Mills, so we called the event, Millsfest!), on site glamping, a fantastic live band (The Skipjacks), best man acoustic guitar set, our own chili jam and skittles vodka favours, campervan transport (Fifties Chic), a surplus of sunflowers (his mum), Pimms and cider, sooooo much bunting (my mum), hay bales and fire pits, a made to measure lace dress complete with flower garland for me and a photo booth inside a converted horse box (Hoofbooth) all added to the theme. A few obligatory leather jacket and parasol shots helped me get the rock n roll feel I wanted – and I had amazing glittery orange shoes (Dave's fav colour – Irregular Choice).
It certainly was a family affair with my mum on bunting, Dave's mum creating stunning bouquets/headpieces/flower arrangements, his carpenter sister making signs and mini signposts as our centre pieces and my artist brother making each centre piece into a different fantasy world – showing our love of sci-fi and all things hobbity! Our wedding rings were even made by the jeweller who made the ACTUAL ring for the Lord of the Rings film in New Zealand and we had an Elfish inscription inside – 'One ring to forever bind them'. I know, we are geeks!
People commented that they felt they were at a festival where two people happened to be getting married, which was exactly what we wanted!
Tell us about the journey to your wedding day?
Dave and I met online in March 2015. After a year together, we bought our first home in Brackley and took with us our adopted cat, Kiri. Dave has been taking me to Guernsey each year since we met, as he had holidayed there as a child. I fell in love with the island of Herm. May 2017, Dave proposed in Shell Beach on Herm. The following year, we were married.
Tell us about your wedding day. What was your theme? Did it all go to plan? What was your most memorable moment?
Due to our love of music, we wanted people to feel like they were at a music festival, which happened to also have a wedding going on. We wanted bright colours (especially orange), sunflowers and anything bohemian to help us pull off an outdoor festival feel and the tipi was perfect for this. One of our best men is a violinist in a folk style band and not only played me down the aisle to his own interpretation of our favorite Levellers song, he also played a guitar acoustic set for us, really adding to the music feel with an outdoor second stage. The main band in the evening (London based Skipjacks) was the icing on the cake! Even with a little light rain during the food, everything went to plan! Our most memorable moment was the song which the three best men wrote and performed about their joint 25-year history with Dave.
Would you do anything different? What tips would you give couples from your experience of planning your wedding and the day itself?
I would make more time for photos with people. We knew we didn't want a lot of formal photos and a lot to be taken throughout the day, but I should have made more time to ensure we had photos with everyone important in our lives as time really does run away with you.
Tell us about what you had in mind for your wedding gown?
I knew I wanted a relaxed bohemian gown to suit our outdoor festival theme and seeing the name 'Boho Bride' led me here first! I knew I wanted lace, neutral colours, flowing and definitely not princess.
Tell us how you found Boho Bride
I googled bohemian dresses and they were among the first to pop up!
Tell us about your experience with Boho Bride
A very positive experience from start to finish. Everyone was very helpful, especially as I didn't really know what type of design I wanted, other than lacey and fairly straight. Lynette and Laura really helped to show me options and I hadn't even considered having one custom made until I saw their separate pieces and how easy it would be to take the things I liked from the gowns I tried on and make my own.it was scary at first, as there wasn't a gown to try and so I struggled to visualise it, but each time I went for a fitting, I could see it evolving more and more and that was exciting. It also meant that little things could be changed or amended if new ideas came or we decided something just didn't work. The Lynette and Laura could sense my style and what I thought I wanted to achieve and they were very accommodating and happy to help at each step of the way.
Tell us how you accessorised your wedding gown
We mismatched ivory and white buttons to run down the back of the dress and decided on a lace embellishment with sparkling beads to draw focus to a plain waistband. matching sparkling beads were added to the base of the three quarter length sleeves and neckline to tie it together. I chose rose gold feather earrings and a bracelet to add a vintage element, but no necklace as I didn't want to draw away from the sweetheart shaped neckline.
What did you feel like in your wedding gown?
I felt very comfortable and absolutely perfect! It fit like a dream and showed off everything I wanted it to. I wouldn't have changed a thing.
Any other comments are welcome I am so pleased I chose to go for a bespoke dress. It really did make everything feel a little more special
Suppliers- The Dream Team