Naomi & Jon's 'Art Deco' inspired wedding
---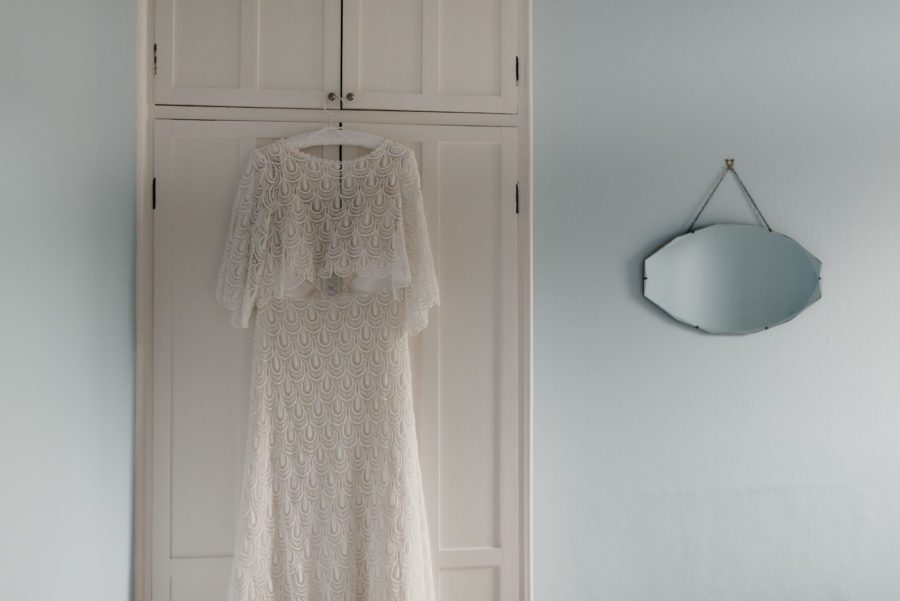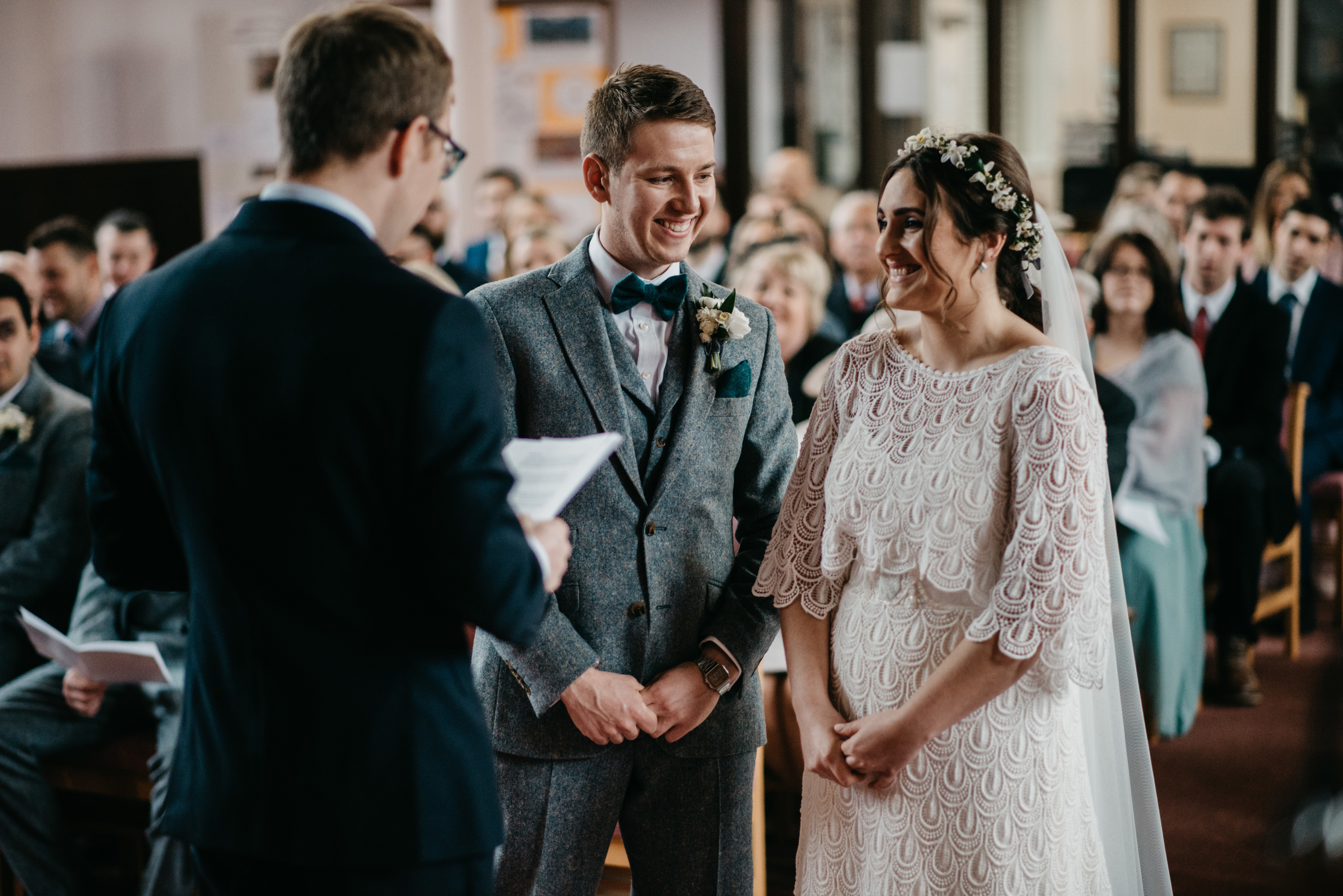 We absolutely love designing and creating bespoke gowns for our brides and Naomi's gown was a real treat for us, it had all the elements that make a bridal gown really special, delicate lace, hand beading and unique design elements.
Naomi came to us through a recommendation from a friend, after visiting lots of bridal boutique Naomi was beginning to feel a bit disheartened about finding a gown that would be perfect for her. Naomi's brief was that she wanted something different, unique and comfortable. Naomi loved our Boho Bride Freedom Collection and we assured her that with a few tweaks here and there we could design and create her perfect wedding gown.
Where did you meet your partner?
Jon and I met at university back in 2007/08. We were good friends for over 5 years before we started 'dating'! Jon is an automotive engineer and I am a town planning consultant.
What wedding dress did you choose?
From day one I did not really have a clue as to what I would end up choosing. All I knew is that I wanted something different! I went to various bridal shops on my own but just did not feel comfortable in any of the dresses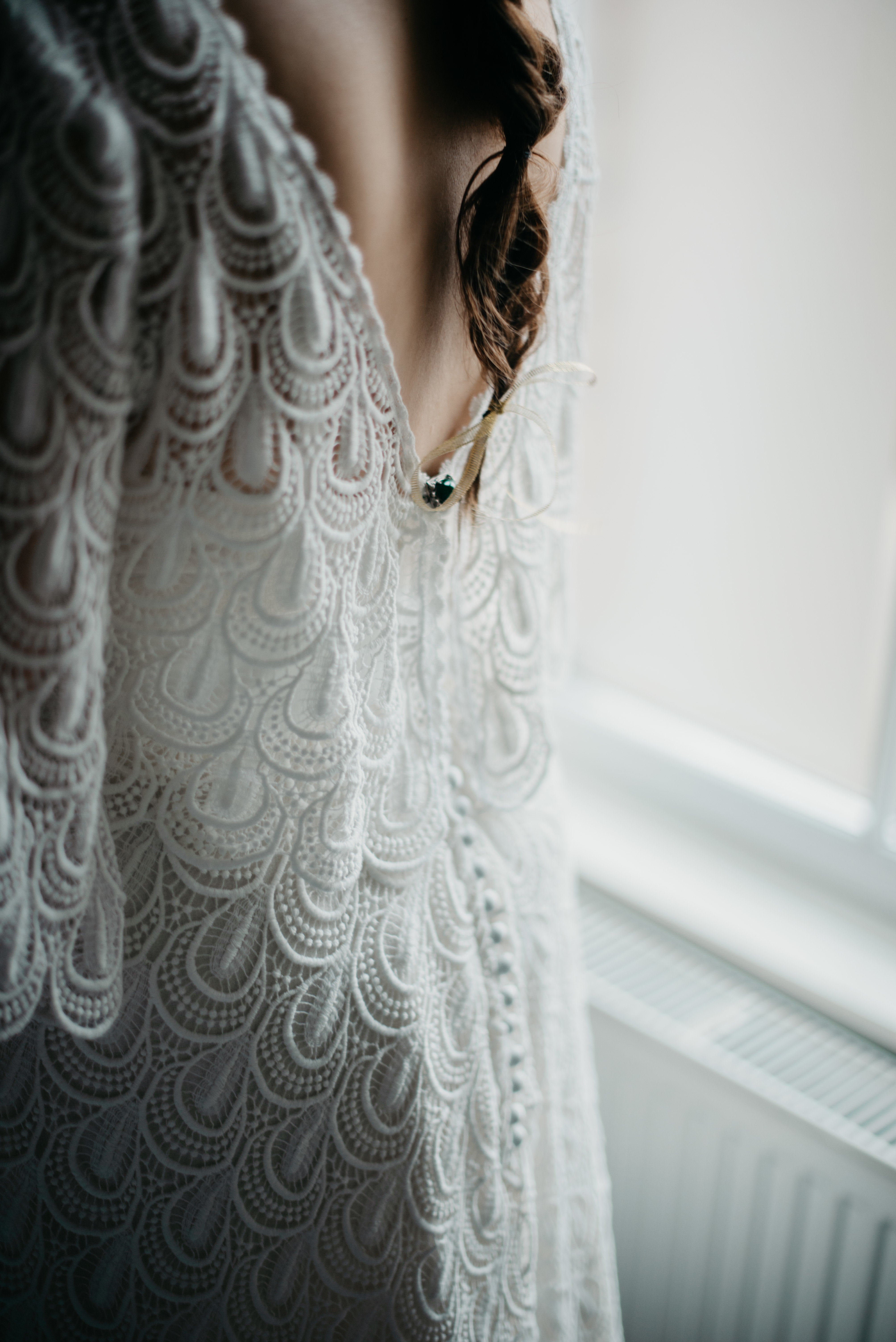 What was your experience shopping at Boho Bride?
Following a recommendation from a friend of a friend I booked an appointment at Boho Bride and met Lynette. She left me to look through the gowns but quickly noticed I was not really loving anything in particular and set about talking through her Freedom Collection. This immediately caught my eye. The materials were beautiful and the endless opportunities enticed me.
I originally went for a floral lace and discussed a design with both Laura and Lynette. I knew I wanted my shoulders to be covered but was happy to have an open back. I did not want a 'big' dress but wanted a train. Both Lynette and Laura were amazing at converting my vague ideas into a design. I knew I would have to be very trusting and would only know what the completed dress would look like weeks before my wedding, but with each fitting my gown started to take shape and I was able to tweak the design as we went, I found this all very exciting. I ended up choosing a scalloped lace (a bit art deco/ 1920s-esque). Laura added some amazing vintage beading she had found to the waist band and finished it off with further hand beading, it looked amazing.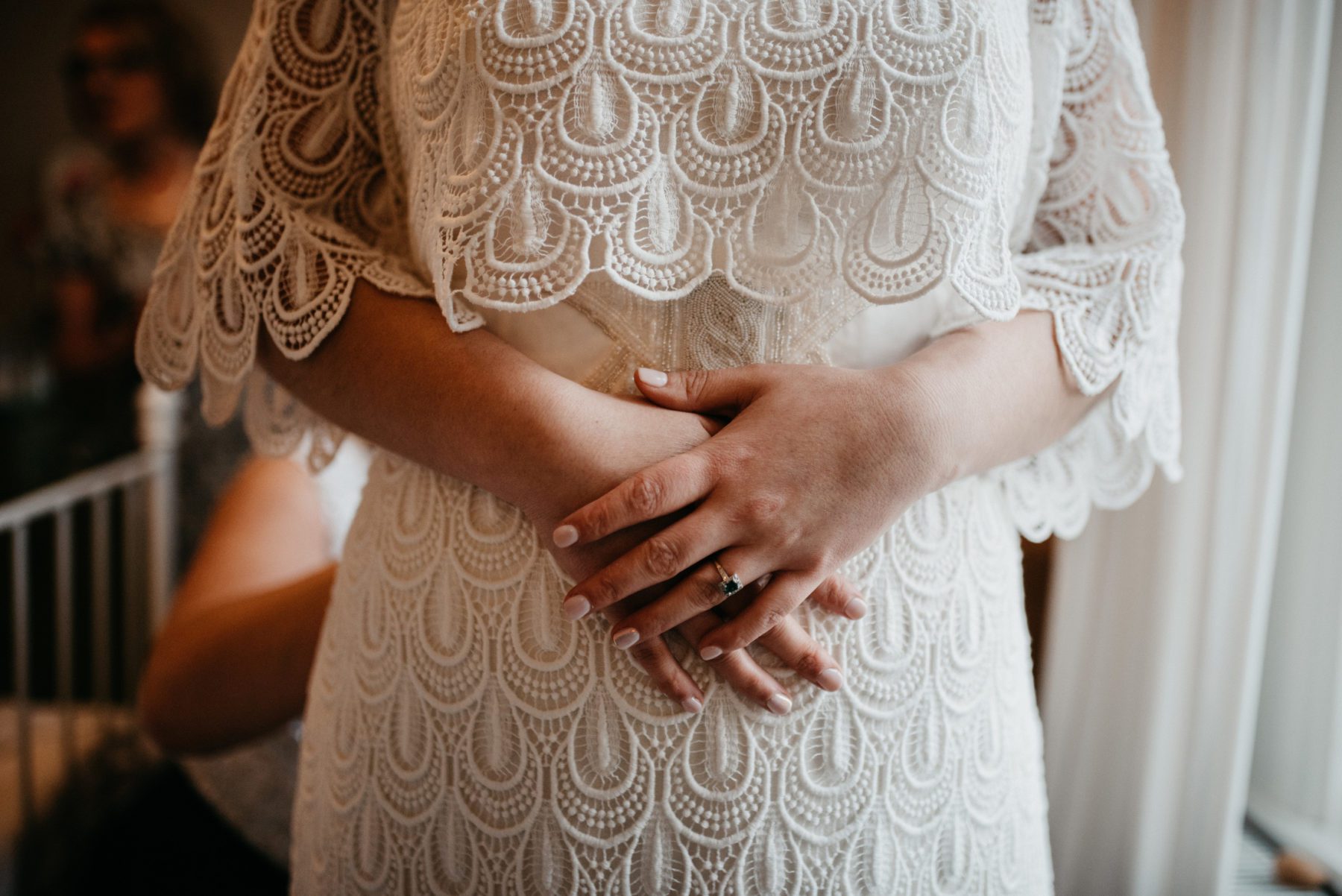 I had so many compliments. I could see Jon's eyes light up as I walked down the aisle.
What accessories did you choose? Where were these from?
I wore my grandmother's brooch, which was pinned at the top of the buttons on the back of my dress along with her ring (my something blue). Jon bought me some vintage emerald and diamond earrings which went with my emerald engagement ring. I wore a flower crown (narcissus and wax flower) along with a simple veil from Boho Bride. I wore green suede shoes with a block heel and a green faux fur coat.
What venue did you have? Where was it? Did you have a theme for the day?
Radford Road Church in Leamington Spa followed by a reception at Primrose Hill Farm in Arlescote near Banbury.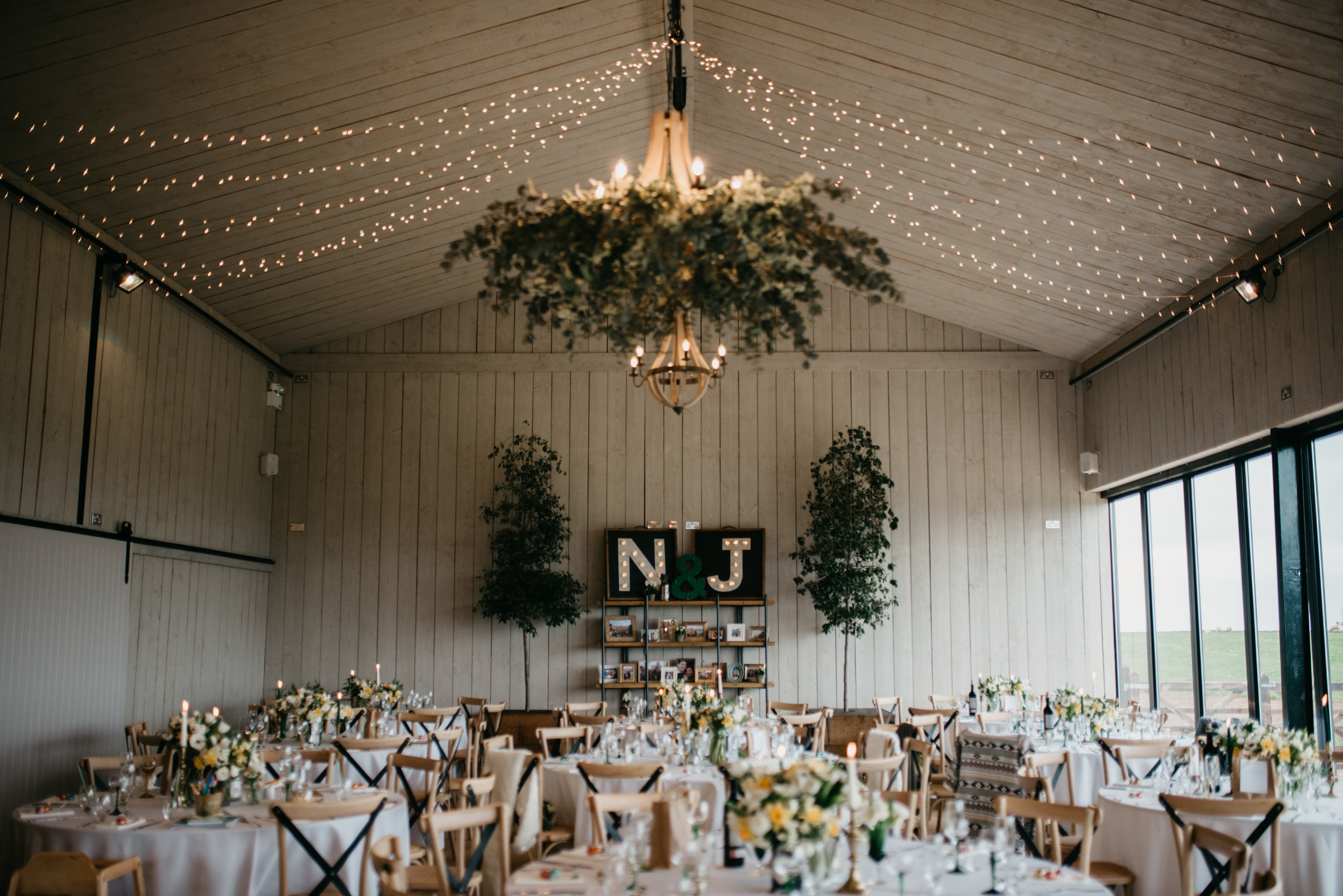 Who was your wedding photographer and how did you choose them?
Our photographer was Becky Taylor of Becky W Photography. We met her at a friend's wedding where we had already seen some of their engagement photos on Instagram which we loved. Becky was also having her wedding reception at the same venue as us a month later so knew the location well. We were meant to have some photos at Chesterton Windmill on the way to the venue but the 40 mph winds stopped us! We are so pleased with her photos of our wedding.
Where did you get your hair/makeup done? What look did you go for?
I had always planned to ask my long-term hairdresser Abi from Oxford to do my hair. She was about 8 months pregnant at the time of our wedding so was lucky to book her! I had a long fishtail plait which was complemented by a flower crown. Abi's sister Gabi did my bridesmaid's hair. Their styles were complemented by hair pins with green stones. Abi's friend Vicky did my makeup.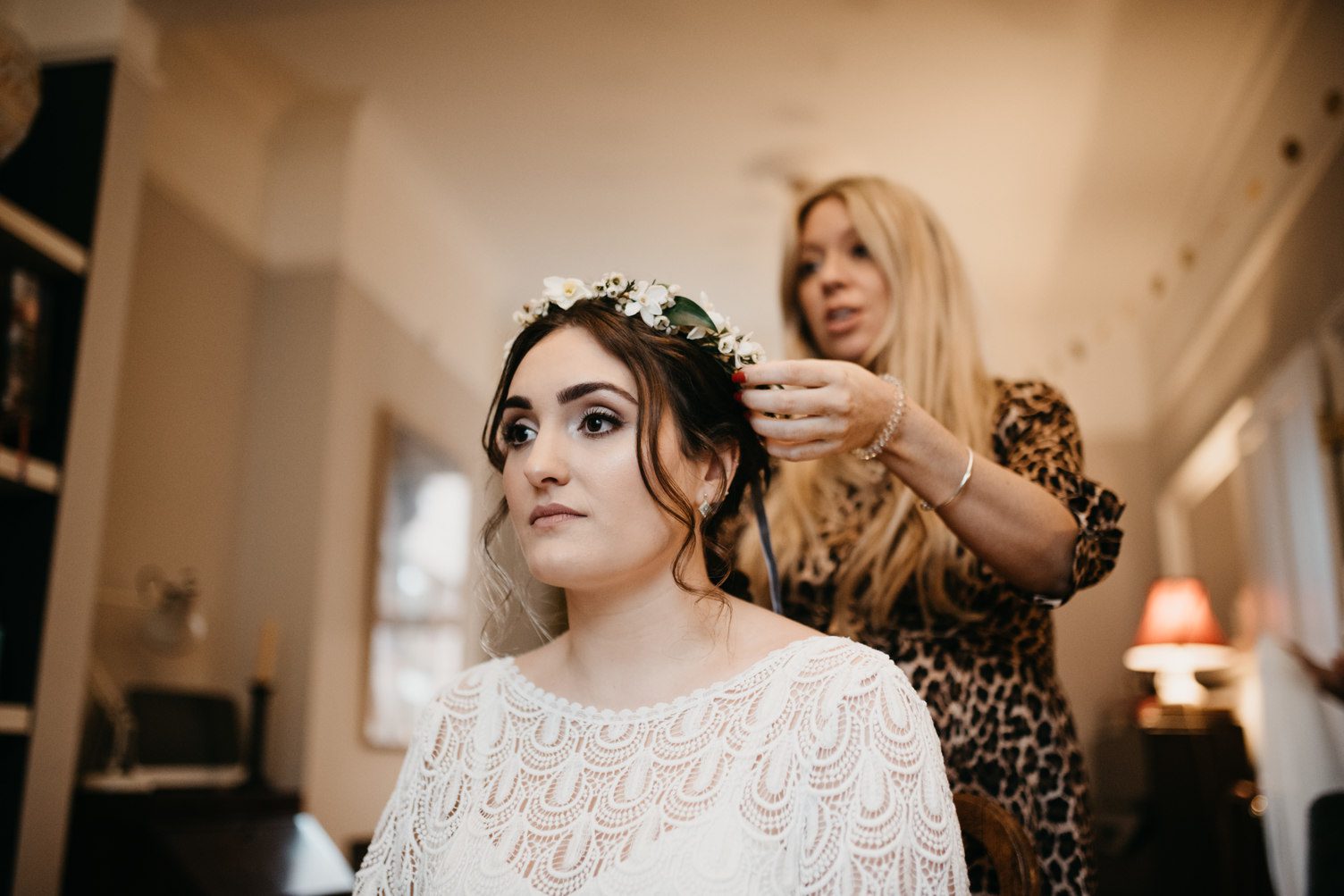 How did you choose your flowers?
I absolutely love flowers. Jon proposed to me in Kew Gardens. We got married in the spring because I have always wanted spring flowers at my wedding. This included narcissus, ranunculus, tulips, anemone, daffodils, snapdragons, wax flower, spiraea and ruskus. I had lily of the valley in my bouquet which my mother also had in her wedding bouquet and it smelled amazing. The tables in the venue were full of spring flowers in gin bottles made into vases (glass cutting by Jon) along with vintage green vases and other vases collected by friends and family. We also had some big vintage German ceramic vases filled with spring flowers on the bar, present table etc. Rose Hamson was amazing at realising my vision and made it all so easy for us. The room smelled amazing.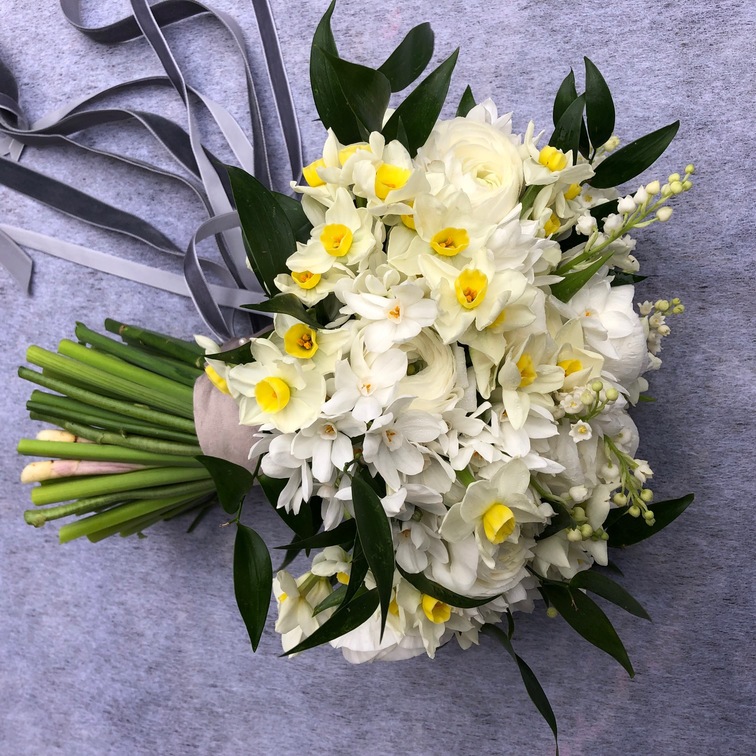 Tell us about your cake.
Our cake was a tower of cheeses and pies sourced and prepared by our caterers Taste Events. This included some local cheeses including Berkswell which is a favourite. It was decorated with fruit and berries and was served as our evening food along with breads, chutneys, crudité and fruit cake.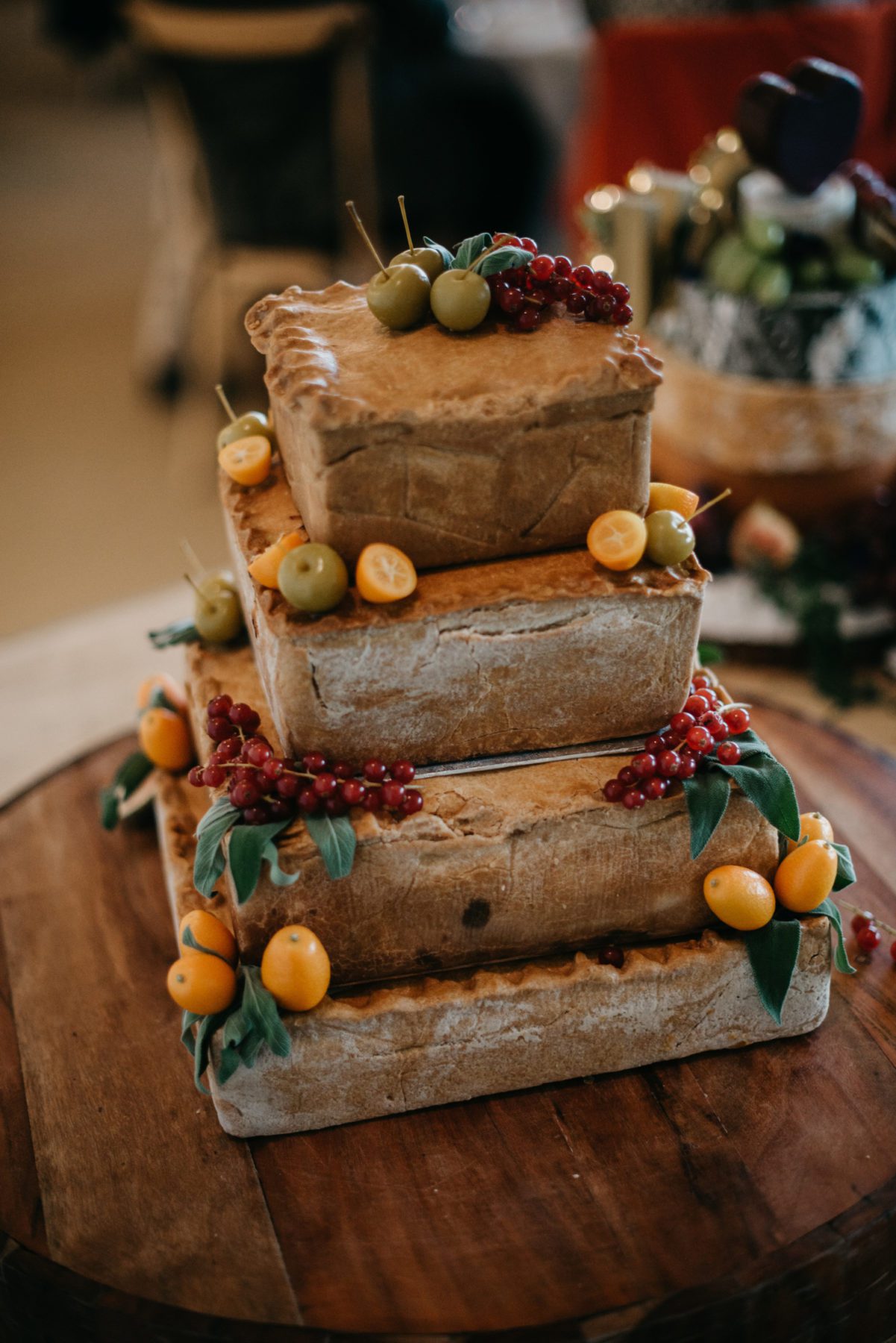 Where did your partner get their outfit?
One of the hardest parts of sorting the wedding was finding the right suits for Jon and his groomsmen. We finally found them a bit last minute (literally just down the road) at the Wedding Barn at Ufton. All the men wore the same three-piece light grey wool suit with a dark green tie and pocket square – Jon wore a bow tie – and tan shoes. Jon bought them all vintage cufflinks. Jon wore his grandfather's amber cufflinks and pocket watch.
Our four page boys (our nephews) ranged in age from 3 months to 6 years old. They all wore matching green waistcoats with grey bow ties made by Little Ladies and Lords. The two older boys wore matching grey chinos and converse.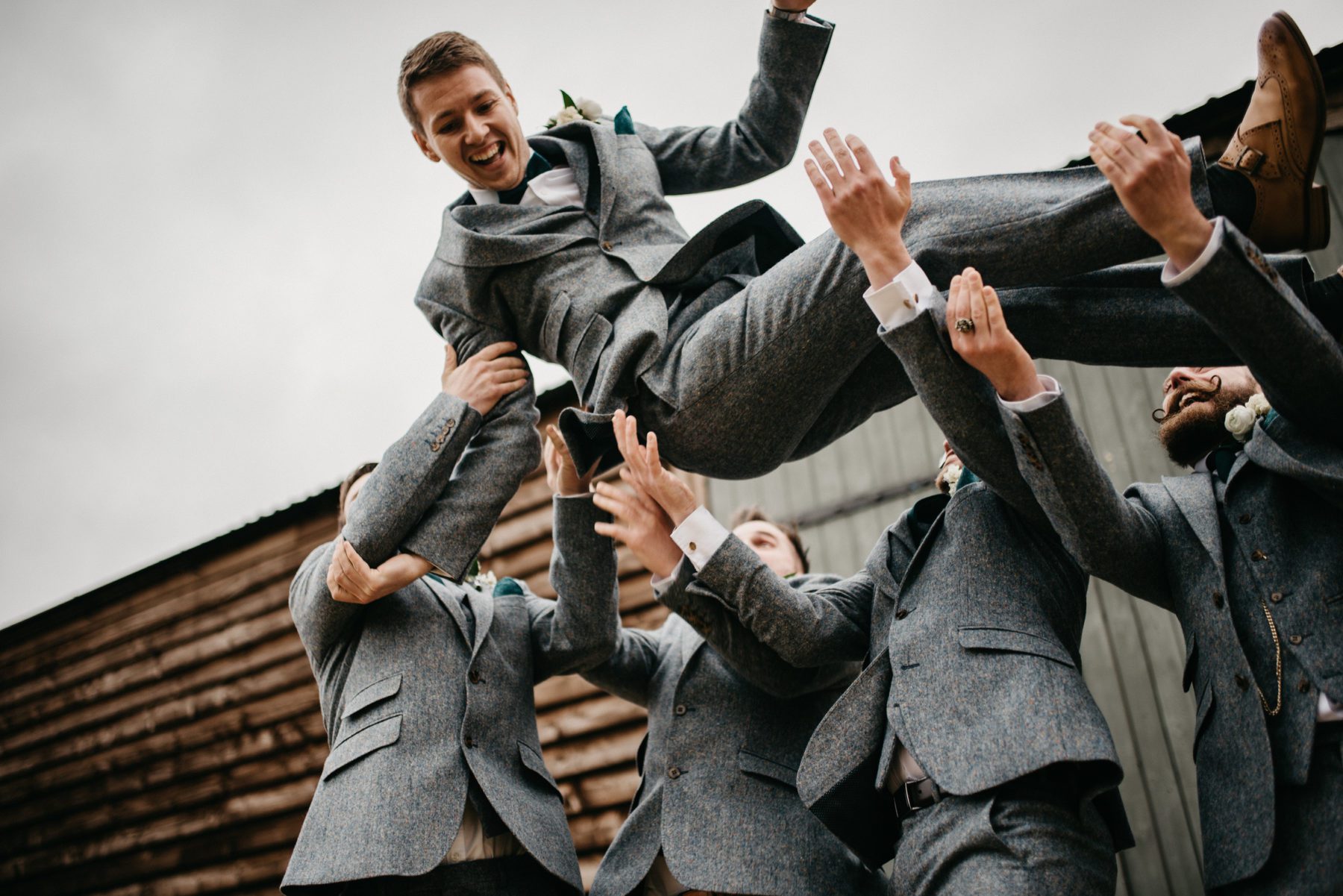 How many bridesmaids did you have and what colour were they in?
I had three bridesmaids. From a wide range of choices, they all chose to wear the same white sequined top with a dark green organza hi-low skirt. They wore gold shoes and I bought them each a white faux fur wrap. Most of the outfit was from Coast. Each had a bouquet of narcissus.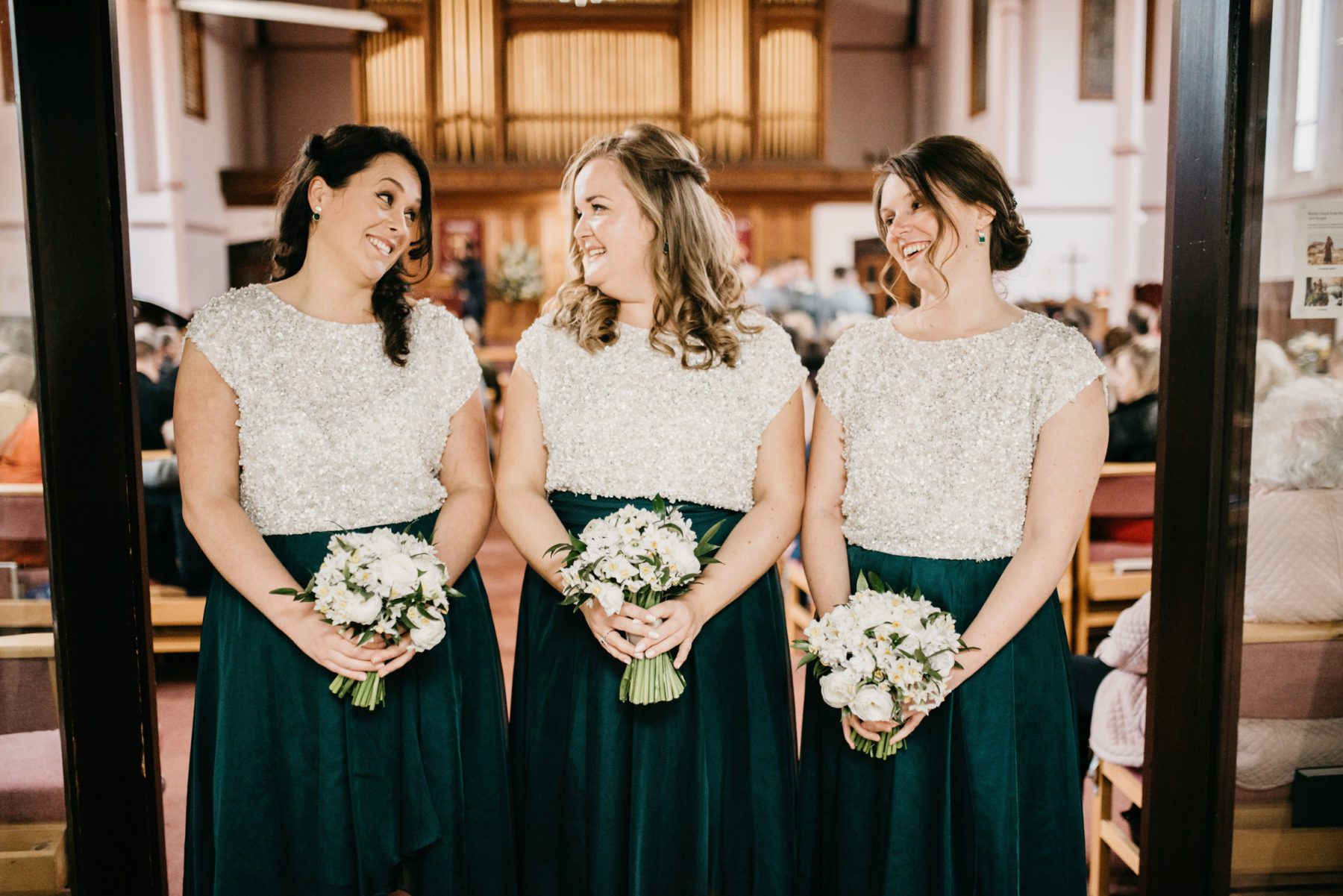 We had three flower girls (our nieces) all in white lace dresses and gold cardigans and shoes. From Monsoon and Clarks. They each had a flower crown made from white wax flower and small posy of narcissus.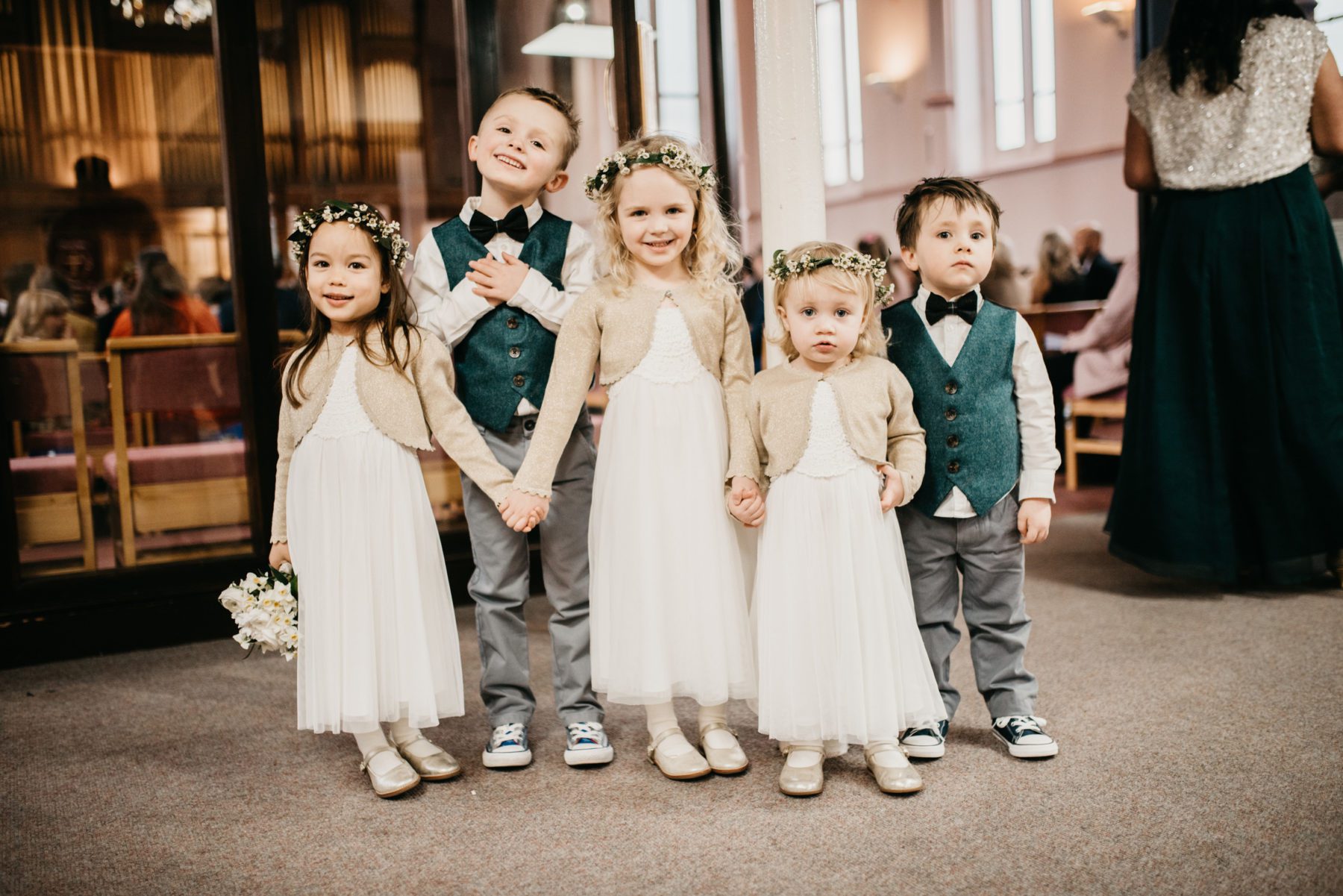 What transport did you have and why?
Jon loves vintage cars and particularly MGBs. This gave him an excuse to buy a dark green MGB GT to use at the wedding. He travelled to the church with his best men and then we drove from the church to the wedding reception together. We also hired a Mark II Jaguar which I travelled to the church in with my Mum and Dad. Fortunately, neither broke down!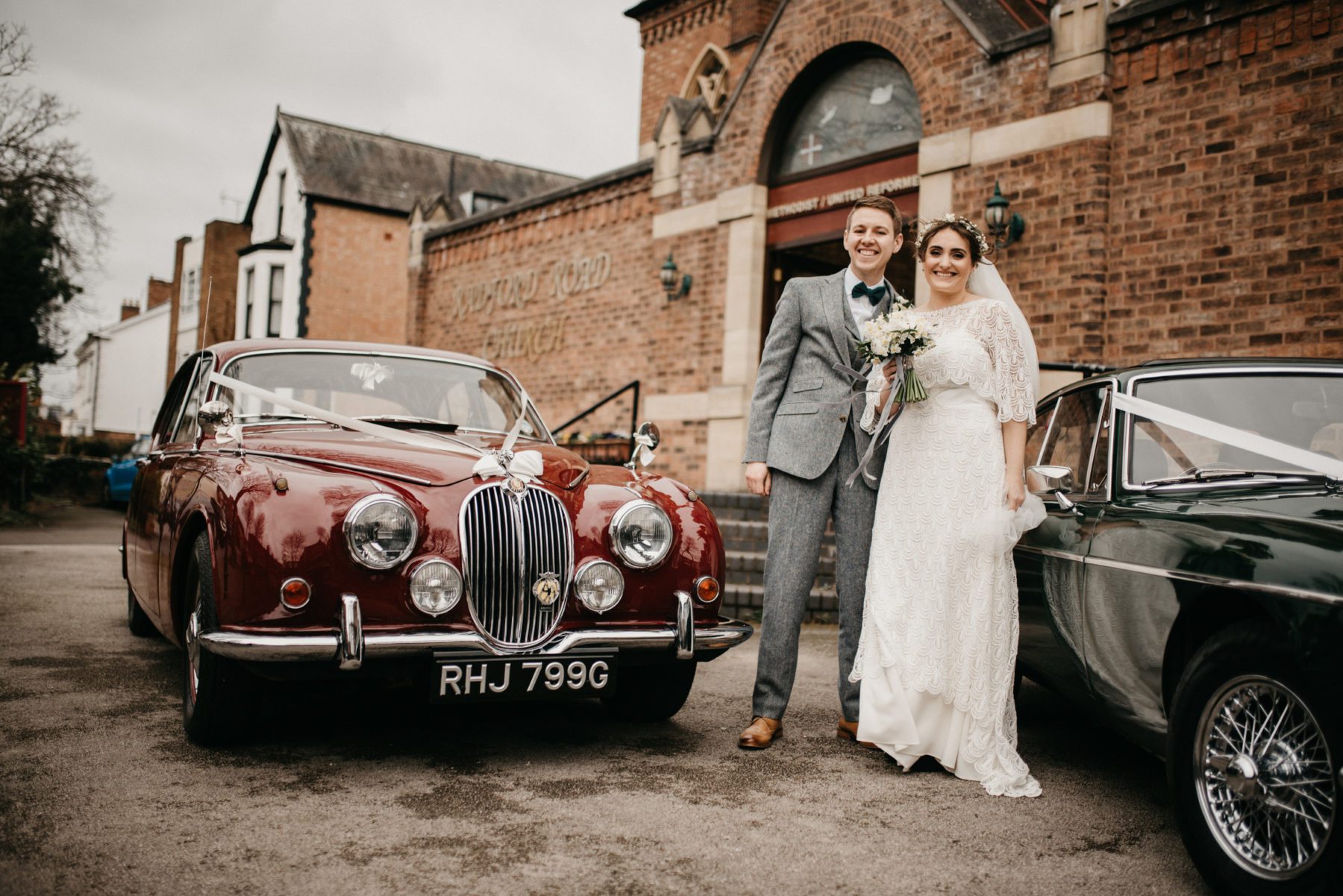 Where did you get your wedding stationary?
One of my bridesmaids designed our save the dates, invites, menus and order of service and made our place names out of green acrylic. The stationary was very 'art deco' with lots of gold geometric shapes and scallops to match the lace on my dress. I used a company on Etsy for the order of the day and seating plan, again in a similar theme.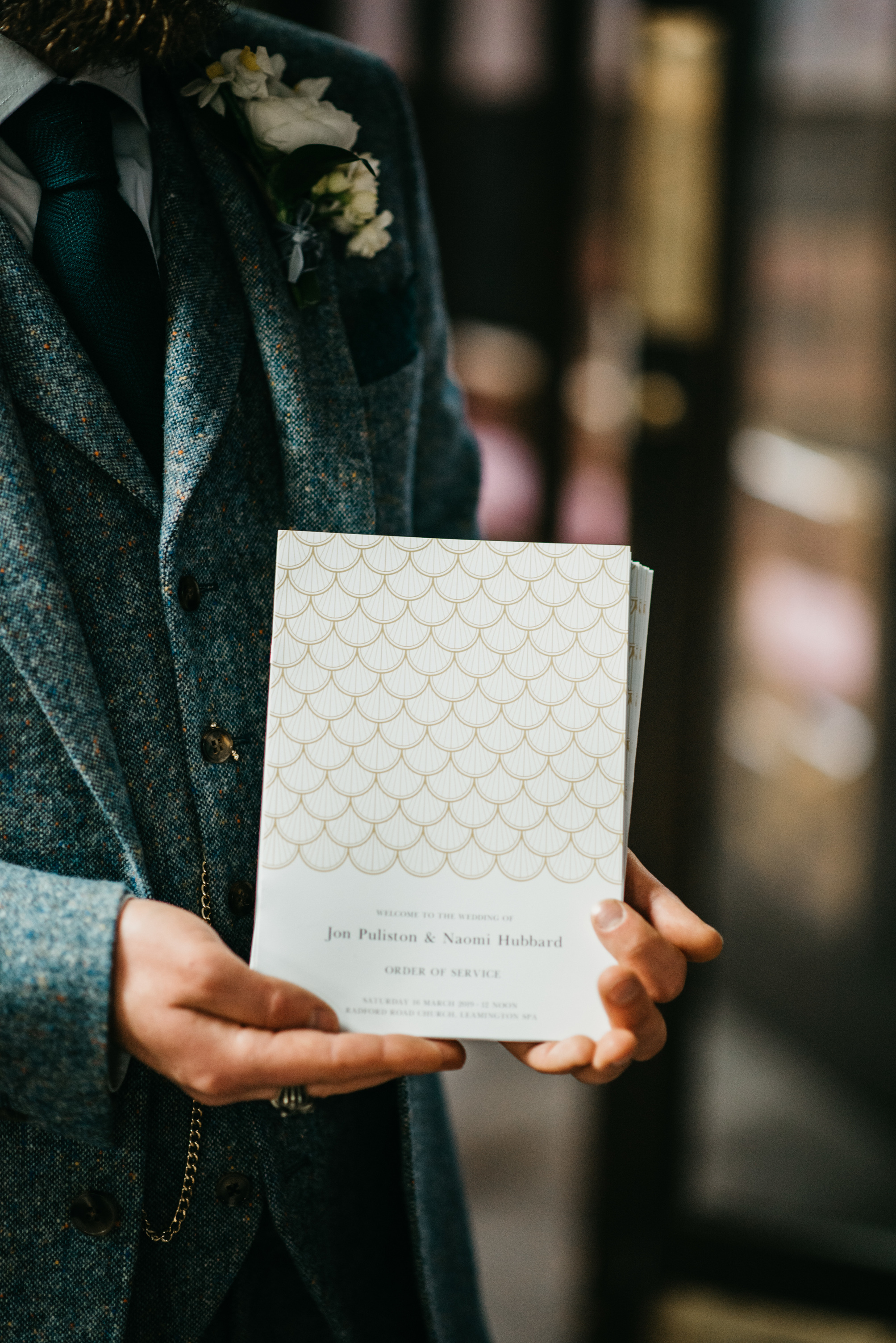 What entertainment did you have for your guests?
We had a magician during the drinks reception, a friend of Jon's brother in law. We then had an 'Adult Free Zone' which was an area for the children to play and cause chaos. There was a lot of children at our wedding and we did not want them to feel like they were missing out. The zone had a tepee with fairy lights, cushions and blankets along with plenty of toys, books and bubbles. In the evening we had live music performed by Jon's brother in law and friends. The dance floor was full all night! Our first dance was to George Ezra's Budapest. One of our first holidays as a couple was to Budapest.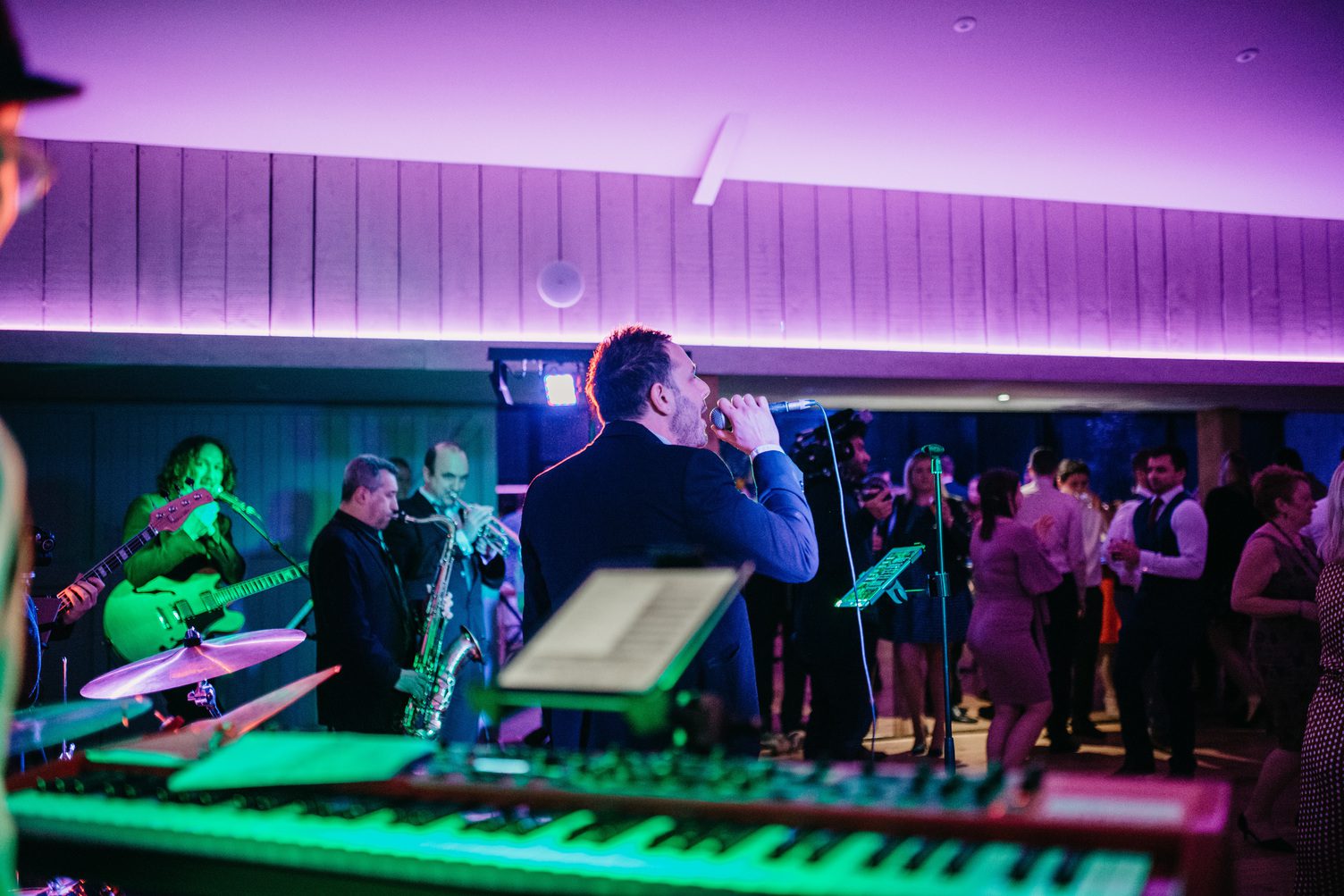 What was your most memorable moment of your big day?
Our favorite part of the day was the wedding ceremony. My most memorable moment was walking down the aisle with my Dad, surrounded by our friends and family and seeing Jon waiting for me. The rest of the service is a bit of a blur but there was one moment when Jon was trying to get some hair out of my false eyelashes…he couldn't get it out and I had to tell him loudly to stop it in front of everyone. Our guests chuckled at this as it was right in the middle of our vows! Getting married at Radford Road Church was important to me as lots of family members had also married there in the past including my parents and grandparents. I even walked down the aisle to the same organ piece as my mother. We just love watching back the video of our wedding ceremony. Definitely the best part of the whole day.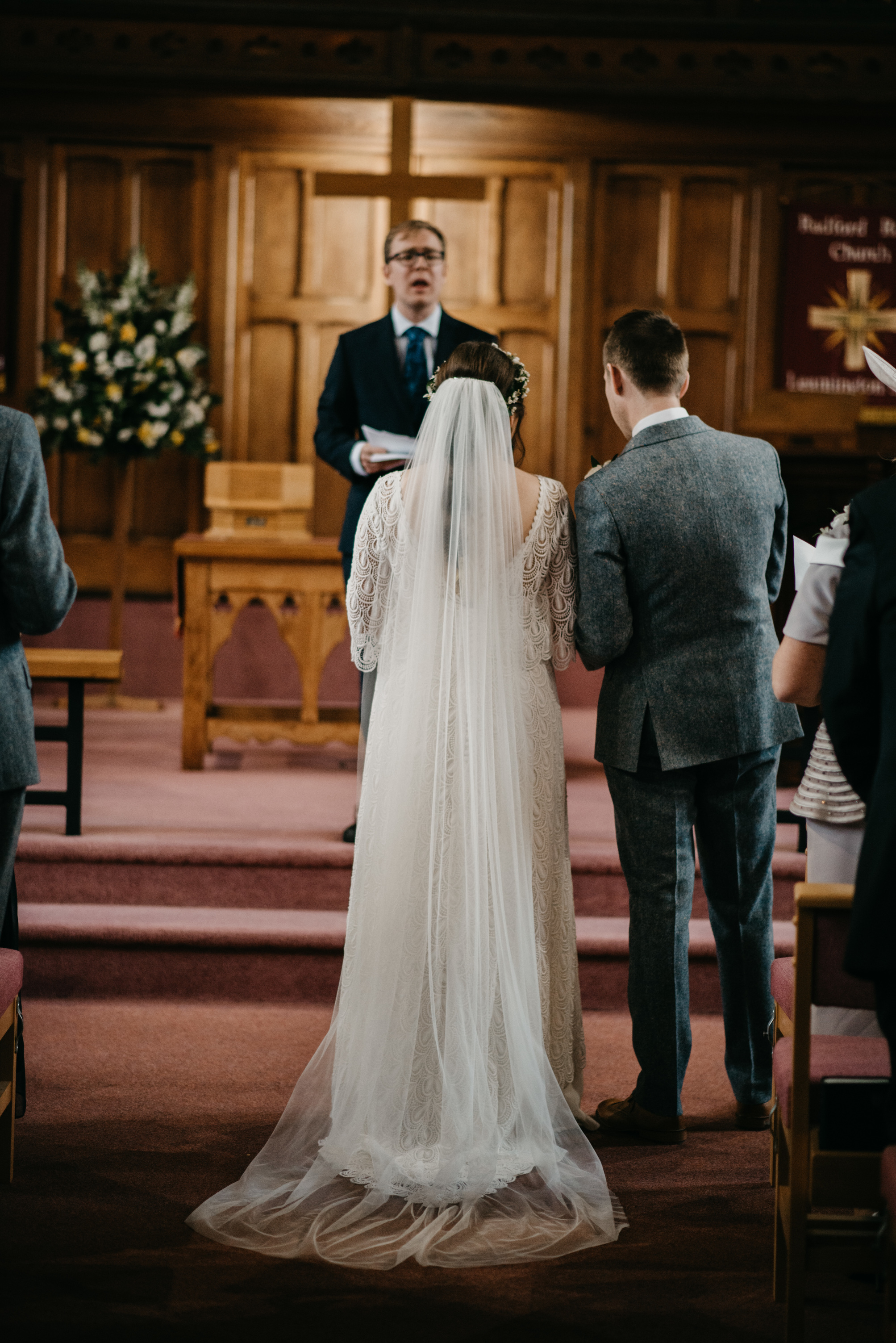 The second most memorable part of the day was the food. Taste Events did an amazing job and it is something everyone seems to mention, even nearly 6 months later! We had a super homely roast dinner with all our favourite trimmings including both roast lamb and beef along with red cabbage and jugs of gravy. We did not have just one dessert; we had a dessert station which consisted of about 6 of our favourite in miniature. This was a big hit with our guests.
Finally, your wedding advice: having recently had your wedding – what advice do you have for brides who are just about to have theirs?
Planning a wedding can get very all-consuming. Lots of people try to get involved and we found it was really important to make time for just the two of us. From my wedding instagramming I found a workshop in the Jewellery Quarter where we could make our wedding bands for one another. Jon and I spent a whole day at the Quarter Workshop making our wedding bands. I made his and he made mine. Whilst a lot of the work was in silence (lots of concentration was needed!) it gave us time to be with one another and really reflect on the meaning behind what we were making. It was also really good fun and satisfying (Jon and I are both quite creative). It was such a jubilant moment when we could finally give the rings to each other.
On our wedding day, we had time together, just the two of us, when driving between the church and the venue. Again this moment was special – we had literally just got married, we didn't really talk but we could not stop smiling at one another.
And finally, definitely hire a wedding videographer! We had such fun watching it back. Robin and Jade (Hushabye Films) were brilliant at capturing the right moments, so many of which you miss on the day itself. Click on the link to see Naomi and Jon's wedding video
We like to credit everyone who helped with your big day, so please list as many of your suppliers as you can!
Church: Radford Road Church, Leamington Spa
Venue: Primrose Hill Farm, Arlescote
Dress and Veil: Boho Bride Boutique and Lola & Em
Suits: The Wedding Barn, Ufton
Caterers: Taste Events
Wines and Spirits: North Oxfordshire Wine
Flowers: Rose Hamson Flowers
Rings: The Quarter Workshop in the Jewellery Quarter, Birmingham
Hair: Abi and Gabi at Oxfordshire Wedding Hair
Make Up: Vicky at Flawless Face Studio
Photographer: Becky W Photography
Videographer: Hushabye Films
Bridesmaids: Coast
Page Boy waistcoats, bow ties and pocket squares: Little Ladies and Lords
Flower Girls: Monsoon
Wedding stationary : One of my bridesmaids and Etsy
Light up letters: Lamplight Design Co
Vintage decorations (candle sticks, coloured glasses and vases): Cotswold Vintage Party Hire
Entertainment: Steven Craven, Nick Ingram and friends
Magician: Paul Forster
Transport: Jon's MGB GT and we hired a 1969 Mark II Jaguar from Tudor Photography