Our Boho Brides
---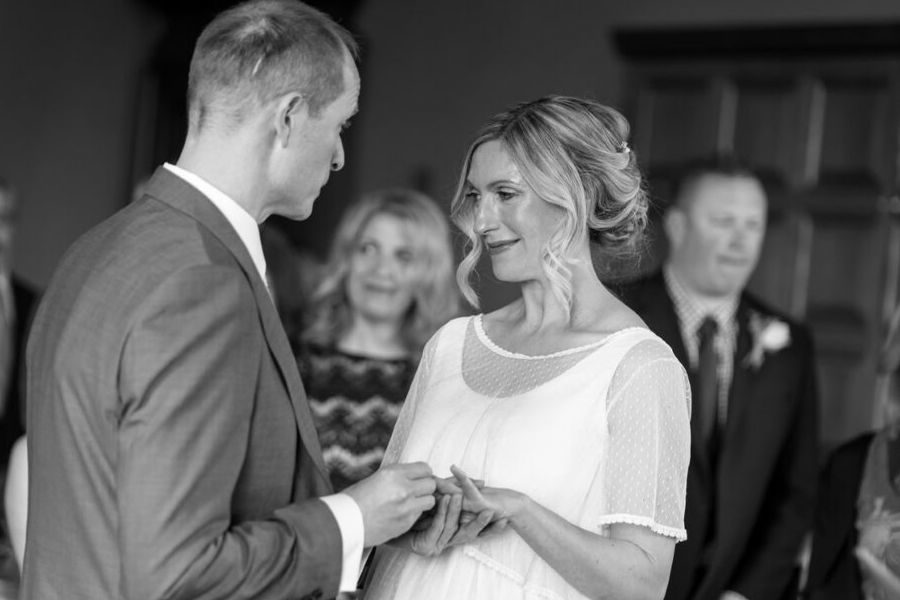 We are thrilled to be launching 'Our Boho Brides' blog page. This is a blog dedicated to our real brides wedding day stories. Full of beautiful images of our brides on their wedding day in their beautiful Boho Bride designer gowns.
Each of our brides in unique so their wedding day stories are unique too! Full of personal statements about themselves and their lives. We just love looking at the photos our brides send to us and I am sure you will too.
Our first bride is Bridgette, now Bridgette has quite a story to tell. Bridgette found out she was pregnant just as she was starting to look for a wedding gown so we stepped up to the challenge and suggested that we design and make a wedding gown for her….that would grow with her bump!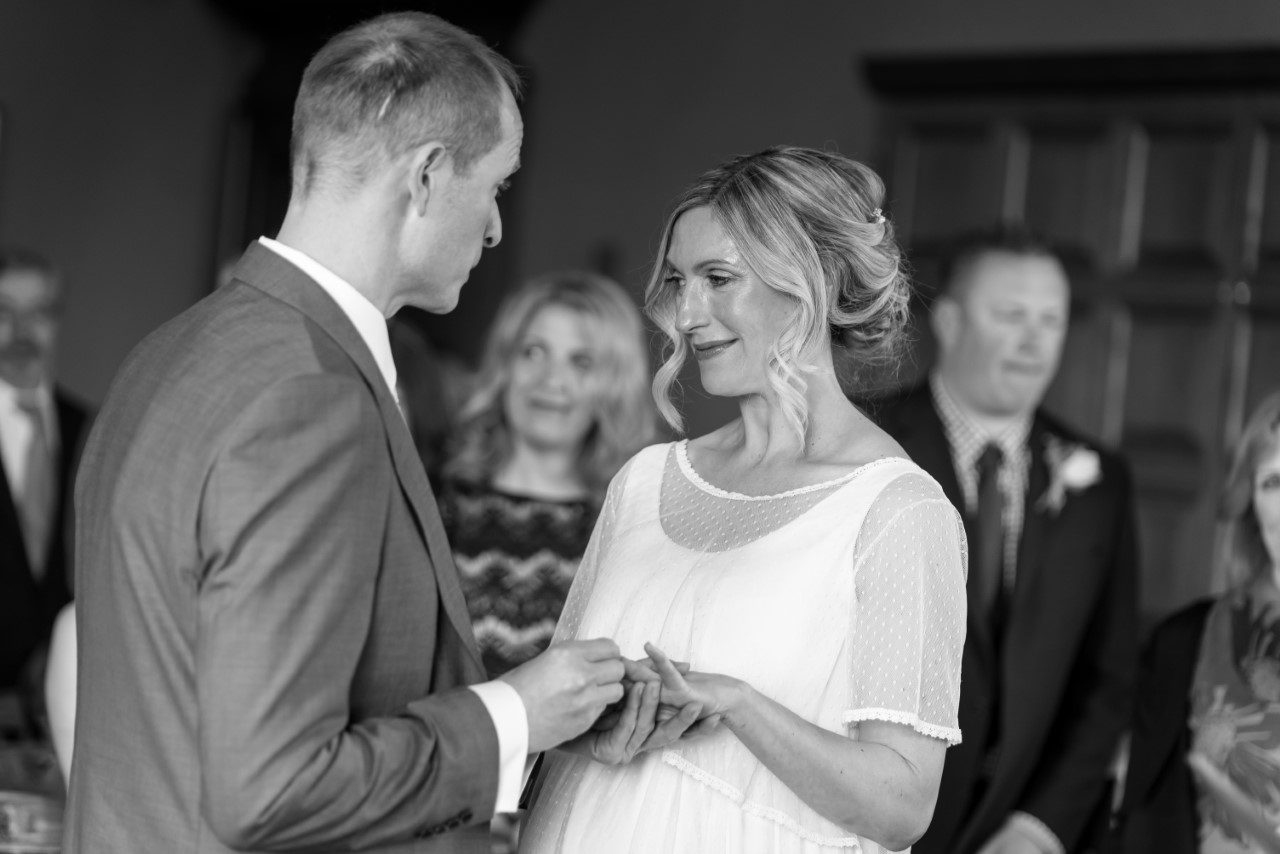 Tell us about the journey to your wedding day?
Dave and I have been together for 7 years. We had 3 kids between us and we knew we'd one day get married – it was just a question of when! For my 42nd birthday Dave booked a surprise weekend away to Berlin for just the 2 of us and I did have an inclination that he would pop the question on that trip. He did – on my birthday! As it turns out I got pregnant at the Berlin weekend too. Sadly we later lost that baby. We'd only given ourselves 8 months to plan the wedding so I decided to throw myself into the planning and just got on with it. Amazingly I fell pregnant the week after the miscarriage so it seemed like I was meant to be a pregnant bride! Terrible morning sickness kicked it which totally derailed my planning as I just lost enthusiasm for everything! We got there in the end but it was a bit tight!
Tell us about your wedding day. What was your theme? Did it all go to plan? What was your most memorable moment?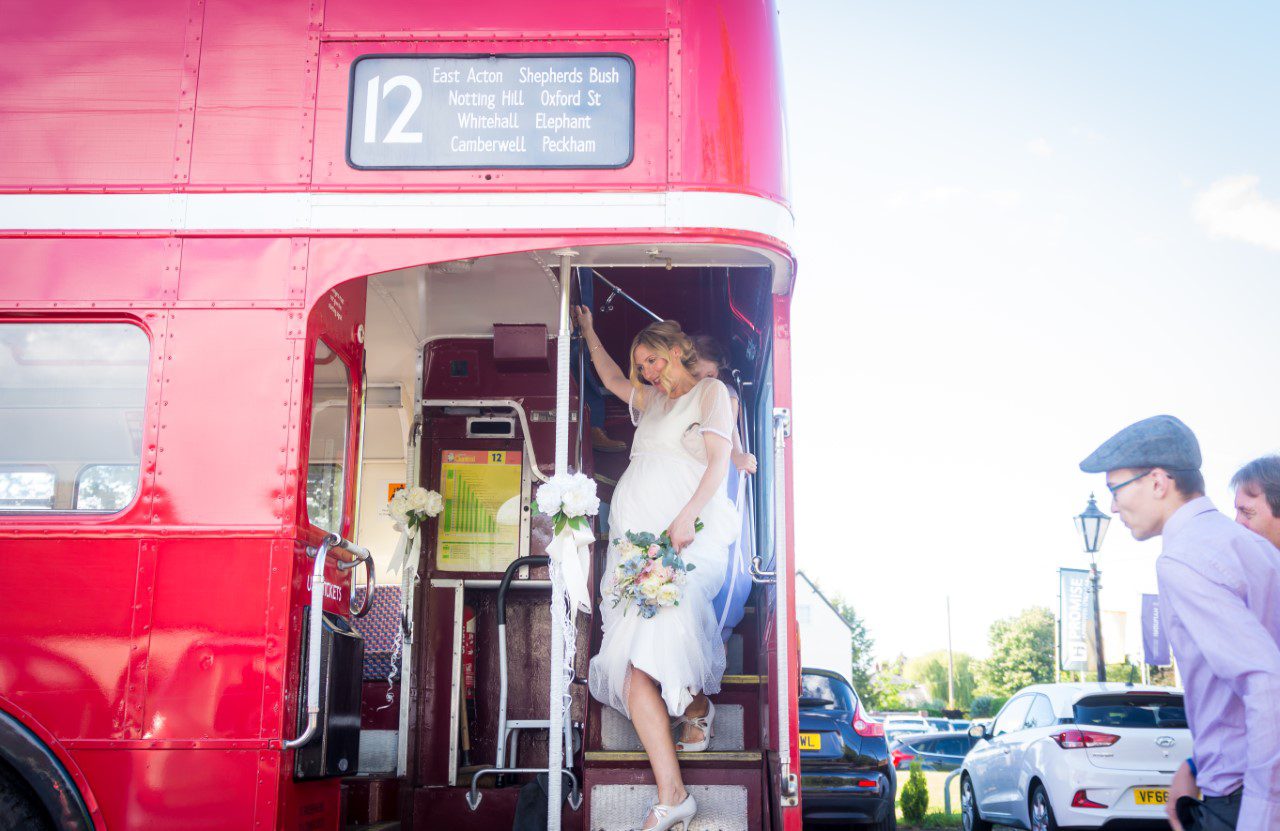 Dave and I had both been married before so second time around we wanted quite a small, low key do surrounded by our immediate family and best friends. As we are both in our forties, ourselves, and all our friends had children. We therefore wanted something that would work well for the kids too. We had a small civil ceremony in a beautiful council building in Worcester followed by champagne and canapés. We then got on a red London route master bus (the kids loved this and we both used to live in London so we thought it was apt!) which took us to our evening venue. This was in a lovely local pub in their garden in a tepee which we'd hired for the evening. The kids ran about the garden and we could all relax and enjoy ourselves.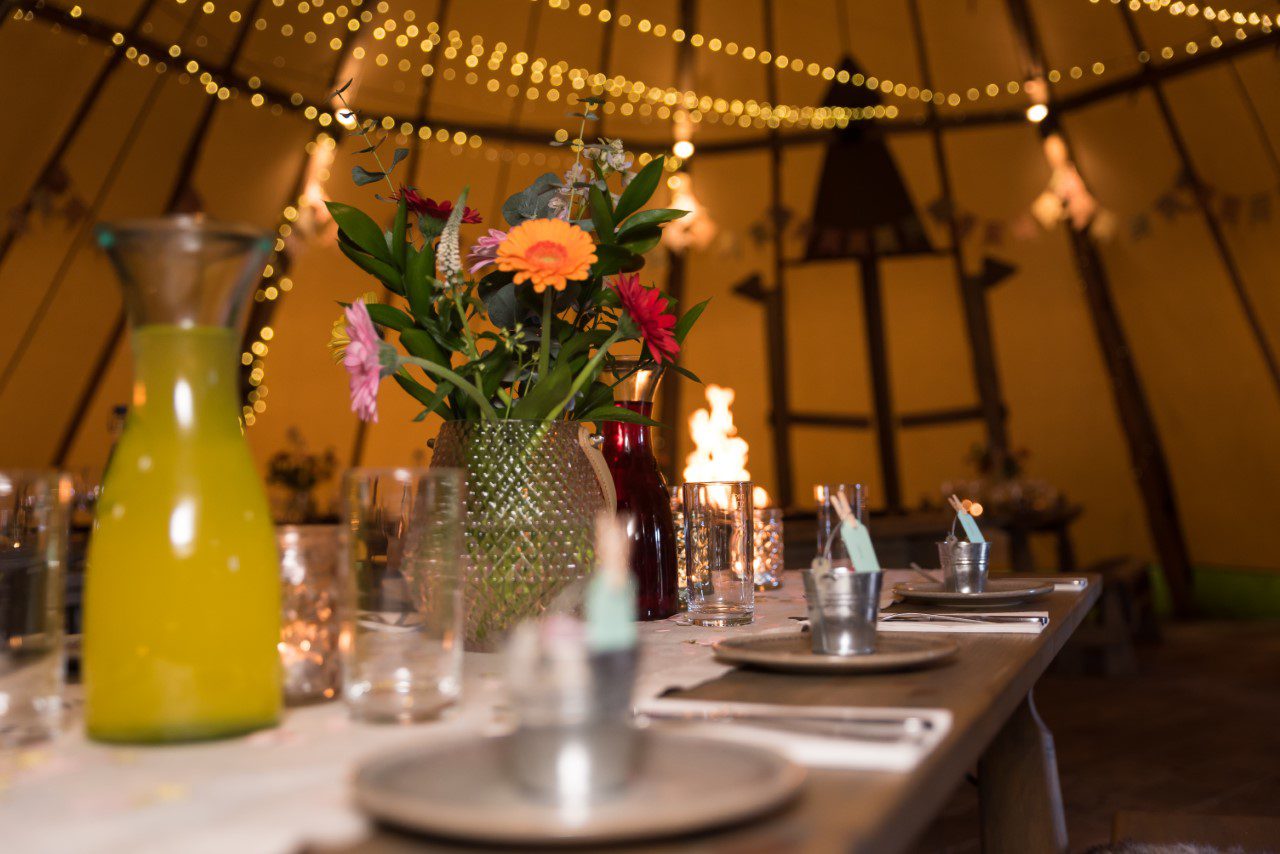 We didn't particularly have a theme. We just wanted a relaxed informal do surrounded by loved ones.
Apart from a torrential downpour when we were leaving the house it all went to plan.
I think the most memorable moment was our vows. It was very special and Dave and I had been through a lot to get to that moment so it was all quite emotional! I was holding it all together until I saw my little step daughter in tears – that really set me off!
Would you do anything different? What tips would you give couples from your experience of planning your wedding and the day itself?
No, I don't think I would do anything differently to be honest.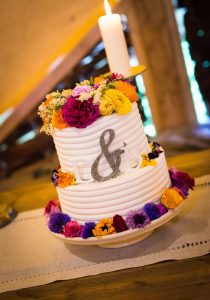 I think I would just advise people to plan their day the way they want it and not to get too swayed with what other people might think or want. I think it's quite easy to be influenced by the whole wedding industry but people should stay true to what feels right and personal to them and just stick with it. Also – get a good photographer, it's really worth the investment. I was also really glad I got a professional in to do my hair and makeup, It was definitely worth it! The day itself goes by so quickly and it's important to try and enjoy every minute of it. Try not to worry or get stressed and the little things that seemed important during the planning stage actually really don't matter that much on the day. I was obsessed with what the weather was going to be like. It actually rained for most of the day and it didn't matter a bit!
Tell us about what you had in mind for your wedding gown?
Because we were having a civil ceremony in town I initially wanted a short, non traditional wedding dress. I wanted something a bit different and a bit trendy. This changed when I found out I was pregnant! I short, girl about town type of dress wasn't really going to work with my expanding shape!
Tell us how you found Boho Bride and what prompted you to have your gown designed.
I found Boho Bride through a bit of a random internet search to be honest. I went for a quick look round with my mum and Lynette just made me feel special and it just felt right so that was that. Lynette suggested having my gown made when I was fretting about dresses not working with my pregnant body! It seemed like the ideal solution.
Tell us about your experience with Boho Bride
I liked the fact that Boho Bride always had a very personal, intimate feel about it. Lynette and Laura the designer took a genuine interest in my dress "journey" and was always on hand with help and advice. I don't have any family living near me so I always had to attend my fittings and consultations on my own so it meant a lot that I felt supported and looked after by Lynette and Laura. They were also very lovely and tolerant with my little 2 year old son who was often in tow!
Tell us about the fabrics you chose and what made them special
I was very much guided by Laura Boho Brides in-house designer and Lynette to be honest – my knowledge of fabrics is limited! I had a lovely satiny type material underneath with a spotty white lace overlay. They were special as they were very light and flowy and draped well over my big tummy! Really easy and pretty to wear.
Tell us how you accessorised your wedding gown 
I kept things pretty simple really. I had minimal jewellery that was personal to be. A lovely hair vine that I got from Boho Bride. I had a little clutch bag and lovely shoes!
What did you feel like in your bespoke gown?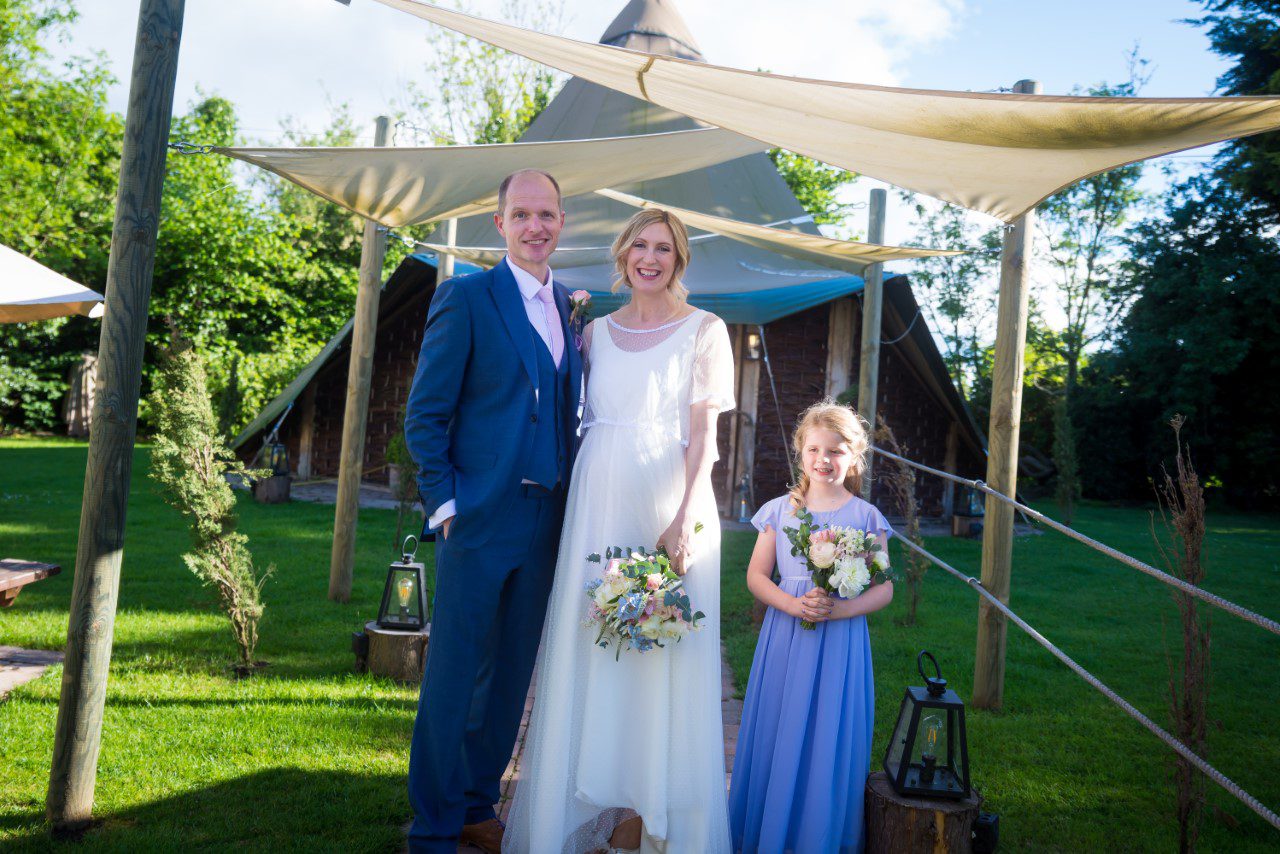 Because I was 6 months pregnant it was hard for that not to be the dominating feature and for me not to feel just generally a bit large! However, as my gown was fitted perfectly to me and my shape it helped to make me feel special and lovely and calm my fears about looking like a big pregnant bride!
Would you recommend to other brides to have their wedding gown designed and made for them?
Yes, I absolutely would. It's the perfect opportunity to wear something totally unique and perfect just for you. If you have an idea of what you want but can't quite find that perfect gown then having it designed and made is amazing.
I got my hair vine from Boho Brides. My shoes and bag where from Rachel Simpson. Our photography was Amy Loveland. My hair and makeup was done by Sarah Russell.