Please Vote For Boho Bride
---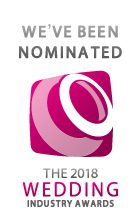 Calling all our Boho Brides!
We are delighted to have been nominated again this year for The Wedding Industry Awards for 2018
The Wedding Industry Awards are one of the most prestigious awards for the wedding industry and really help to promote excellent customer service standards throughout the wedding industry.
We were thrilled to get through to the regional finals last year so lets see if we can do it again and you never know we could win this year. But we need your help.
If you're wedding has taken place already or about to between the 24th October 2016 and the 23rd October 2017 you are eligible to vote. It would be fantastic if you could spare a few minutes to say something nice about us and how you enjoyed your experience. Please click on the link which will take you straight to our voting page. https://www.the-wedding-industry-awards.co.uk/west-midlands/bridal-retailer/boho-bride/vote
Thank you for your time
The Boho Bride Team xx