Lisa and Shaun's perfect wedding
---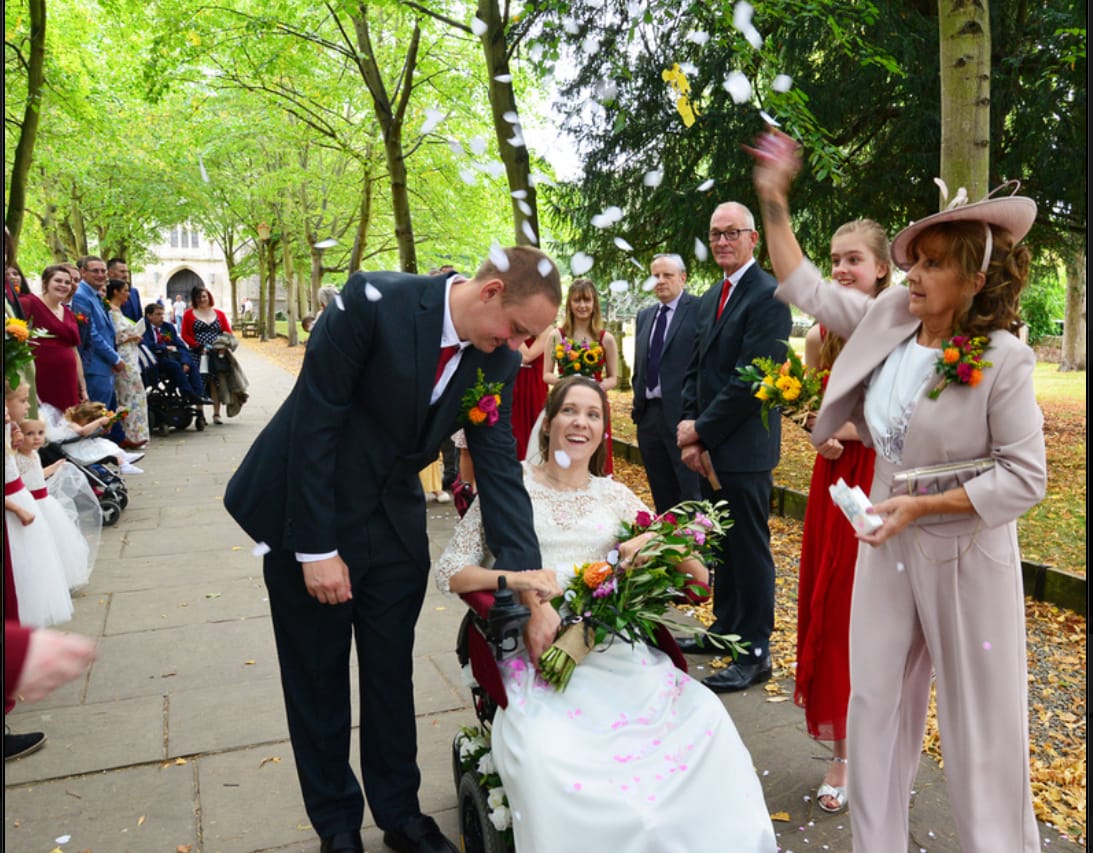 Our very special Boho Bride.
Lisa came to see us back in 2019 and I remember her words to me were "I want to be a boho bride and I really want a boho wedding dress"
I knew straight away that we would do everything we could to make Lisa's wishes come true.
With Lisa's complex conditions a standard bridal gown was not an option, so we would have to design a gown from scratch. Luckily Lisa loved our Freedom Collection and I knew we could adapt the pieces from the collection that she loved so we could get her into the gown easily.
We offered to come to her house for the fittings but Lisa said she wanted the full Boho Bride experience and would prefer to come to the boutique for all her fittings. So, with a little bit of furniture gigging we were able to accommodate Lisa's wheelchair and make her comfortable and safe for her fittings.
Here is Lisa's story in her own words.
Tell us about the journey to your wedding day?
Shaun and I had known each other for 2 years then got engaged. However, our journey towards the wedding day was not straightforward as Shaun was diagnosed with Diabetes and was very close to ending up in a coma which prompted us to finally set the date for August 2020. Then Covid- 19 hit us!!!  We had to delay our plans because of this and rearranged the date to April 2021. Again, it was not possible for the wedding to go ahead due to the restrictions imposed.  Thankfully, we were able to finally tie the knot on September 4th 2021 with all our friends and family present, however, Shaun's grandad passed away a month before and was really looking forward to celebrating with us, but his dying wish was to carry on with our plans and have the best day possible.
Tell us about your wedding day. What was your theme? Did it all go to plan?
What was your most memorable moment?  Our wedding was more perfect than I could've ever imagined. Due to the delays, we were able to save up extra cash for a bigger venue and a formal meal for everyone, a Disco and also the fabulous sweetie cart which went down brilliantly with the kids and adults alike. The weather was perfect from start to finish. All in all, everyone had the most wonderful time!!
Our wedding reception was originally planned to be held in a rustic country pub so I wanted to incorporate this into our overall theme. Sunflowers have been my most favourable flower when growing up and they hold very special memories for me so they were my chosen table centrepieces and also put into my bouquet along with the bridesmaids' posies.
Would you do anything different? What tips would you give couples from your experience of planning your wedding and the day itself?
I wouldn't change a thing regarding my wedding day it was perfect. My tips for other couples is to take out wedding insurance, it doesn't cost much and gives you piece of mind in case of unfortunate events. Always research your supplier's way before the day and read reviews to prevent any disappointments. The day itself goes by very quickly so make sure you savour every moment and take some time out for yourself before greeting guests as you will be overwhelmed for sure. Also, Lots and lots of pictures to capture the best moments.
Tell us about what you had in mind for your wedding gown?
I wanted a classy, understated Boho style wedding dress to represent my personality but also a gown that was practical and comfortable due to my disability and complexed needs.
Tell us how you found Boho Bride.
I used to go to the garden centres a lot and it was only by chance that saw the bridal boutique in the courtyard. Throughout the years of my engagement, I always had Boho bride in the back of my mind when it came to wedding dresses but I never thought they would be able to accommodate my budget or specific needs.
Tell us about your experience with Boho Bride.
From walking through the door I was made to feel like a princess. Lynette, Laura and Luci did their absolute best to listen to what I wanted but also advise me on various styles that would suit my unique physique and my additional needs. Nothing was to much trouble for them and I felt very comfortable in their present when discussing personal insecurities. This really helped build my confidence as I was very nervous about being the centre of attention. I loved getting to know them all and loved my dress too.
Read what our brides say about their experience at Boho Bride
Tell us how you accessorised your wedding gown.
I had a locket given to me by my uncle with a lock of my late grandmother's hair in it so part of her was present on the day. I accessorised this with a blue gemstone necklace and matching earring's I purchased from Amazon ((for my something blue)). My hair clip with a white flower held my veil in place. My slippers were made by Laura with fabric that coordinated with the removable top.
What did you feel like in your wedding gown?
I felt really relaxed and comfortable in my wedding gown and was complimented on how beautiful and elegant I looked in it. My favourite parts of the dress were the lacey top.
I would recommend Boho Bride to anyone with a disability or specific requirements. The team really did go above and beyond my expectations. Lynette and Luci came to my house on my wedding day to get me dressed and ensure I didn't need any last- minute alterations. Thank you so much!
Lisa and Shaun's wedding suppliers
The Cottage Garden Florist (Jemma) Shipston on Stour.
Crowne Plaza including Disco, Horsebox Bar and Sweet Cart. Stratford-upon-Avon
Photography by Lotty Dee-Andrew
Hair by The Hair Lab (Chloe) Stratford- upon -Avon
Makeup by Adara Beauty at Hatton Shopping Village, Warwick. (Hatton Country World)
Holy Trinity Church, Stratford-upon-Avon for the ceremony and in-house flowers.
All stationary was handmade by ourselves.
If you are a bride with a disability we would love to help create your perfect wedding gown.