Boho Bride Estelle's Intimate and Alternative Wedding Day
---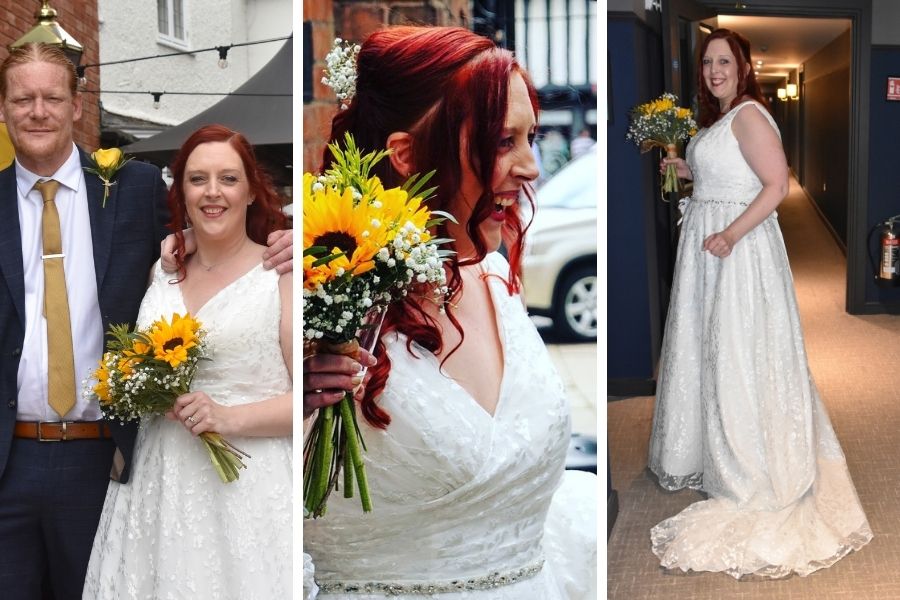 Estelle had been with Simon for 10 years when he popped the question! She came over to Boho Bride to try our alternative collection of hand-picked gowns. She was looking for a 1950s style tea dress but as soon as she tried a full-length wedding dress from our Millie May range, she fell in love.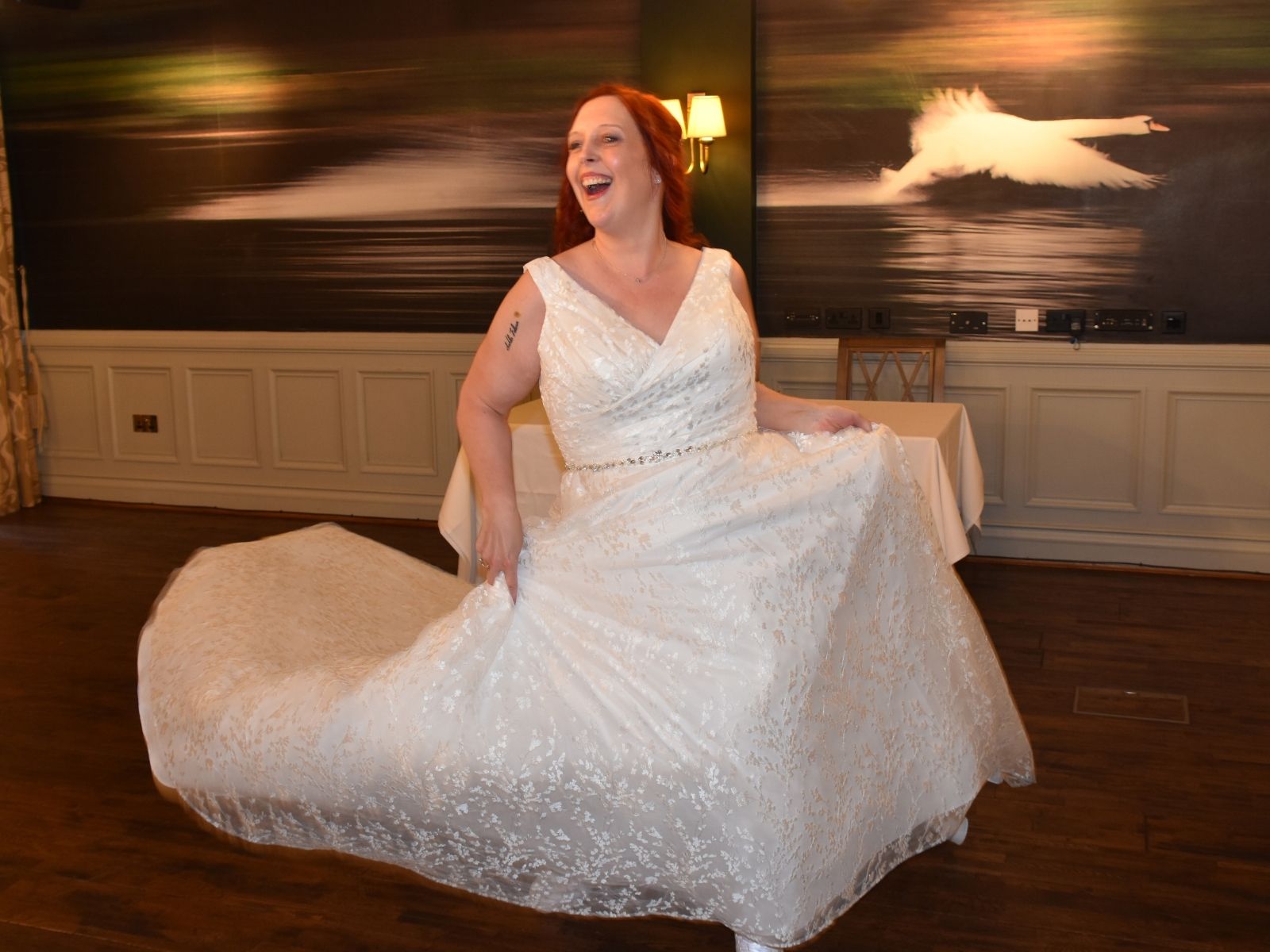 Tell us about the proposal
It was January 11th, 2020, just before Covid hit. Simon and I were at Granary Wharf, in Leeds and I was walking over a bridge. I hate walking over water, so I was walking with purpose. But then I heard Simon call after me, "Oh Estelle! Look at the lights reflecting on the water!" and I turned around and he was down on one knee, holding my ring out in front of him. I ran back over to him and immediately said "yes"!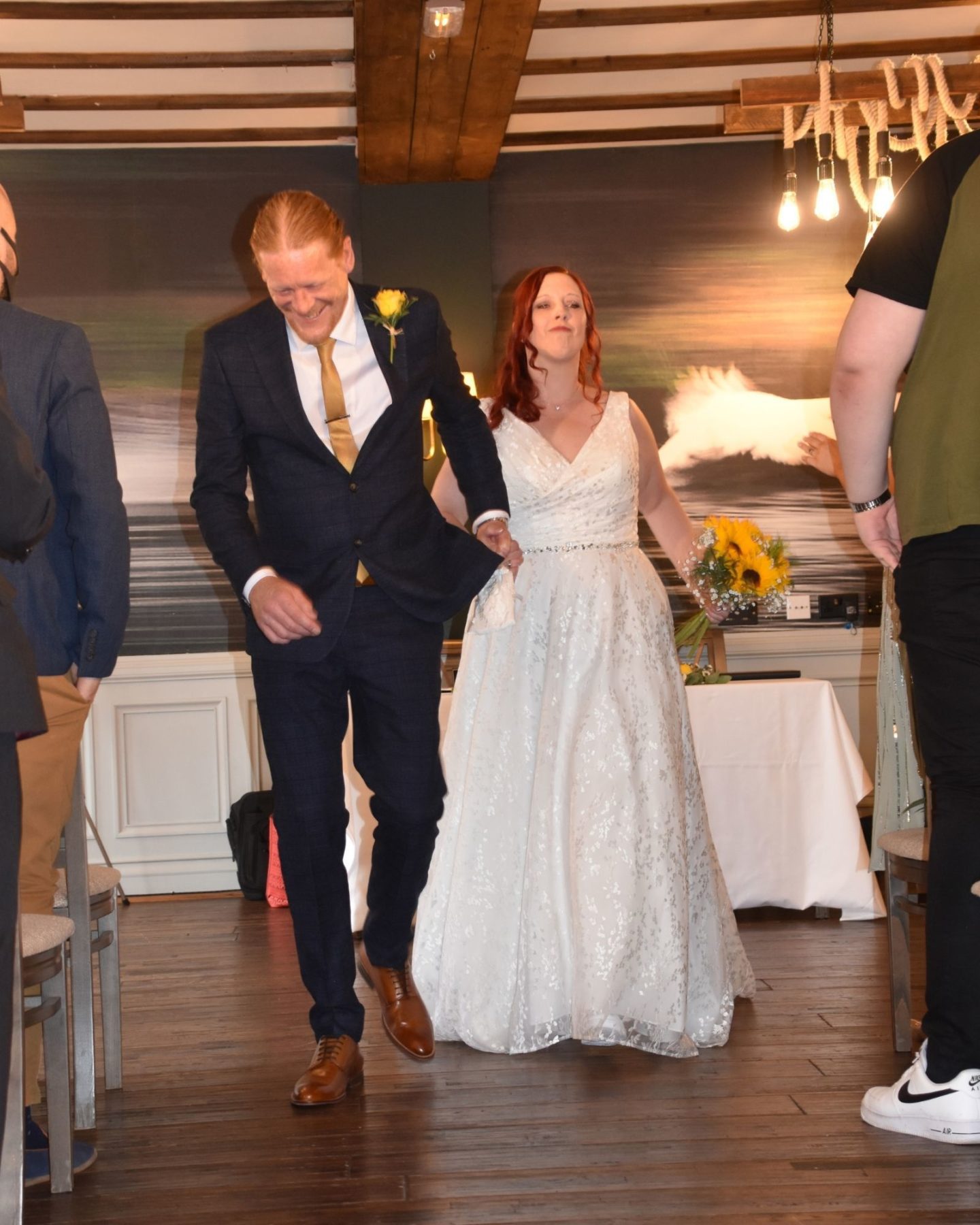 Tell us about your wedding day
We got married on 19th June 2021. It was perfect. Our ceremony was moved at the last minute from the registry office to The White Swan Hotel, where we'd already planned to have our reception.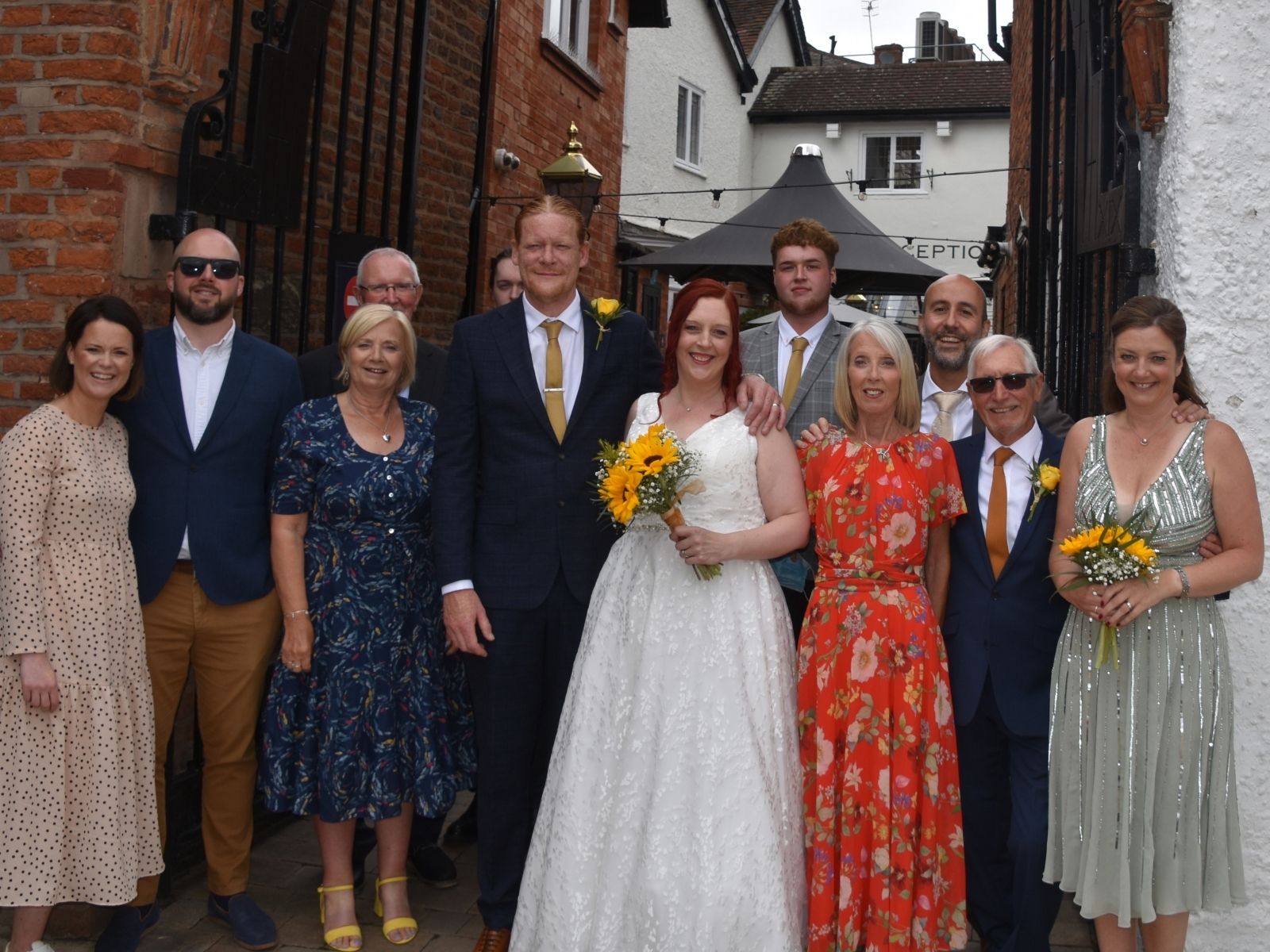 Originally, our theme was going to be Darling Buds of May meets posh afternoon tea, but Covid regulations meant we couldn't have sharing food. So, we went for menu options instead.
I purchased our venue room décor and recreated my vision with the help of the staff at The White Swan!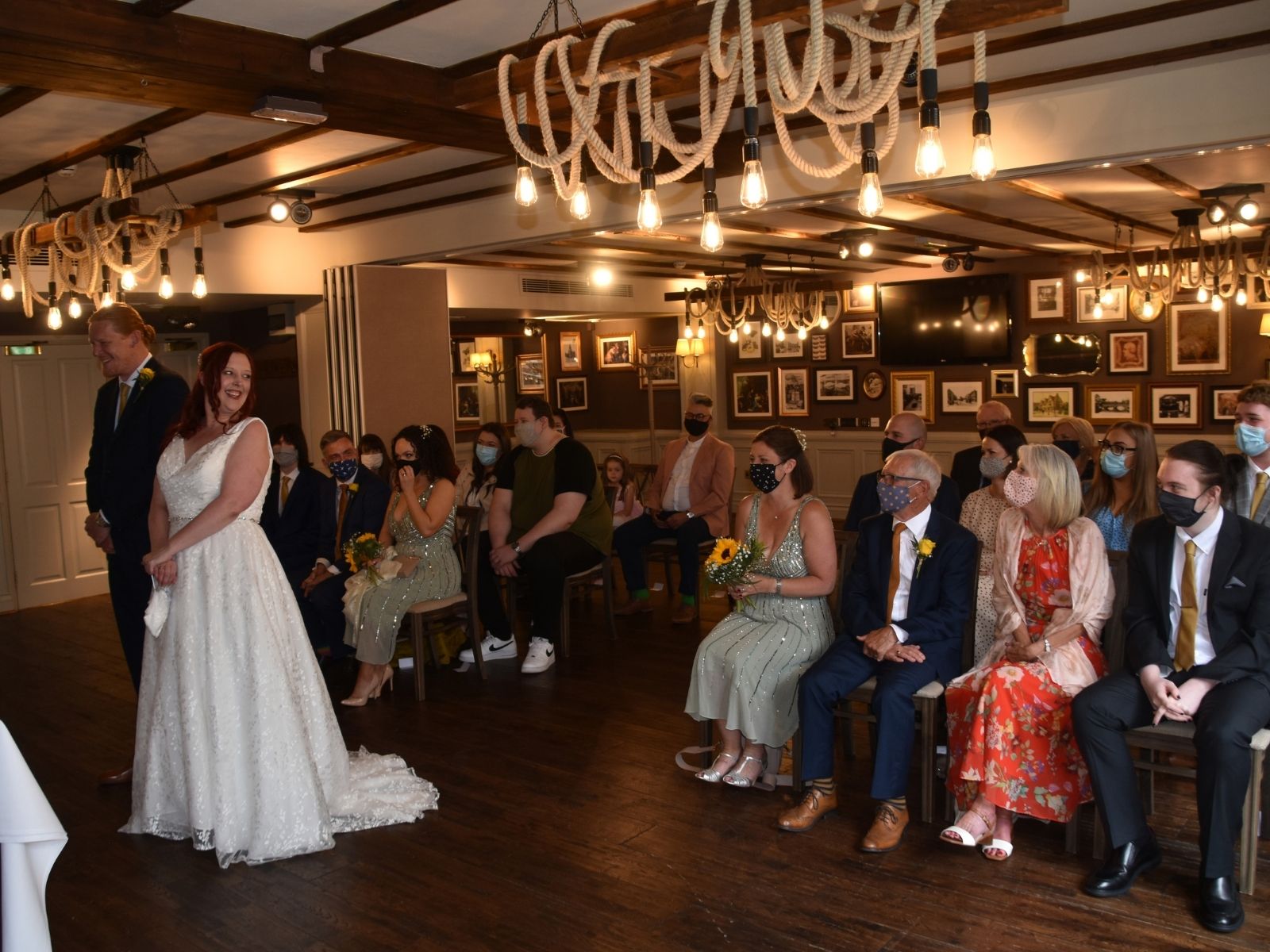 We chose sunflowers, and had white and yellow flowers for our ceremony, table and cake. We had a two-tier semi naked three-layer lemon cake for the base and a three-layer vanilla cake for the top.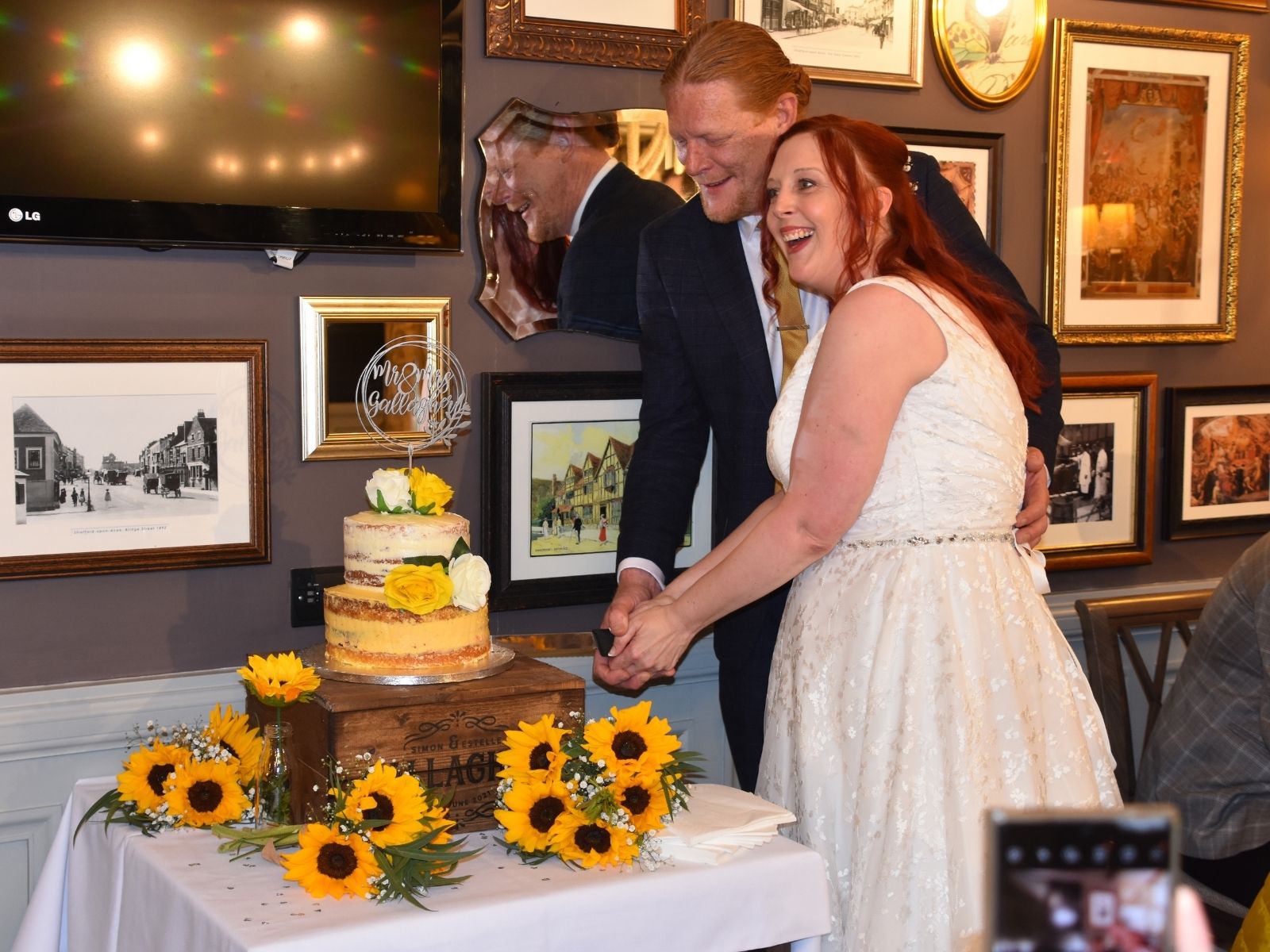 And my dad, Simon, and his best man David made speeches.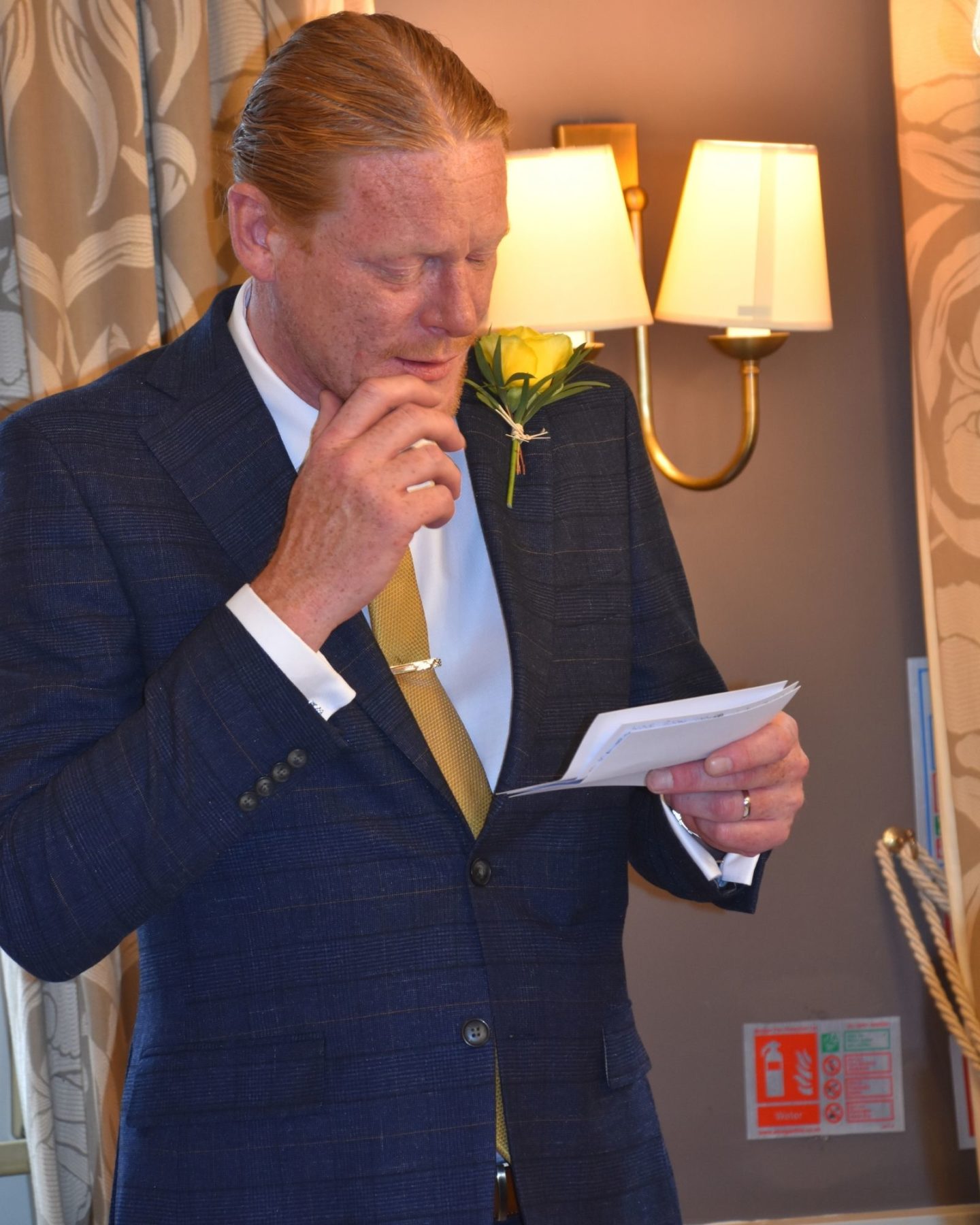 What was your most treasured memory from the day?
All of it, I wouldn't change a thing! We always wanted a small and intimate party with just family so Covid didn't affect us really.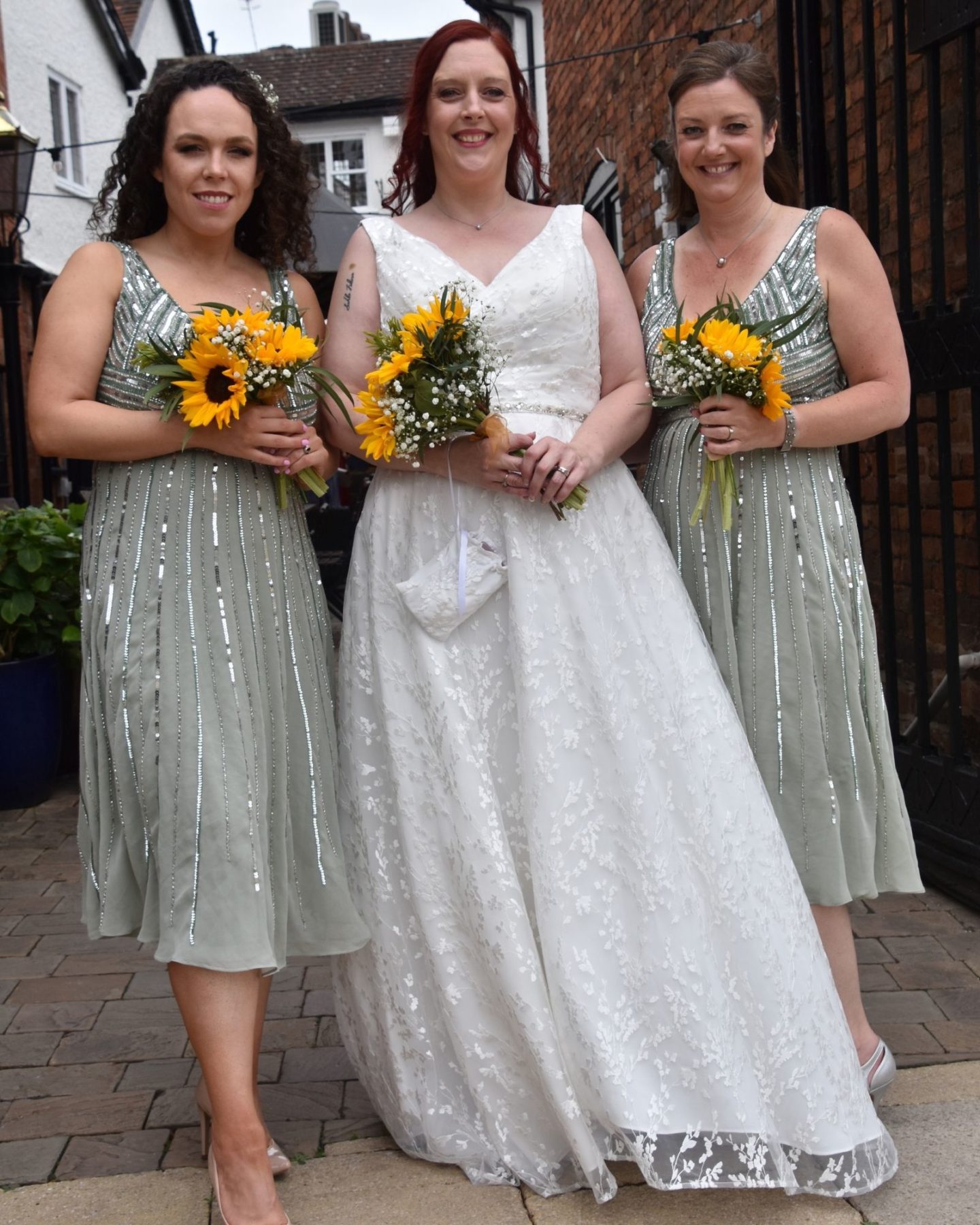 Read more: Kat's Lovely Lockdown Wedding and Post-Covid Plans
What dress did you choose?
I chose a Millie May full-length wedding dress with train! I went into Boho Bride for a 1950s style tea dress but got carried away and tried eight gowns on! I knew it was the right dress as soon as I was wearing it!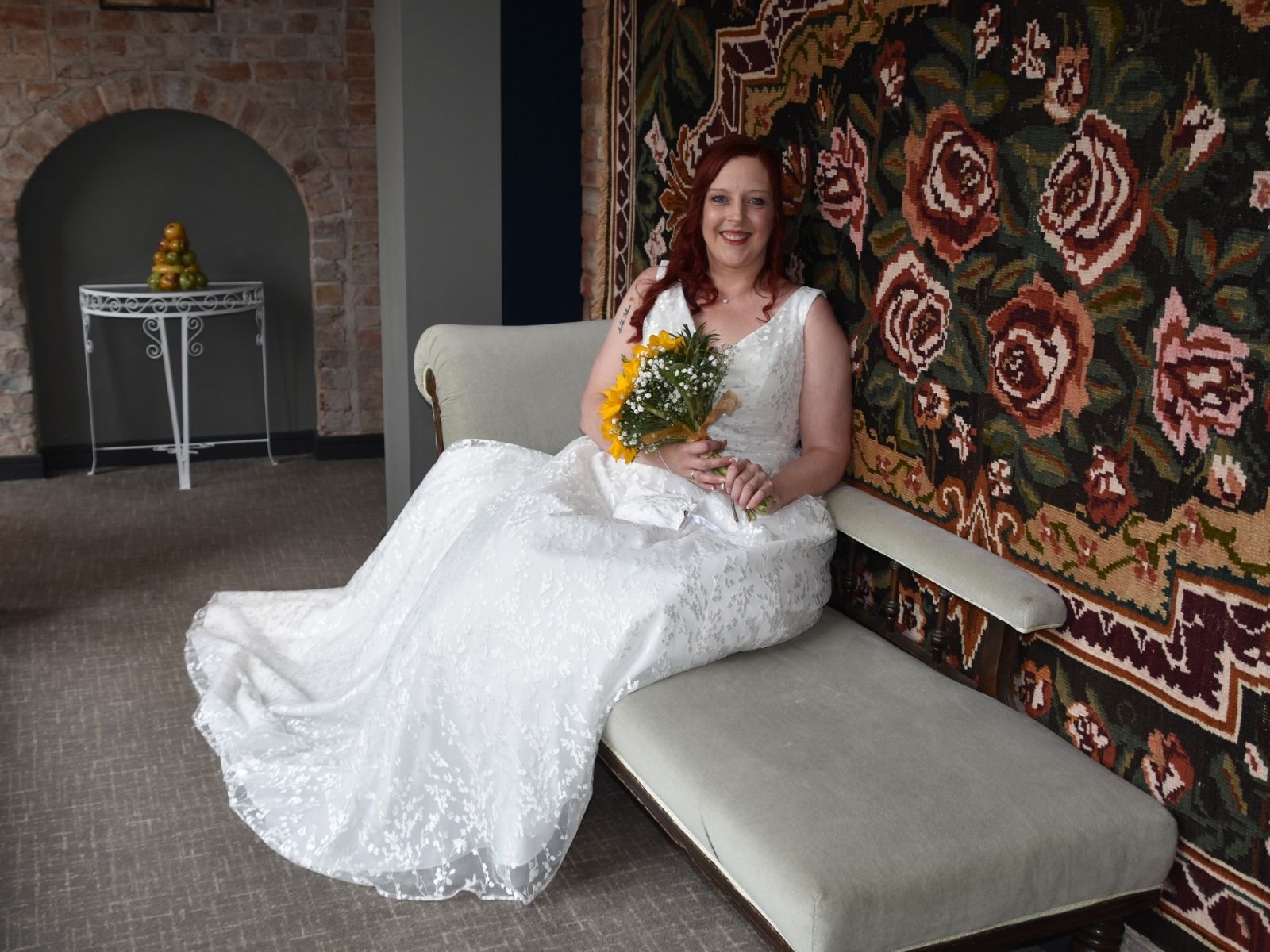 I am so pleased I went to Boho Bride. Lynette and the team are amazing!
I loved everything about my dress – the lace looked beautiful in the light and I felt AMAZING in it!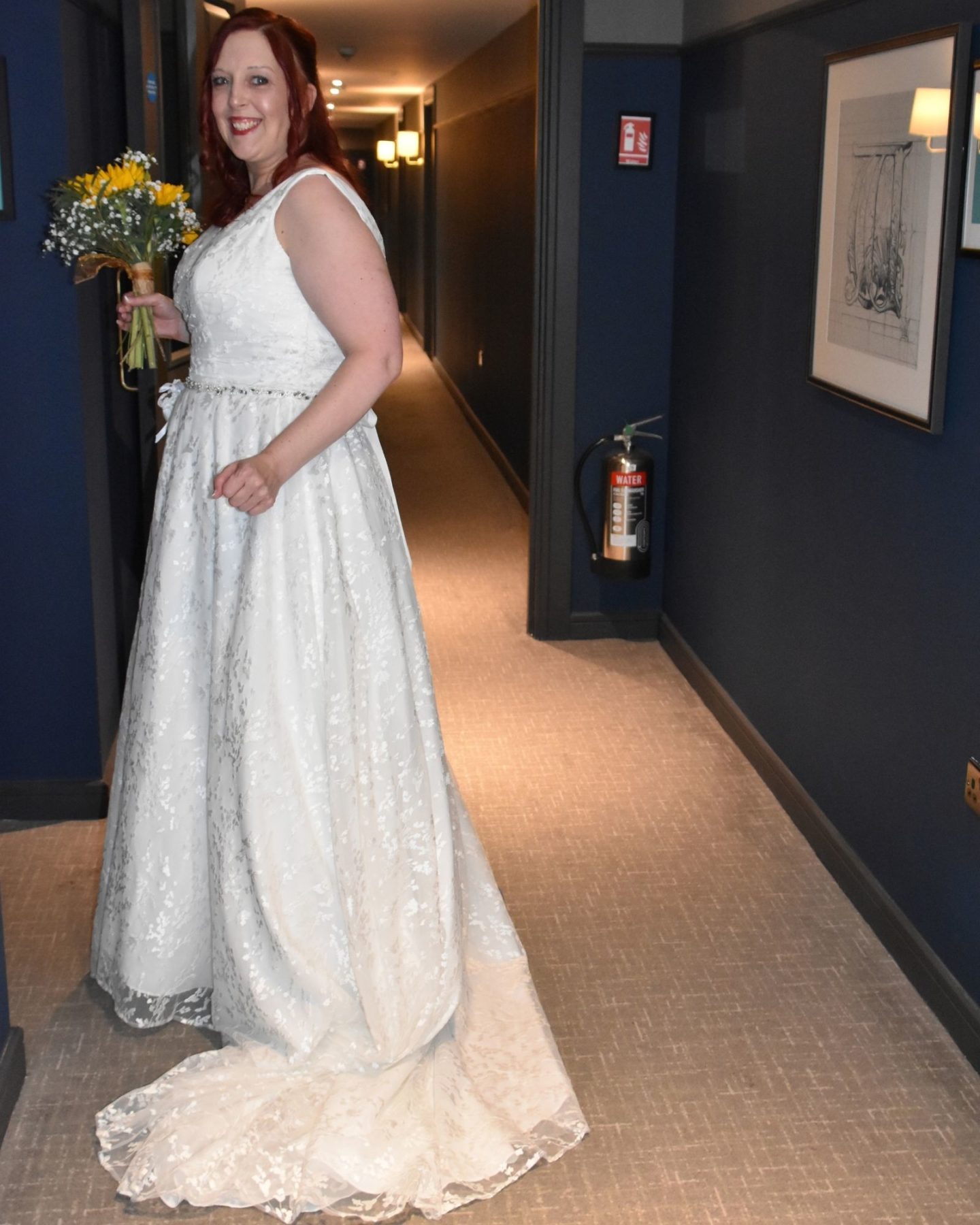 Read more: Figure-Flattering Wedding Dresses for Your Body Shape
How did you accessorise your dress?
Jennifer, who did my alterations, made me a little wrist bag and the dress came with a beautiful shiny belt.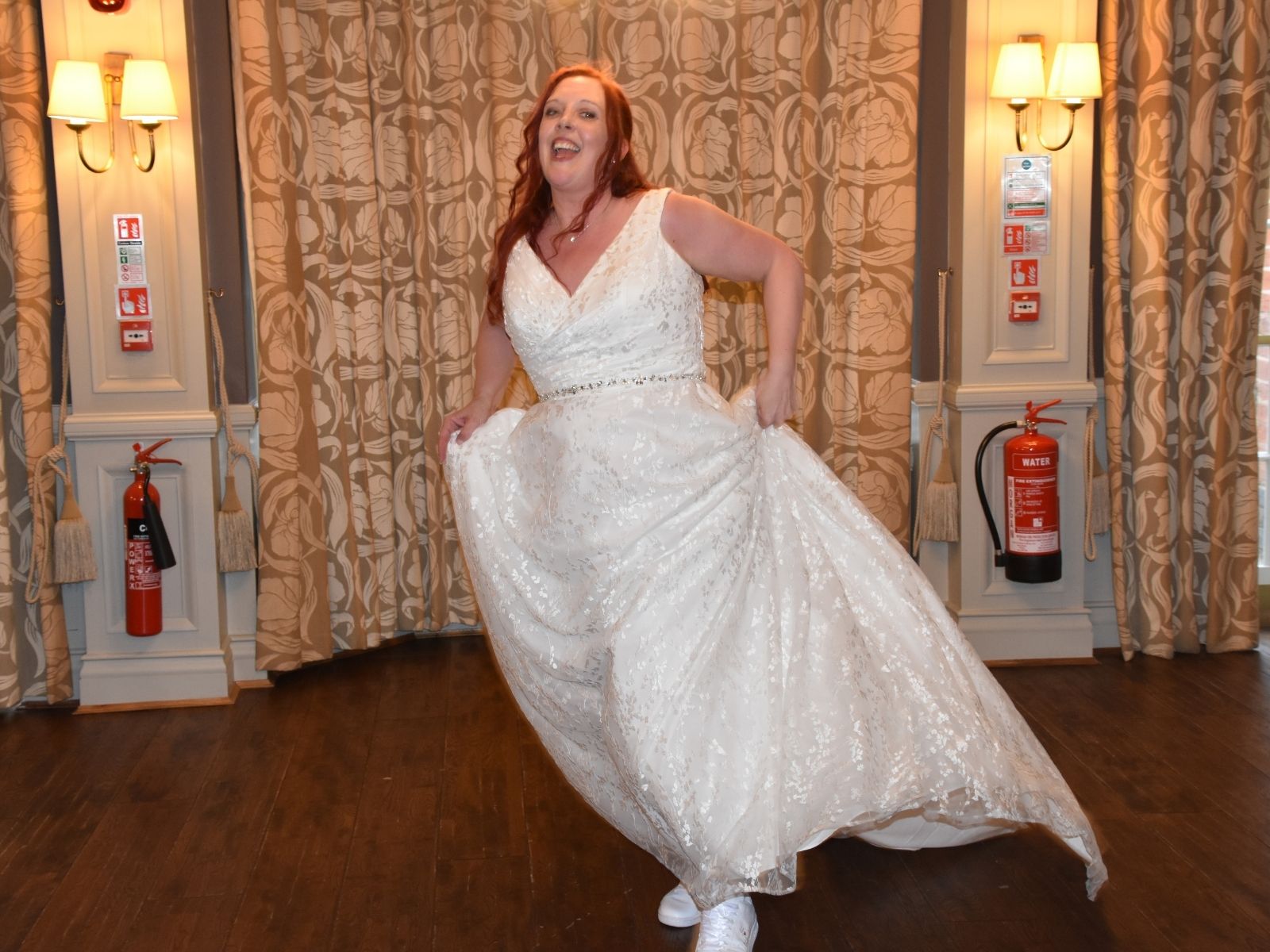 Read more: Bohemian and Vintage Wedding Shoes You'll Love
Did you have any alterations?
Yes, I had the length and fit adjusted. I was considering having the train removed but my Mother-in-Law, Sue, passed away suddenly in February this year and the last time I saw her we were watching a video that Lynette took of me in my dress. Sue made me promise to keep the train on – so for her, I did.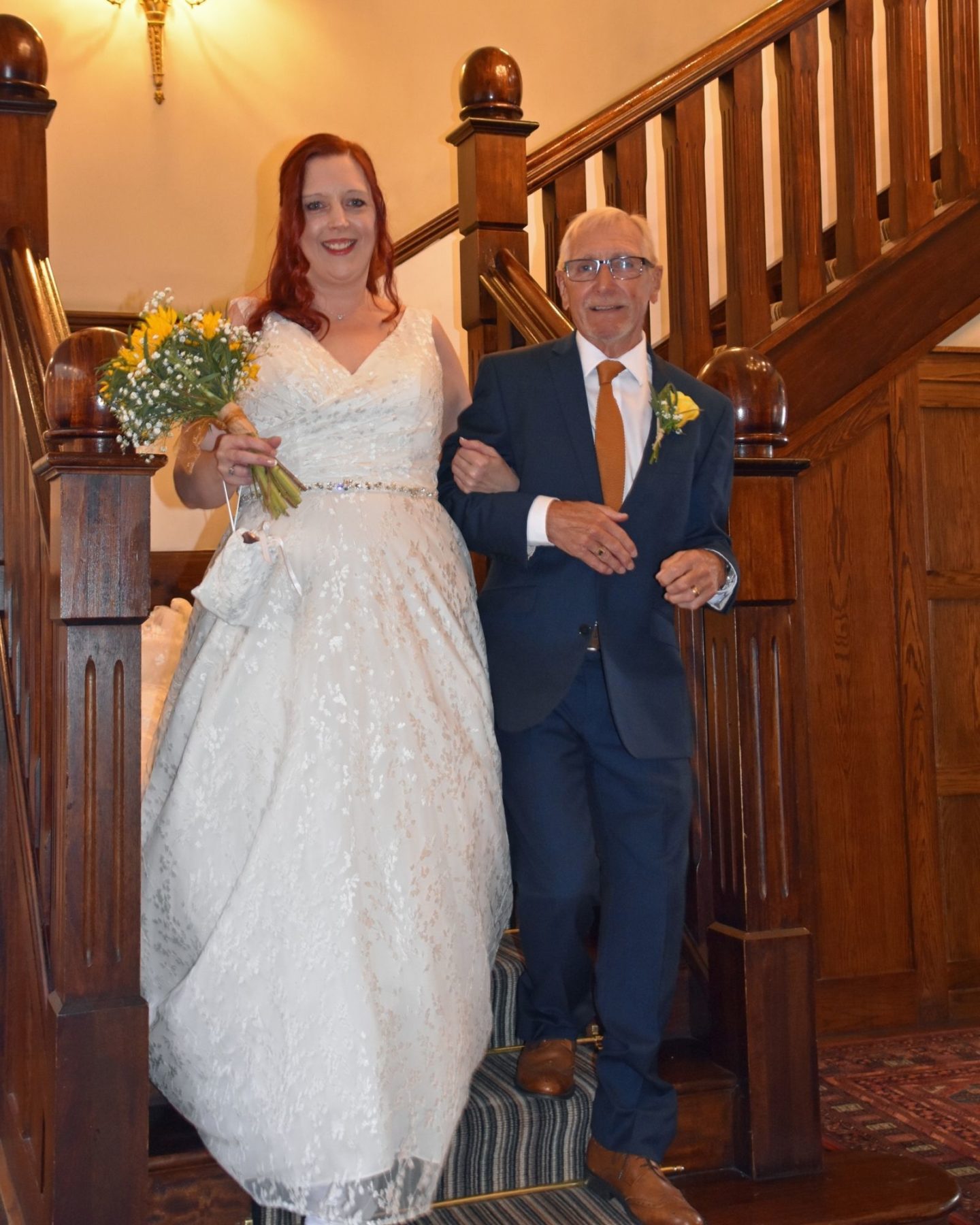 See more: VIDEO – Everything You Need to Know about Bridal Alterations
List of the dream team
Venue – The White Swan Hotel
Accessories – Wedding Converse! (I don't do heels).
Suits – Moss Bros.
Caterers – The White Swan Hotel
Cake – lottsabakes
Favours – Mailbox Munchies
Flowers – The Flower Shop
Rings – H. Samuel and Fraser Hart
Hair – Clara Byrd Hairdressing
Makeup – Estelle
Photographer – Estelle's Brother-in-Law Elliot Herbert
Wedding stationery – Vista Print
Decorations and party entertainment from various websites and the venue staff set up for us
Dress – Boho Bride Boutique