Natalie and Rob's Intimate Italian Wedding
---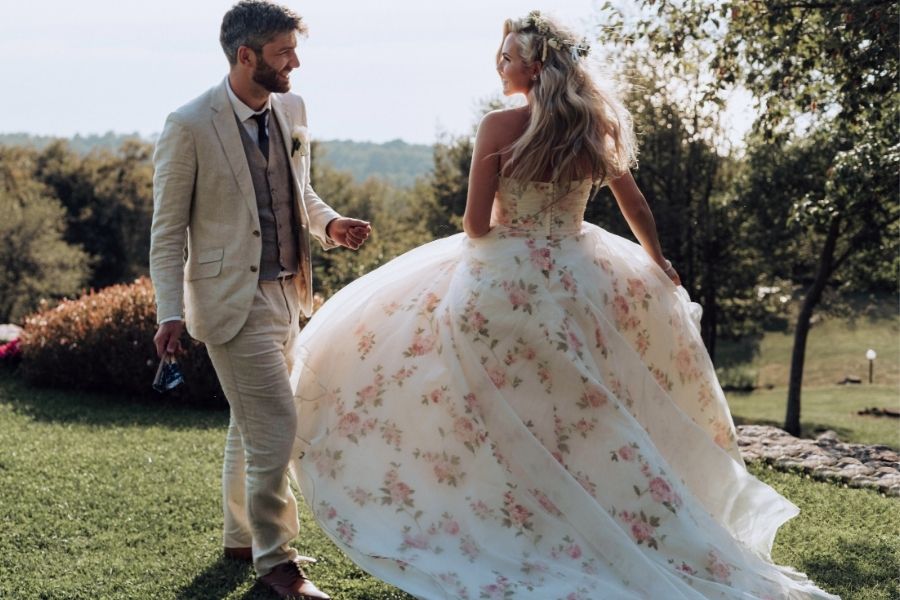 It was a beautiful evening and Natalie and Rob had just finished dinner at their favourite restaurant. They wandered the restaurant grounds until it got dark, stopping on a bridge to gaze up at the beautiful, clear sky. The moon was glowing brightly, and its reflection shimmered over the river. It was at that moment that Natalie looked over to her partner, who was down on one knee!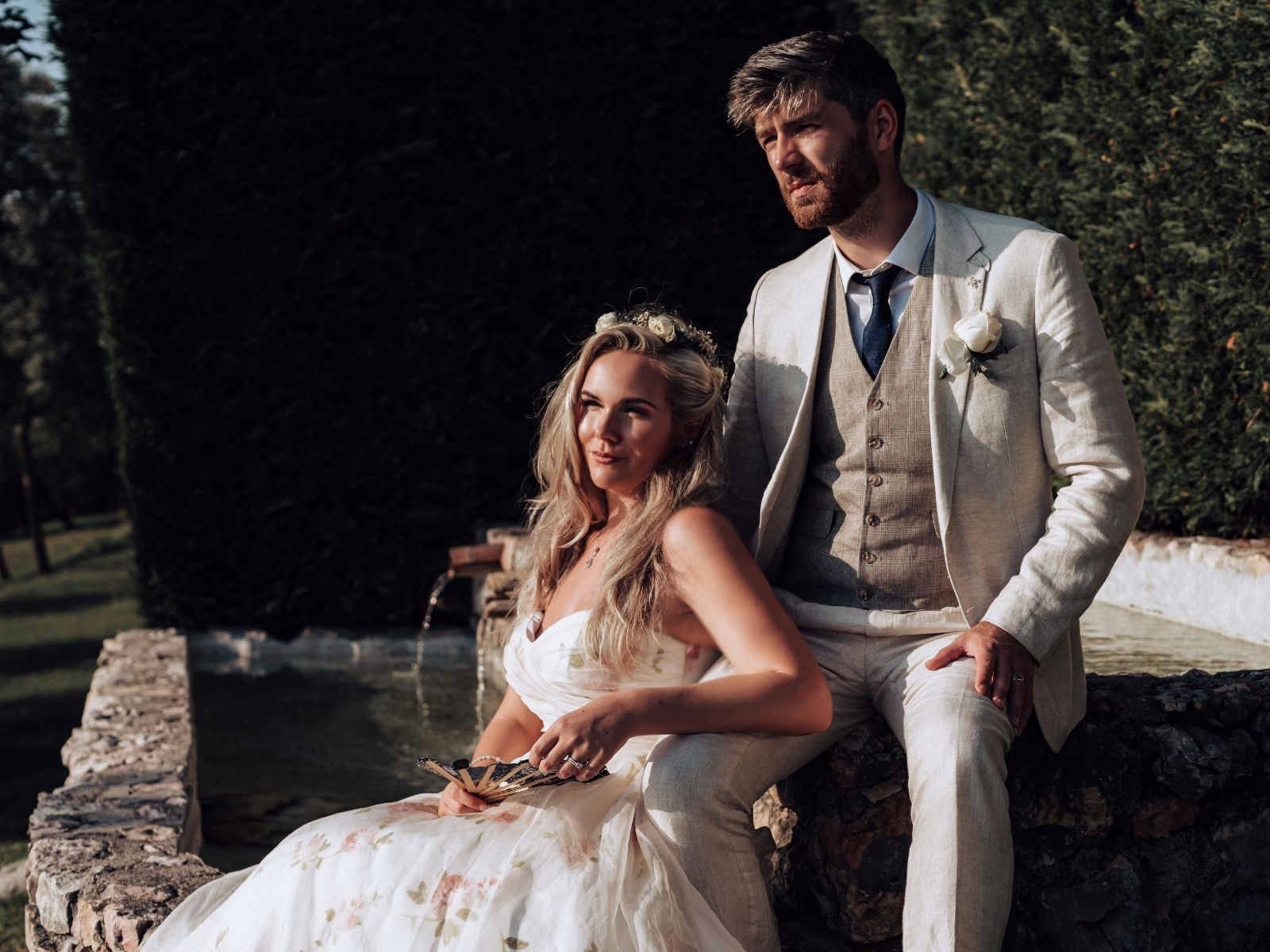 Read more: Harriet's Relaxed Garden Wedding
This is a story of romance, but not one without initial hurdles and hardship.
Natalie's father passed away before Rob could meet him. Then, Natalie suffered an accident so serious she was told she wouldn't walk again or have children.
Rob became Natalie's fulltime carer, while also working. Thanks to Rob's love and support, and physio sessions and procedures, Natalie now lives a relatively normal, yet disabled, life.
"I could not have made the recovering I did without him," Natalie told us. "He proved himself to not only be the greatest man I had ever met – gorgeous, funny, laidback and my best friend – but he was also the most caring and compassionate man, who stood by me in sickness and health.
"When Rob proposed and said that he wanted to take care of me for the rest of his life, I knew he meant it and that he would be the dream husband I had wished for."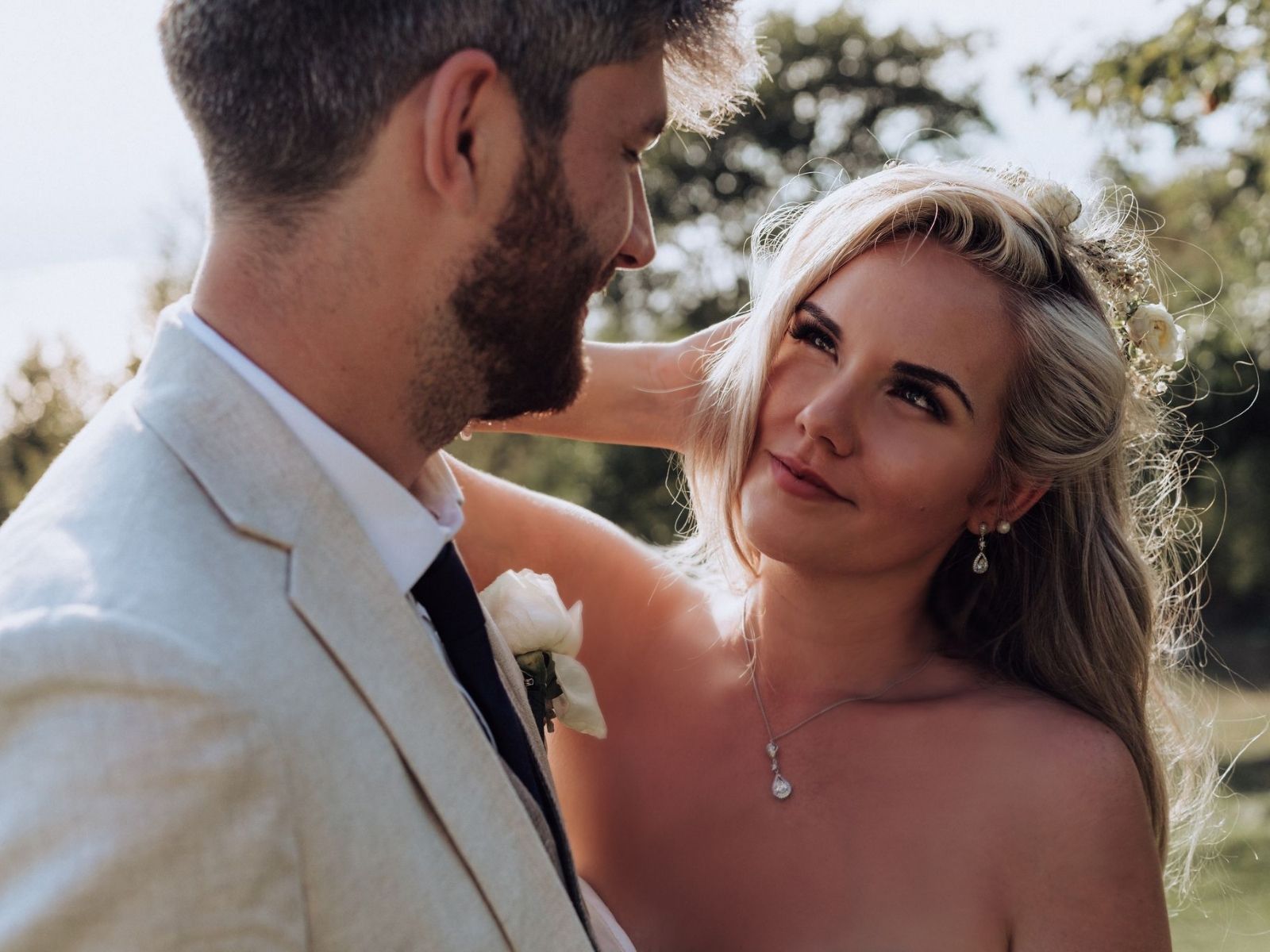 Natalie came to Boho Bride to get her wedding dress with us, and we couldn't have wished for a more enjoyable experience. We loved helping her find her dream gown, and we're sure you'll agree that she totally stunned in it!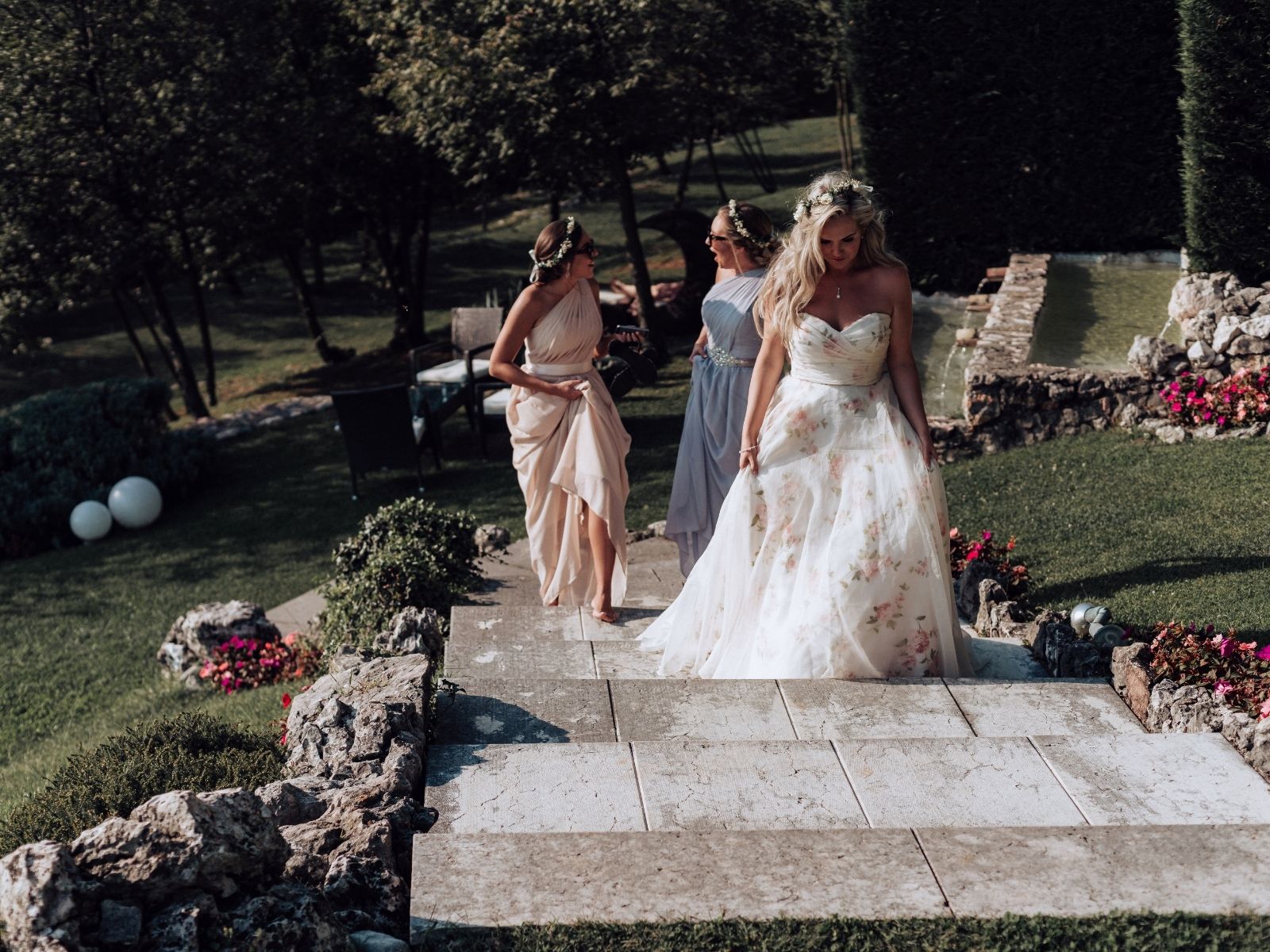 Can you tell us about your dress?
"I wore Lou Lou Annie Dress, and Boho Bride custom-made my floating sleeves and a delicate lace three quarter length sleeve, which sadly got lost in the morning rush but found the following day! I'll be wearing it on the day of our UK wedding!"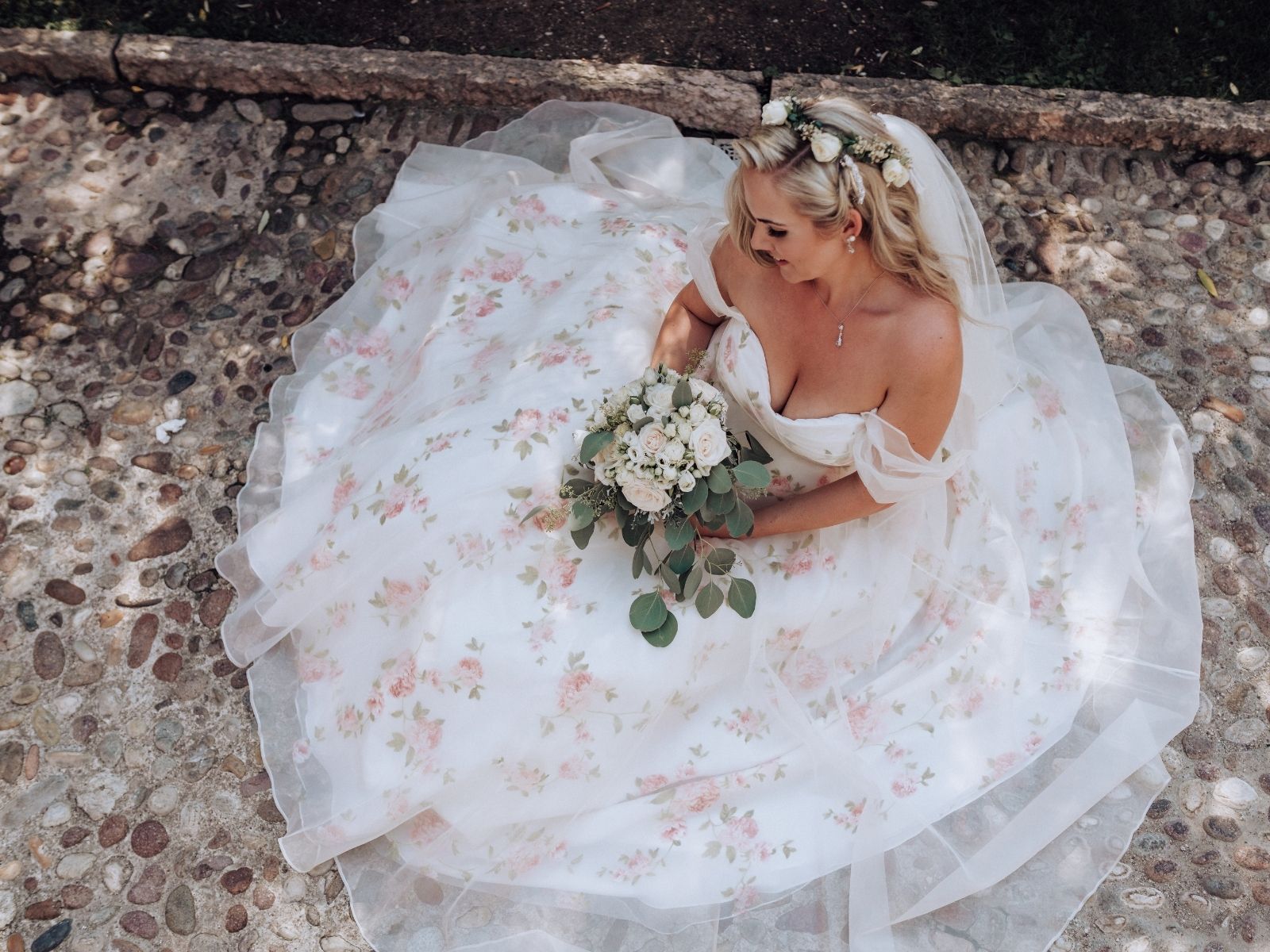 Read more: Bohemian Wedding Dresses
How did you choose your gown?

"It was the first dress I tried on! My maid of honour chose it for me. It was nothing like the dress I told her I wanted but once I tried it on, I instantly fell in love. It was the perfect dress for our romantic Lake Garda setting.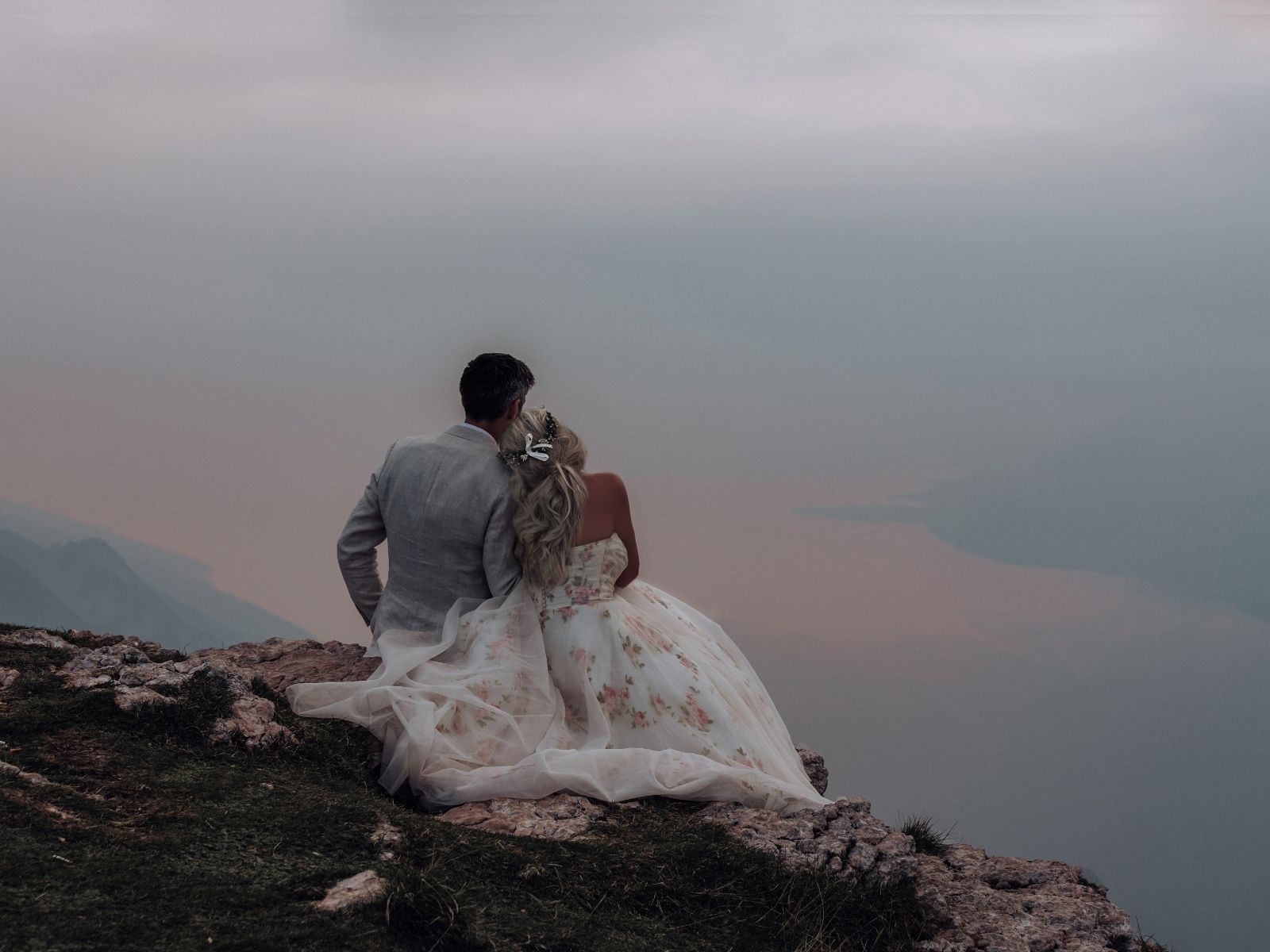 "To be sure I'd found the one, I tried on the style of dress I thought I wanted – I liked them, but none of them made me feel as special as the Lou Lou bride dress!"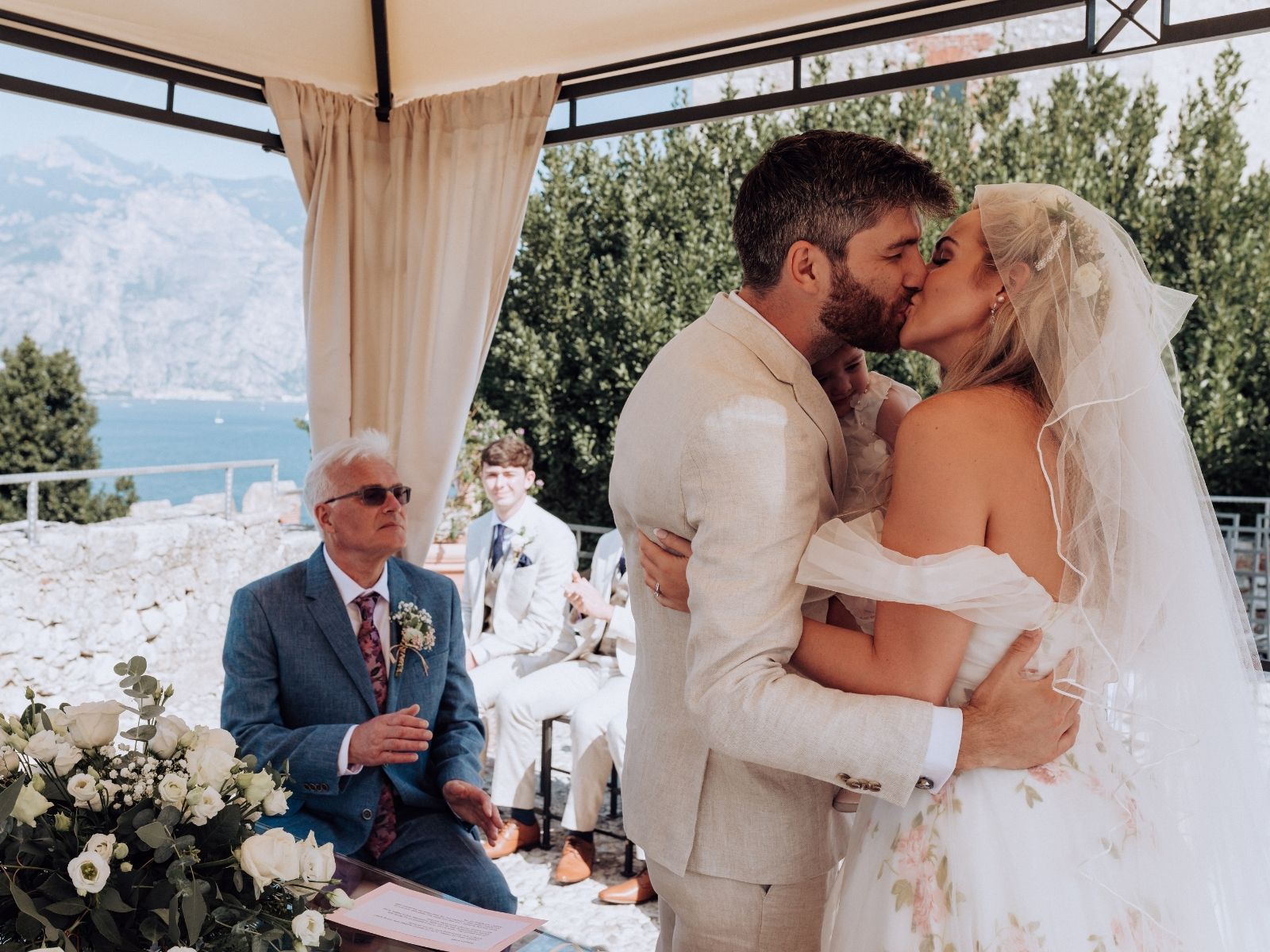 Read more: Summer Wedding Dresses
What did you love about your dress?
"Everything! The cut, the fabric, the colour, the flowers. I tried it on for my mum and sister soon after I fell in love with it. My sister instantly started crying and my mum cried as soon as I put a vail on with it. I knew then it was the one."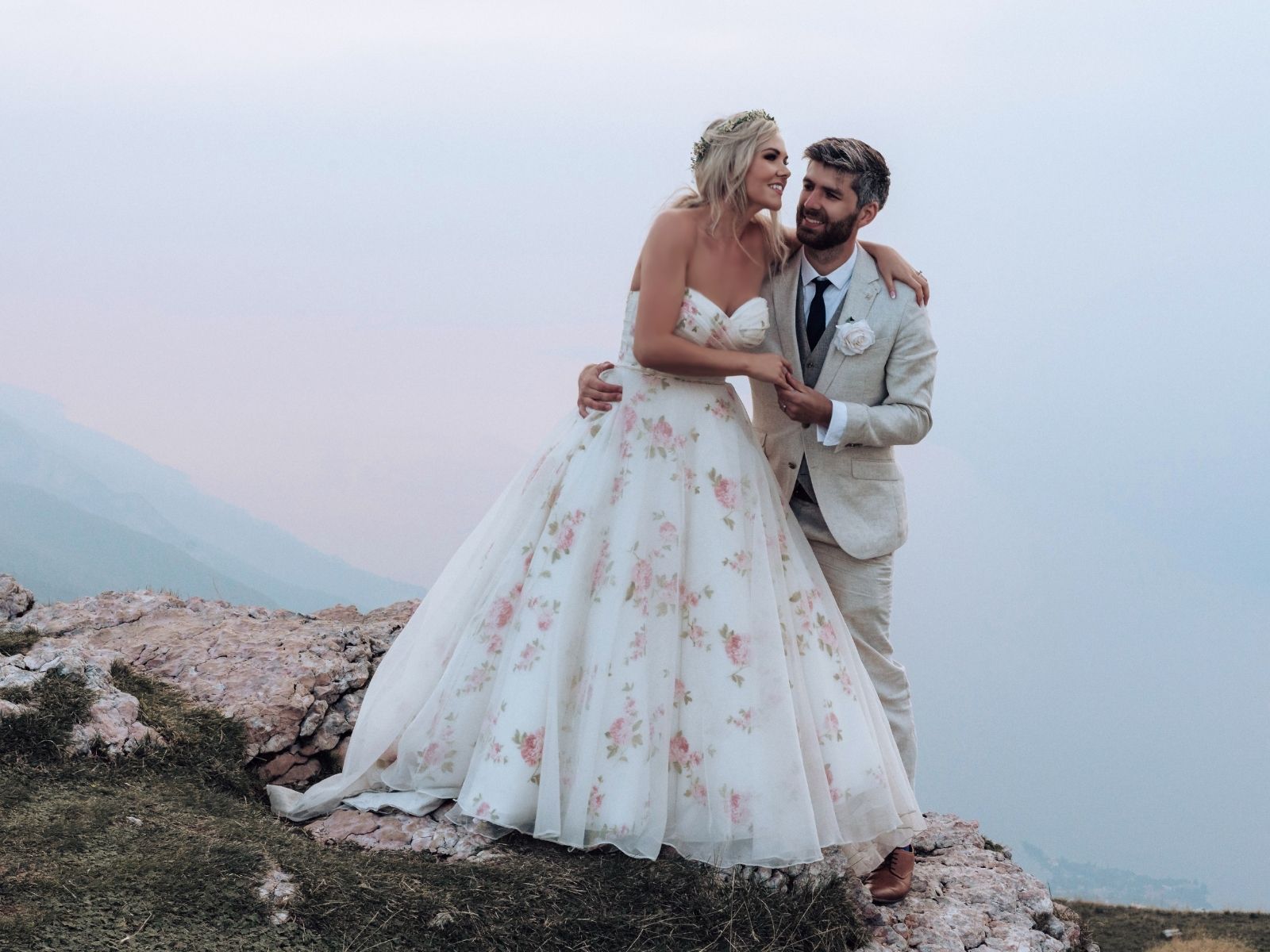 VIDEO: Statement Wedding Dresses
How did you feel in your dress?

"I instantly felt like a bride and princess. And so special and confident. I love how unique it is – I've never seen a dress like it. It was perfectly my style: vintage, floral with classic feminine silhouette."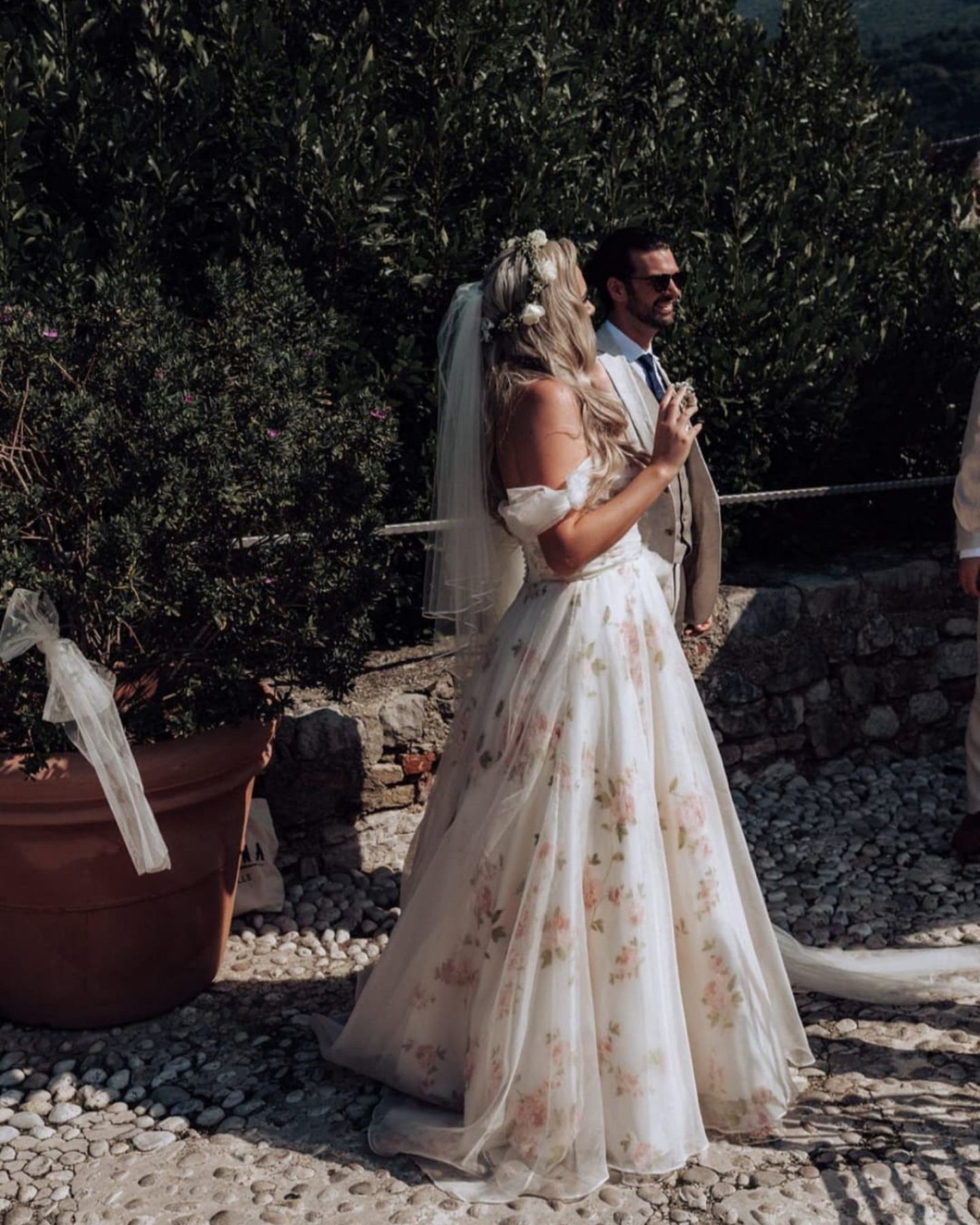 "When I went back for my fittings two years later, having had my daughter. It was amazing to see that I was actually slimmer than I was before falling pregnant! After becoming a new mum and not having much time for myself, the feeling I got putting on my dress after all that time was very special."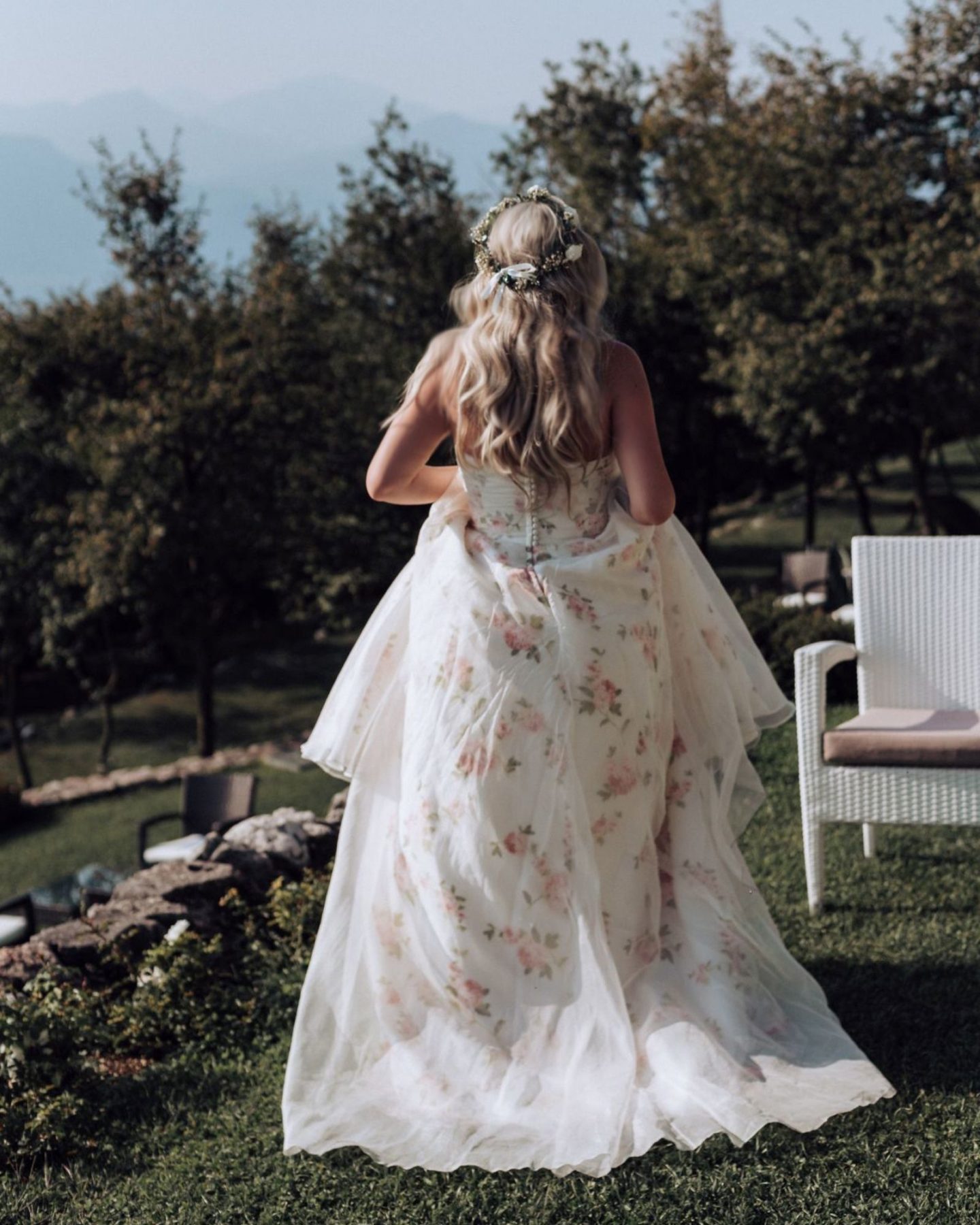 Read more: Figure Flattering Wedding Dresses for Your Body Shape
How was your experience shopping at Boho Bride?
"My time at the boutique was brilliant! Right from the first time I met Lynette, she made me feel comfortable and confident in my dress. She was great at helping me choose the bespoke sleeve options I chose.
"I had an image of exactly what I was looking for and it was turned into a reality by the amazing dress maker Laura. She even added a floral piece of my dress to my daughters' flower girl dress."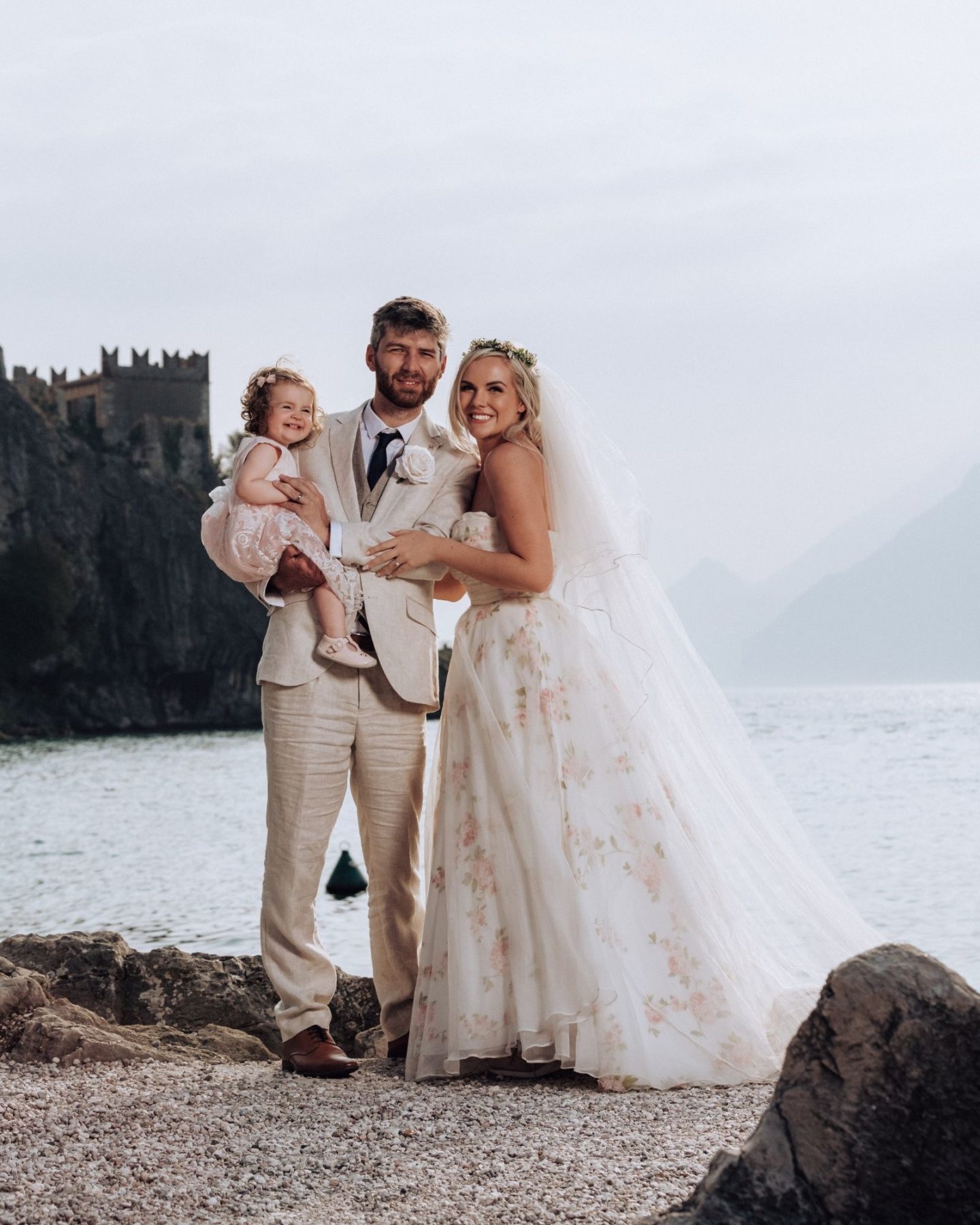 Find out more: Our bespoke service
How did you accessorise your dress?
"With floaty, off-the-shoulder sleeves and a lace bolero.
"I also wore a simple flower crown which I found in the UK and brought over. Then my Italian florist added ivory roses to on the morning of the day to match my bouquet."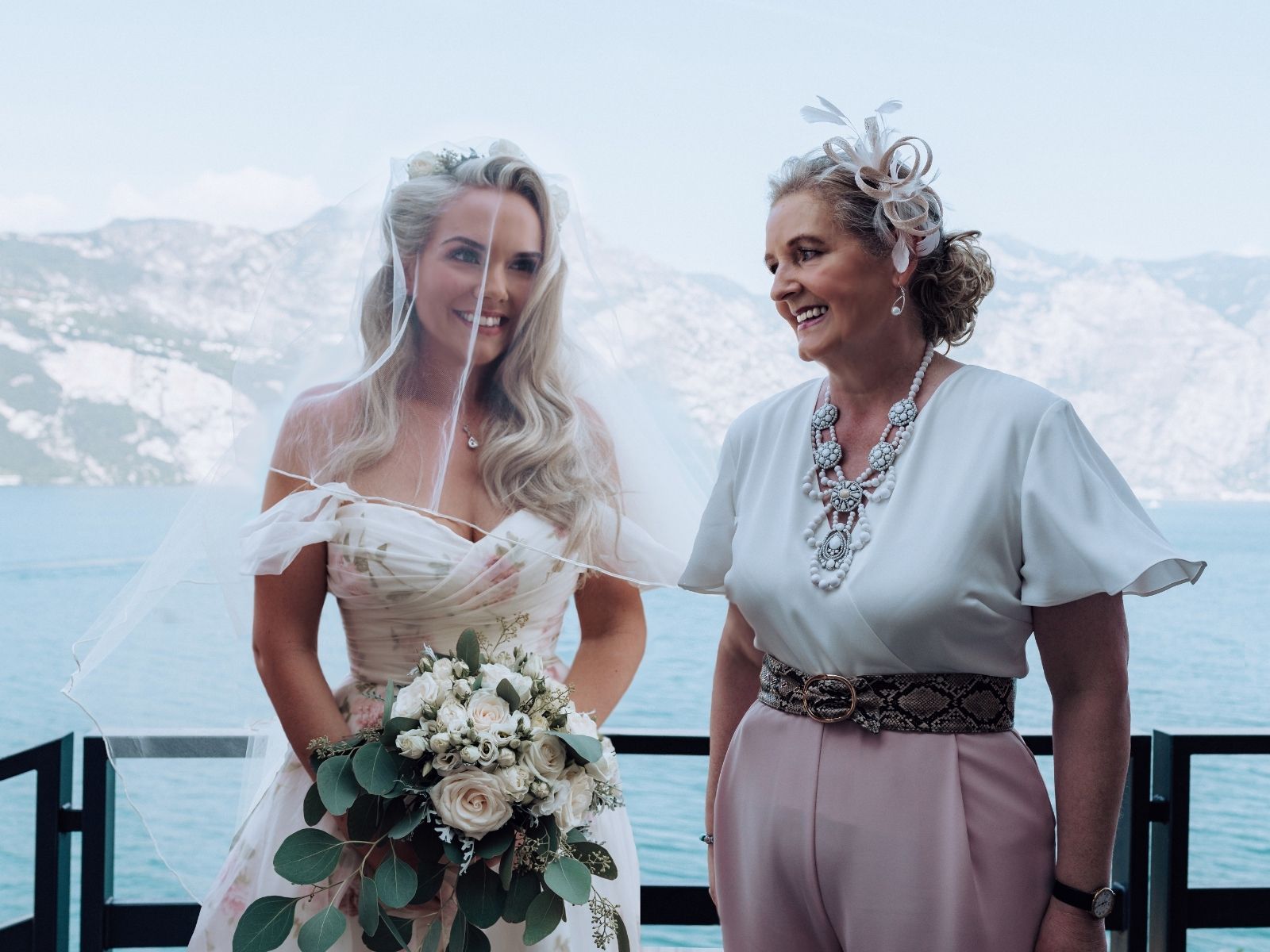 "I wore simple white gold diamond earrings, matching necklace, bracelet and hair grip. And vintage style lace kitten heals, which I chose because of the cobbled ground at the castle… and to be comfortable all day!
"In keeping with the vintage theme I was going for, I chose to have my hair styled with 1940s waves."
Did you have any alterations?
"The dress was fitted perfectly to me. Laura created the lovely detachable floaty off-the-shoulder sleeves and lace bolero to complete the individual vintage look I had imagined."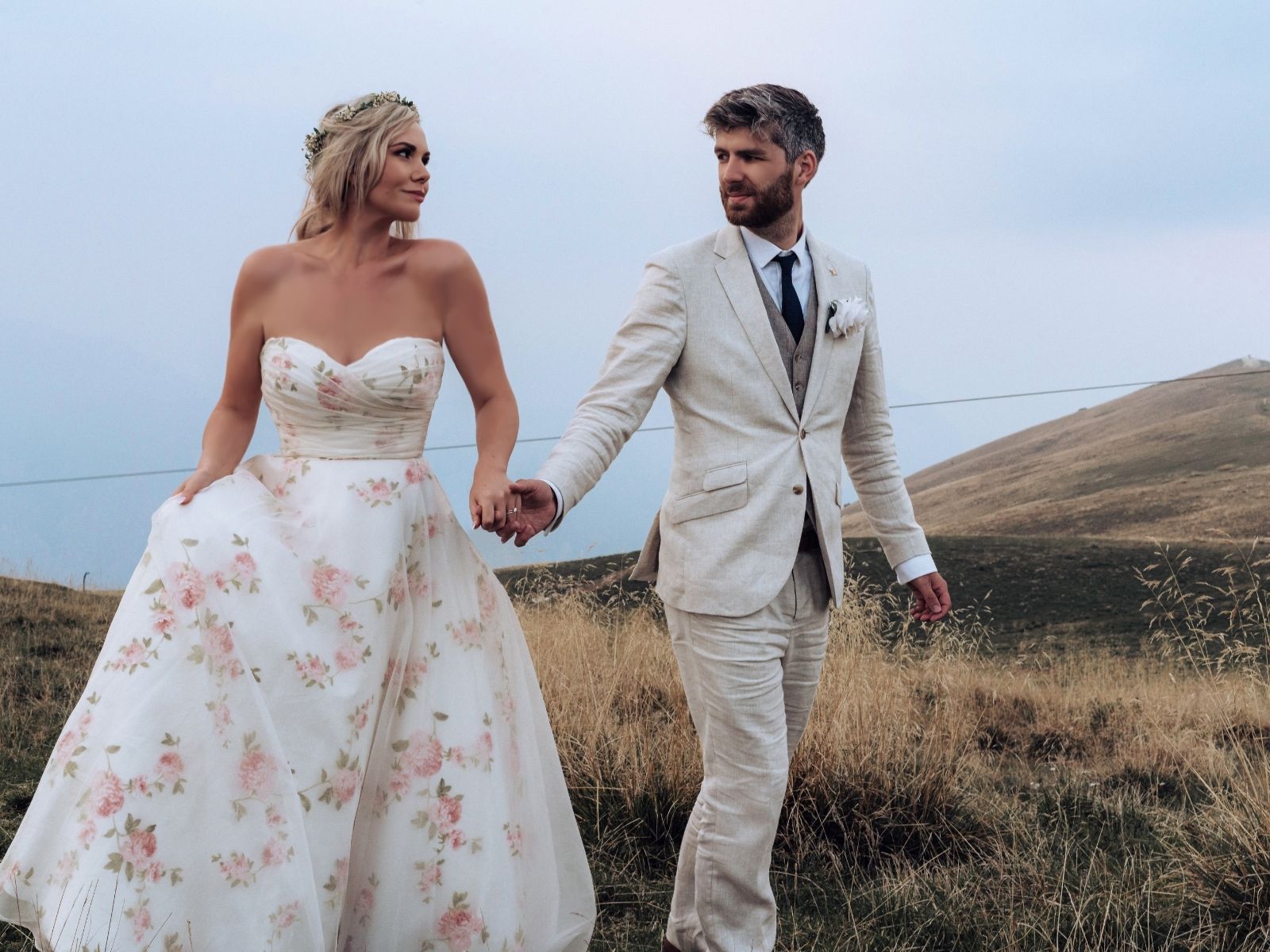 Find out more: Our alterations service
So, tell us about your gorgeous ceremony!

"Our ceremony was The Castle of Malcesine – a stunning medieval castle situated right on the lake next to the Monte Baldo mountains. When we first chose the venue, we fell in love with it. But on the day with our string quartet playing, it completely took my breath away. I couldn't have asked for a more outrageously beautiful, romantic and perfect venue."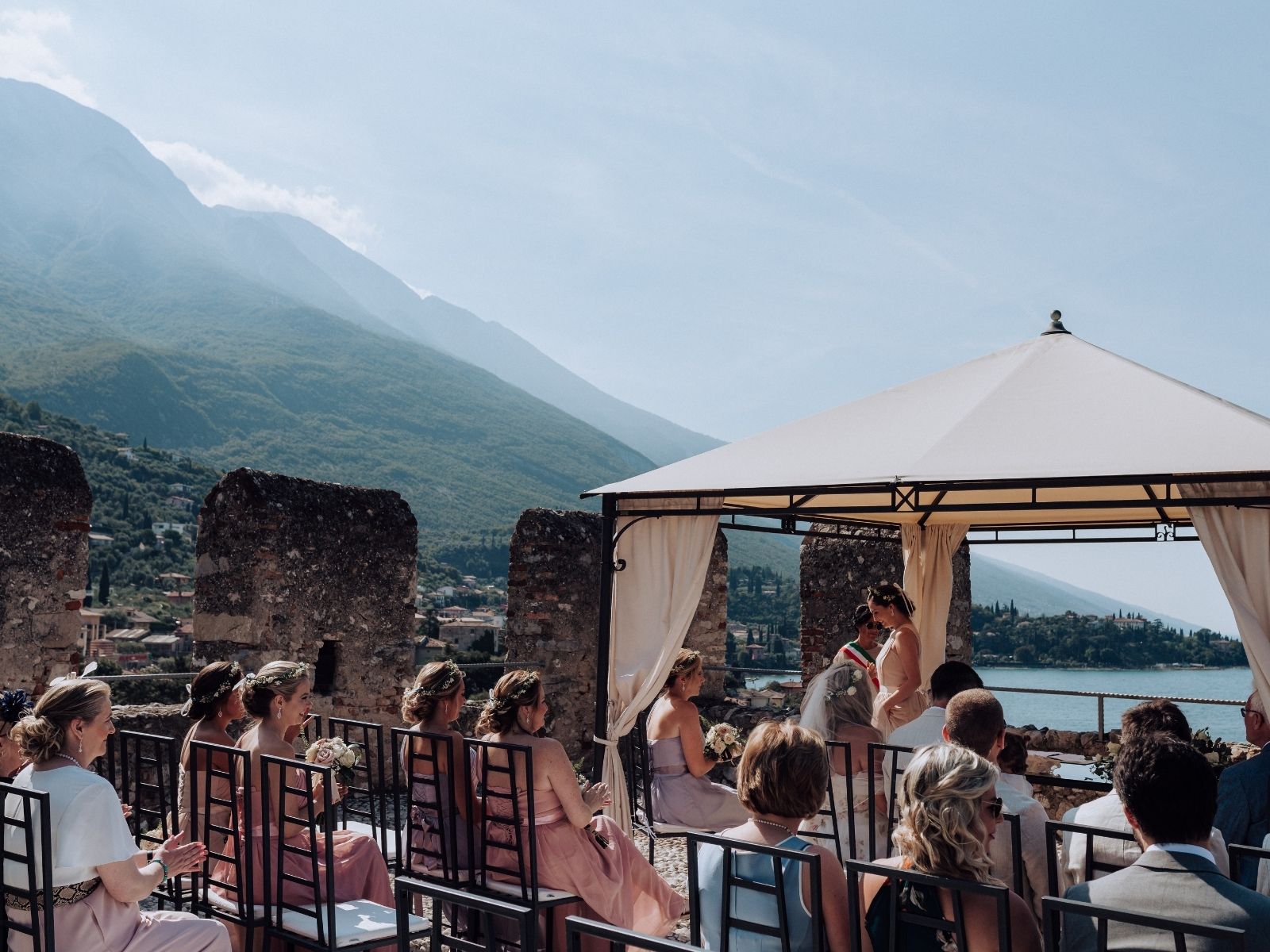 And how about your reception?
"Our reception was at the Casa degli Spiriti Restaurant, which was our first choice when we had previously visited Lake Garda two years before. It has a classic Italian charm with an elegant, romantic décor. And, in my opinion, the best view ever! The restaurant has an awe-inspiring panoramic spectacular view of the lake, mountains and rolling hills."
How did you find your photographer?
"With the language barrier, we knew we wanted to find an English wedding photographer. As a fellow photographer and artist, myself, I thought it would be hard to find a match. But we knew right away we made the right choice."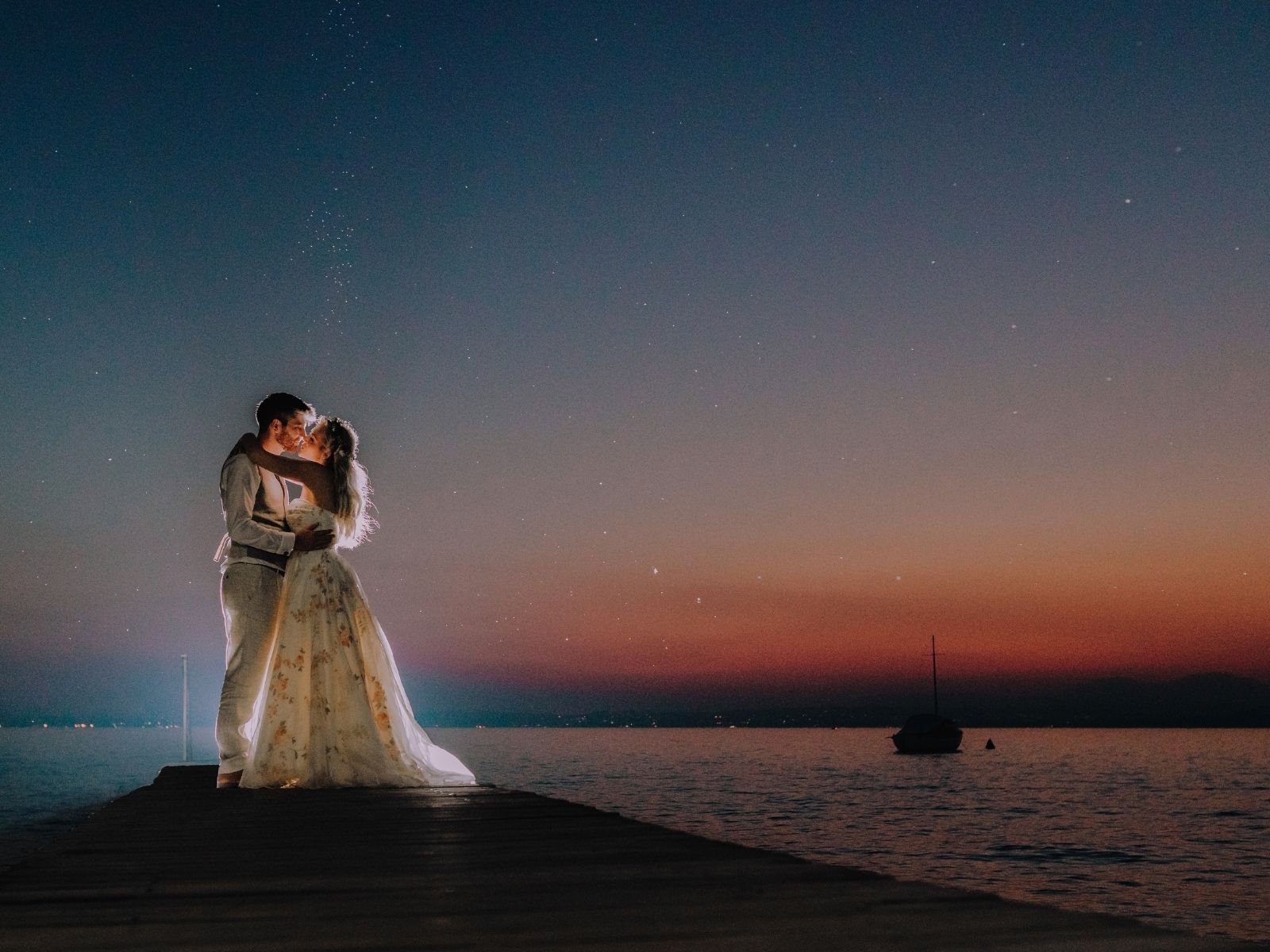 "We randomly found our photographer on a bidding website but learnt that he was based in the next village along to us in Warwickshire. I loved his website, both his wedding photography, art images, fashion and automotive work. On the day, Tom was brilliant – not only as a photographer but he went above and beyond to help us and our guests with any little things that seemed to not go to plan."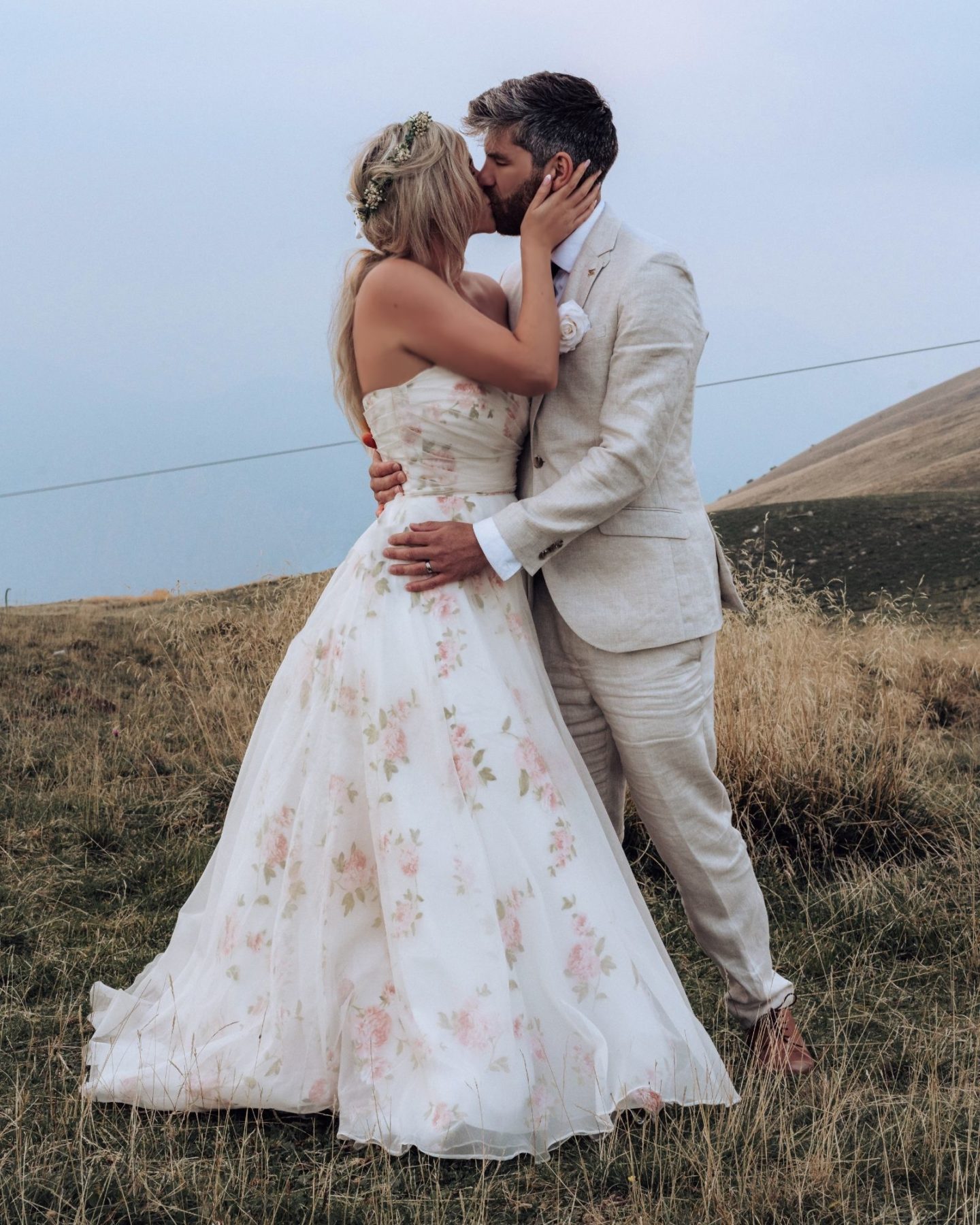 What are your most treasured memories from the day?
"The trip from the hotel to the castle was surreal. My mum and I were in a white, beautifully decorated tuk tuk. We chose it because it was the only vehicle that could manoeuvre the cobbled, medieval Italian streets!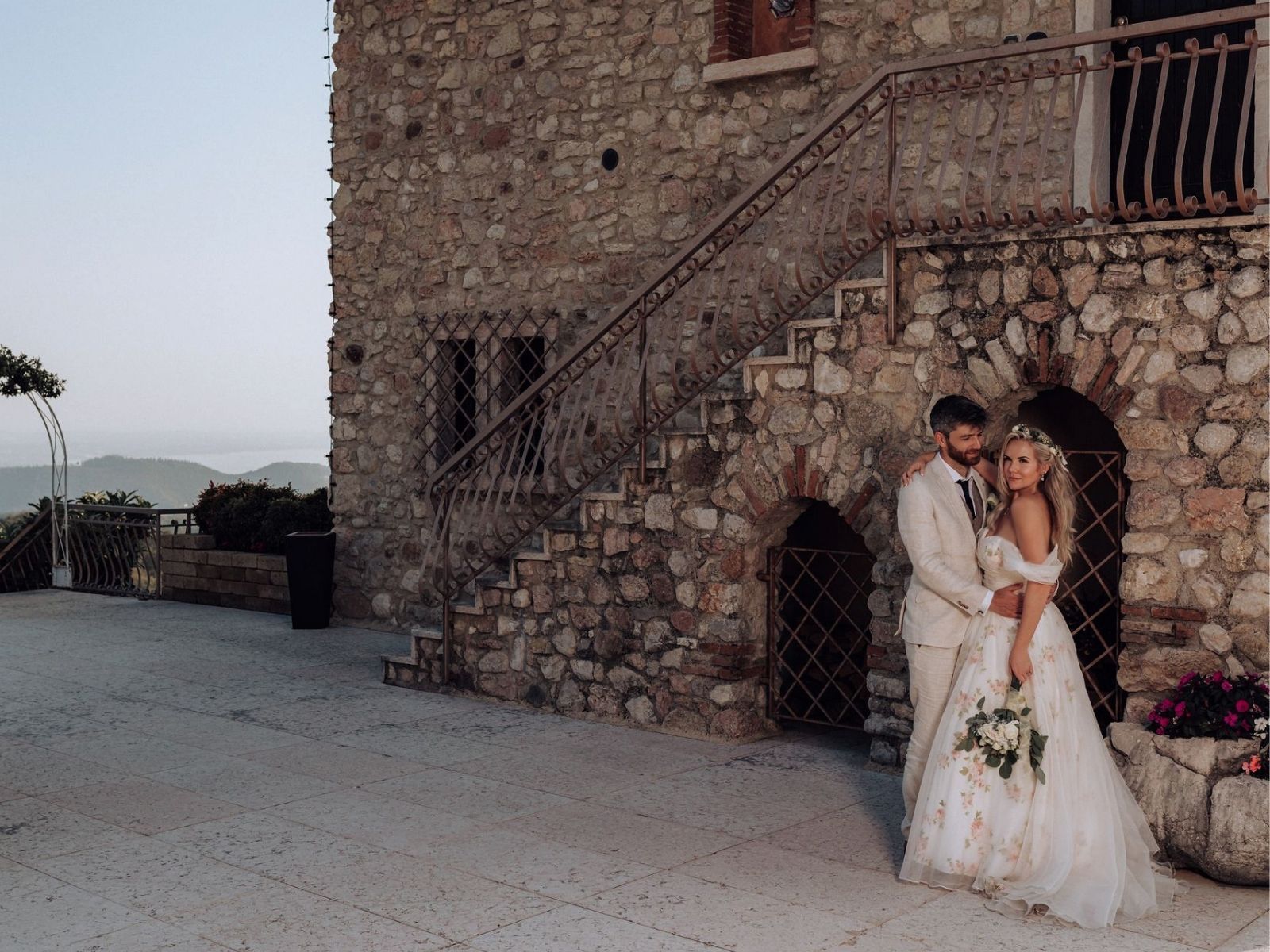 "We were treated like royalty and all the locals and tourists were all cheering! People came out of shops and restaurants to congratulate and wish me luck.
"Walking down the aisle with my mum was also very emotional and special. I knew she was nervous, but it wasn't until I saw the photographs that I knew what it meant to her and how much she wanted to do my late father proud."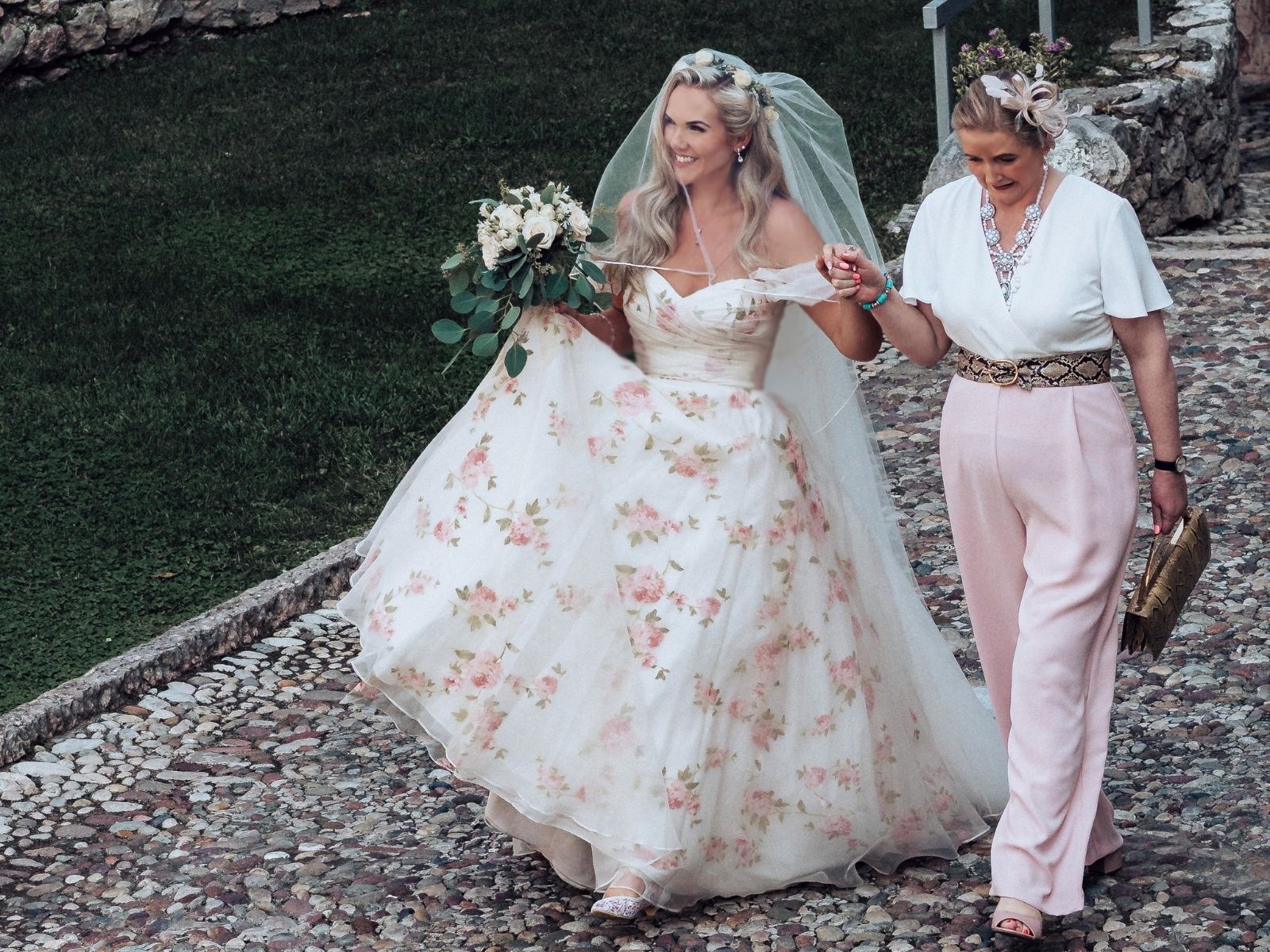 "As soon as started to walk up to castle all my nerves vanished and I was filled with an overwhelming sense of calm and peace. I felt like this was from my dad looking down on us. Seeing Rob's face as I walked down the aisle with his beaming smile, twinkling tearing eyes and our daughter on his arm is one of my treasured memories of the day."
"During the service, we had a number of readings and poems told by our closest friends and family, which were exceptionally special and meant so much to both of us. Between those and our handwritten vows, there wasn't a dry eye by the end of the ceremony!"
What music did you have?
"A string quartet! They were absolutely incredible and captured the magical atmosphere of the service. We were absolutely delighted with our music choices of songs that meant a lot to both of us, which sounded even better transformed into acoustic strings."
Tell us about your speeches
"The speeches were all brilliant! As I could not have a father of the bride speech my sister, chief bridesmaid and one of my closet friends each said a few very loving words about me.
"Each meant the world to me, and I did not expect I would laugh and cry as much as I did. The best man delivered the most brilliant and hilarious speech I have ever heard. Rob's father's speech was incredibly touching and funny.
"And Rob's speech really surprised me how emotional, honest and beautiful it was. I know how nervous he gets when public speaking, so it meant so much that he stood up and delivered those special words."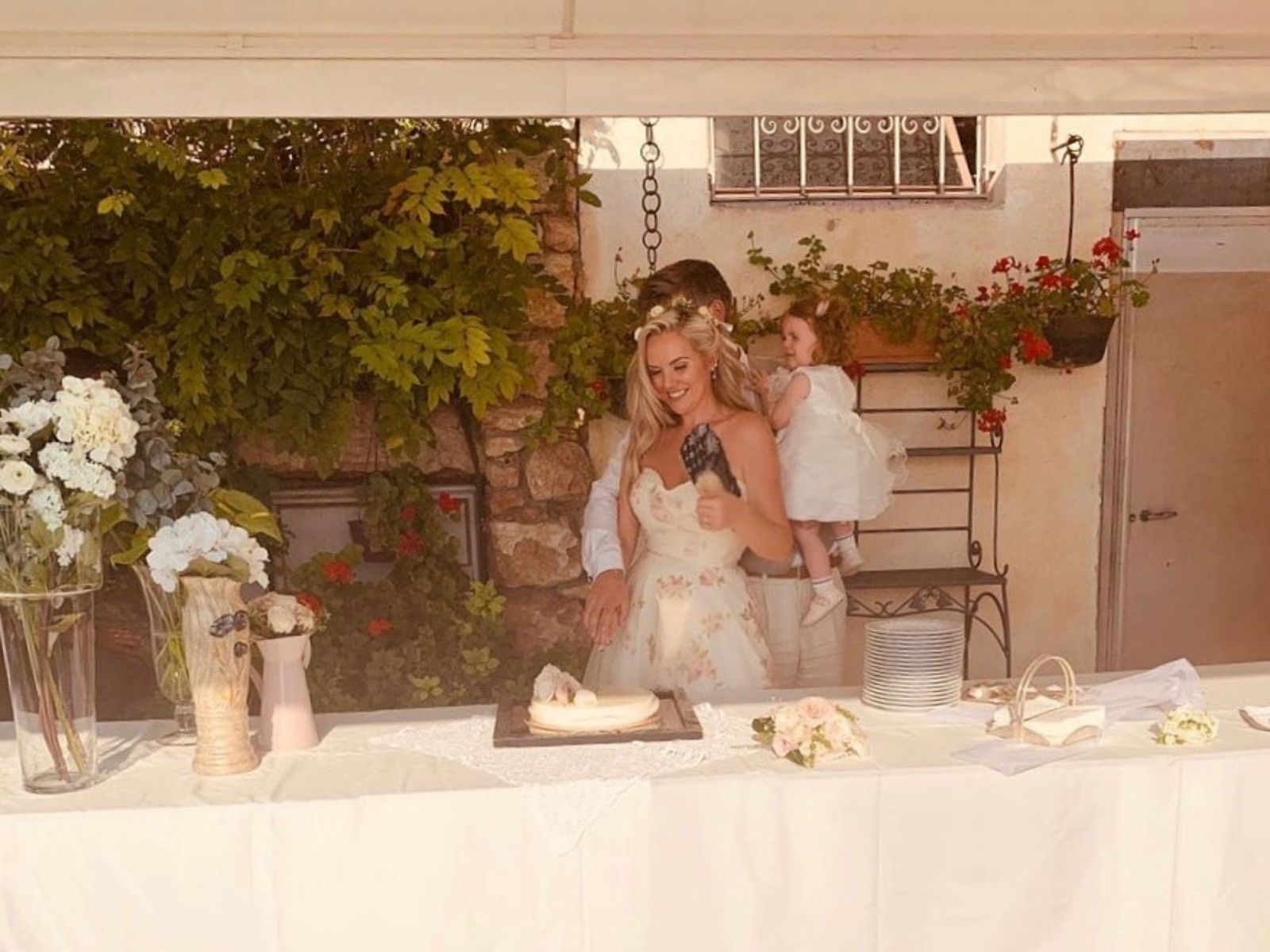 Can you tell us about your first dance?
"Due to delays in the day, we could not have our first dance at our reception venue as previously planned. So, when we arrived at our evening venue – the outdoor live music area in Bardolino – I could not believe my ears when I had just sat down and heard the introduction to our first dance song playing.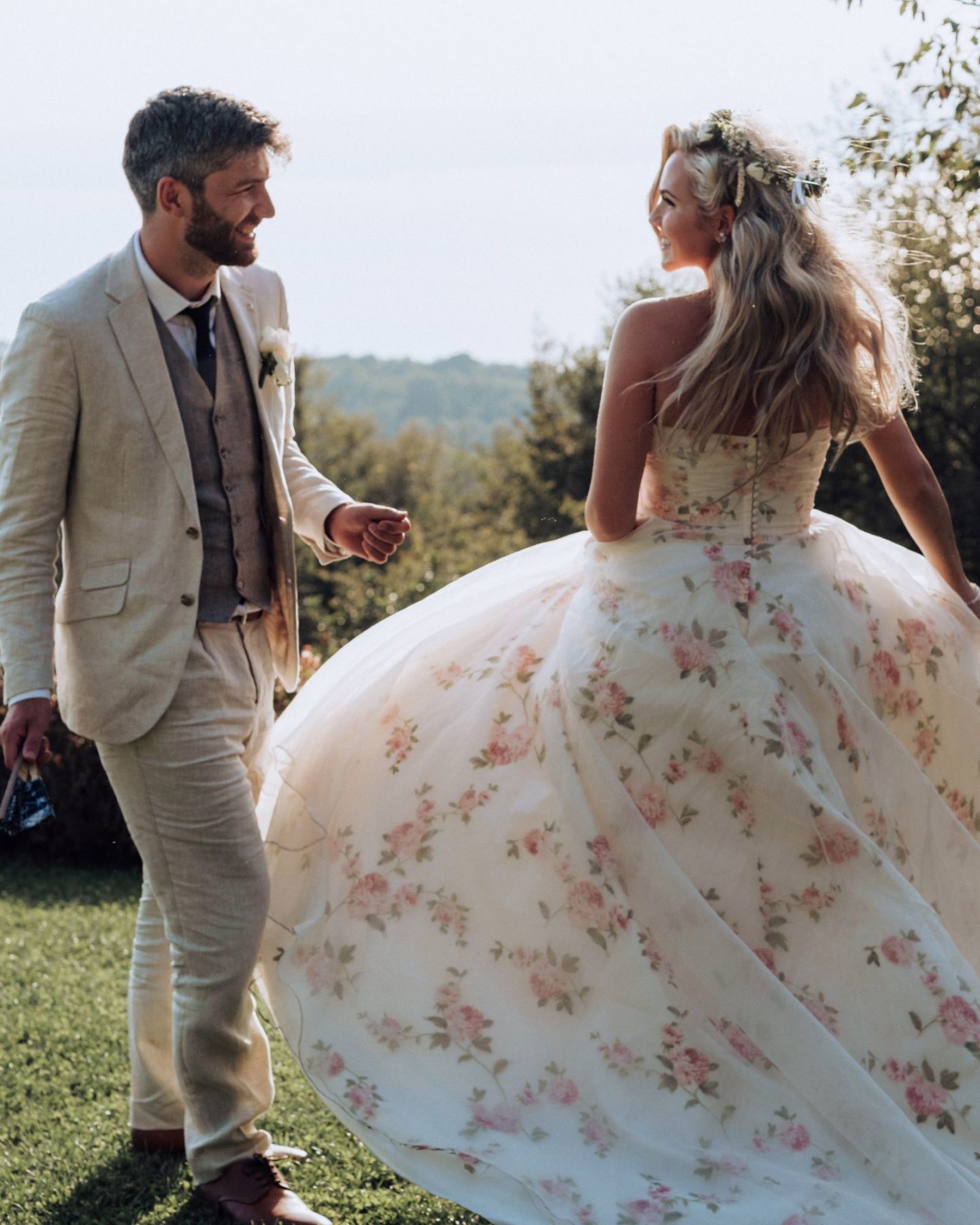 "I started asking my guests who requested our song, as I wanted to thank them. But no one had, only two people knew what our first dance song was, and they were just as shocked and amazed as us that the band started to play it.
"The fact that they chose our song to play just as we arrived was unbelievable. Rob said to me that my dad must had done it and almost everyone again was crying by the end of the song.
"When Rob and I were dancing it felt like we were the only two people there, it was one of the most wonderful moments of my life. I could feel my dad's presence with us and we both knew this was another way of him showing us that he was there.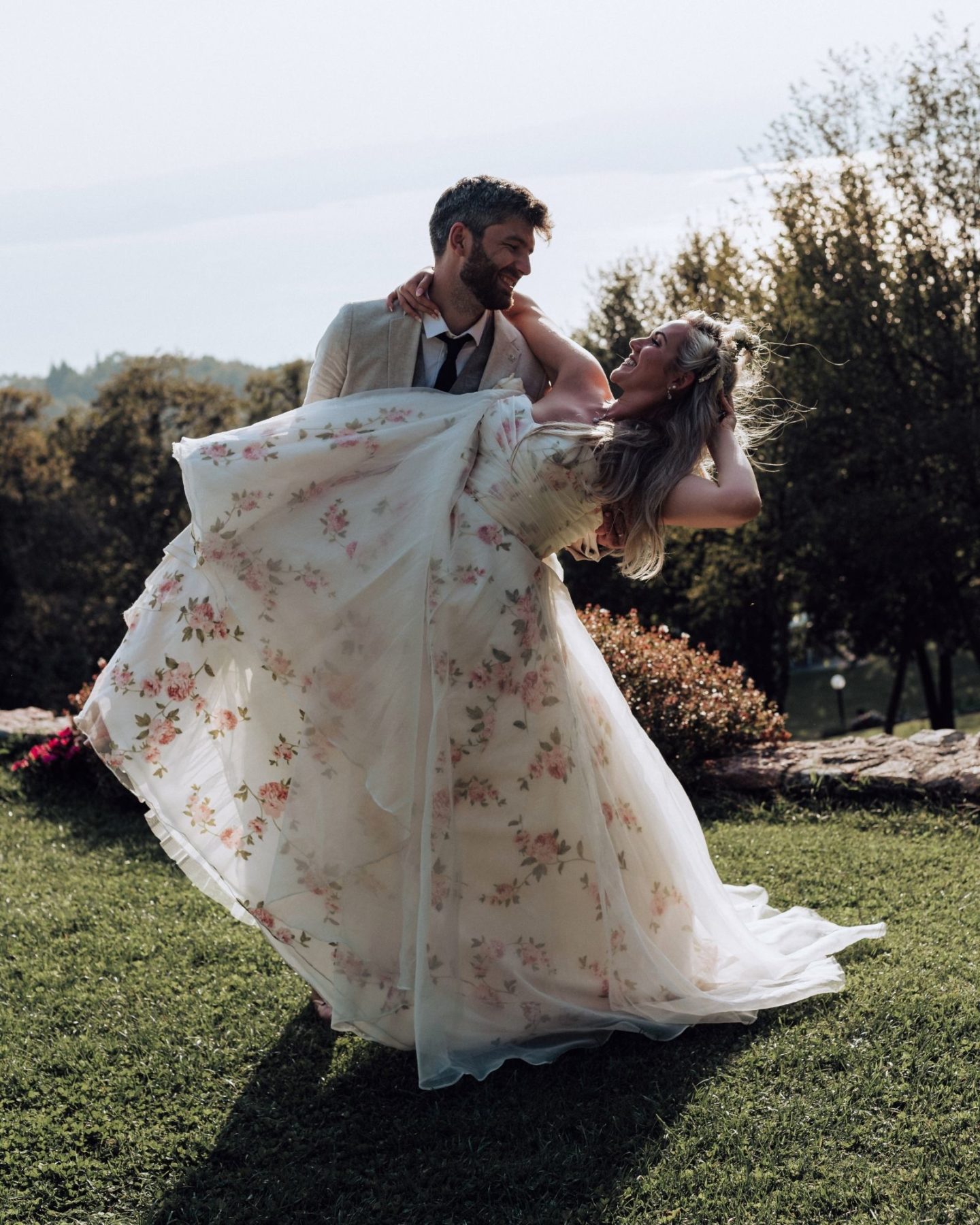 "There were a few messages and signs from him in the day but this was by far the best. By the end of the song all our guests and hundreds of members of the public had gathered and cheered us. We were both in tears and hadn't noticed the crowd that surrounded us."
The dream team
Dress – Boho Bride Boutique
Venue  – Ceremony – The Castle of Malcesine
Reception – Restaurant Casa degli Spiriti
Accessories – Flower crowns
Suits – Hammond and Co
Caterers – Casa delgi Spiriti Restaurant
Wines and spirits – The Casa delgi Spiriti Restaurant
Flowers – Malcesine-based Florist
Rings – Ernst Jones
Hair – Acconciature Sonia Malcesine
Makeup (bride) – A multi-talented friend Hanna
Bridesmaids' – Francy Makeup Artist
Photographer – Thomas
Decorations/party hire entertainment – Music