VIDEO: Statement Wedding Dresses for the Unique Bride
---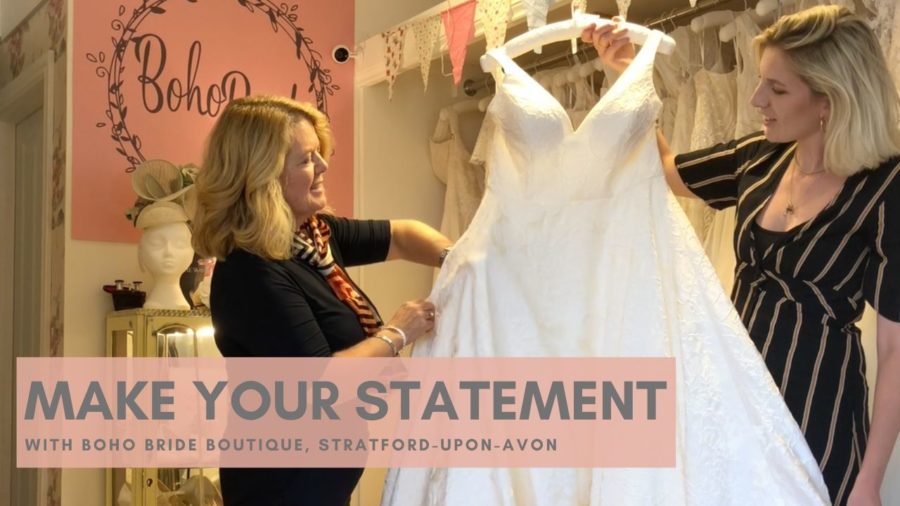 What was that, you want a statement wedding dress? Your wish is our command!
Put your browsing at bay because Boho Bride Boutique is famed for helping the alternative bride make a statement on their wedding day.
With a collection comprised of designer statement wedding dress – including boho, festival, vintage and classic styles – this Stratford-Upon-Avon wedding dress shop is the one-stop-shop for your statement gown needs.
Check out our video below – shot within the boutique – where we run through just a few with Creative Director Lynette.
Statement Wedding Dress Details:
Floral Fever by Ivory and Co (0.50 minutes)
Floral Fever is a feminine ballgowns with pockets, a train and floral embroidery. Nipping brides in at the waist, this statement wedding dress is suitable for a curvy bride. Pair this Ivory and Co wedding dress with some colourful wedding shoes at Boho Bride Boutique.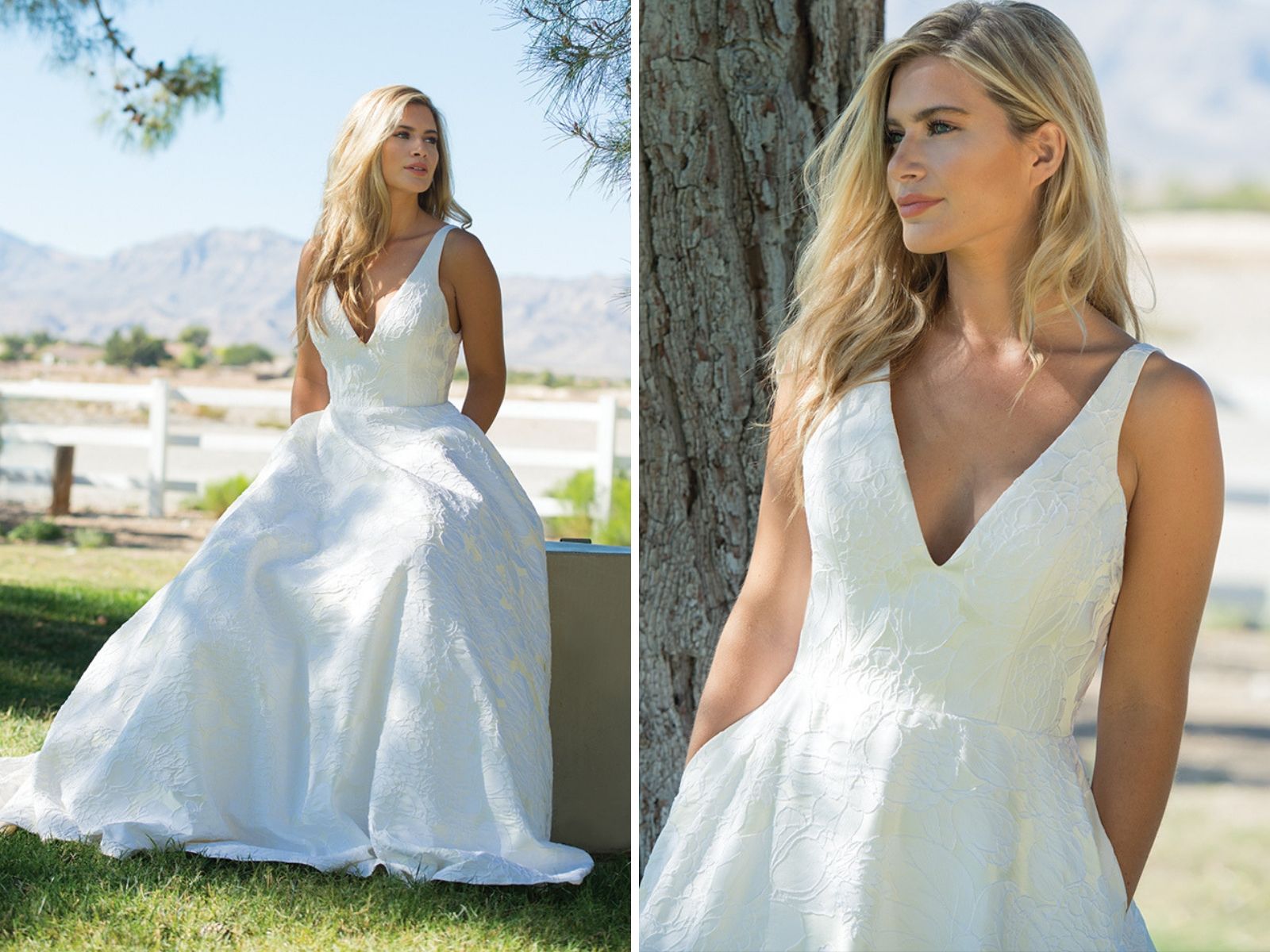 Best for: brides of all body shapes, including curvy brides. Autumn weddings
Silver Birch by Ivory and Co (2.30 minutes)
Complete with floaty flutter sleeves, a mid-low neckline and a circle skirt, this statement wedding dress flatters brides with various body shapes. Silver Birch's delicate lace bodice and sleeves are finished with a bow detail and button back, comprising a popular bohemian wedding dress for the more relaxed bride.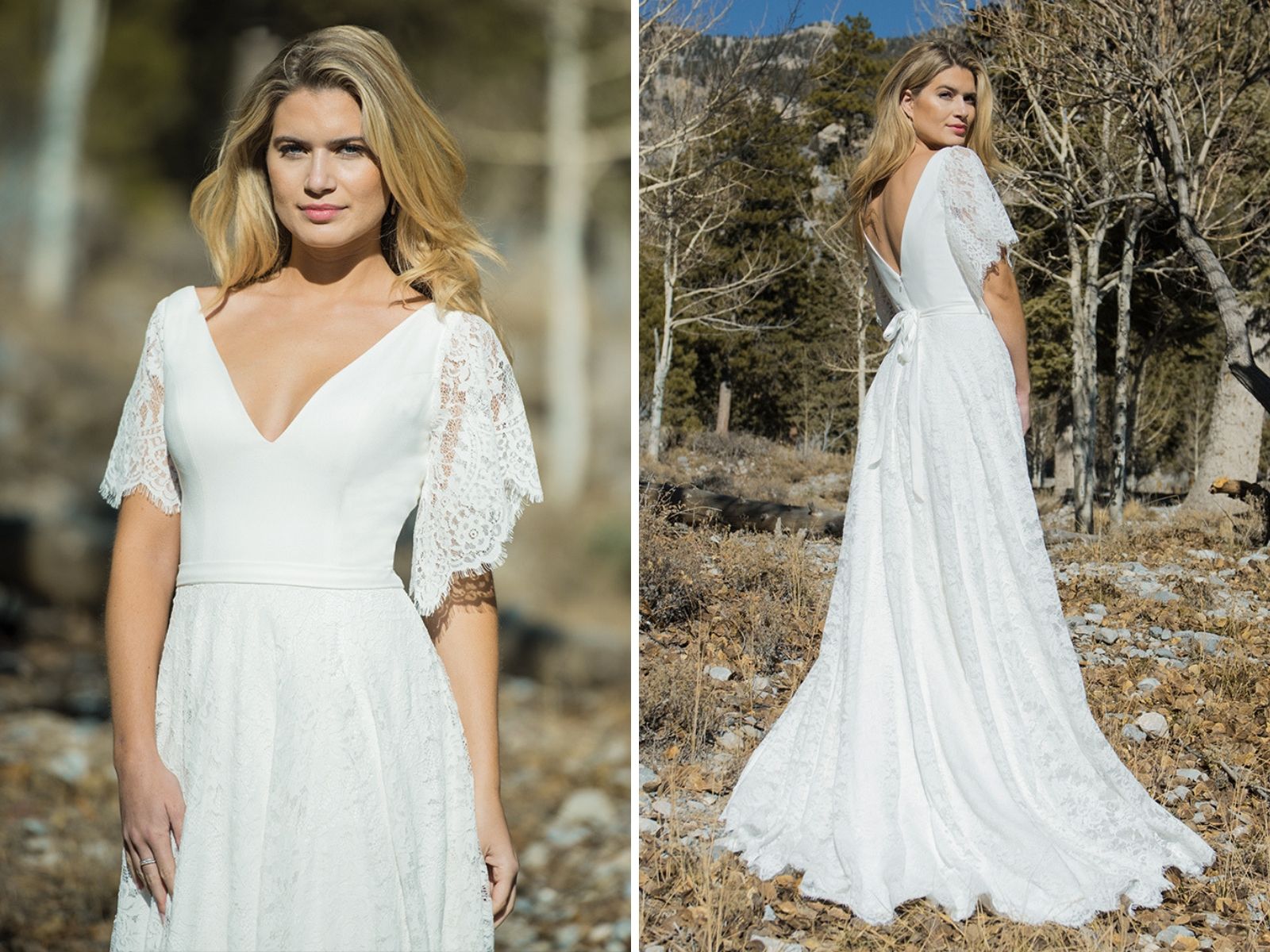 Find out which wedding dresses best suit your body shape here!
Drew by Freda Bennet (3.15 minutes)
Drew by Freda Bennet is an elegant crepe wedding dress with a classic silhouette, bardot neckline and beautiful detailing: including the little bow at the front and lines that offer flattering curves to brides' bottom area.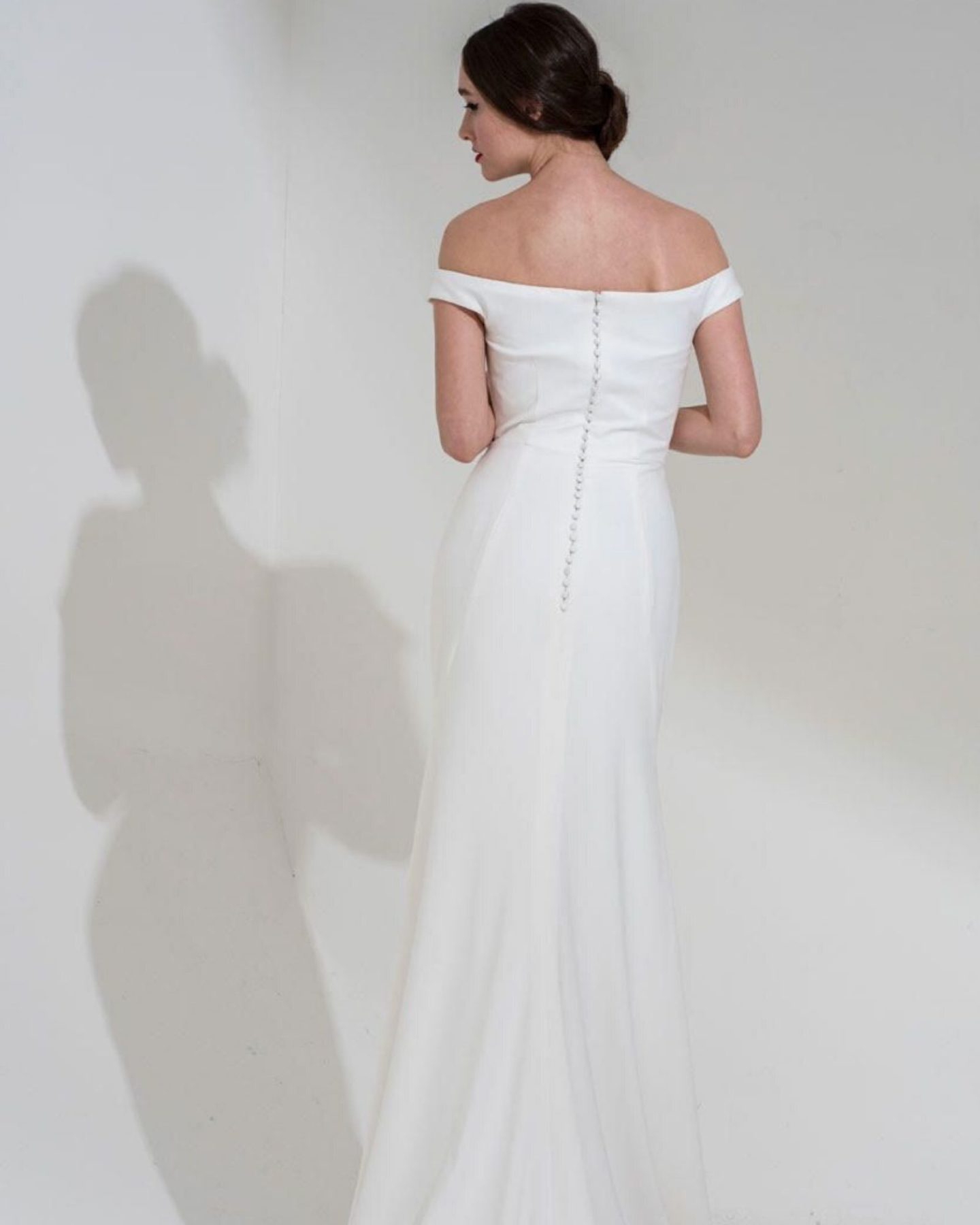 Best for: mature brides and destination weddings
Annie by Loulou Bridal (4.25 minutes)
Annie by Loulou Bridal is a princess, ballgown statement wedding dress made from silk organza with a pink rose print beneath it attracts the vintage bride who wants to show her personality on her wedding day.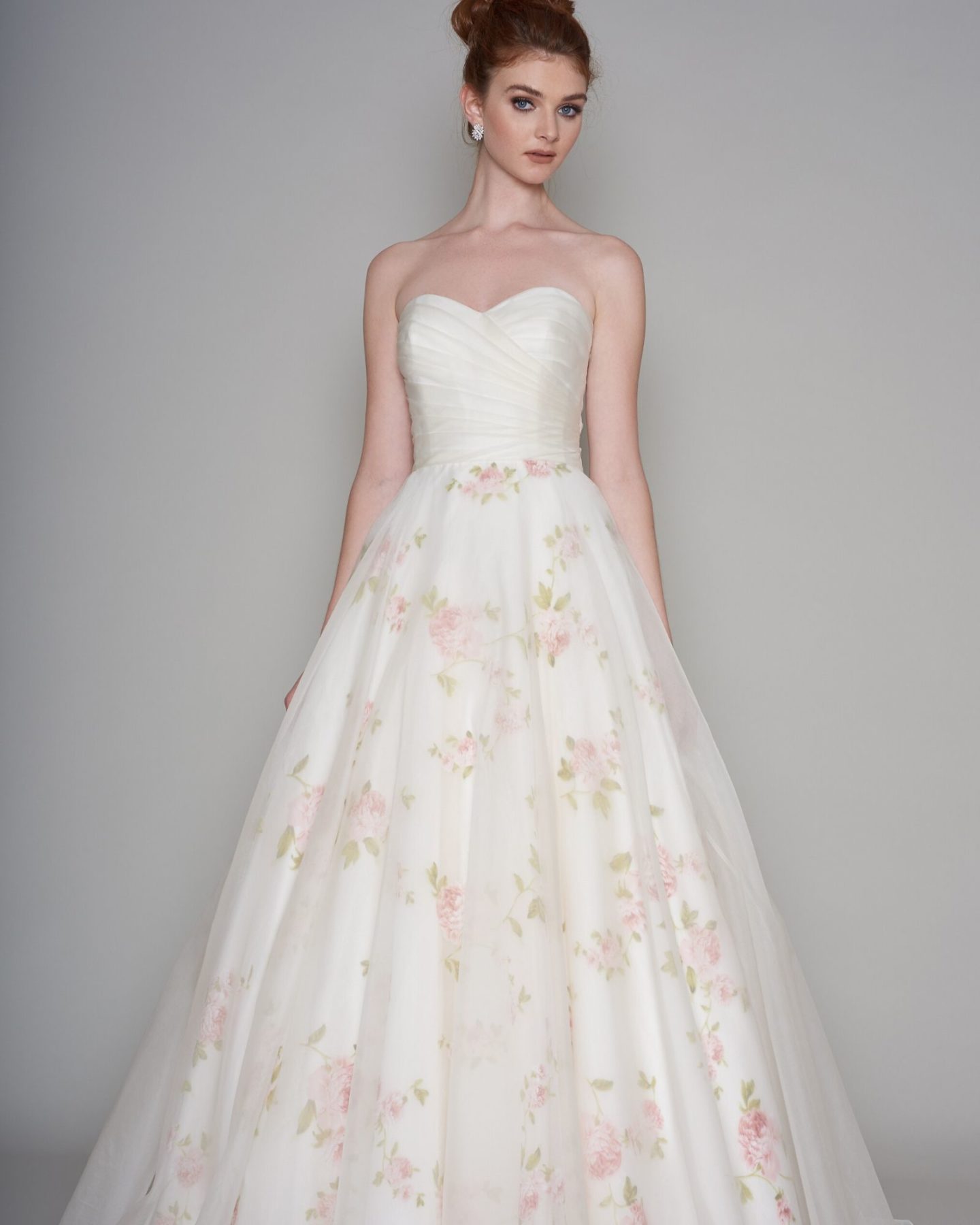 The floaty material makes this statement wedding dress the ideal choice for a destination or summer wedding, while the incredible bodice has flattered Boho brides sized 6 to 18+. See how gorgeous Boho bride Alice looked at her Stratford-based barn wedding.
Best for: vintage brides of all size. Summer and destination weddings
Want to hear from our brides themselves? Check out our Facebook reviews here!
Ava by Freda Bennet (6.05 minutes)
Sleeved wedding dress with appliqué lace around the waist and along the bottom of the train. This wedding dress suits brides of many shapes as it falls from the waist and the cleverly positioned waist lace emphasises the hips and waist while smoothing everything else.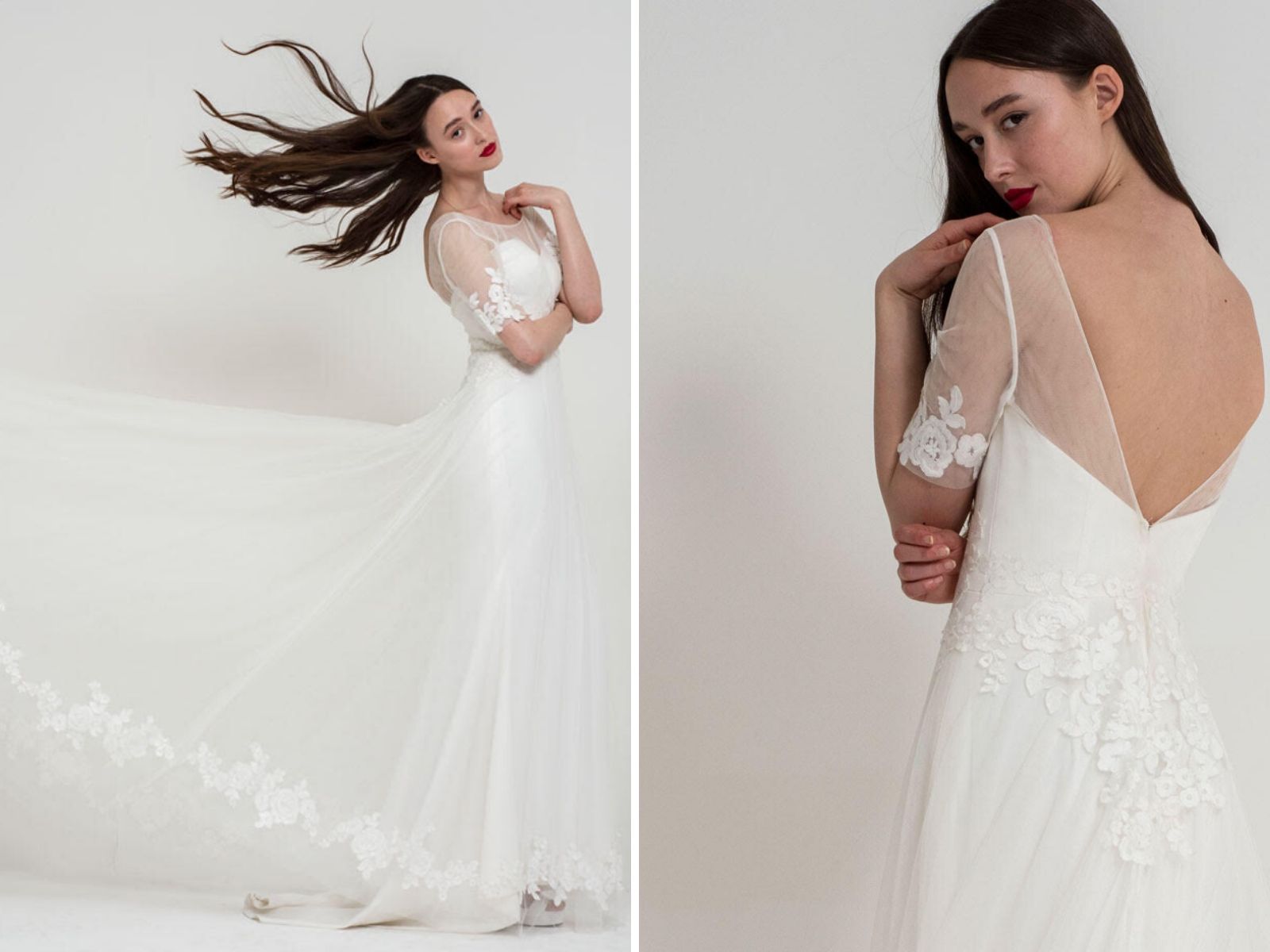 Best for: works well on most figures
Annette by Loulou Bridal (6.50 minutes)
You want a statement wedding dress? We'll give you a statement wedding dress! Complete with a ballgown shape, full circle skirt and a large train, Annette by Loulou Bridal marries Hollywood glam and romance.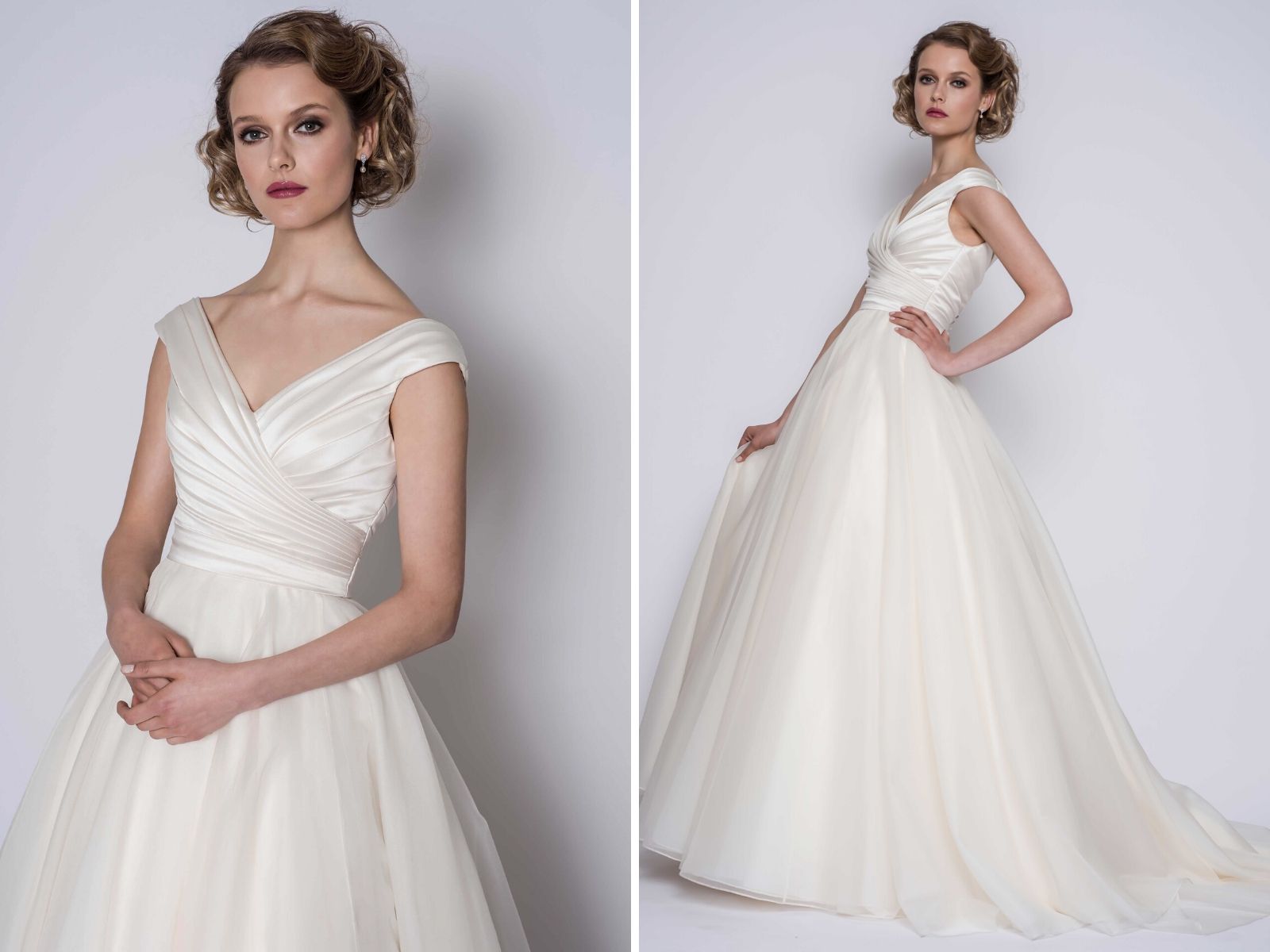 This gown particularly suits a curvy bride as it's very flattering on the hips, where it sits before elegantly falling to form a dramatic skirt and train. it just sits off-the-shoulder and beautiful pleated satin around the bust draws the attention of the eyes.
Best for: brides of all shapes and sizes, particularly curvy brides
Euphoria by Ivory and Co (7.55 minutes)
A popular choice with brides for its unique colours, this detailed A-line wedding dress is complete with a cami t-shirt, V-back and gorgeous train.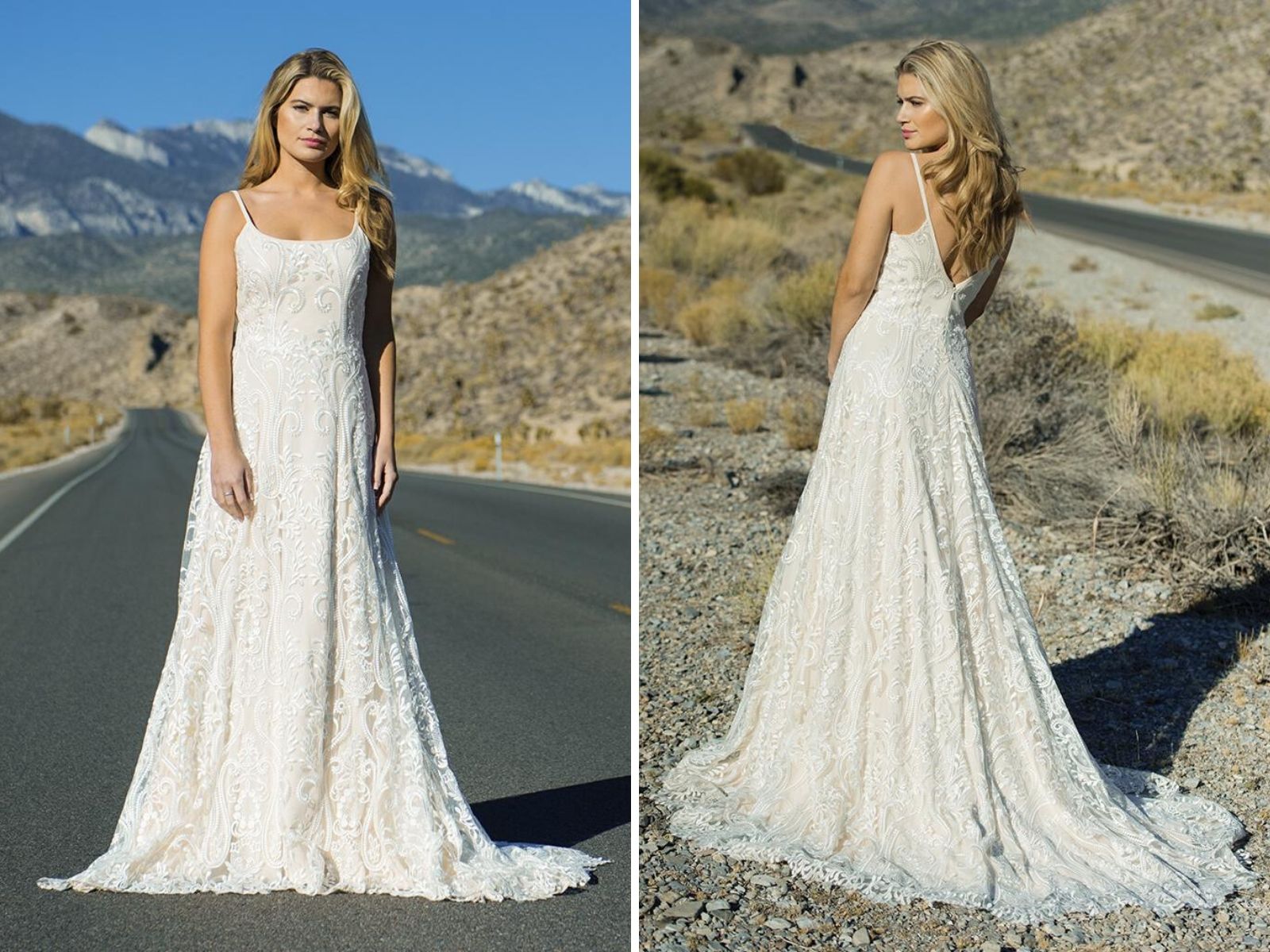 Want alterations? Lynette and Boho Bride's bridal designer and seamstress Laura are on hand to discuss and bring to life any visions you have. Laura is currently working on adapting this statement wedding dress by adding guipure lace to the neckline to softening the lines.
Find out more about bridal alterations at Boho Bride here.
Best for: brides who want striking gown
Gracia by Loulou (9.08 minutes)
This statement wedding dress is more traditional, but has a quirky lace overlay and opaque back which really sets it apart. At the moment, we're working with one of our brides to turn the back into a V-back.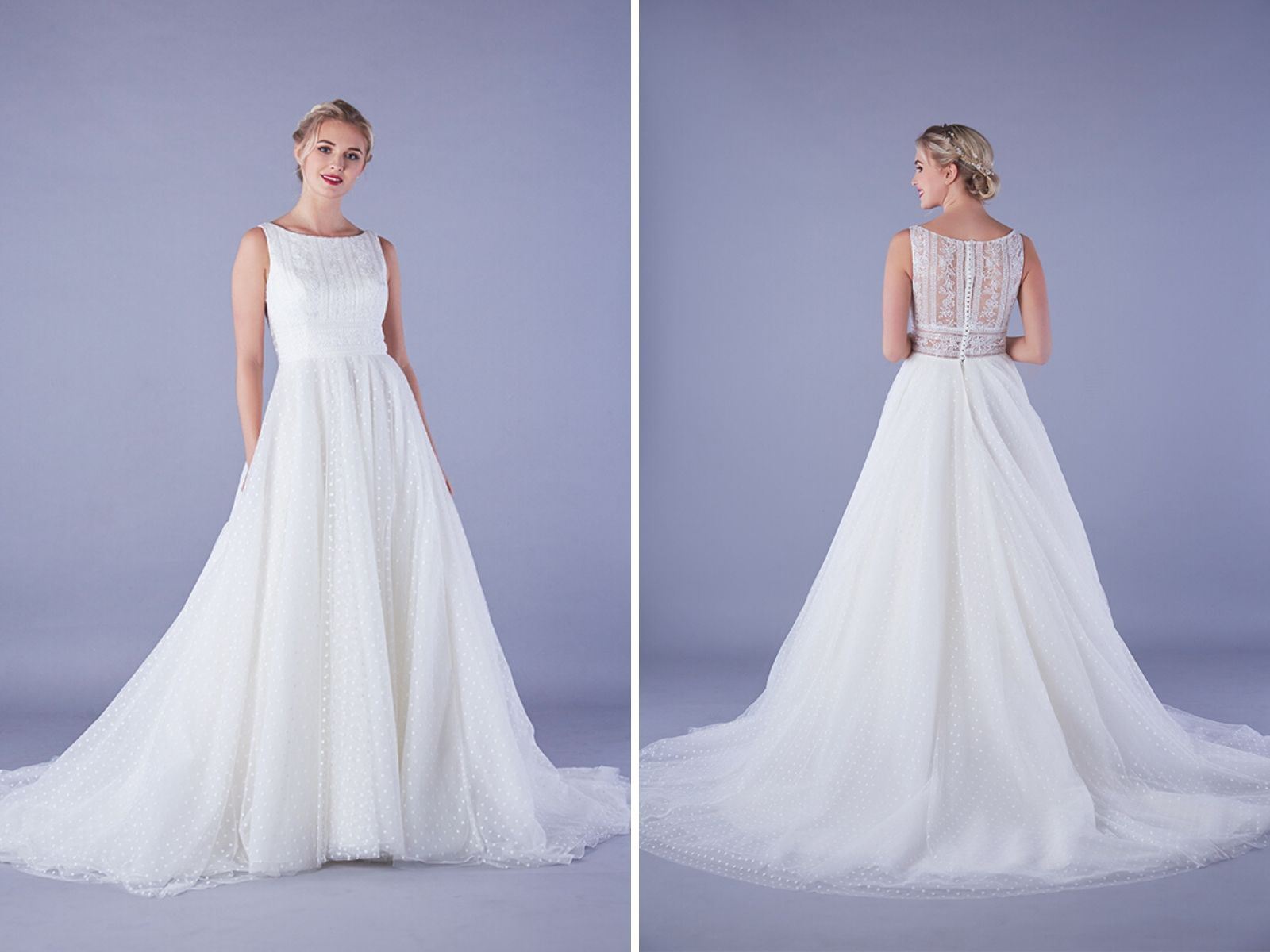 Best for: bride looking for a classic gown with a contemporary twist
Want a statement wedding dress that's utterly unique to you? Check out our bespoke service here.
Fleur by Lois Wild (9.40 minutes)
Similar to Annie by Loulou Bridal, sister brand Lois Wild have used the same rose print fabric to create an equally unique piece.
Fleur is complete with straps, a low V-back, gorgeous neckline, lace detail and two layers of organza over the rose print fabric, which diffuses the colour slightly more.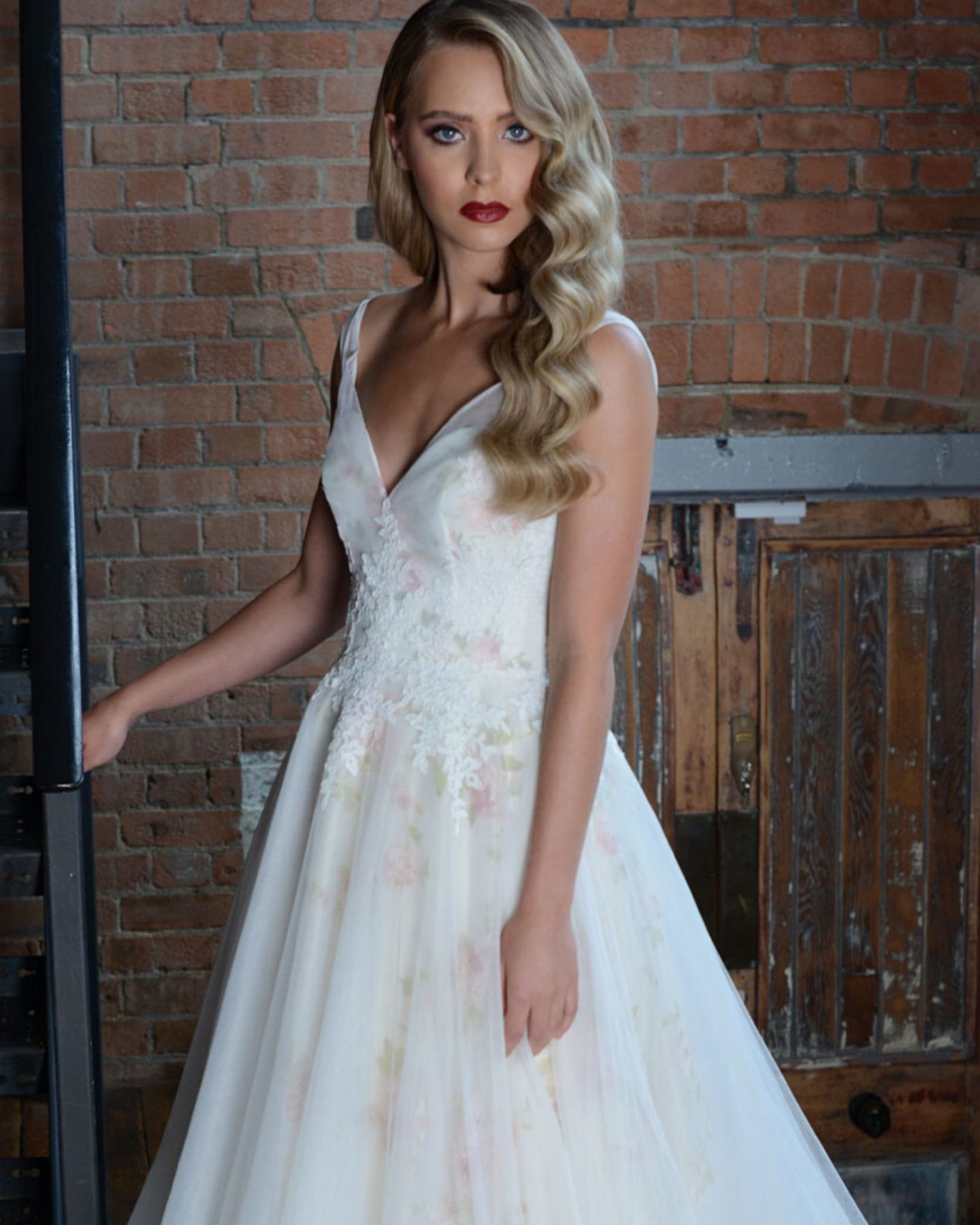 Best for: feminine bride looking for a spring-time dress
Mylene by Millie May (10.15 minutes)
Looking for a statement wedding dress with a boho twist? Mylene by Millie May, with eyelash lace, cap sleeves, V-neck and deep V-back is the ideal summer wedding dress for a marquee wedding, outdoor or beach wedding.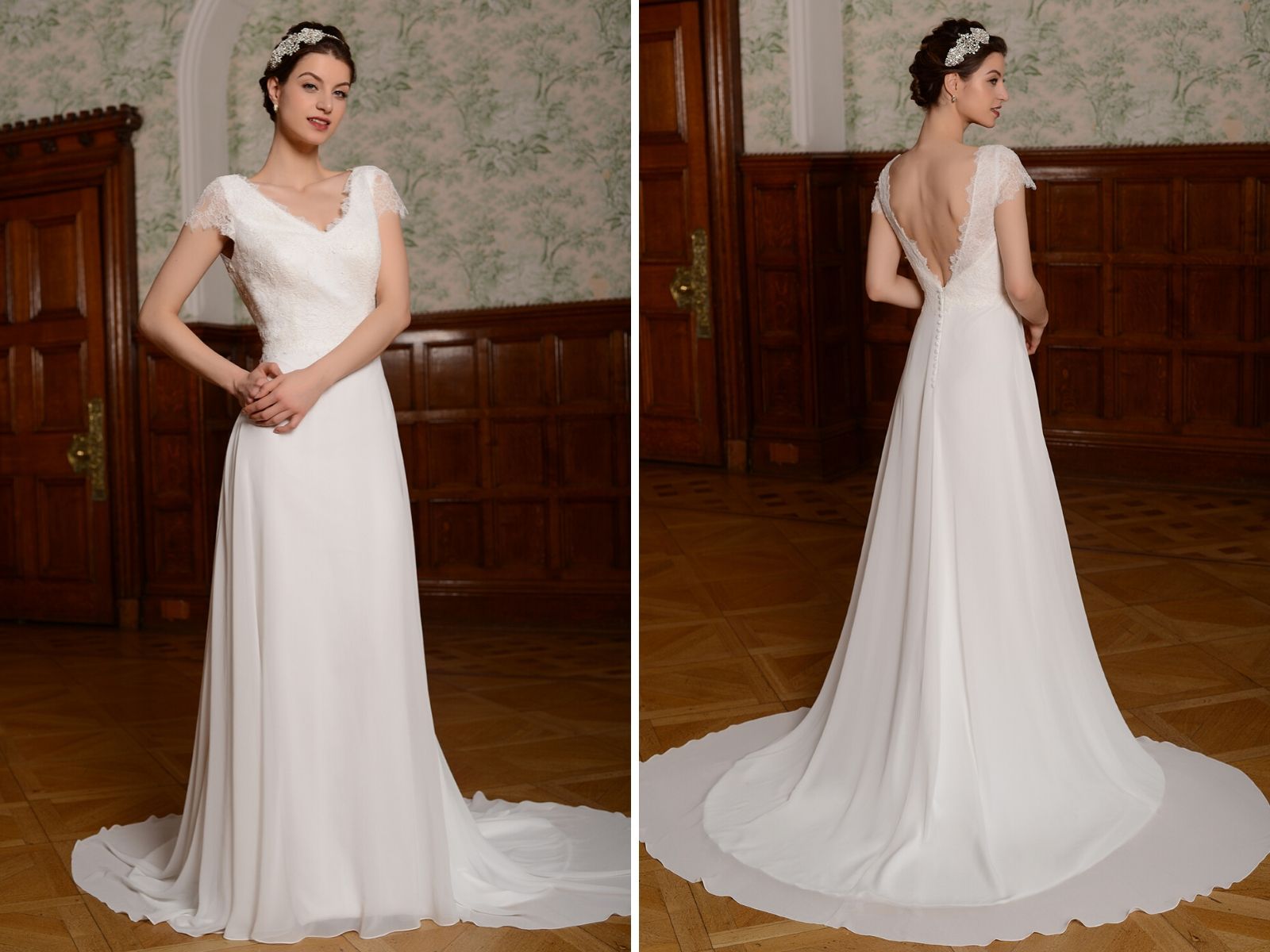 Fitted until the waist, where ample floaty material then falls over the body, smoothing out any lines, before forming the train, which elegantly catches that summer wind.
Best for: boho chic brides of all body shapes
We have a great variety of statement wedding dresses, from the boho luxe to the vintage and more contemporary chic. All designer, our brides are shocked when our price points on dresses as detailed and delicate as Mylene are less than £1000.
Catering for the unique bride searching for that statement wedding dress, we don't only have our handpicked collection of designer gowns, but we have our own Boho Bride Freedom Collection, biker jackets, range of accessories and more.
Book an appointment at our boutique to try our collection yourself!