Figure-Flattering Wedding Dresses for Your Body Shape
---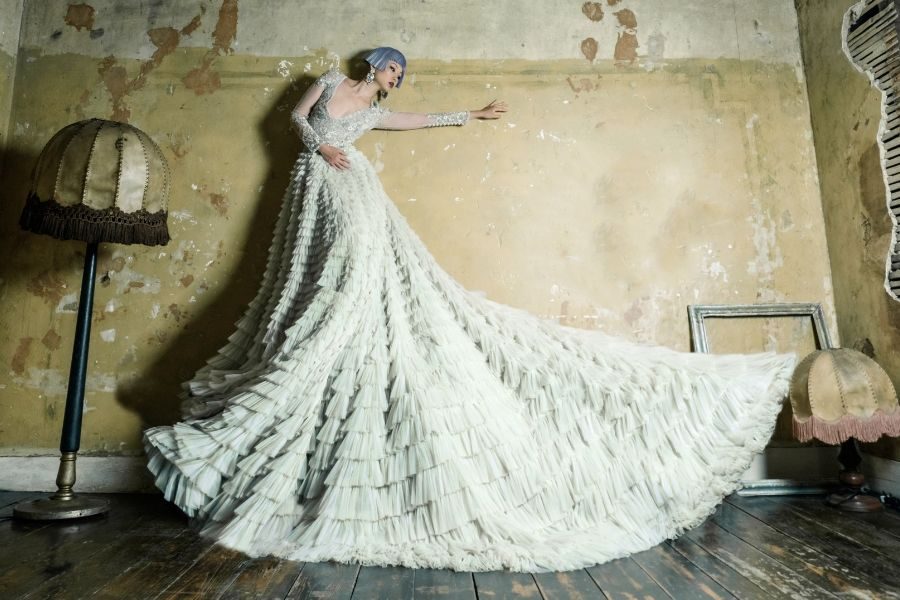 Every bride wants to look her very best on her wedding day, and the best way to do this is by finding the perfect, figure-flattering wedding dresses for your body shape. So, whether you're wanting to flaunt your best assets or hide a problem area, here's how you can find those figure-flattering wedding dresses.
Read more: What's Hot in Bridal 2018-2019 Season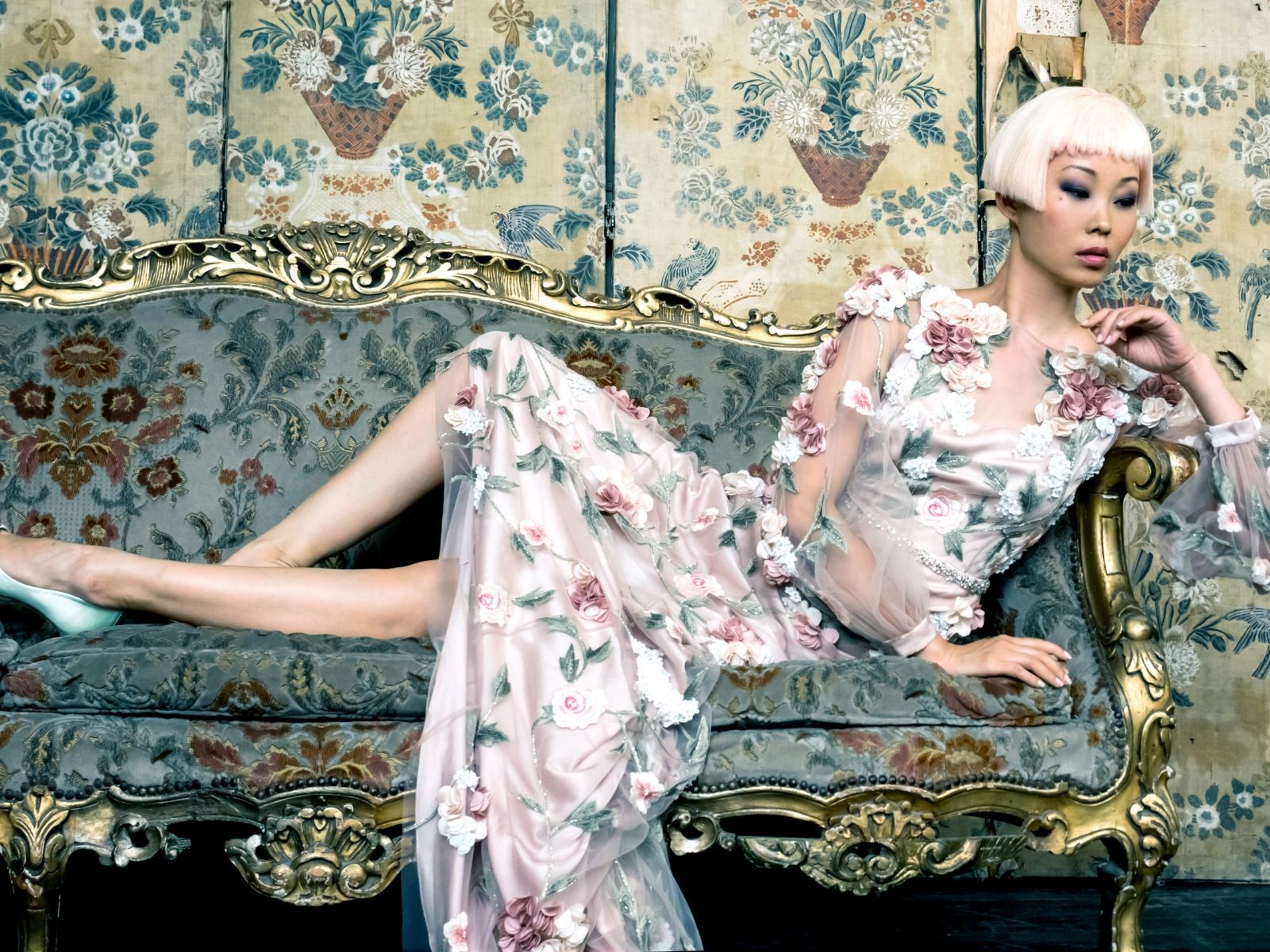 See more Bowen-Dryden designs like this one.
Your Ultimate Style Guide to Figure-Flattering Wedding Dresses for Your Body Shape
Wedding Dresses for Petite Brides
The short-girl-struggles are also not so much of an issue in the bridal world. The luxurious shopping experience means that you can have dresses altered or even made bespoke.
Boho Bride Boutique has a seamstress and designer on site so finding your dream, figure-flattering wedding dress for your body shape is easier than ever! Or, if you're looking for a totally unique gown, check out our bespoke service. 
Look for: whilst not all short girls want to add height, if you do, consider wearing a short wedding dress, or one with an empire waistline. Bare legs make brides look taller and empire waistlines elongate the body.
Mermaid-style gowns are great for showing off your curves and A-lines are always a flattering bet.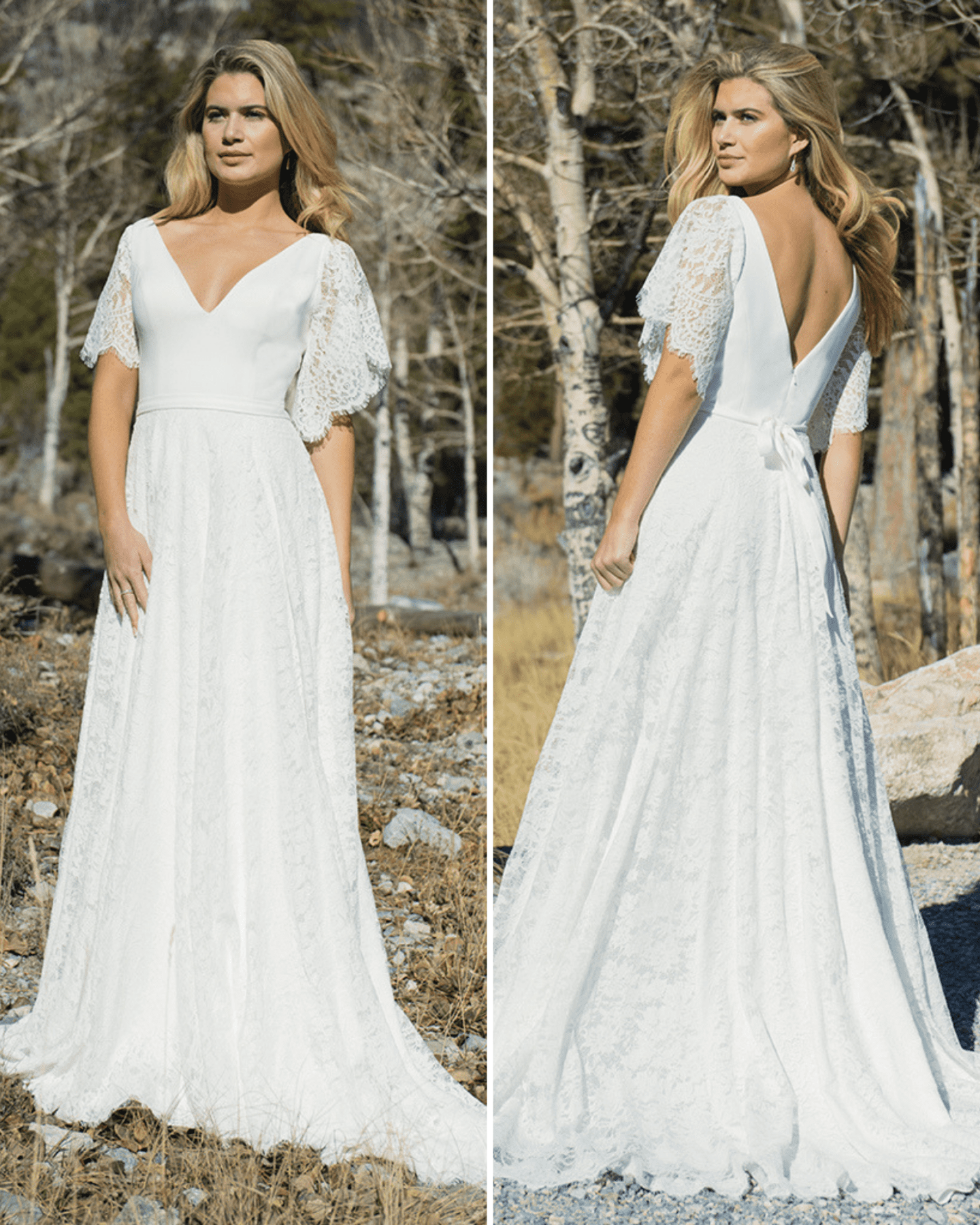 See more Ivory & Co. designs here.
Avoid: princess-style or ball gown dresses. We're sorry to say it, but we've forever seen this dress style swamp petite brides' small frames and extend their body horizontally, making you look shorter.  
Read more: Boho Bride's Top Tips to Wedding Gown Shopping
Wedding Dresses for Tall Brides
If you're a tall woman, you've probably experienced some struggles when it comes to finding clothes to fit your frame. Well, welcome to bridal, where you'll be pleased to know that tall women have the pick of the lot.
Look for: a wedding dress with a front or side slit to show these off your enviable long legs. Elegant long wedding dresses with empire waistlines and A-line skirts also look great on tall brides.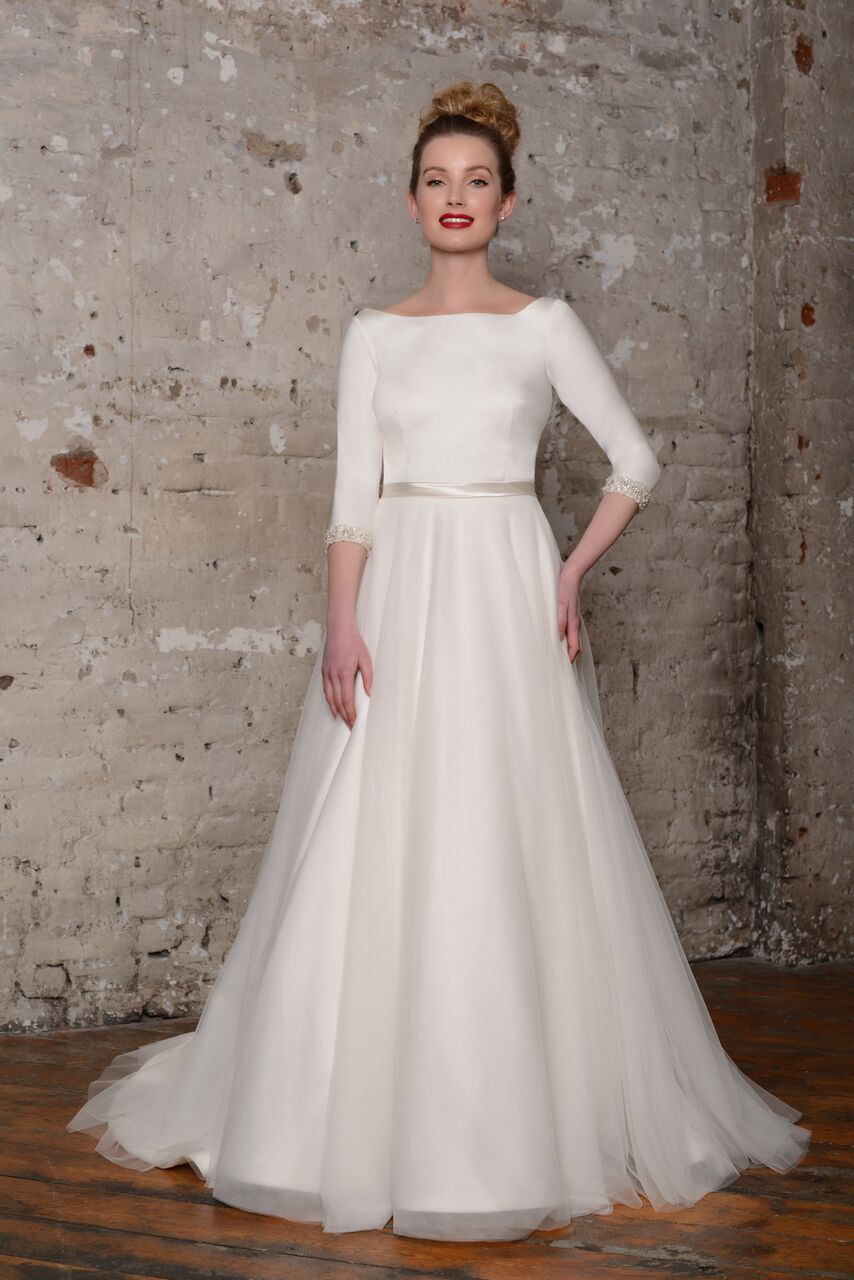 See more Louise Bentley designs here.
With plenty of options, feel free to choose any wedding dress from our new boutique – all dresses can be ordered in a longer length!  
Wedding Dresses for the Straight Body Shapes
If you have a straight, slim or sporty body shape your bust and hips are probably quite well-balanced. Many brides with sporty body shapes find they have little waist definition or curves. Here's how you can find figure-flattering wedding dresses for your body shape…
Look for: a wedding dress with a full skirt; this will give your hips greater shape. V-neck gowns add angles and biker jackets look really stylish on straight body shapes too.
Check out Boho Bride's stunning range of biker jackets; they're perfect for the bride who wants to wear something different on her wedding day.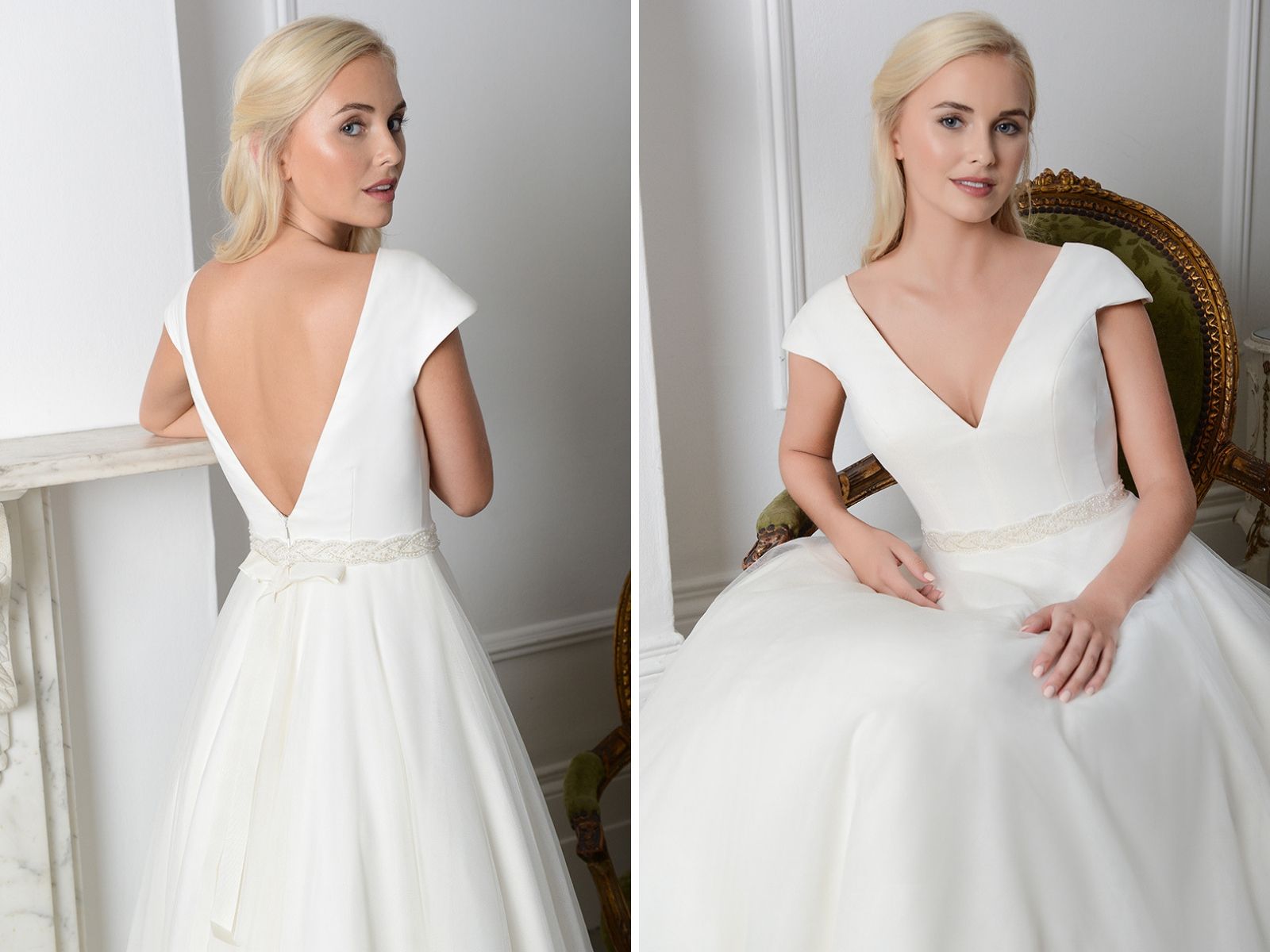 See more LouLou Bride designs like Geneva.
Avoid: strapless dress as these will add breadth to your shoulders. Also, avoid column wedding dresses as these won't add anything to your shape.
Wedding Dresses for Brides with Pear Body Shapes
Brides with pear body shapes tend to have hips that are larger than their narrow shoulders and smaller bust. This body shape also usually consists of a nicely defined waist and slim neck.
We find that our lovely 'pear-shaped' boho brides that come to our boutique often want to flaunt their waist whilst giving the illusion of smaller hips. So, pear-shaped brides, here are the best figure-flattering wedding dresses for your body shape.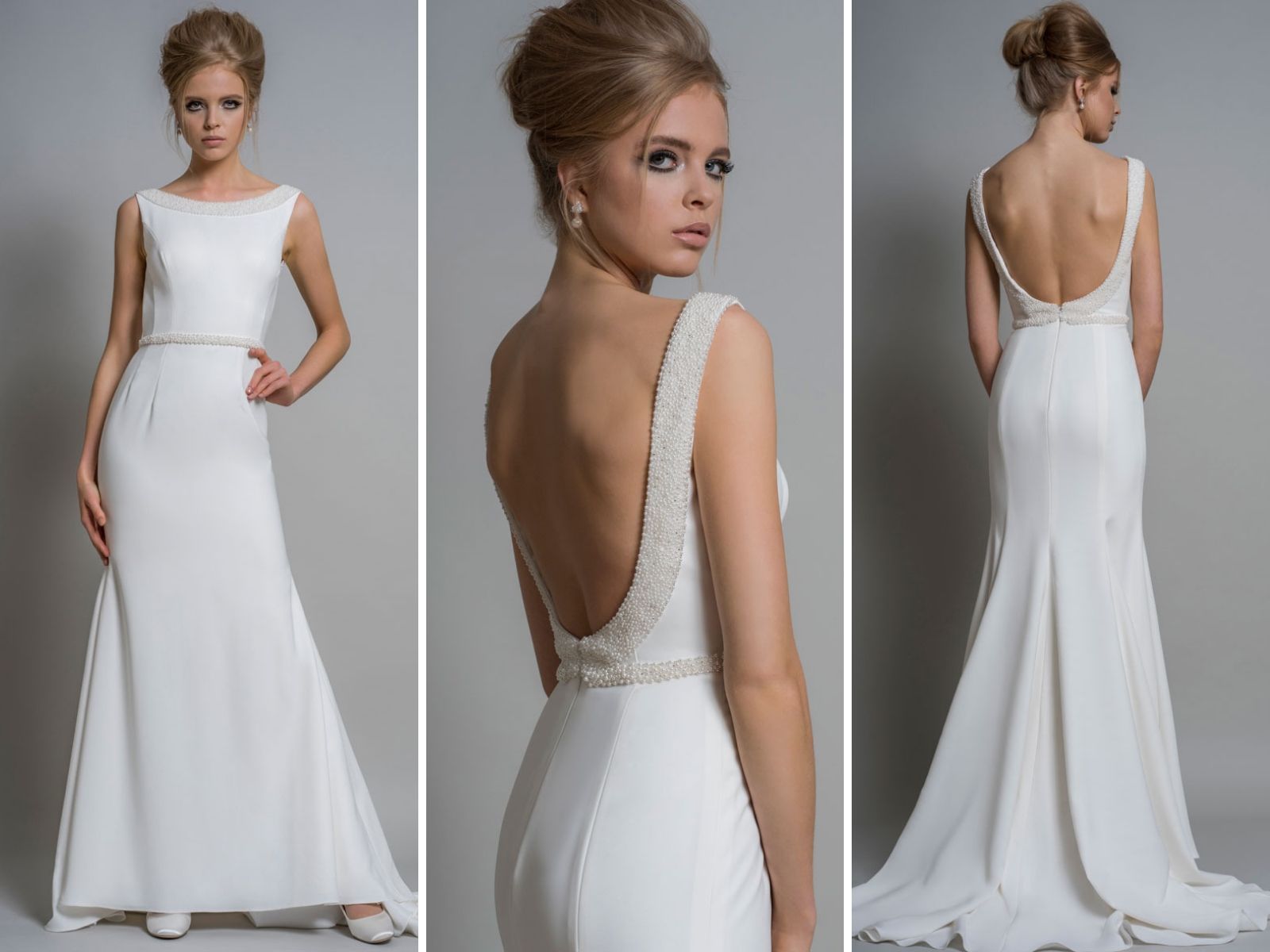 Look for: a fitted wedding dress; embrace your gorgeous curves! If you want to balance out your smaller shoulders, opt for a wedding dress with sleeves – it will broaden you out a little. If you'd rather hide your hips, disguise them with an A-line silhouette. Details up the top of the dress will balance your proportions perfectly.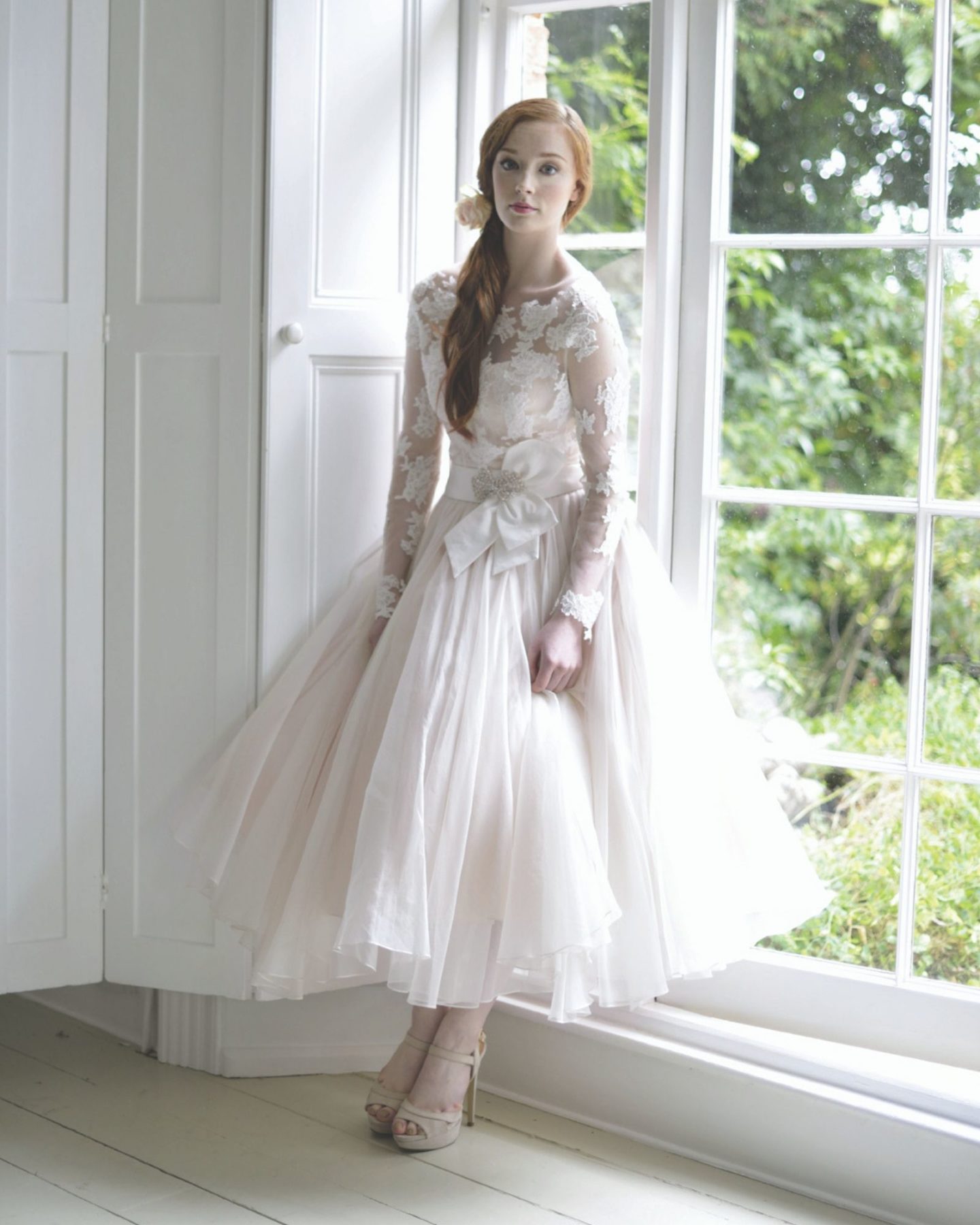 Avoid: loosely-fitted wedding dresses; they'll only make you look bigger than you really are.
Read more: Real Wedding: Disney and a Love of Bears
Wedding Dresses for the Hourglass Body Shapes
If you have a defined waist, large bust and shoulders and hips that are in proportion then it's likely you have an hourglass figure.
Lots of wedding dresses work really well with hourglass body shapes, so you ladies shouldn't have much of an issue finding wedding dresses for your body shape.  
Look for: a fitted waist or corset back that will show off those curves! A sweetheart neckline will keep your bust balanced with your hips.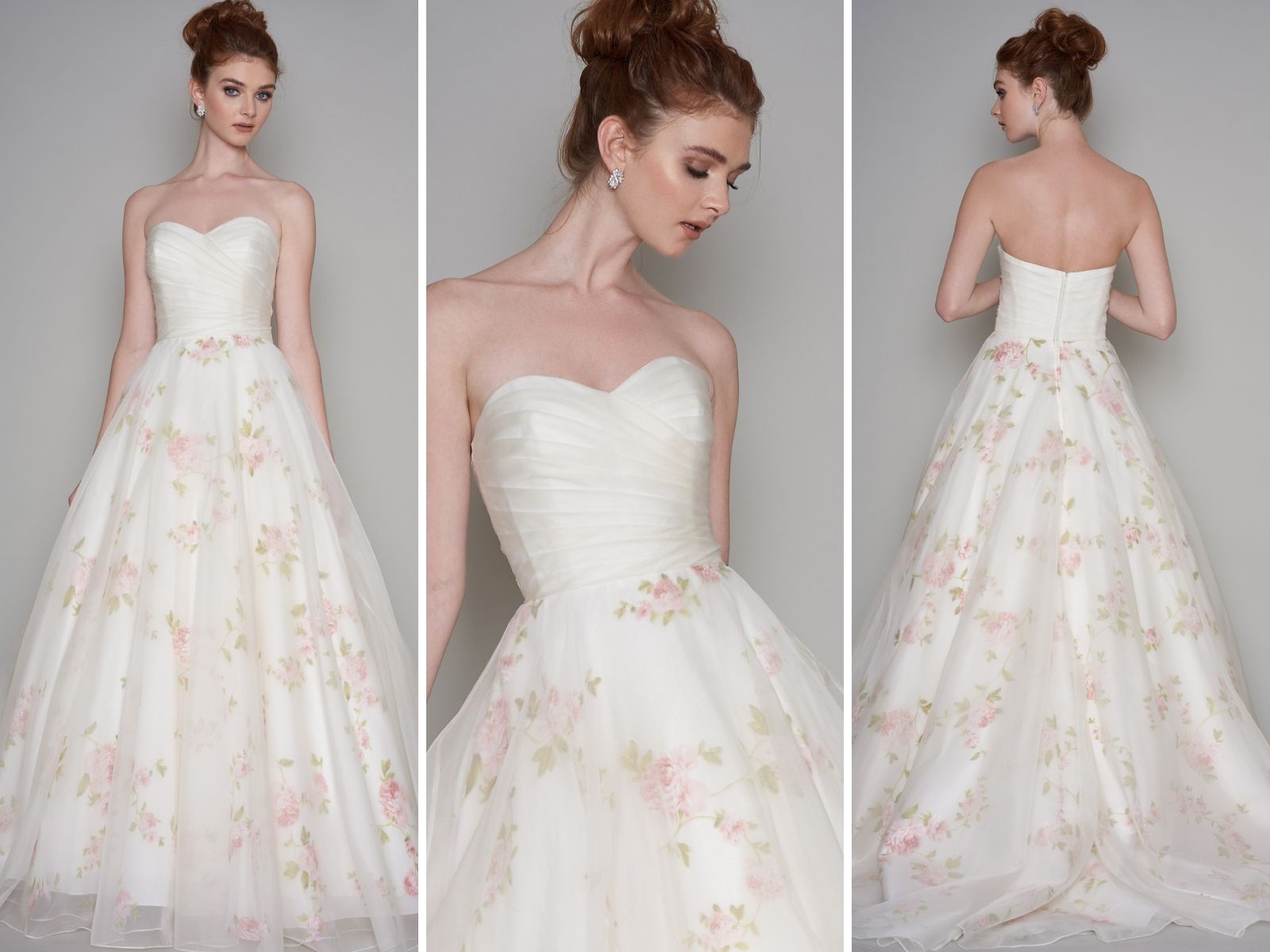 Avoid: princess styles – they'll look much less flattering on your hourglass body shape.
Read more: Millsfest! Festival Flags, Signposts and Giant Letters Were All Part of Aimee's and Dave's Wedding
Inverted Triangle Body Shapes
Inverted triangle body shapes consist of broad upper bodies and smaller hips. If you're a bride working within this category, avoid designs that could make your shoulders look broader when looking for figure-flattering wedding dresses for your body shape.
Look for: a sleeved wedding dress or one with thicker straps; they'll make your shoulders look narrower. If you're into detailed wedding dresses, you're in luck! Patterned lace or detailed wedding dresses will veer your guests' eyes downward, rather than focusing on your broader upper body.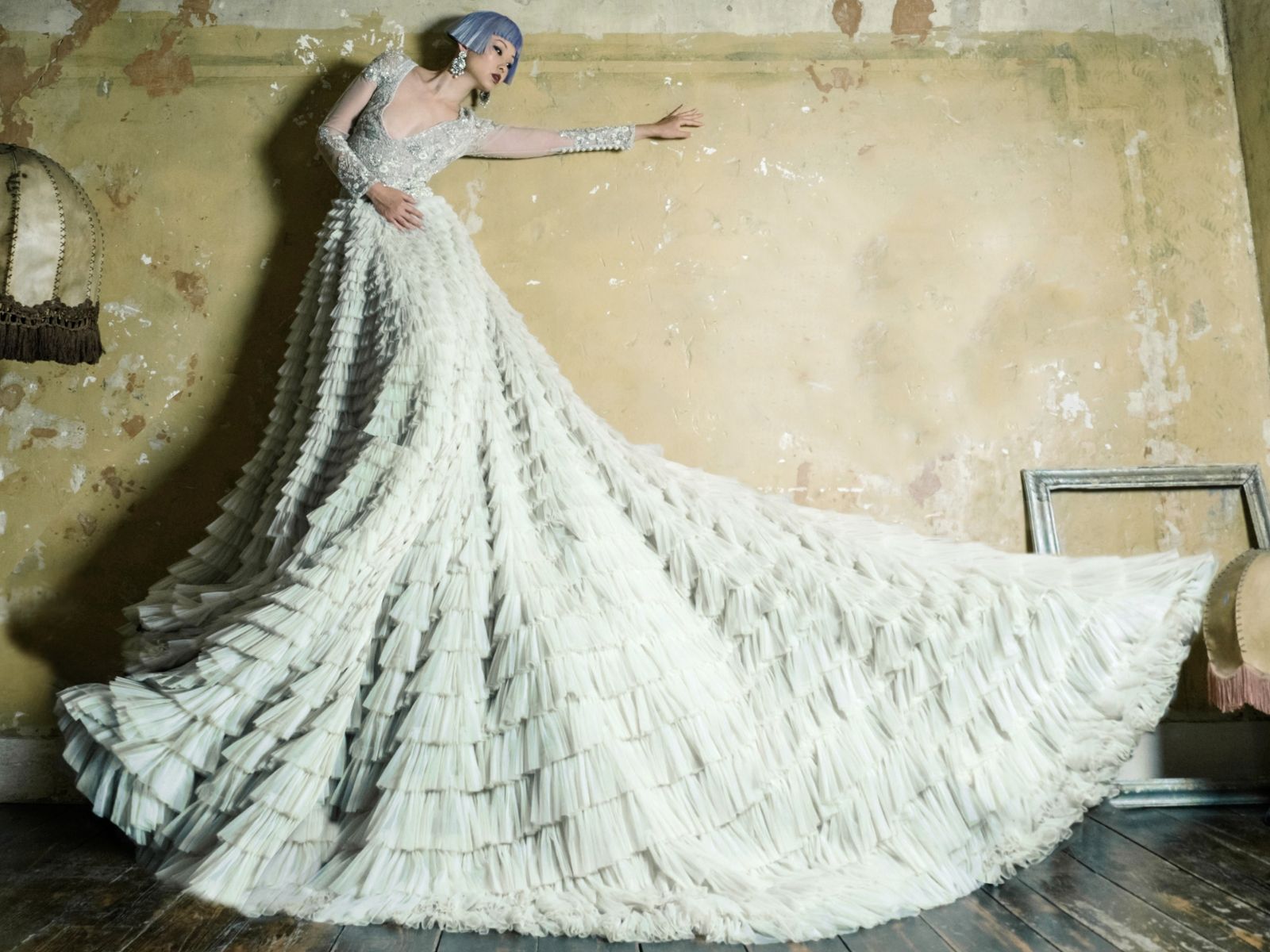 Avoid: off-the-shoulder dresses, halter necks or wedding dresses with lots of detail around the neckline as they won't flatter your upper half.
Wedding Dresses for Apple Body Shapes
Apple- or oval-shaped brides tend to carry their weight on their bust and middle section, whilst usually having slim arms and legs. The following wedding dresses will flatter your body shape perfectly.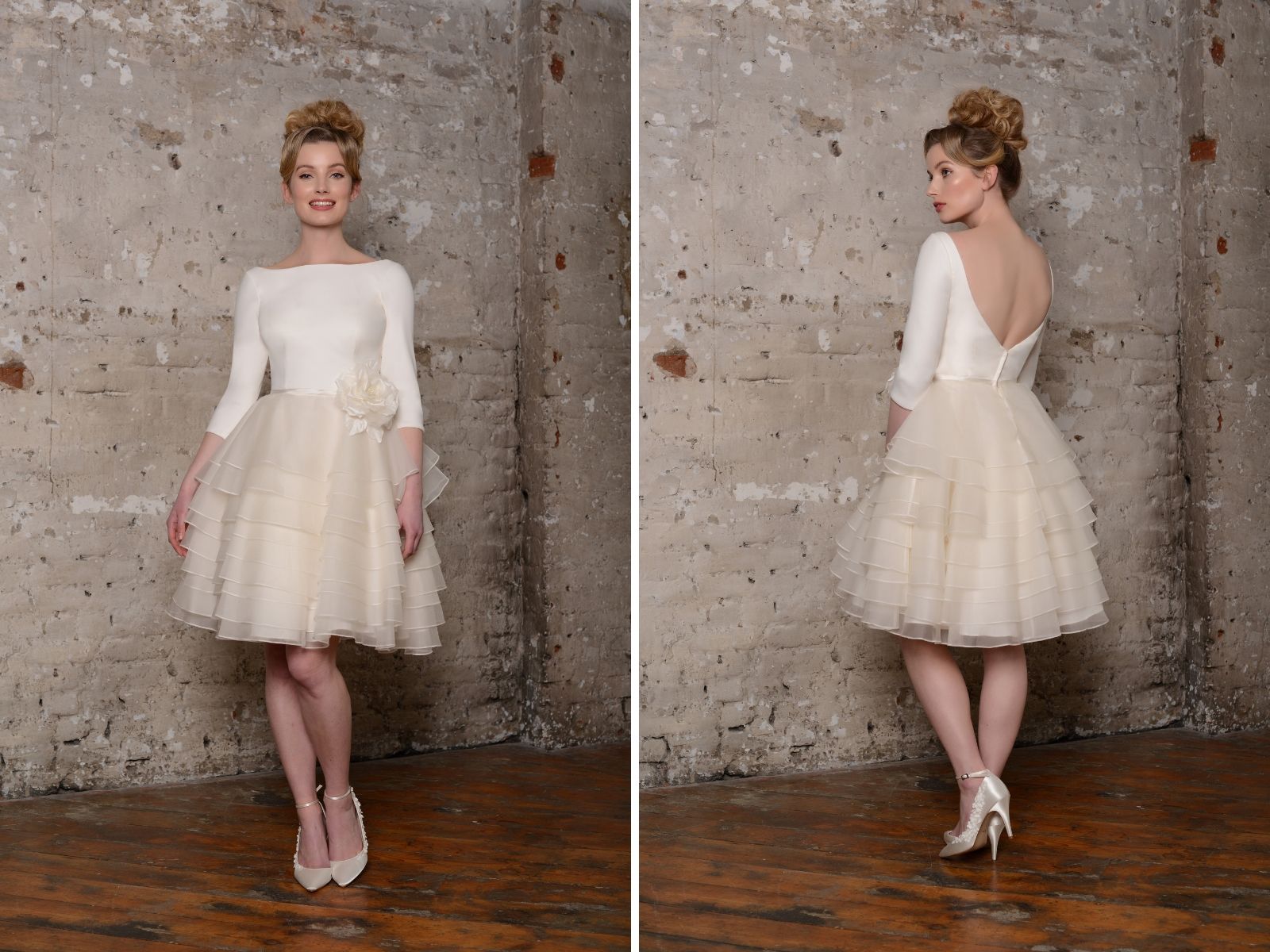 Look for: a dress that flows through the waistline and slightly flares, these are the perfect figure-flattering wedding dresses for your body shape. Flaunt your thin arms and legs with a strappy, strapless or short wedding dresses. Embellishments that travel in vertical lines are super flattering on an apple body shape.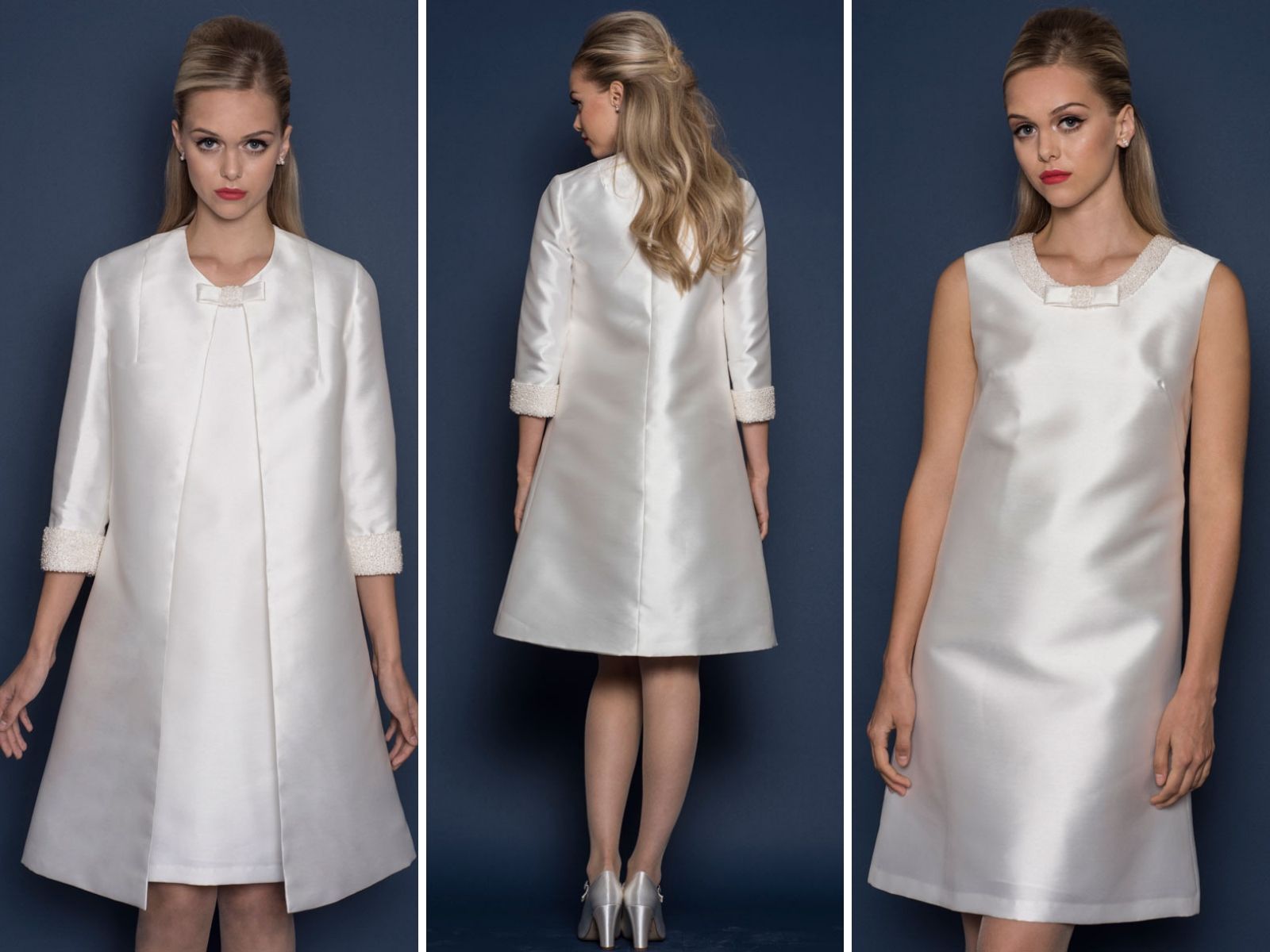 See more from Louise Bentley.
Avoid: wedding dresses with high necklines.
Read more: Our Brides – 'Hygge' Style Wedding
Brides with Smaller Busts
Models often have smaller busts, and if they can look great strutting their stuff on the runway then there's no doubt that you can when walking down the aisle. In fact, all you brides with smaller busts have a large range of figure-flattering wedding dresses for your body shape.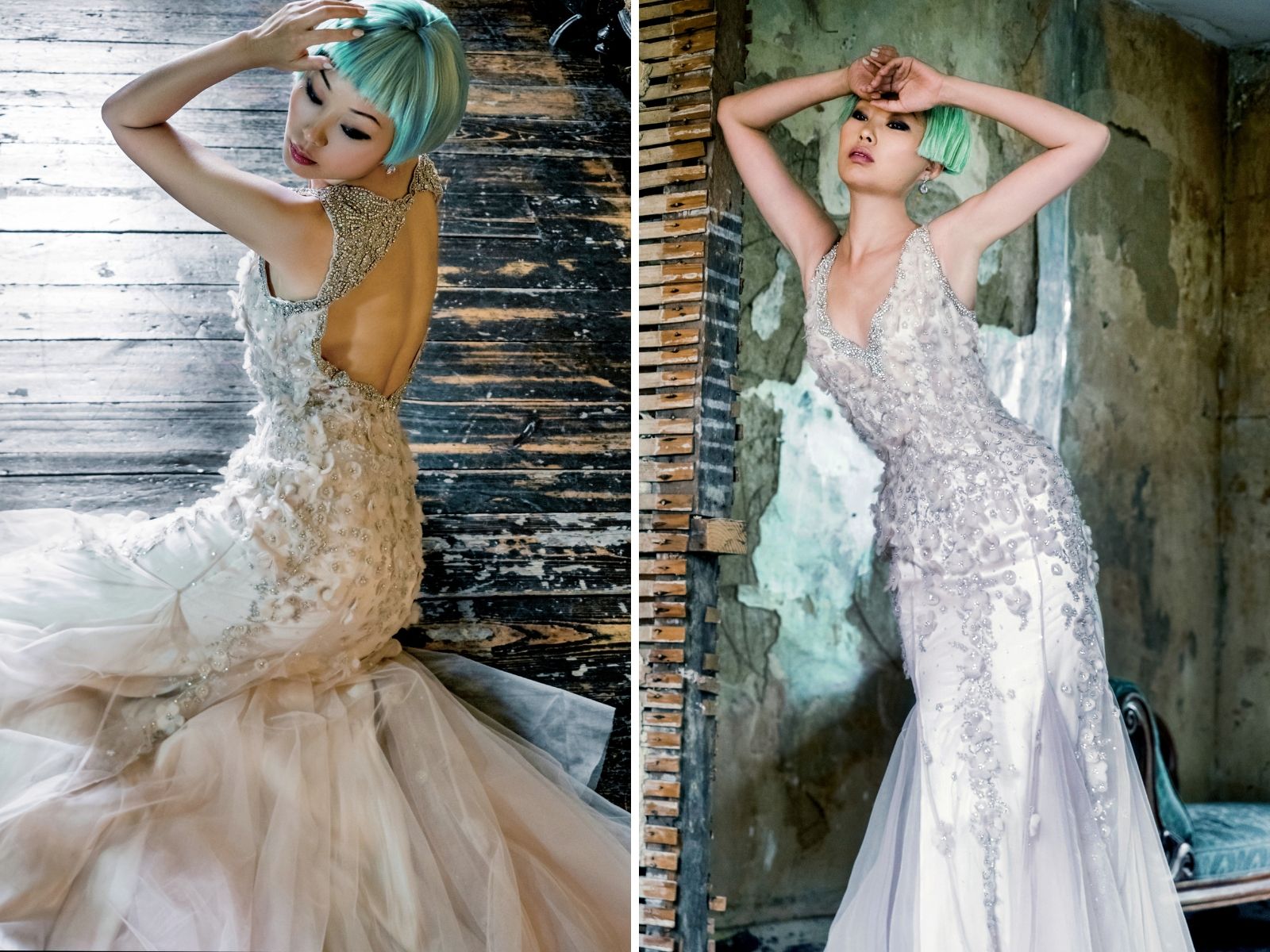 Look for: backless wedding dresses – they're a fashion trend we don't see shifting for a long time, and they look great on brides with smaller chests. Off-the-shoulder wedding dresses will expose the upper portion of your breasts, enhancing what you have.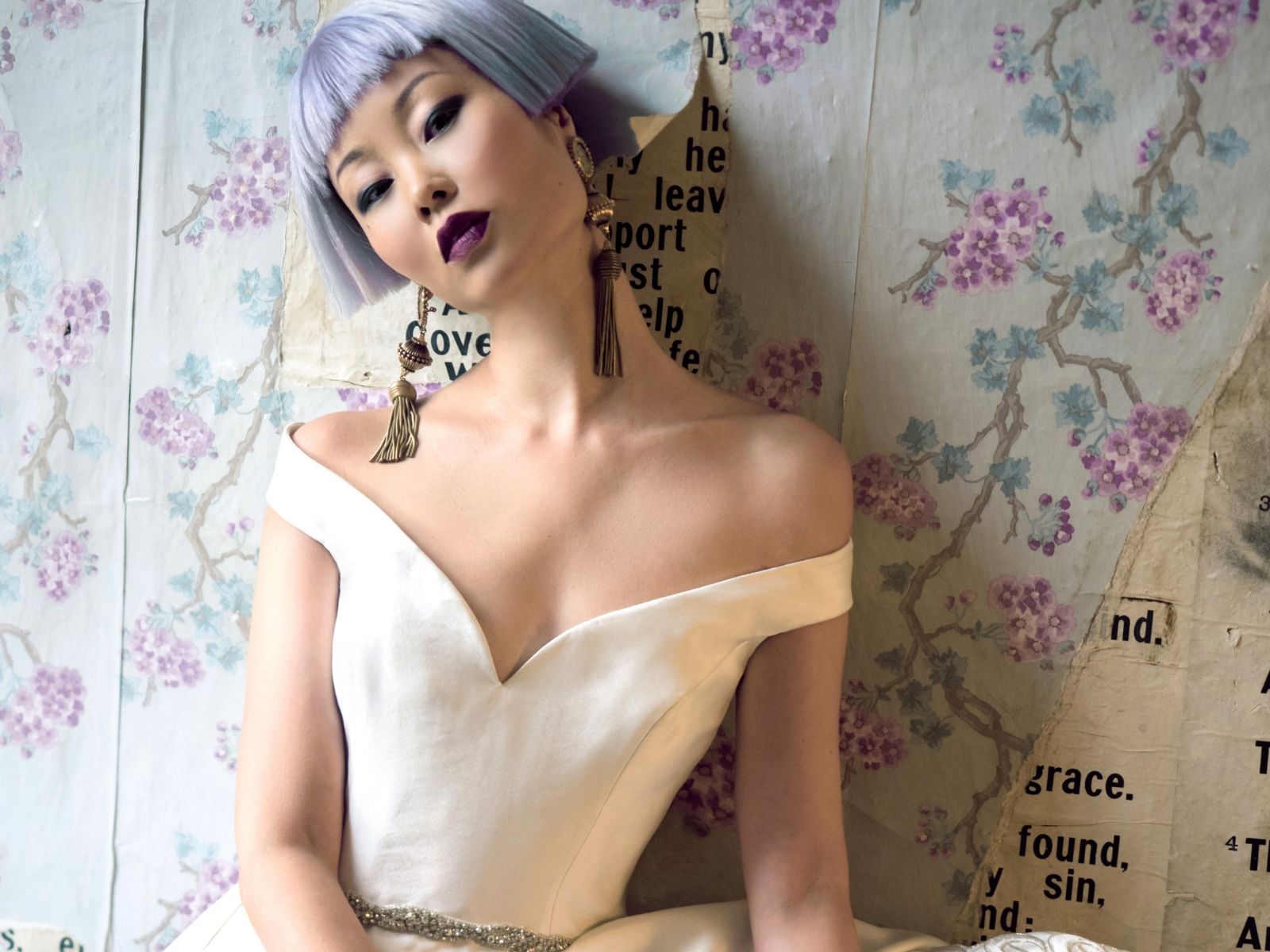 Fuller-breasted girls sometimes end up with a 'double boob' situation with off-the-shoulder wedding dresses, but you can pull it off perfectly.
Now you know the best wedding dresses for your body shape, contact Boho Bride to book your bridal styling consultation and let the experts do the rest.