A Bespoke Black Wedding Dress for Abi's Intimate Wedding
---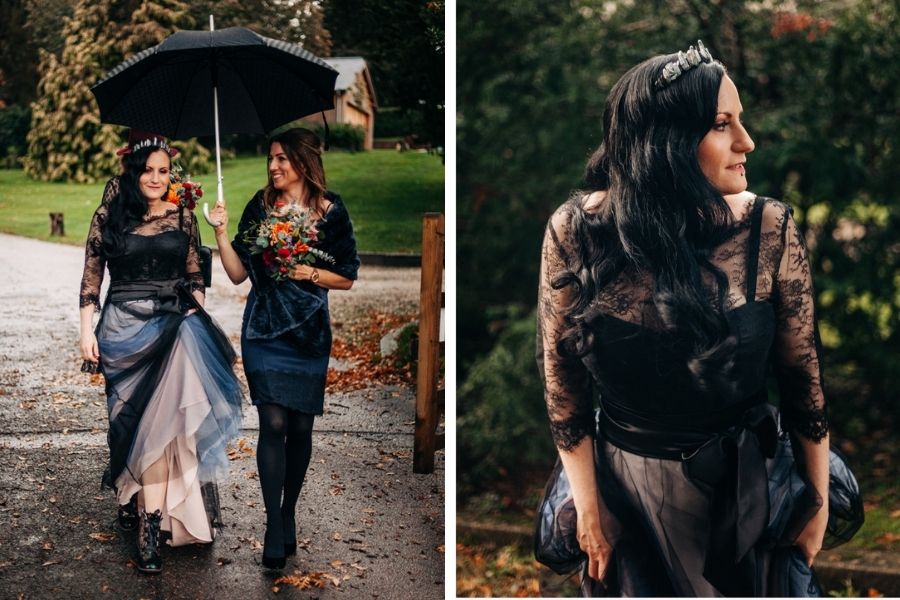 When Abi met Jake, the creative couple instantly bonded over their mutual love for rock music, art, animals, Haruki Murakami novels, wasabi peas and green tea.
The basics of any happy marriage, if you ask us!
Fast forward eight years and Abi has walked down the aisle in the most stunning bespoke black wedding dress, to greet her now-husband.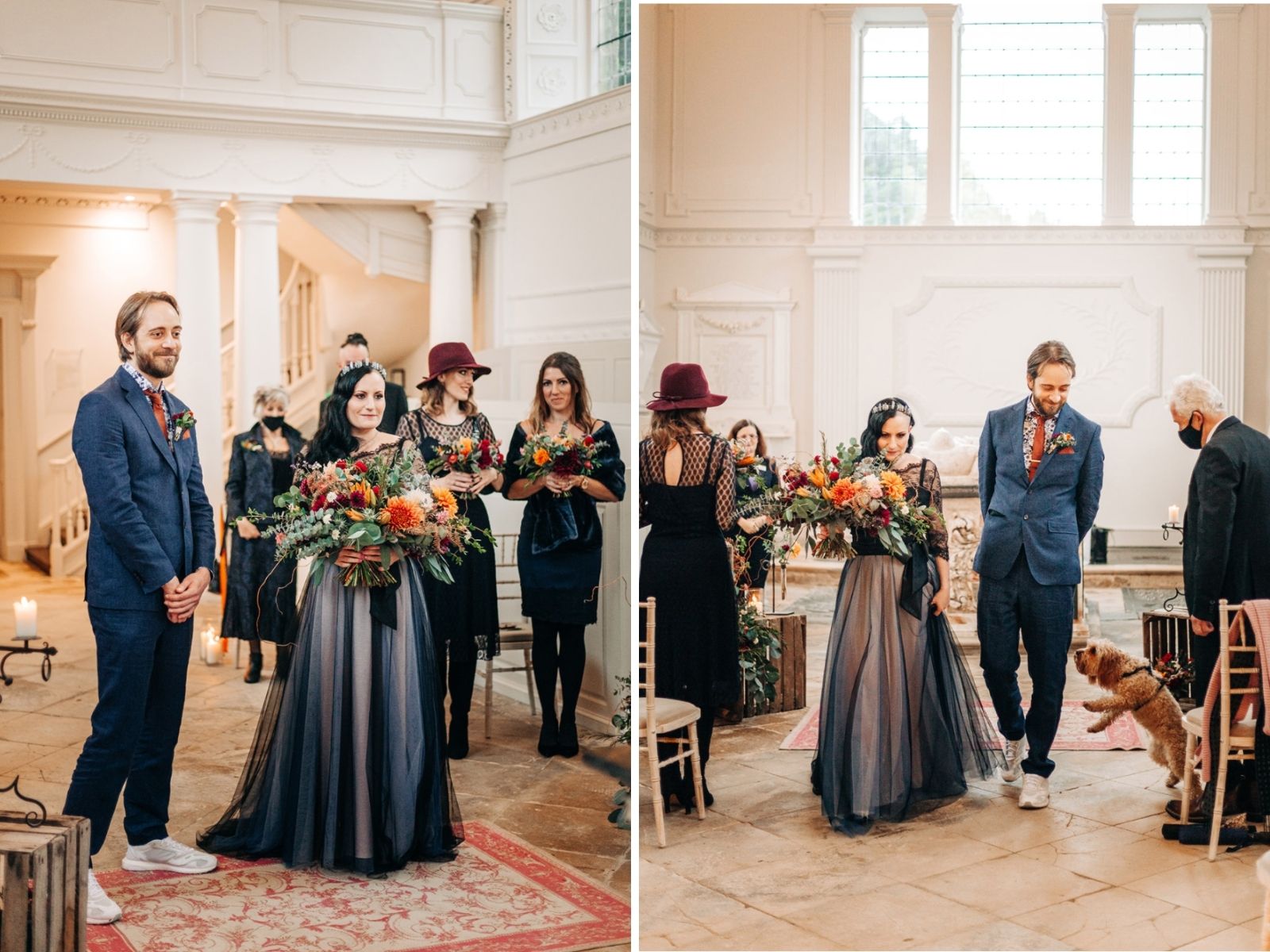 Just like Abi's unique black wedding dress, this pair's entire Autumnal day reflected their alternative style: from the intimate ceremony and cosy outdoor reception to the funky footwear and skull-patterned shirt.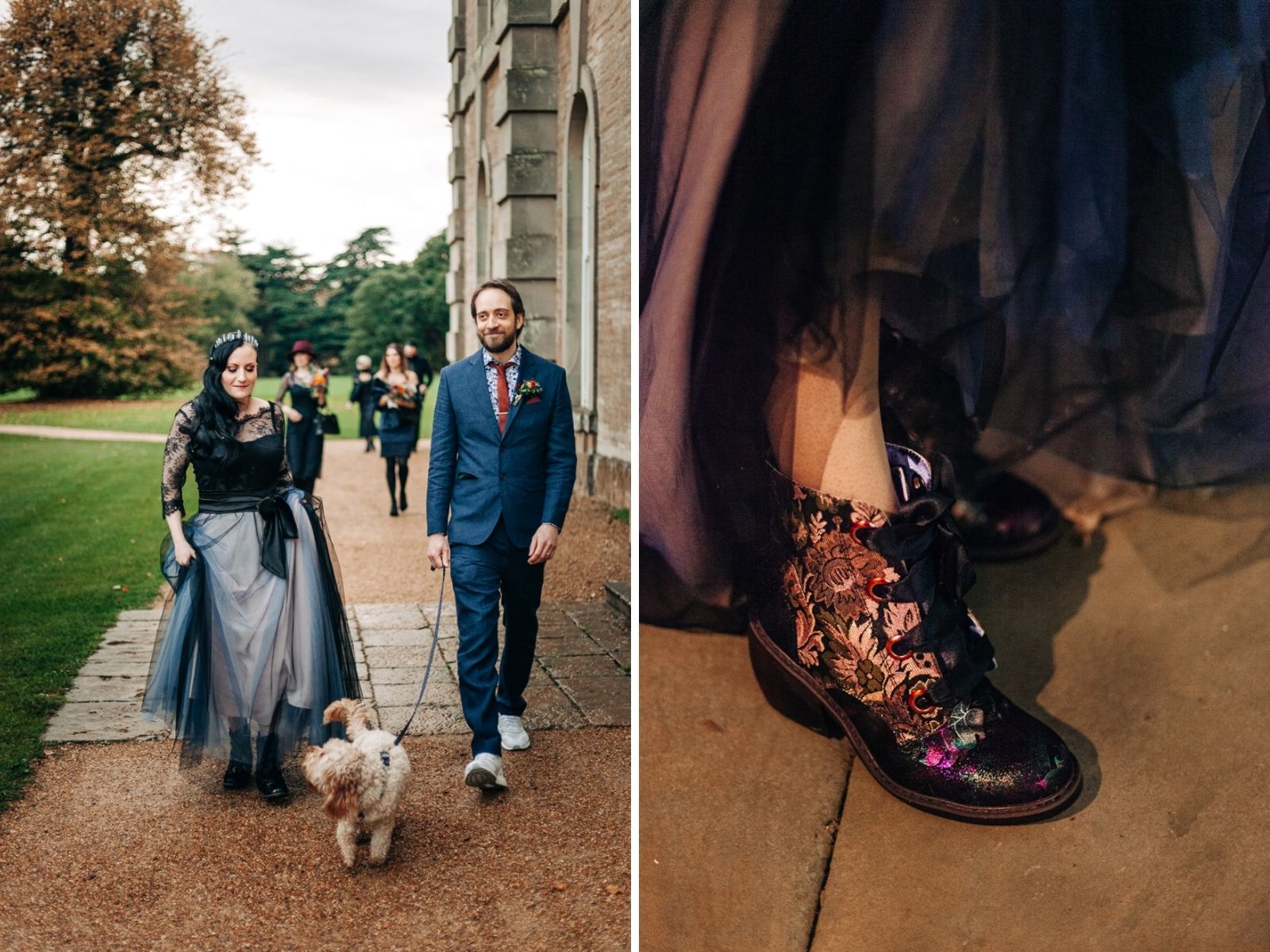 Read more: Lockdown Wedding! Rachel's Stunning, Socially-Distanced Day
You went for a relaxed, alternative, Autumnal theme. Tell us more!
We purposefully chose to get married in Autumn as we love the colours and falling leaves and thought it would provide us with some gorgeous photos, which it did!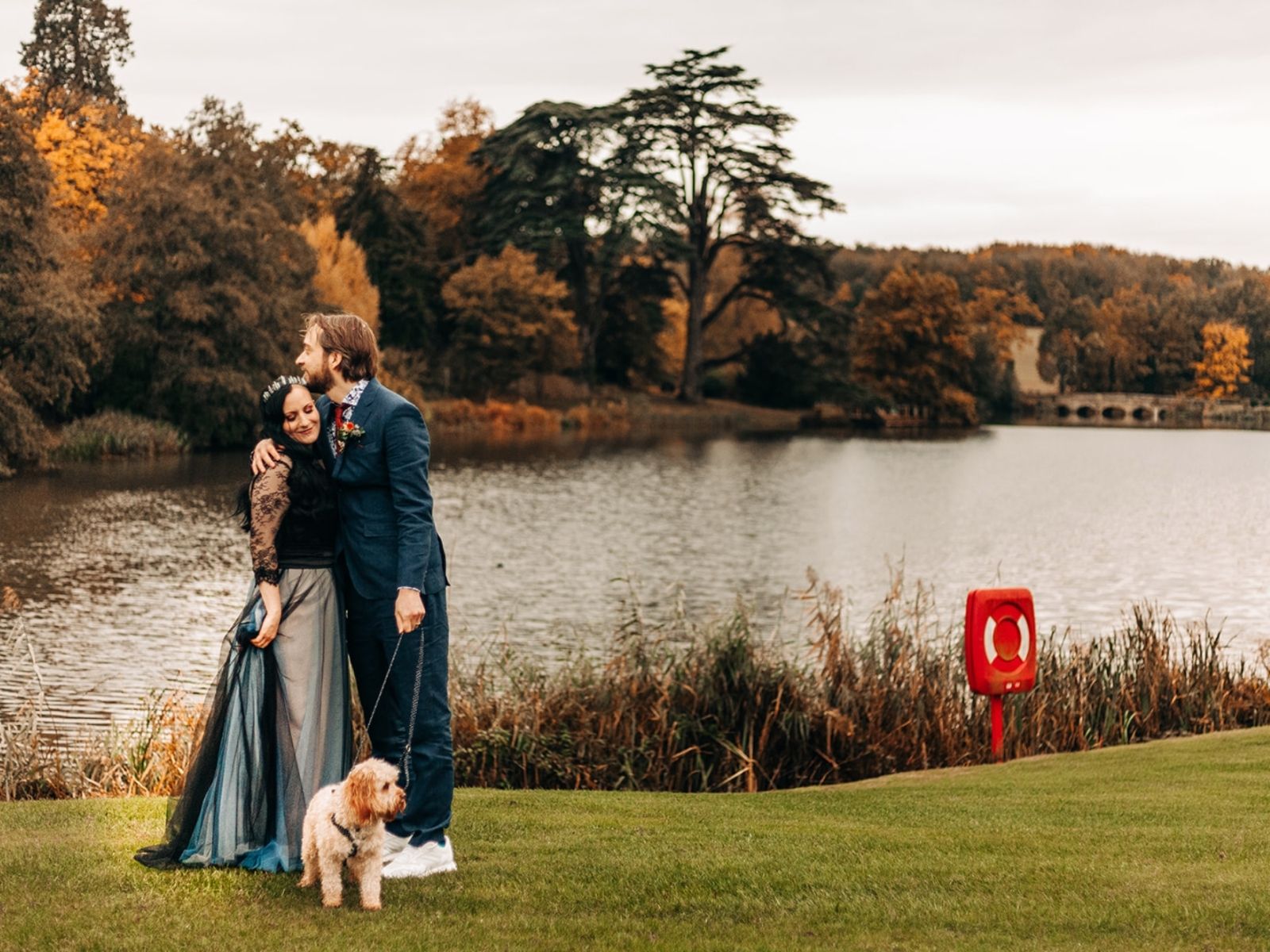 On the wedding day, I got ready with my two bridesmaids in a picturesque thatched cottage in Priors Hardwick. We had a relaxed breakfast and then had our hair and makeup done with the lovely Zara and Nicola.
Our wedding ceremony didn't start until 5 pm, which was absolutely perfect for both Jake and I as we are both very relaxed people who don't like to rush. This allowed me to enjoy some quality stress-free time with my friends, which I loved.
We arrived at the ceremony only slightly late!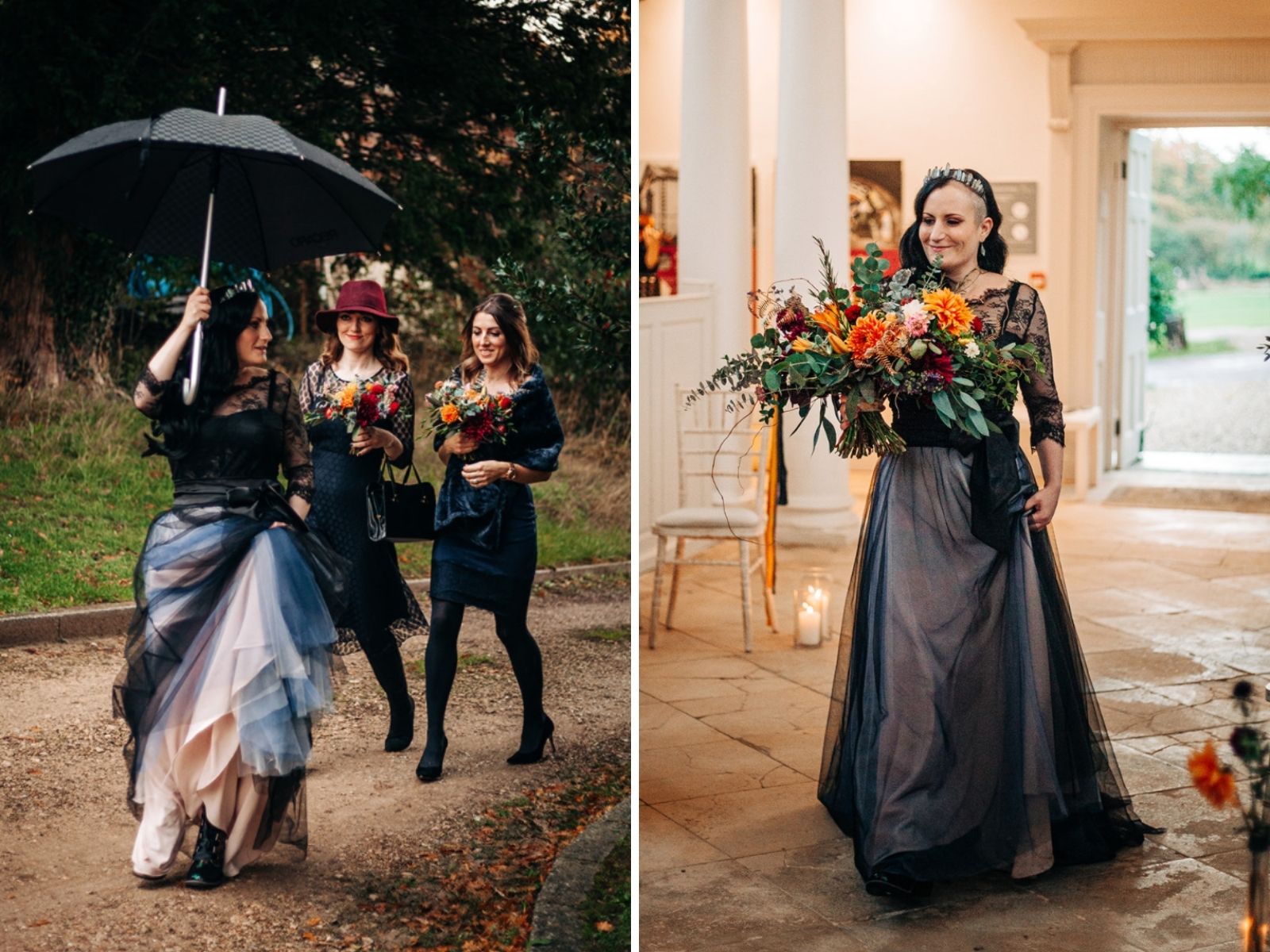 You stunned in your bespoke black wedding dress. How did you decide you wanted a black wedding dress?
I always knew I wouldn't have a white dress; I love dramatic, theatrical looks and unusual clothes. I like to be different.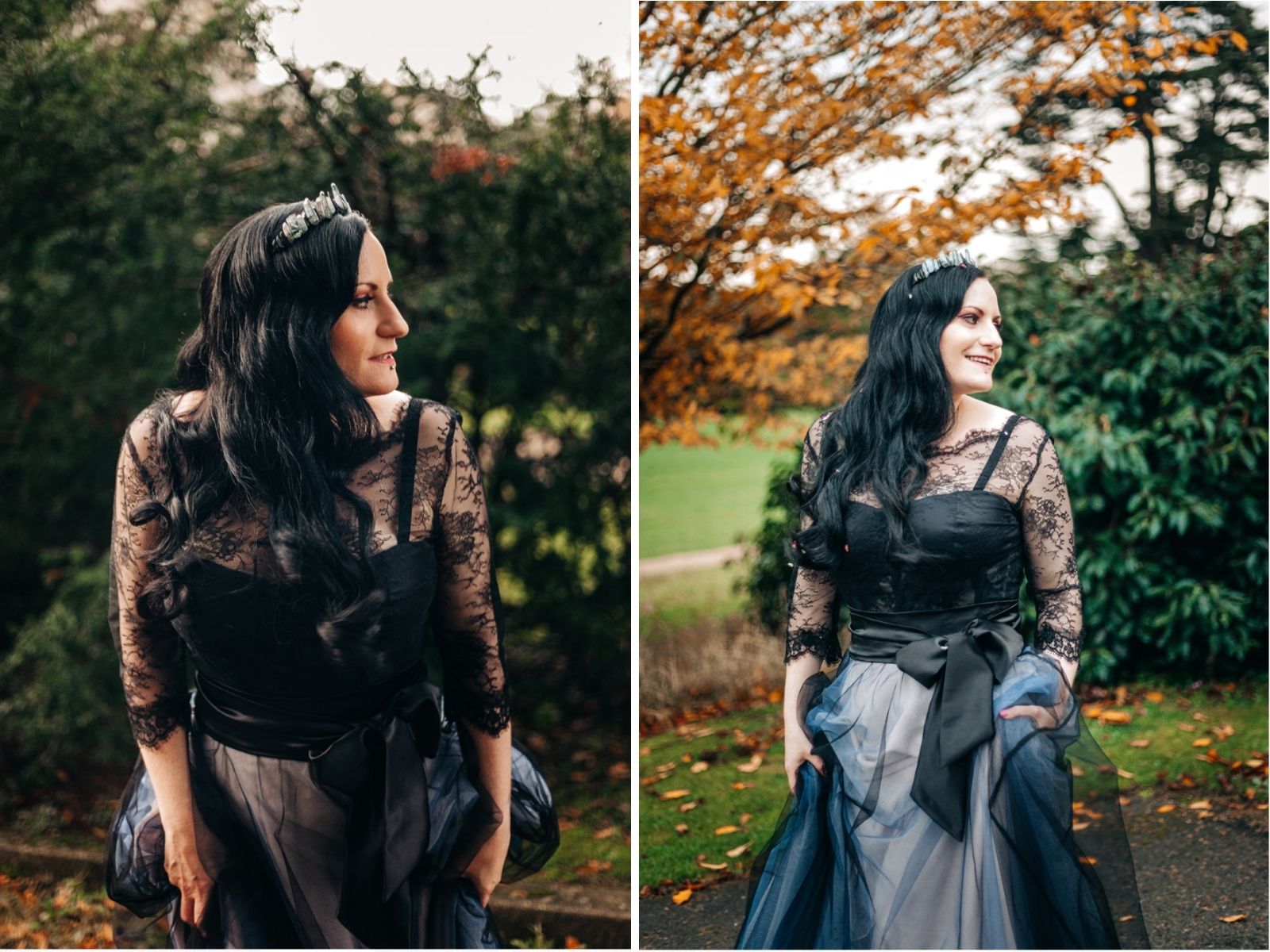 I didn't think I could do the whole wedding dress shop experience because I wanted something so different. But I contacted Lynette on a whim and thought I might as well go and try on some things. When I arrived, they had already made the skirt based on my Pinterest board, and I absolutely loved it.
Read more: Boho Bride Jacqui's Bespoke Wedding Dress Journey
We made you a layered tulle skirt, corset and bolero. What was the inspiration behind the design?
I had a selection of layered tulle skirts on a Pinterest board that I loved and sent Lynette right at the start. From those, Lucy made the skirt.
I was so impressed by the choice of colours and the way they worked so beautifully together.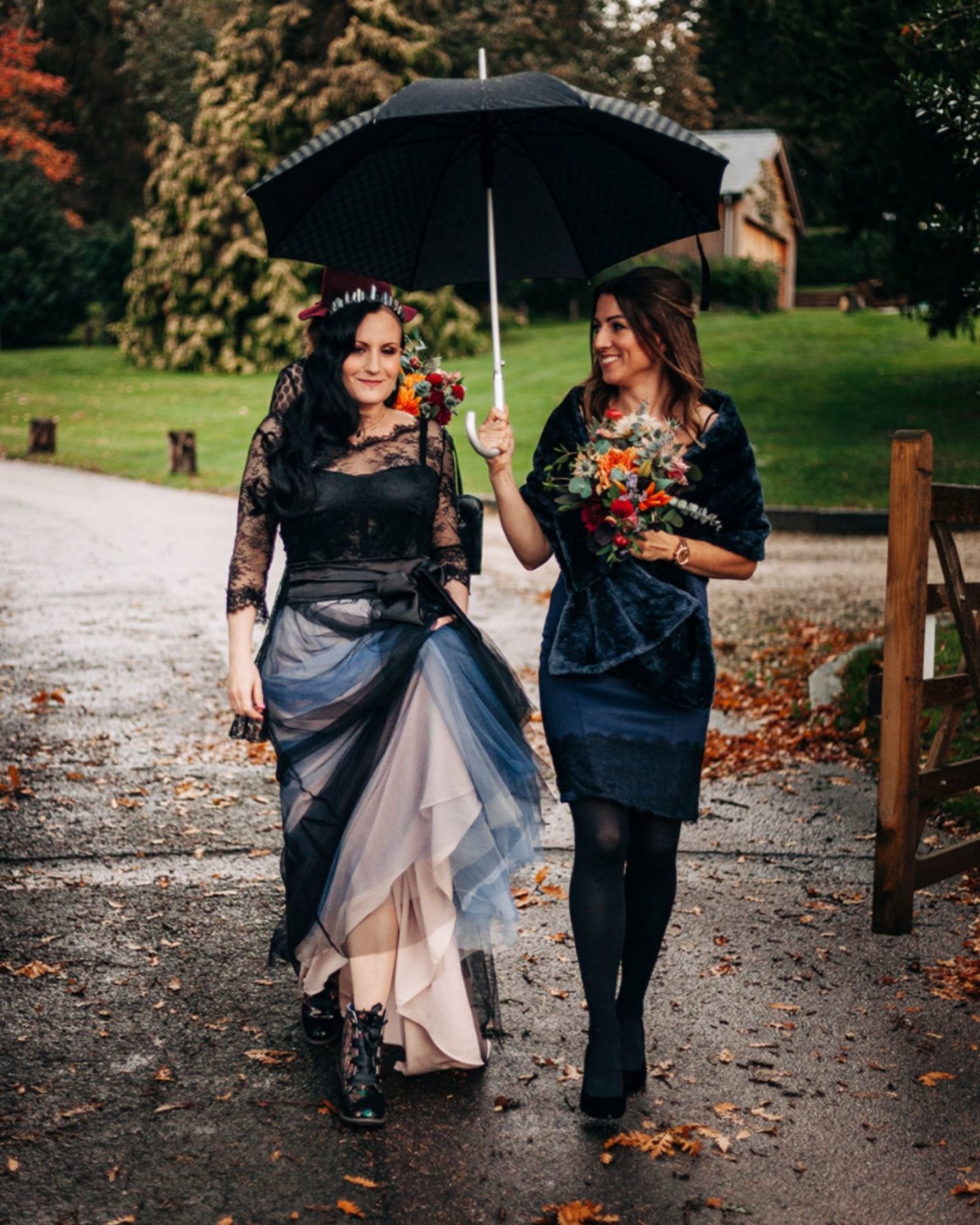 During my first visit to Boho Bride, I tried a corset top with the skirt. But I didn't really like the style and type of material, mainly because I am very big-busted, and I felt it made me look a bit too short and square. So, I went away and looked at different types of corset tops that might work better with my shape.
I quickly came across some lovely corsets that used what looked like a thin see-through fabric with solid black cups and boning. I showed these to Lucy and she was very excited by the idea!
I also knew I wanted my arms covered because the wedding was outside in October. After trying on some lace boleros in the shop and looking at lace samples, Lucy sketched my black wedding dress.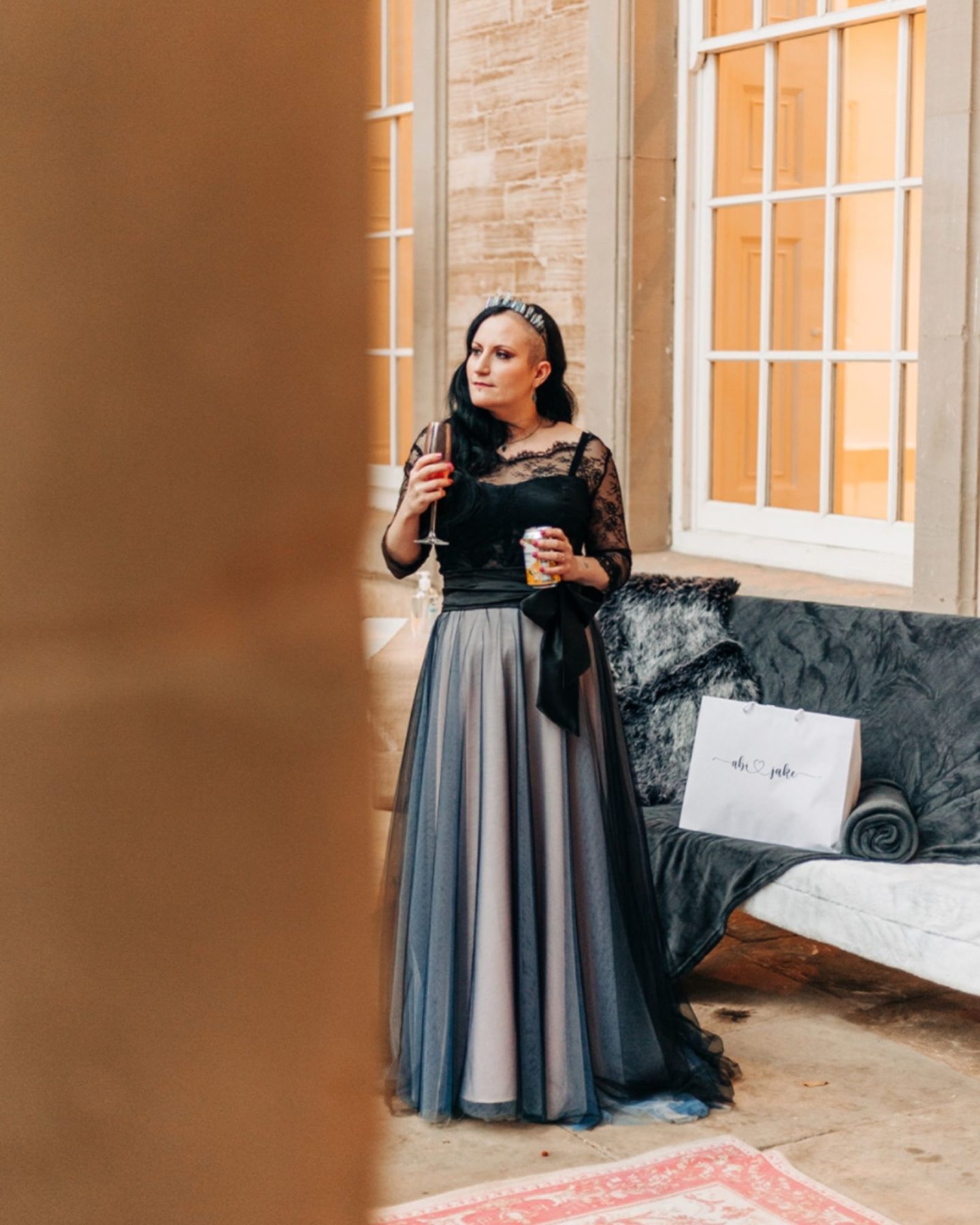 Want to cover your arms too? Check out our cool biker jackets here!
Can you explain your gorgeous, intimate ceremony?
We walked into the chapel to The Beatitudes by Vladimir Martynov – a song Jake and I chose together – played by our violinist Tamilla.
We only had six guests and the ceremony was very short, but it was really beautiful.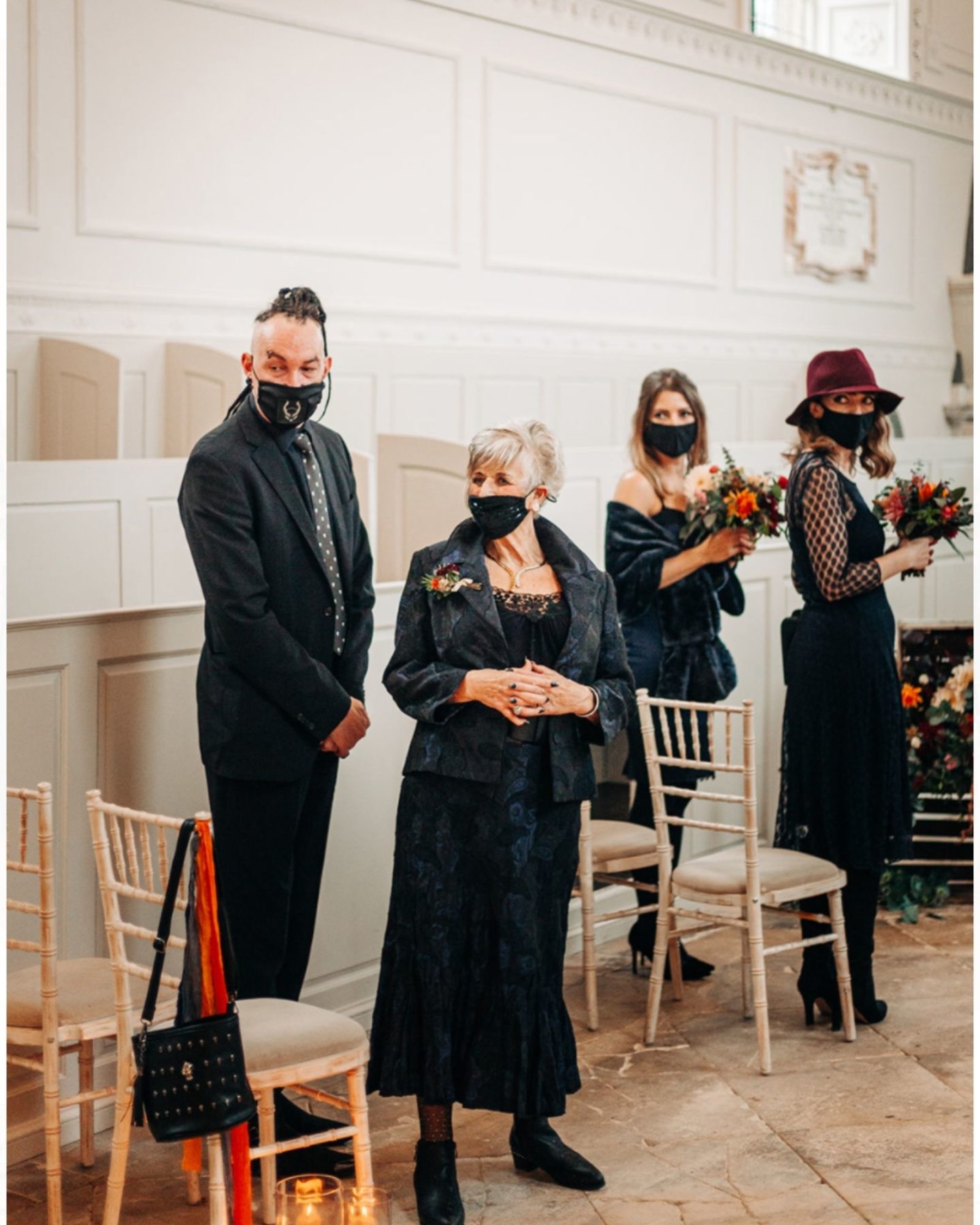 Lois at Little Garden Flowers had done an absolutely stunning display of flowers at the front on the chapel and used some items from our home which we provided him with – like a skull, vase and rug.
Can you tell us about your 'outdoor living room' set up for your reception? 
After the ceremony, we made our way down to the main house where the events team had set up a beautiful area under the entrance for us to sit, eat and drink.
There were firepits at the front, adding a dramatic touch to the setting. They brought down the decorations and flowers from the chapel and laid them out under the portico. The result was almost an outdoor living room – it was fantastic and better than I could have imagined.
Love the idea of a cosy outdoor do? Read about Boho Bride Sophie's gorgeous winter wedding here!
What were some of the most memorable moments from your day?
I really remember Jake's smile when I walked into the chapel. He was so happy and smiley during the ceremony, often putting his hand on my back and whispering things to me – it was really lovely. I know that I will always remember how happy he was.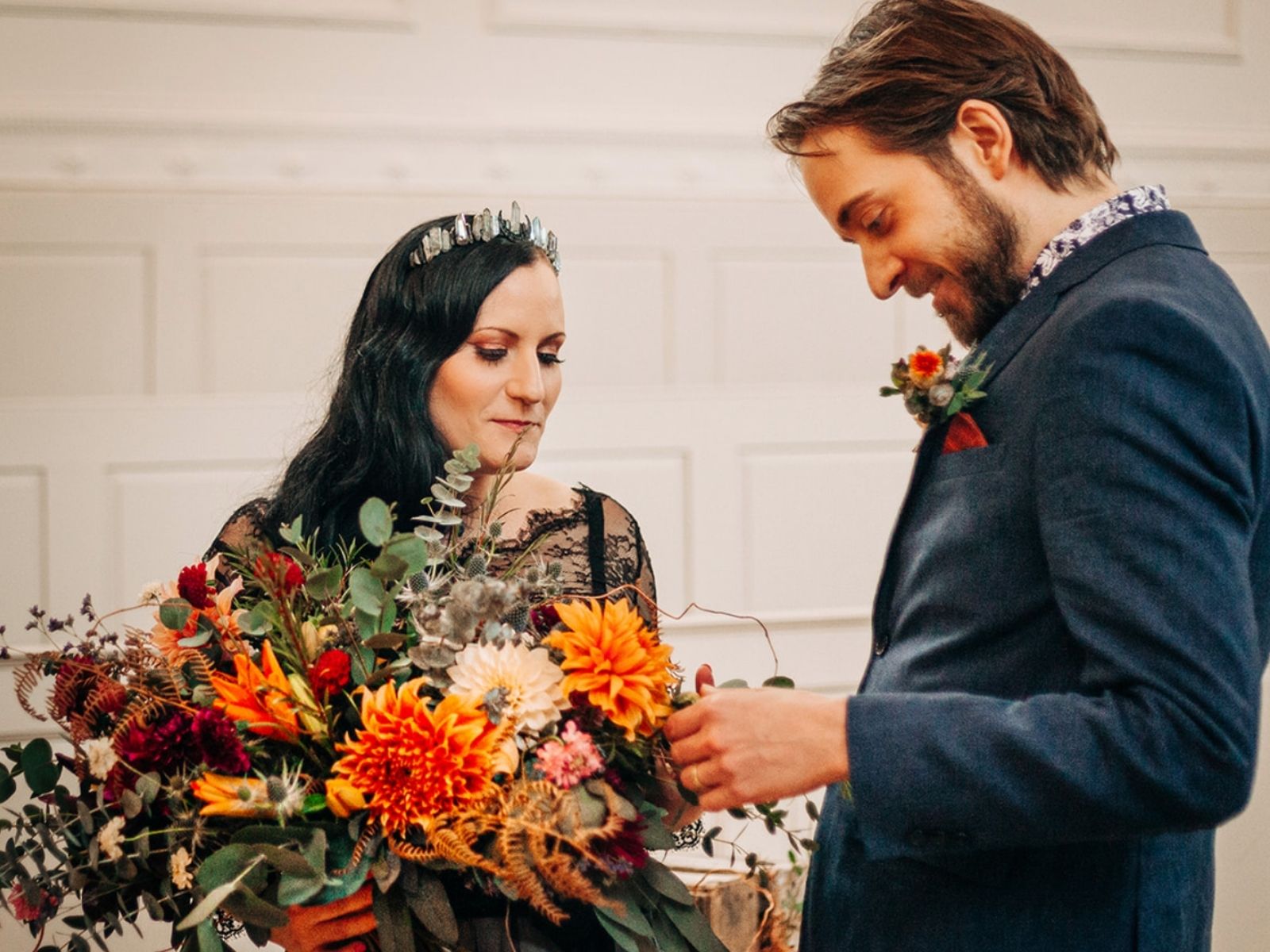 The cake was also an amazing surprise and I had just requested something very small and basic. The Garden Shed Cafe had made the most beautiful white chocolate and raspberry cake with pistachio and rose petals. It was the nicest cake I've ever tasted.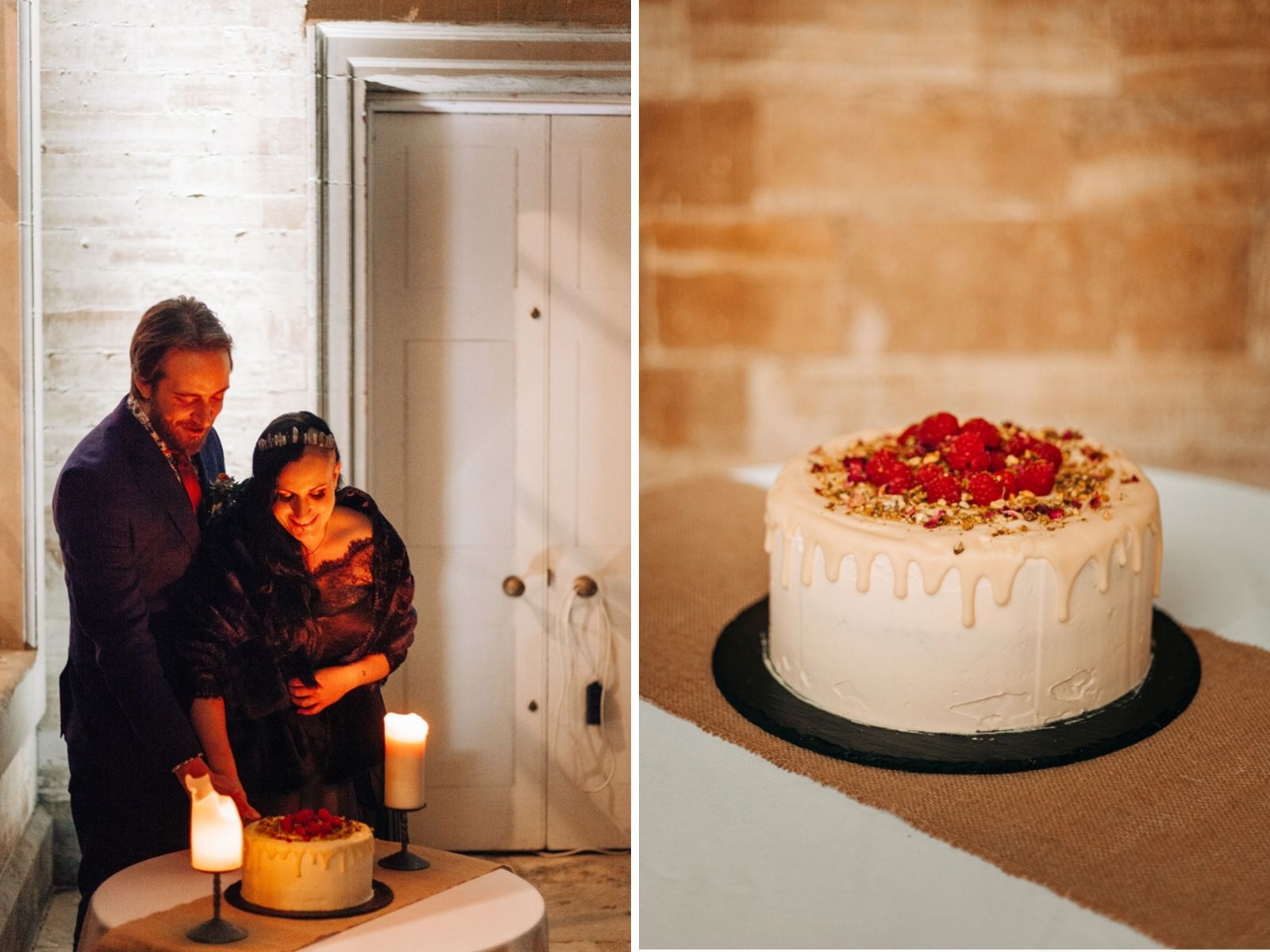 How did your wedding differ from the one you'd initially planned, pre-Covid?
We had originally planned to elope abroad, just the two of us. But this was mainly because we are both relatively quiet people and really didn't like the idea of being the centre of attention.
But I am glad that the plan changed as it was really lovely to have some close friends and family there. We just cut out all the things that made us feel uncomfortable, like speeches.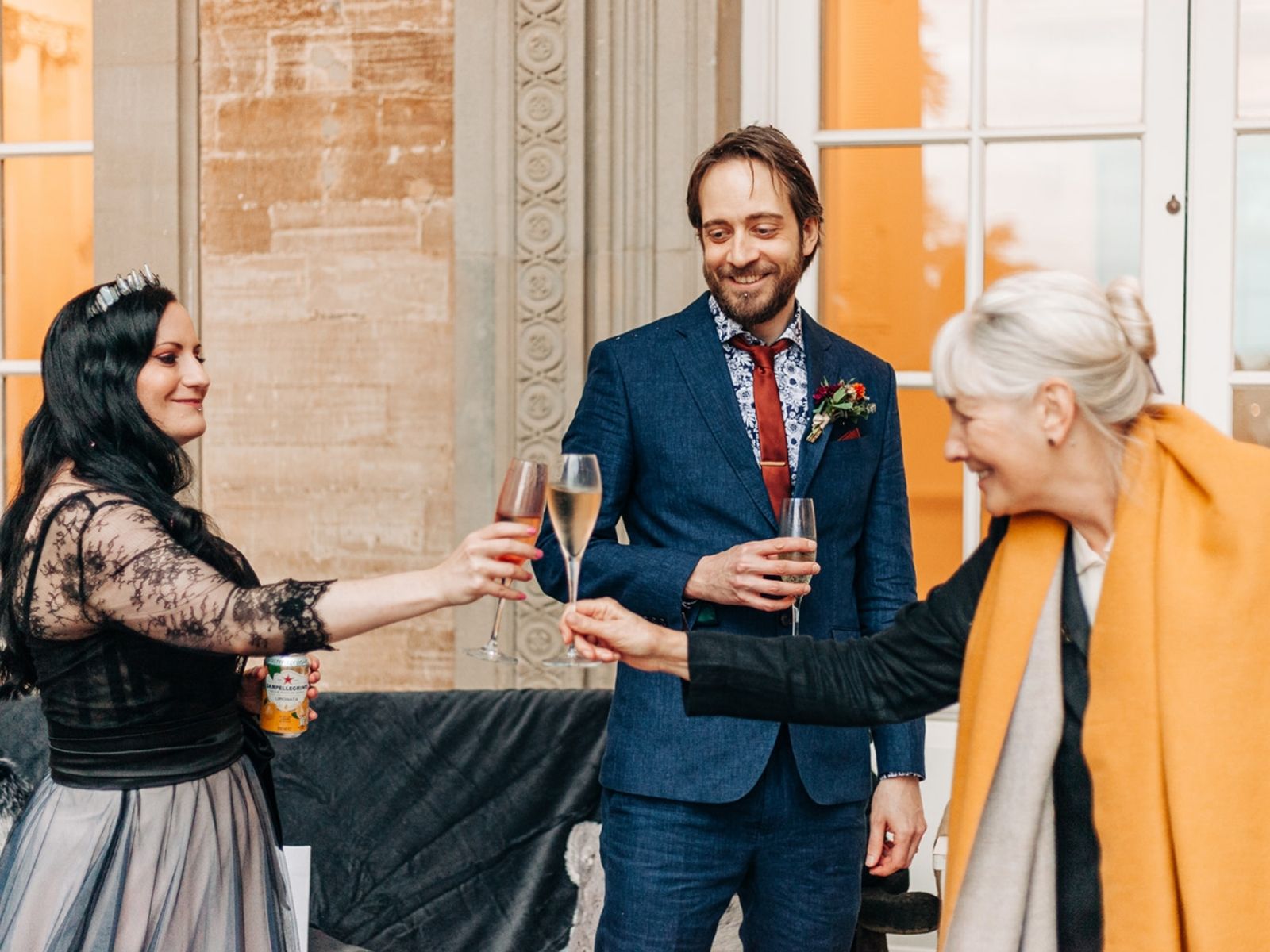 How was your experience shopping at Boho Bride?
It was a lovely experience shopping at Boho Bride, Lynette and Lucy always made me feel very comfortable and welcome, and really encouraged the fact I wanted something very different to a usual wedding dress.
It was fantastic getting to see the steps the dress progressed through and the changes that were made during the process. I was so thrilled on the final trial and on the wedding day.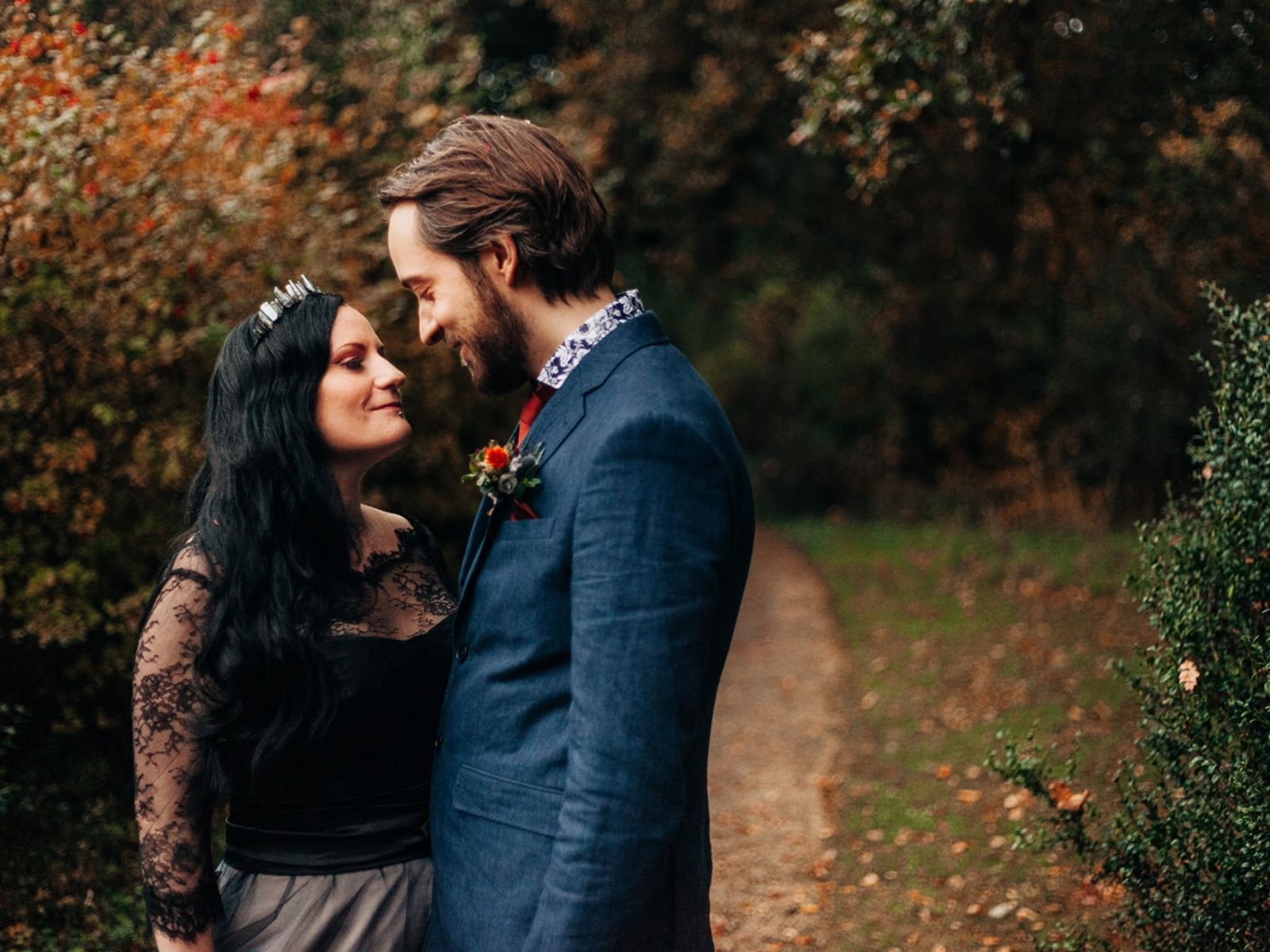 VIDEO: Everything You Need to Know About Bridal Alterations
What was it like to create your own gown?
It was very much a step-by-step creative process and I had a lot of say if wanted anything changing or altering. The bolero ended up being a lot more fitted than originally planned as we decided that suited my shape better.
Another thing that changed last minute was adding a bit of lace to the front of the corset. Lucy, as always, was very prepared, having pinned the design on in preparation for my visit!
The process was quite quick. I didn't allow very much time between contacting Lynette and getting married, but it was all extremely smooth and stress-free.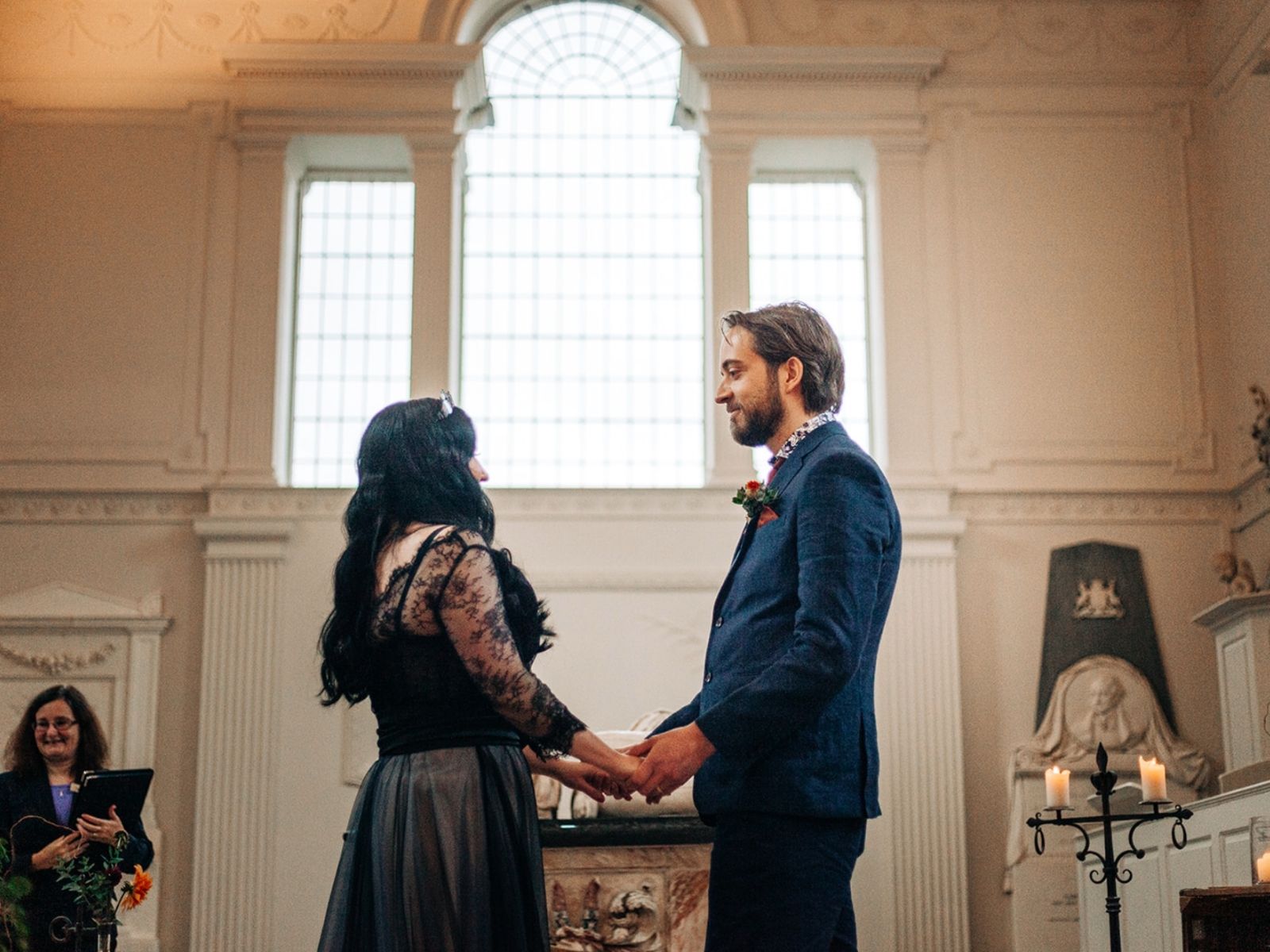 How did you feel in your dress?
I felt really comfortable in my dress, which was my main aim as I had put on a bit of weight in recent years and I wanted to feel totally comfortable in my outfit. And I wanted to feel I looked nice, which I did!
Read more: Figure-Flattering Wedding Dresses for Your Body Shape
How did you accessorise your black wedding dress?
I wore a navy faux fur shawl in the late evening, a crown made with crystals and some raven feather jewellery Jake bought me from Iceland. I also wore some Irregular Choice embroidered boots.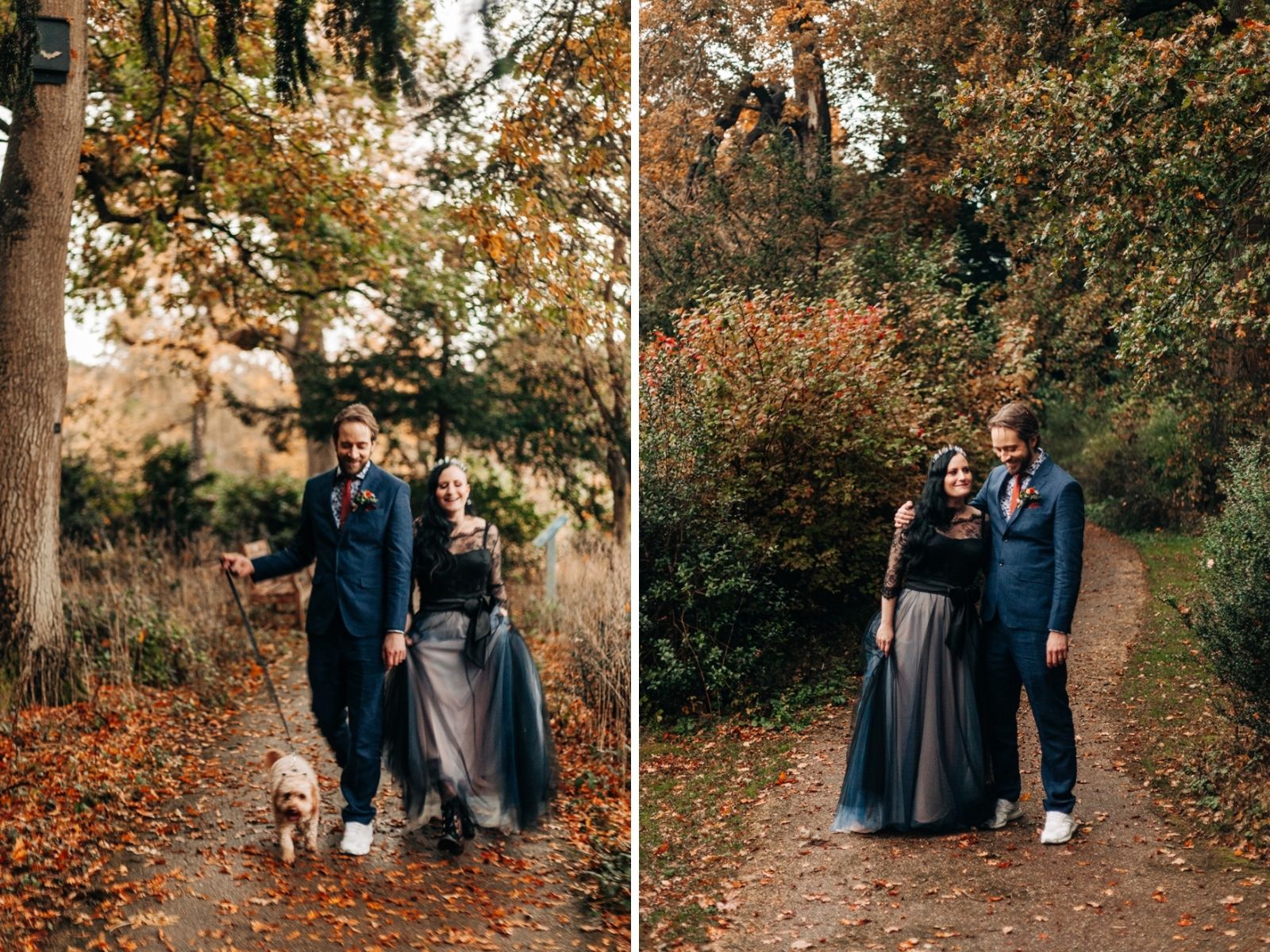 Read more: Bohemian and Vintage Wedding Shoes at Boho Bride
Having recently had your wedding, what advice do you have for people planning during c-19?
Embrace the weirdness of it!
Use it as an excuse to just do exactly what you want, in a way this is the best time ever to not worry about inviting those extended relatives you never see and everyone's partners, children and dog.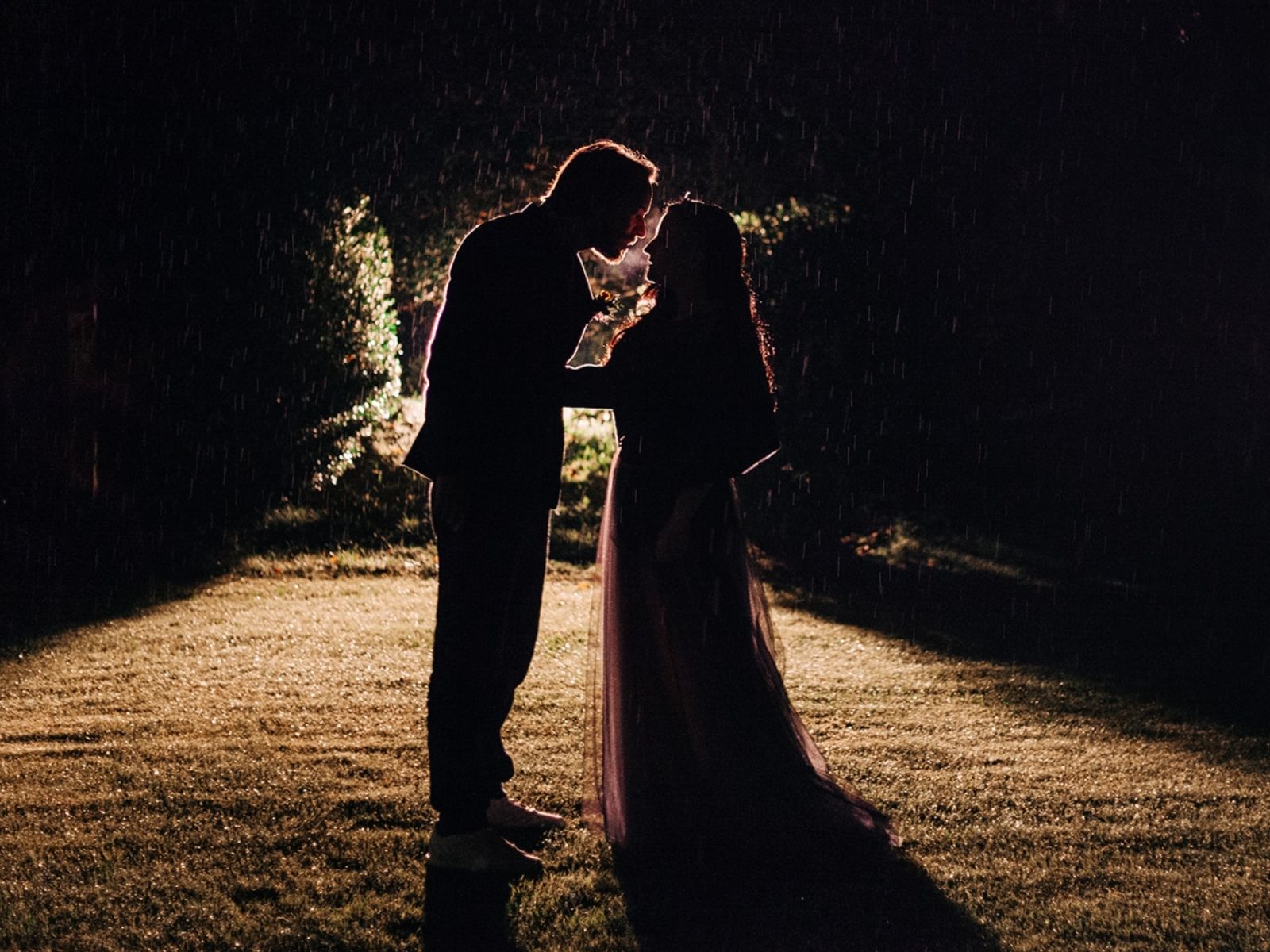 List of the dream team
Abi's look:
Dress: Boho Bride Boutique
Boots: Quick Getaway Boots from Irregular Choice
Raven necklace and earrings: aurum
Rainbow Grey Moon Crystal Crown: Fawn and Sparrow
Navy faux fur shawl: dazzlingladieswear
Ring: Sophia Zakia – Arabesque
Hair: Zara Beautiful Hair and Makeup
Makeup: Zara Beautiful Hair and Makeup
Jake's look:
Suit: Ted Baker JEADEMJ navy linen jacket and trousers
White Adidas Y-3 trainers
Skull-patterned shirt: Blake Mill
Ring: Ruth Tomlinson (Wrap Band 5mm, Gold)
Brown tie: Ted Baker
Venue: Compton Verney (Chapel and Portico)
Caterers: The Garden Shed Café, Wellesbourne
Wines and spirits: Lanson Champagne
Flowers: Little Garden Flowers
Violinist: Tamilla Thomas
Photographer: Claudia Rose Carter
Decorations/party hire entertainment: Little Garden Flowers
Candle sticks, curios, blankets and cushions: from our home
Visit our Facebook reviews for more from our brides, or check out more long reads on our blog!