Boho Bride Aimee's Bespoke Wedding Dress and 2019's Most Sentimental Wedding
---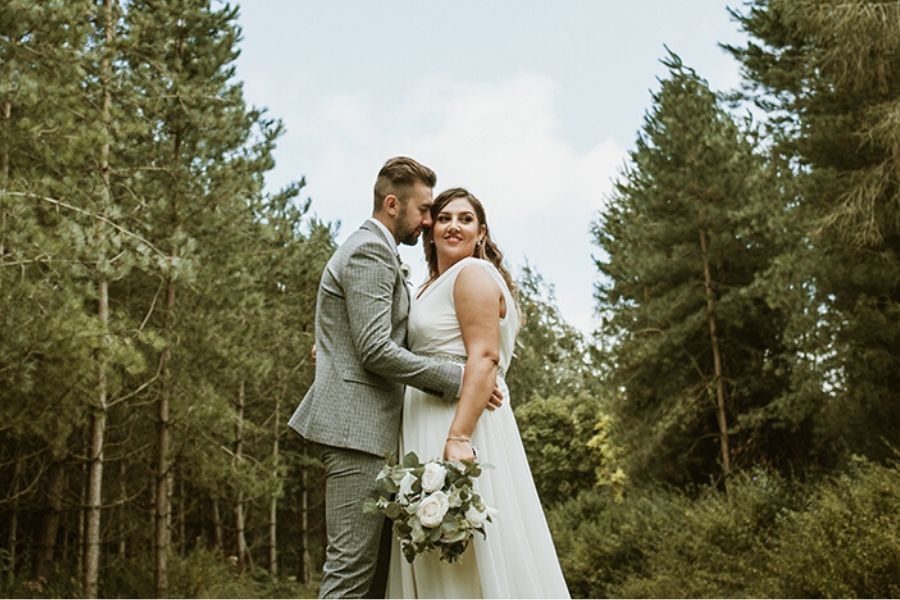 We worked with Boho Bride Aimee to create a bespoke wedding dress from her late Mum's gown, and the result is utterly beautiful!
Joe proposed to Aimee when the pair were holidaying in New York just after Christmas. Aimee, who was utterly elated when recalling the moment to us, explained that the proposal took place by the lake by Bow Bridge. A private moment shared only between the two of them, this is something Aimee will never forget.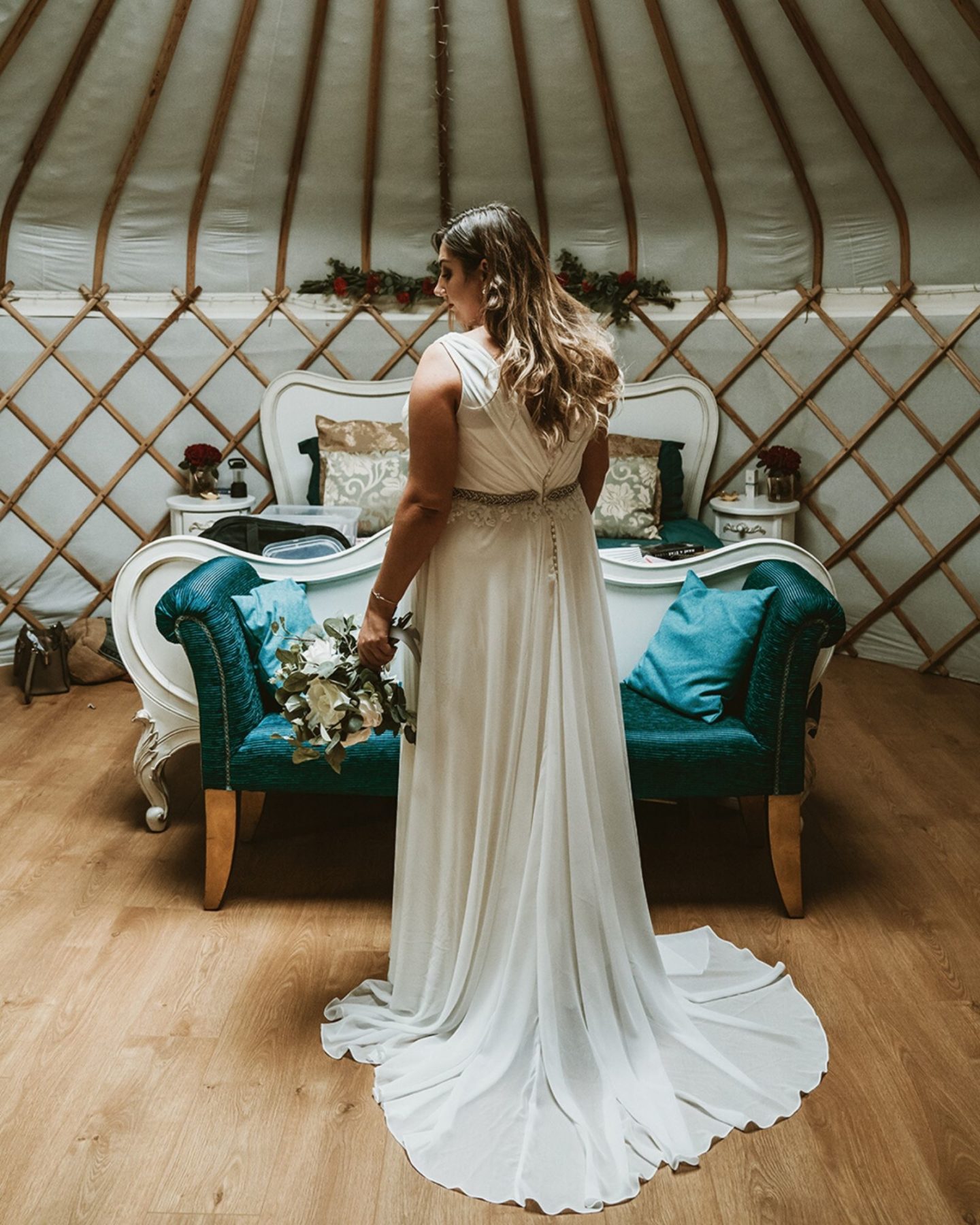 Fast-forward a few months and we had the pleasure of creating a bespoke gown for Aimee to wear at her stunning tipi wedding.
Using Aimee's late Mum's wedding dress, our talented Designer Laura created a bespoke wedding dress filled with sentiment.
Not only her dress, but Aimee's whole wedding day had personal meaning: from commemorating those who couldn't be there to displaying the couple's shared passion for music.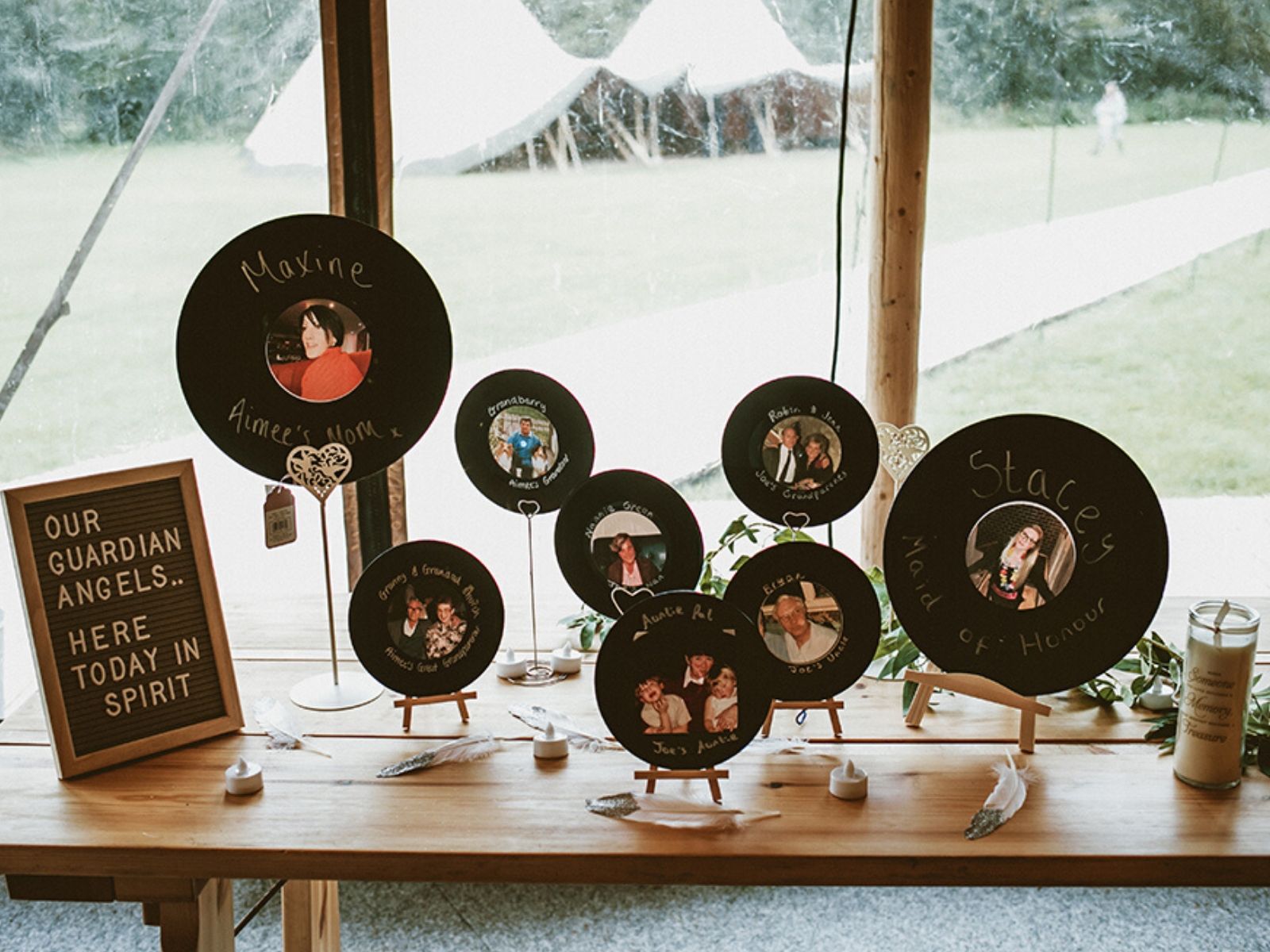 Want to chat about your bespoke wedding dress? Book an appointment, give us a call on 01789 297788 or send an email to [email protected]. We can't wait to hear from you!
Tell us about your bespoke wedding dress
"I had a look at some Loulou Bridal wedding dresses, but I just couldn't find the perfect one. I found that I liked the tops of some wedding dresses but the bottoms of others. Then I thought about the possibility of using a bespoke wedding dress service like Boho Bride's.
"I asked Boho Bride's Creative Director Lynette and Designer Laura if we could use my late Mum's wedding dress as part of mine and they were more than happy to do so. The whole process was so overwhelming and special.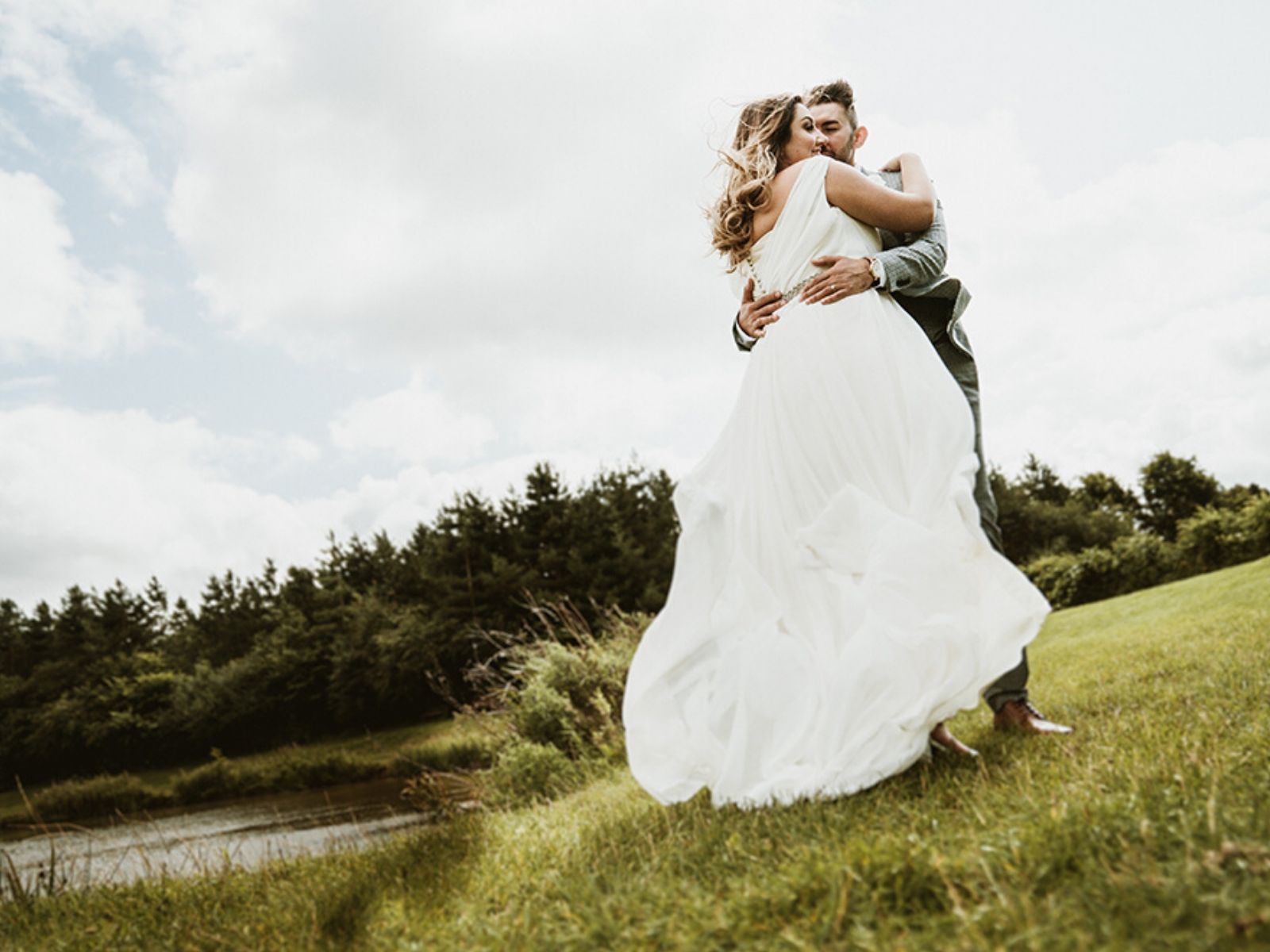 "I felt an incredible connection to the dress, it had so much meaning to me. Not only because it was my late Mum's but also because I really felt Laura's love and care go into creating it for me.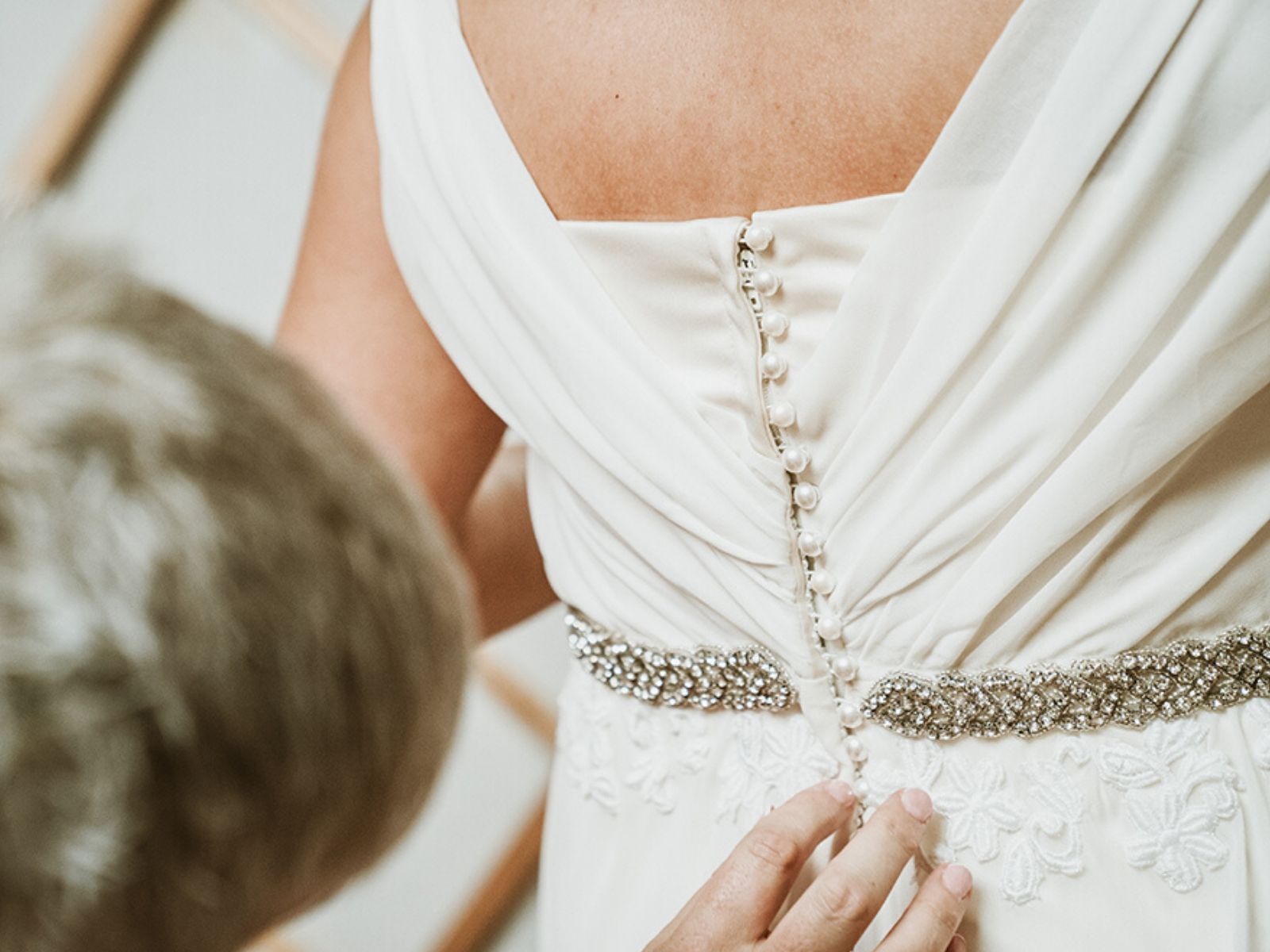 "Walking down the aisle with my Dad was lovely, and knowing I had my Mum so close meant the world to me."
If you're considering going bespoke, you need to check out our other real bride Aimee's bespoke festival wedding dress.
What was your experience shopping at Boho Bride?
"I had the best experience at Boho Bride! From the moment I stepped foot inside the boutique, we all kicked off our shoes and got down to business.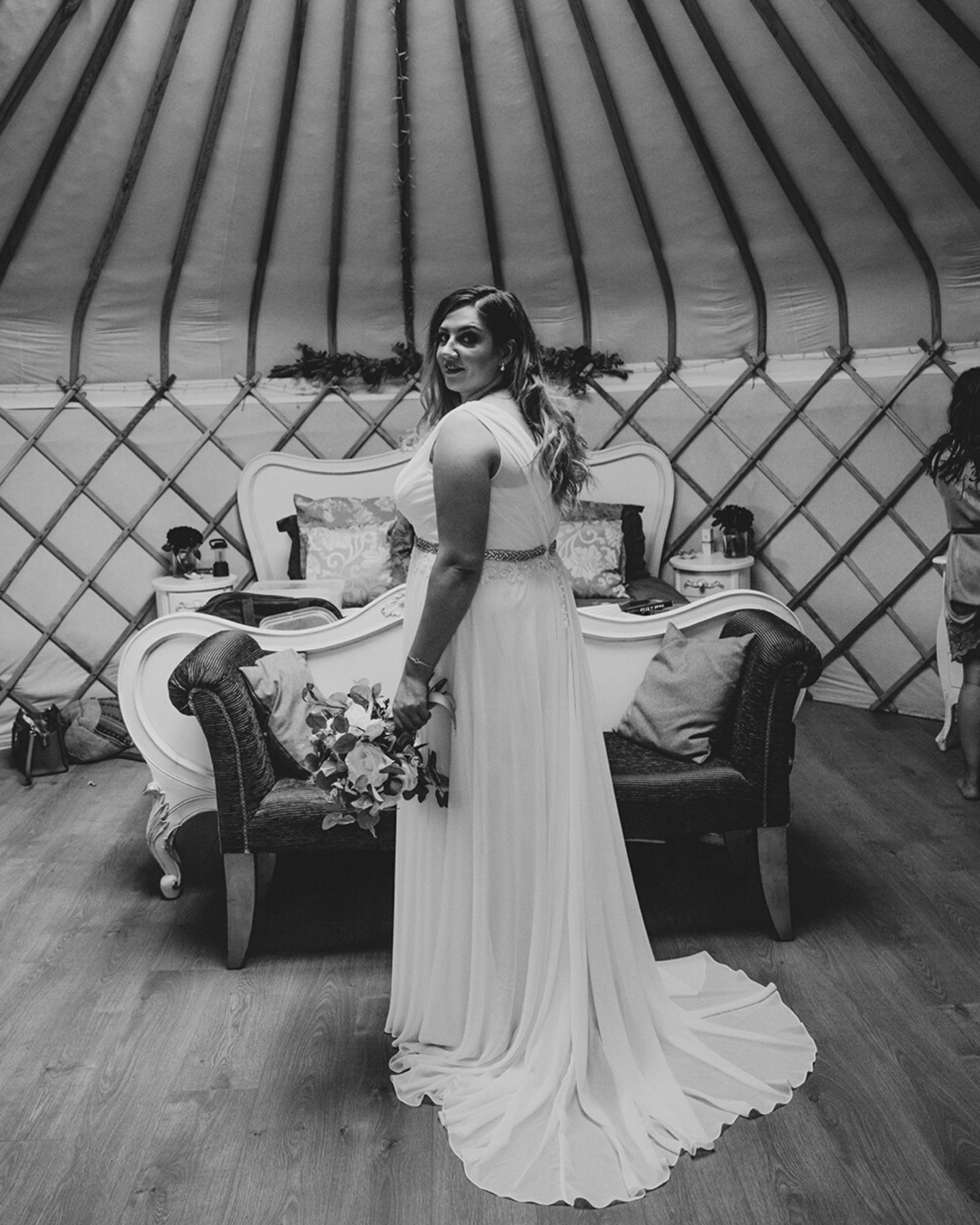 "I was made to feel so comfortable when trying on Lynette's dresses and the boutique has such a homely feel to it that you really do feel like you're amongst friends. Lynette has a great eye for fashion and detail, and she was always really helpful with her advice."
Alongside our bespoke service, we have designed our very own collection of wedding dresses for the boho bride. The Freedom Collection gives brides the freedom to mix and match materials, shapes, sizes and more; it's almost bespoke. Our brides love it and we're confident you will too!
What accessories did you pair your dress with?
"I chose a hairpiece from Claire's Accessories and my shoes were from Tesco. They were the most comfortable shoes ever!"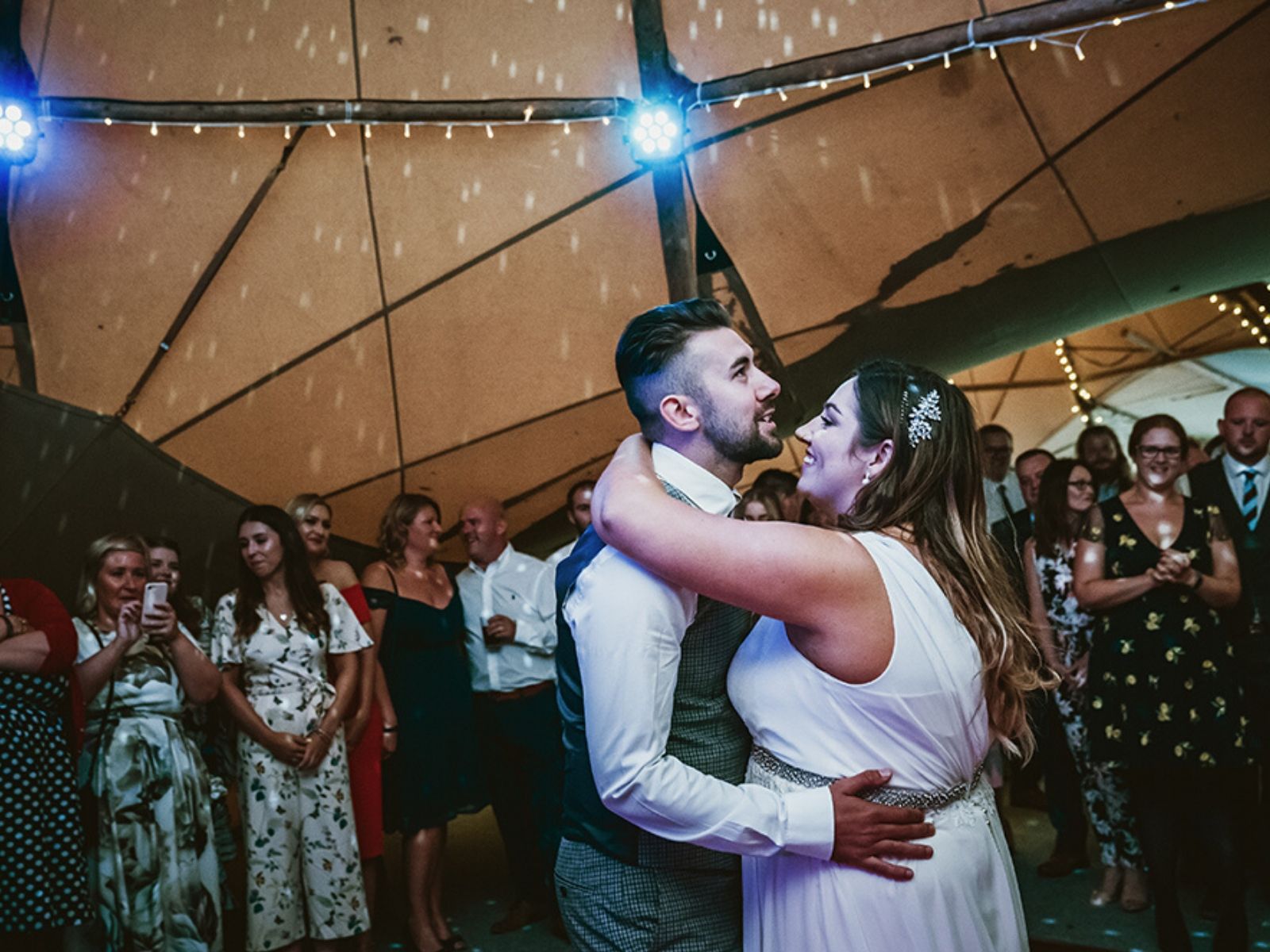 Read more: Bohemian and Vintage Wedding Shoes You'll Love
What venue did you have?
"We had our wedding at the Hidden Hive in Rosliston (Derbyshire), an exclusive venue by Peak Tipis."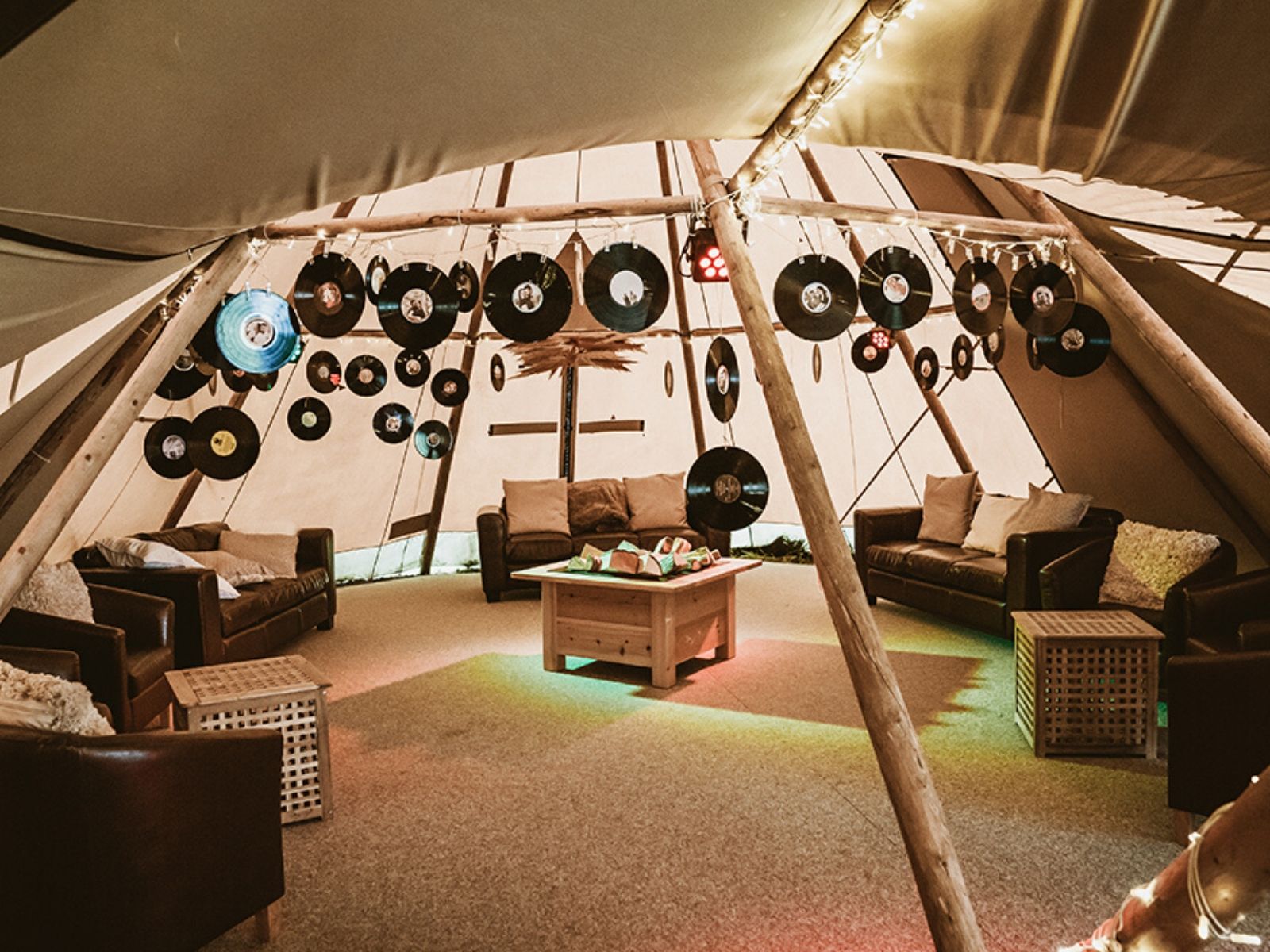 Planning an outdoor and tipi wedding yourself? You have to see our favourite summer wedding dresses.
Did you have a theme for the day?
"As Joe and I met through our love for music, our theme was based around music. We decorated the venue with vinyl records with pictures of us on, we had cassette tapes as drinks vouchers for our guests and even our invites were vinyl LP records!"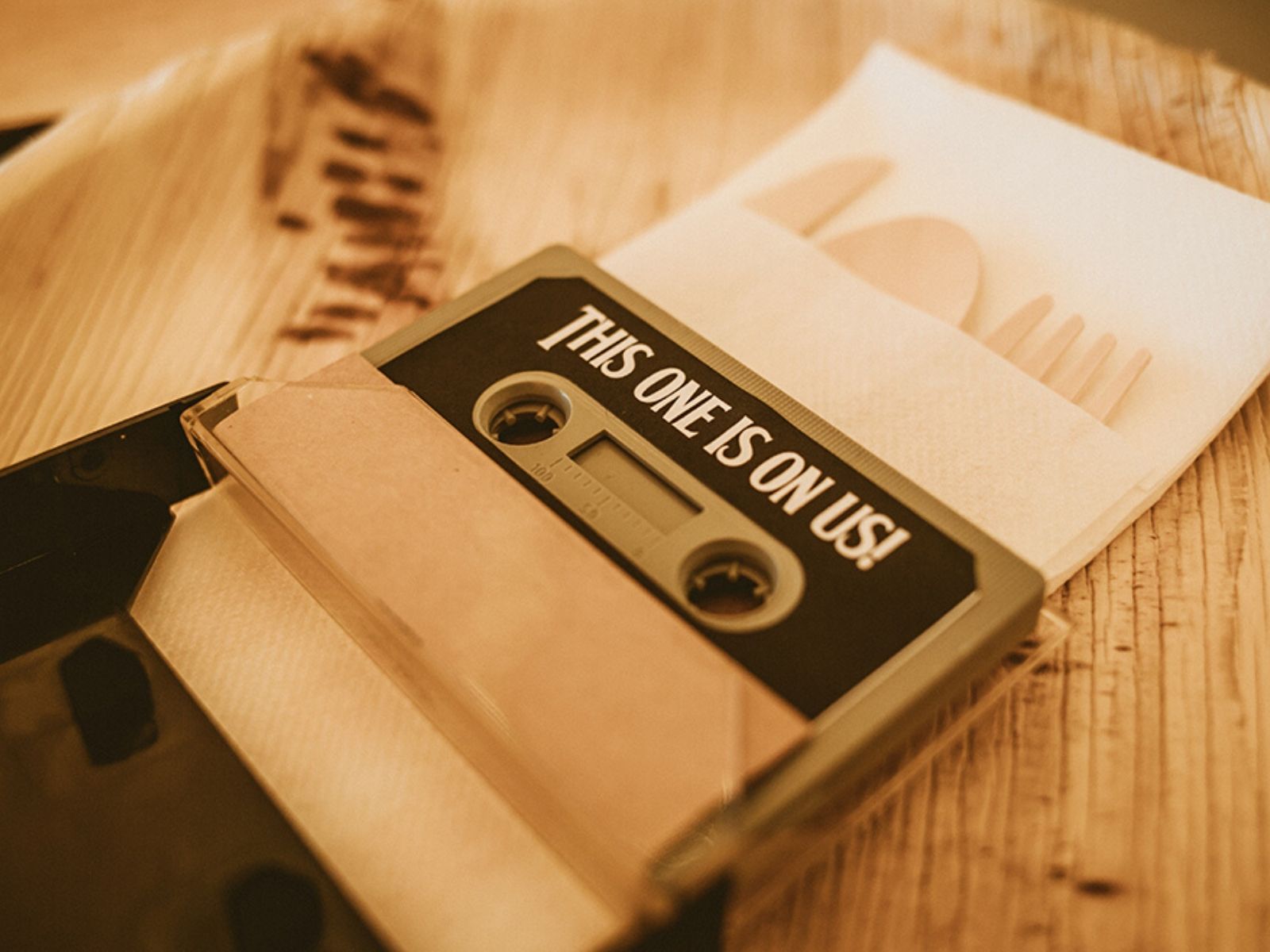 Who was your wedding photographer and how did you choose them?
"We chose Benni and Carol from Benni and Carol Wedding Photography, who have been voted one of London's top photographers. I spent ages looking through their images and blogs and just fell in love with their style.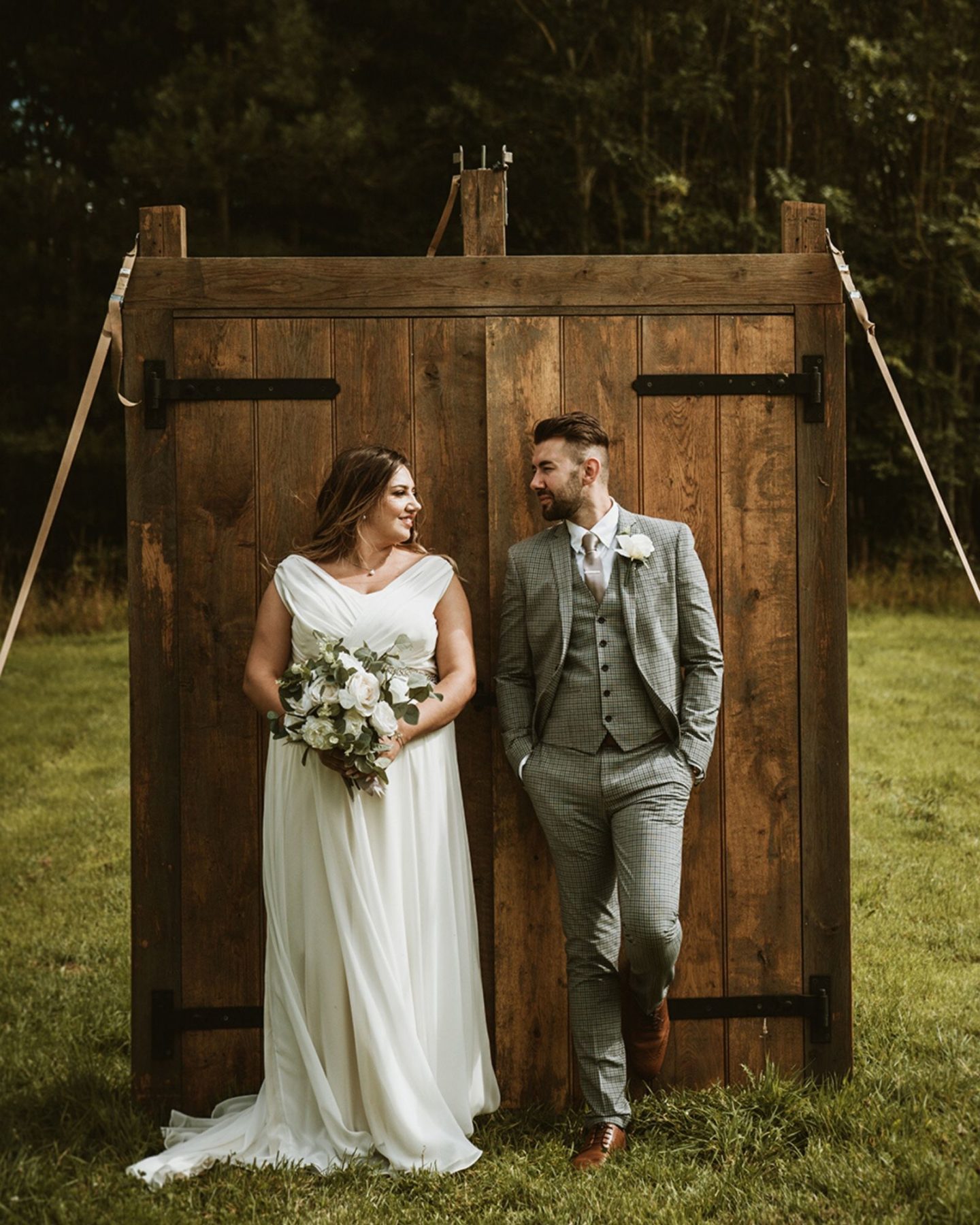 "We knew we favoured more rustic and natural-looking shots over posed and saturated images, and that's exactly what these lovely Italian sisters do best. We also had a pre-wedding shoot which really helped us get used to being in front of the camera and feel more relaxed on the day."
What hair and makeup look did you go for?
"My bridesmaid Jordanne did my hair and makeup. I chose her as I know how much of a perfectionist she is and that she would make me look and feel great on the day. What with Jordanne being my bridesmaid as well, I could keep her on hand for the day for extra touch-ups!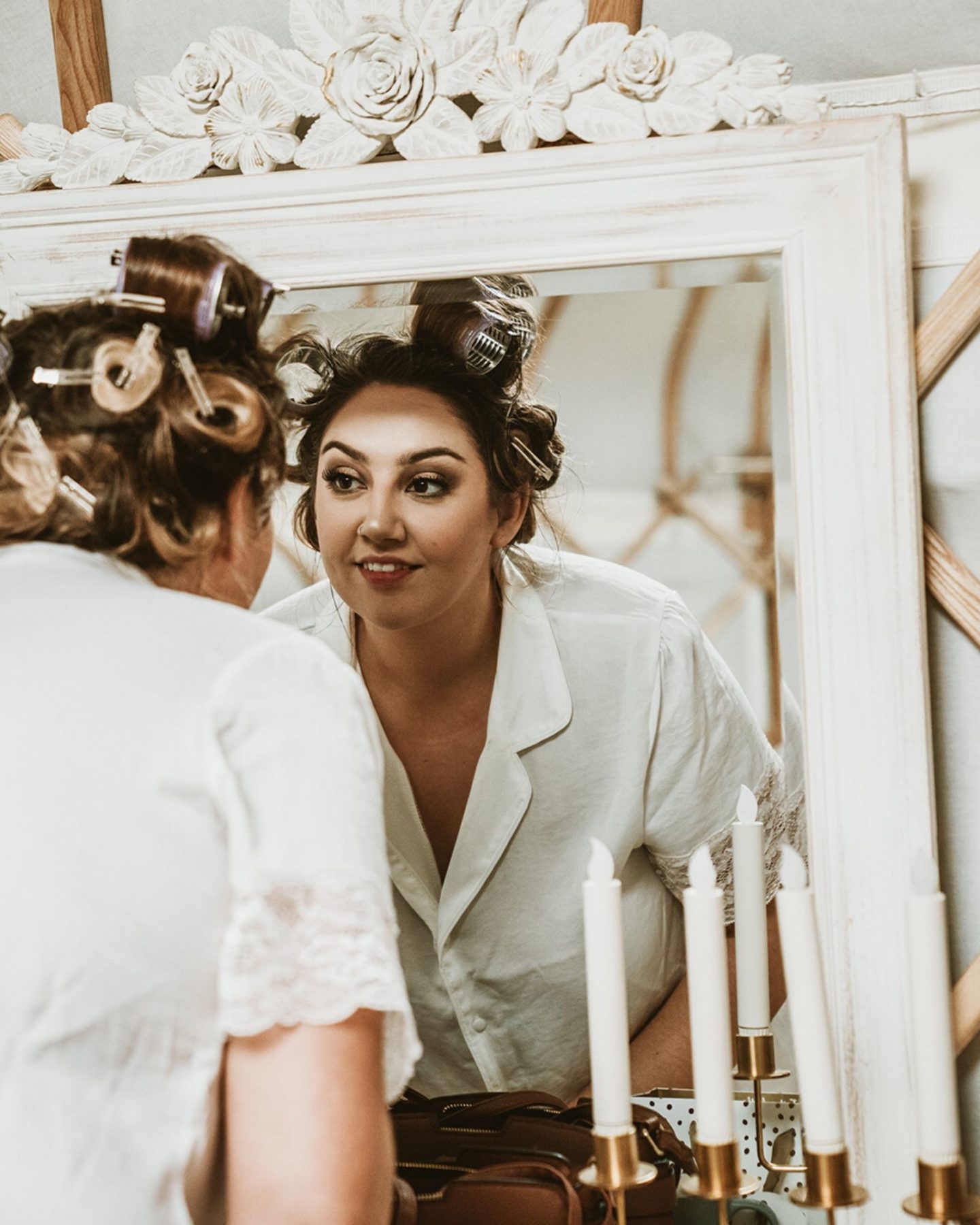 "With my hair, we planned to do vintage curls but what with the gale force winds my hair was just all over the place by the time I got to the ceremony."
Tell us about your bridesmaids
"I had two bridesmaids: Jordanne, who was also my makeup artist, and Stacey, my maid of honour. They both had silver dresses which I got from Asos.
"Stacey passed away six weeks before our wedding and so we chose to commemorate her on the day by having her younger sister and nephew walk down the aisle in her honour."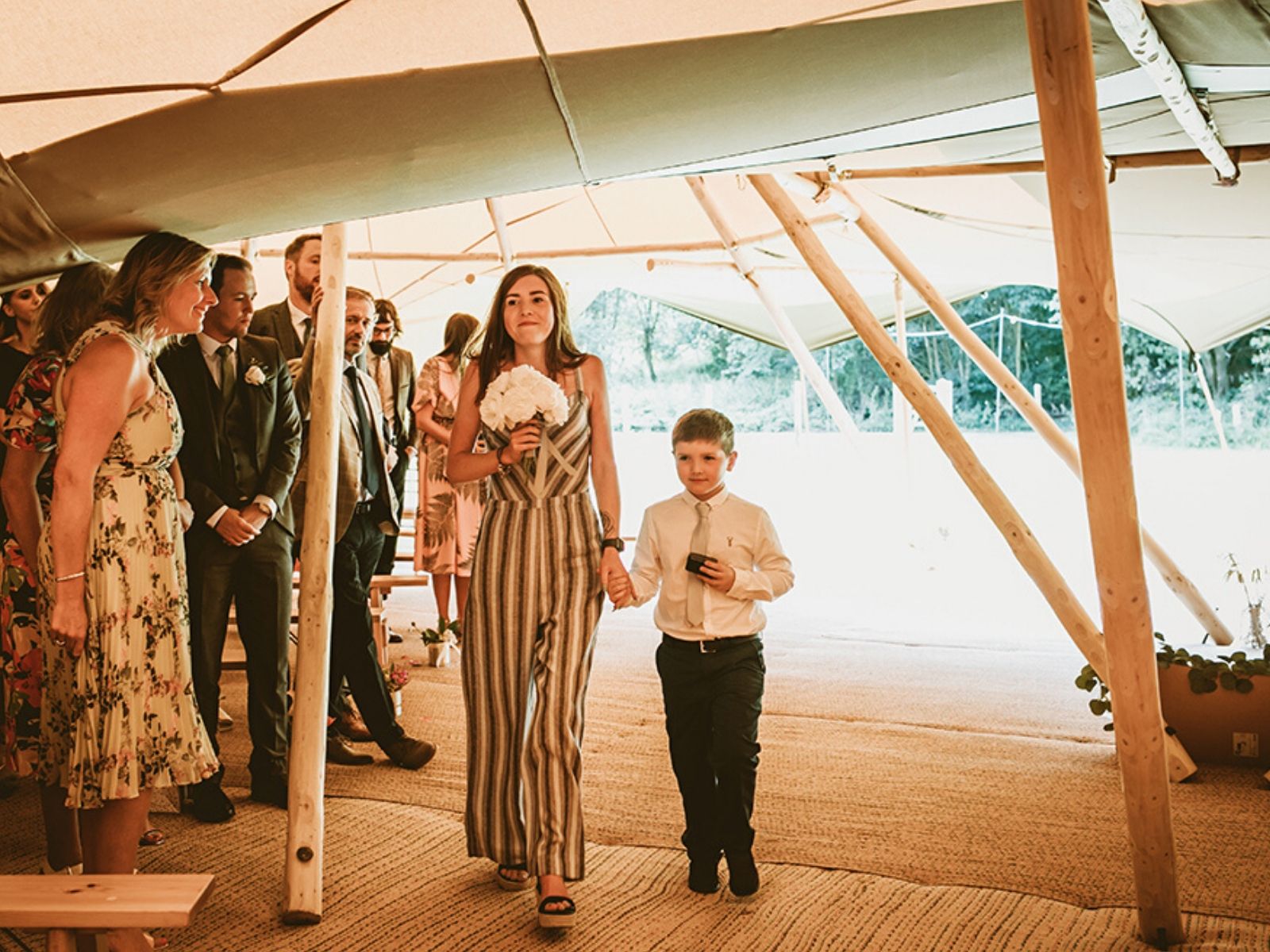 How did you choose your flowers?
"I chose basic flowers as I wanted a light and natural feel to go with our outdoor tipi theme. My bouquet was made up of white roses, peonies and eucalyptus leaves.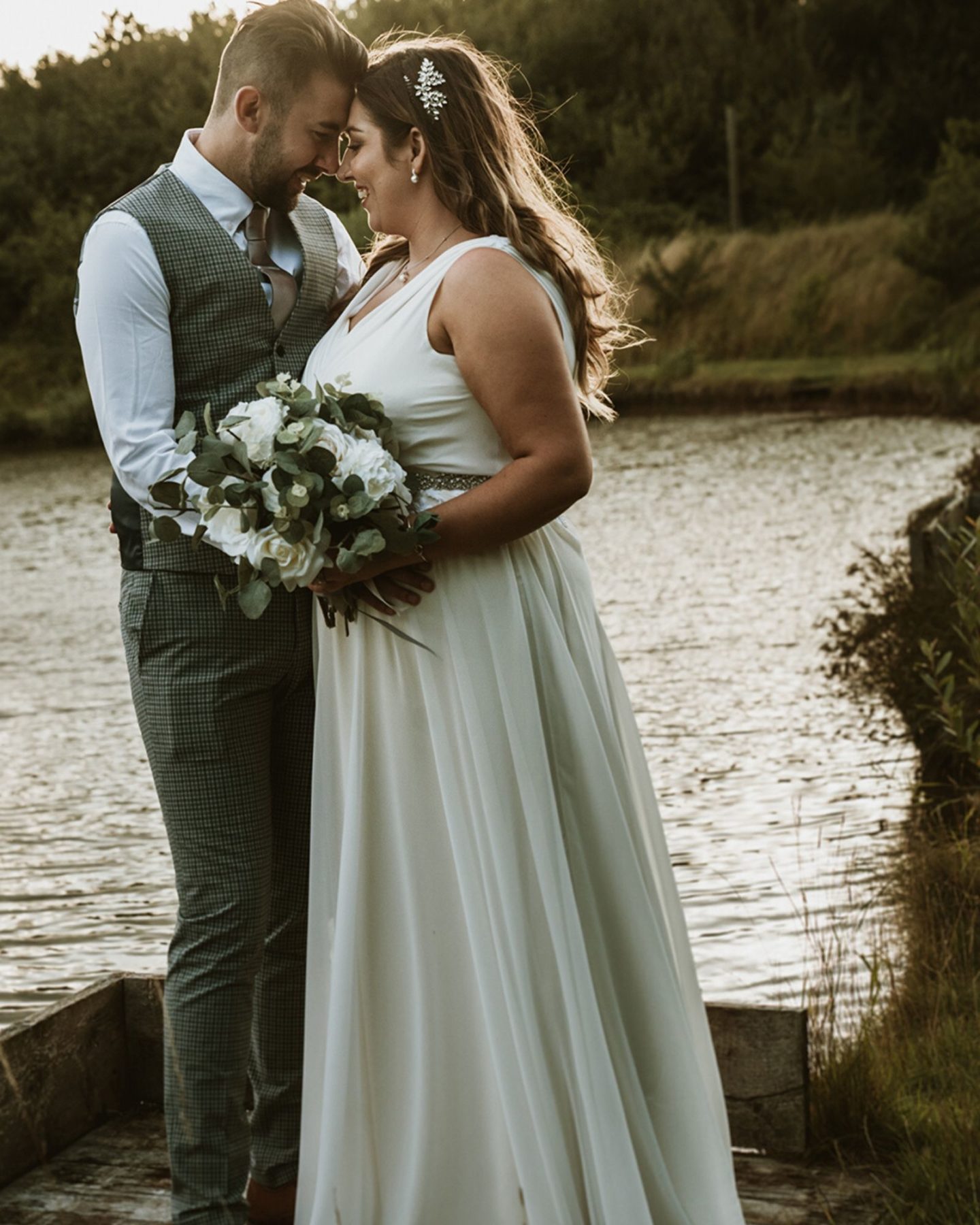 "I chose artificial flowers as I wanted to keep them forever. They're currently sitting in a vase at the top of my stairs. I love walking past them and remembering our wedding day.
"I also got some charms with pictures of my late Mum and best friend which I attached to my bouquet."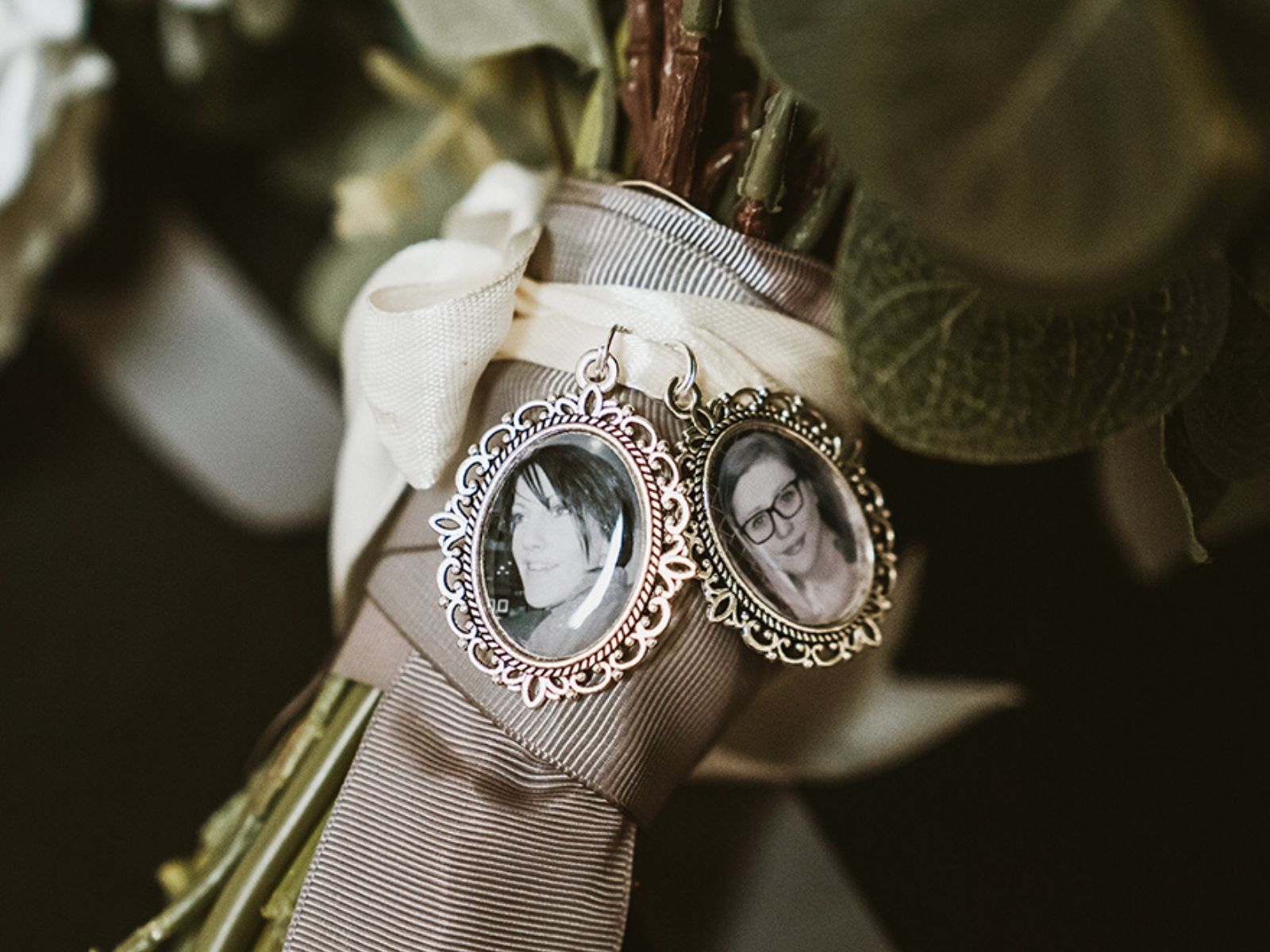 Tell us about your cake
"We chose to have a Krispy Kreme doughnut tower. We saw the idea on Pinterest and, with a shared love for doughnuts, we knew straight away what we'd never have a traditional cake."
What transport did you have and why?
"My dad surprised me on the day with a blue VW camper van – I was gob-smacked and so happy! I love vintage and 60s style; it was the perfect transport for me and exactly what I would have chosen!"
Where did you get your wedding stationery?
"I did all my wedding stationery myself! I went to every charity shop I could think of to source vinyl records for the invites, brought stickers offline and printed them all at home."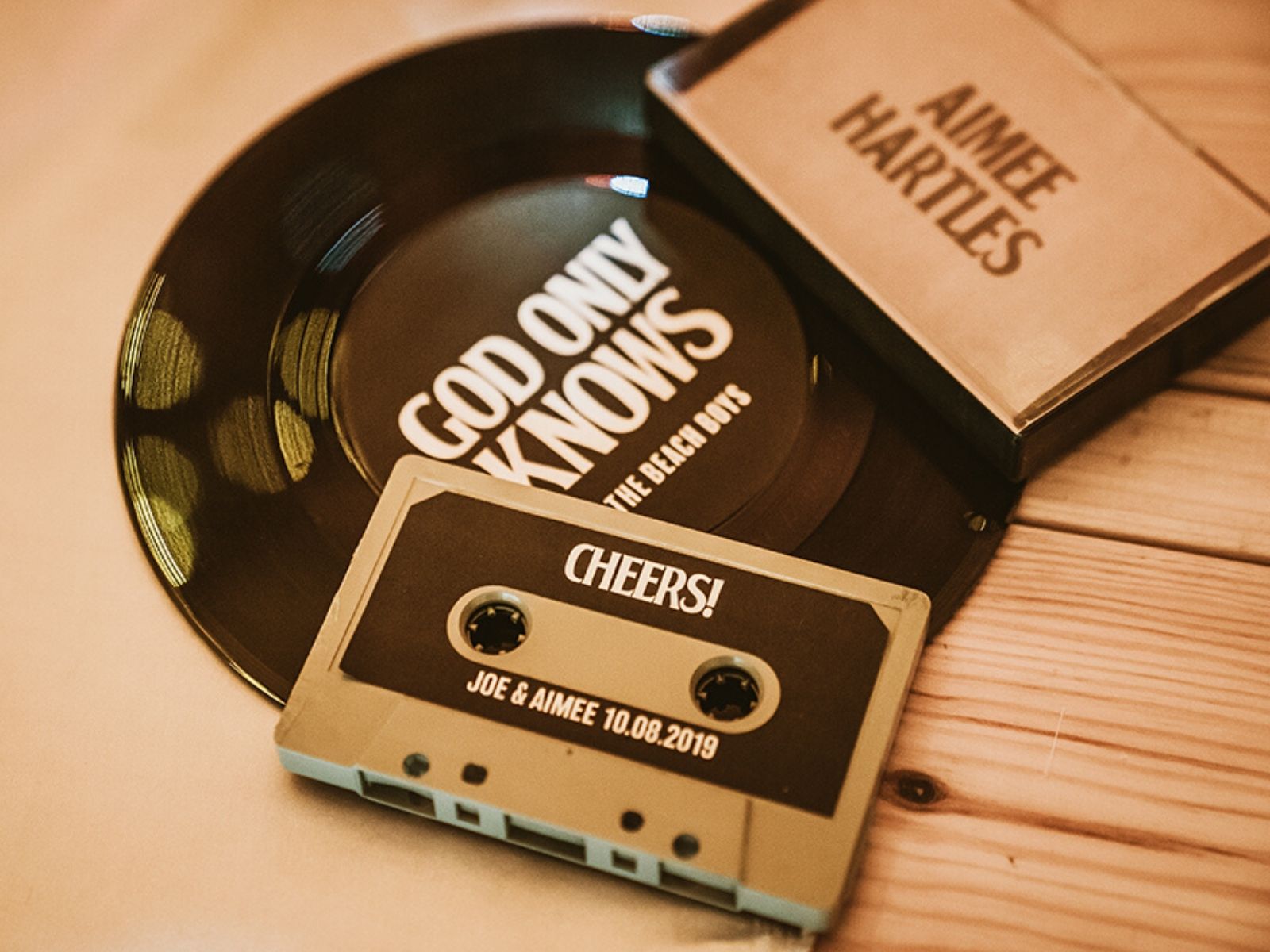 What entertainment did you have for your guests?
"We had a mariachi band as a surprise for our guests. It was incredible to see our guests smiling and dancing.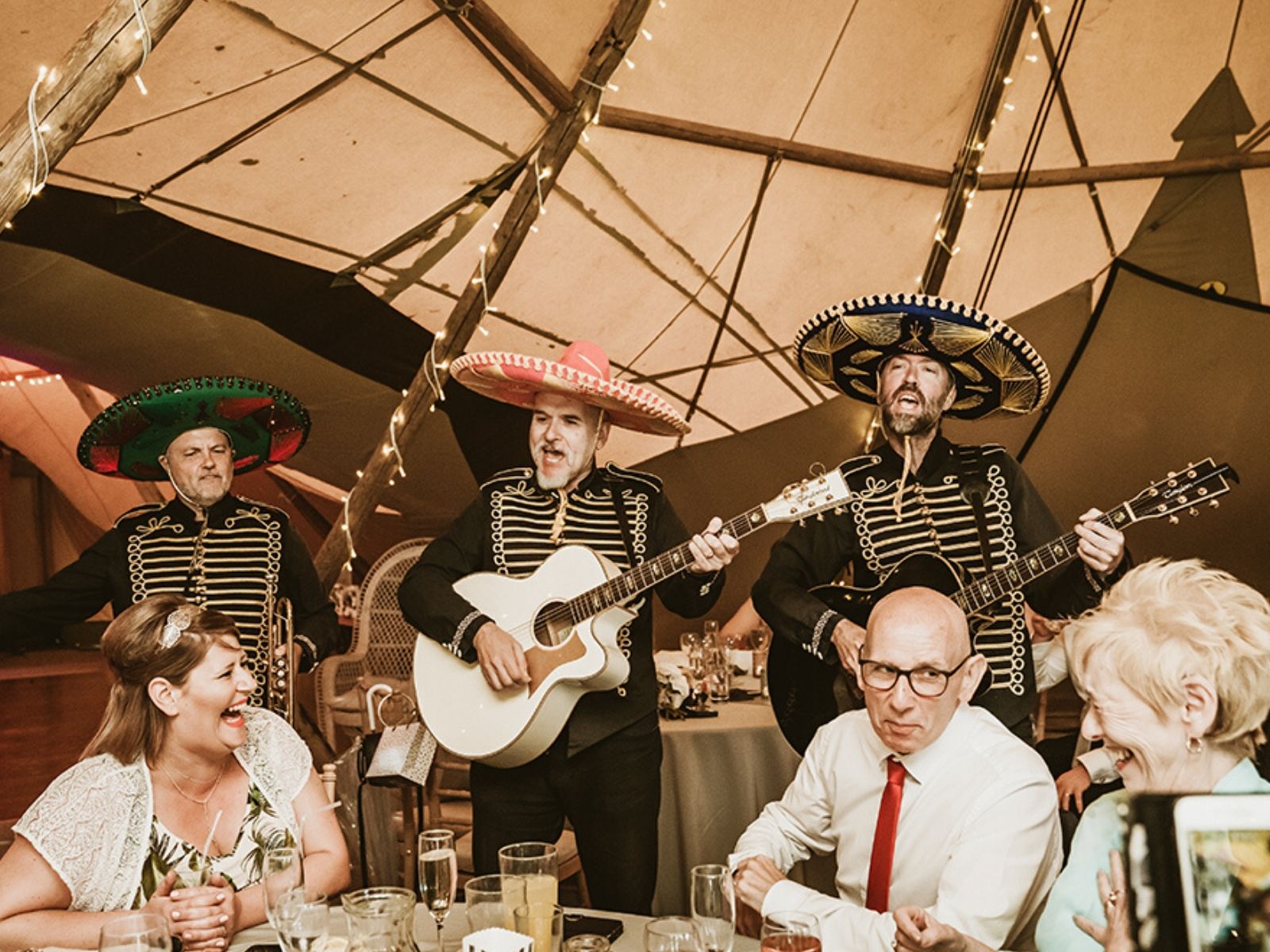 "So many people told us how amazing they thought the band was. We also had The Best Man DJ at our wedding. They put together a bespoke wedding package of our favourite songs and genres and I literally did not stop dancing all night."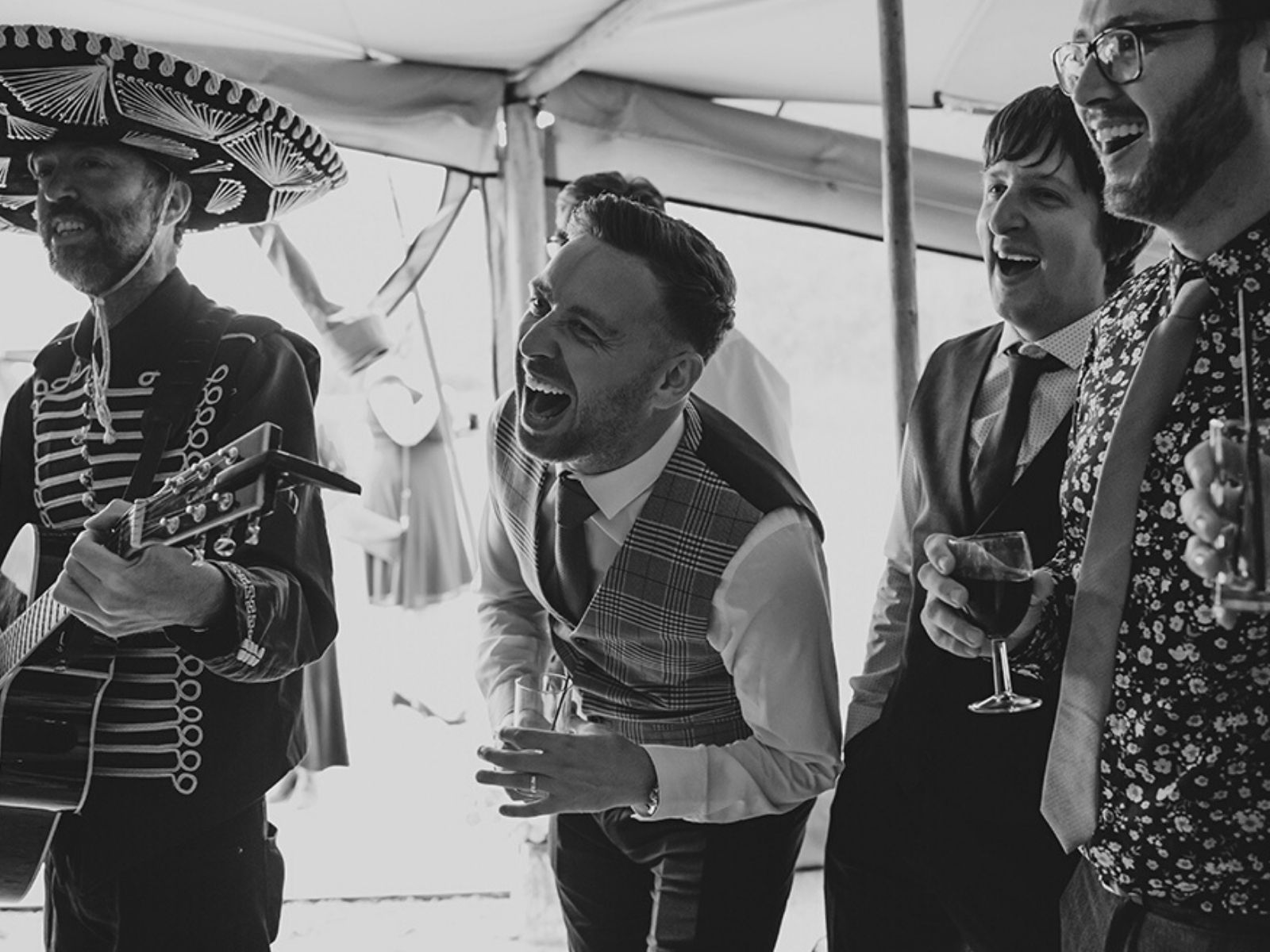 What was the most memorable moment of your big day?
"Our wine box ceremony. Joe and I wrote letters to each other about why we're excited to get married, what we hope for the future and why we love each other.
"On the day, we put these into our box alongside a bottle of wine and letters of love and encouragement from some of our closest friends and family. We plan to open the box on our 5th  wedding anniversary.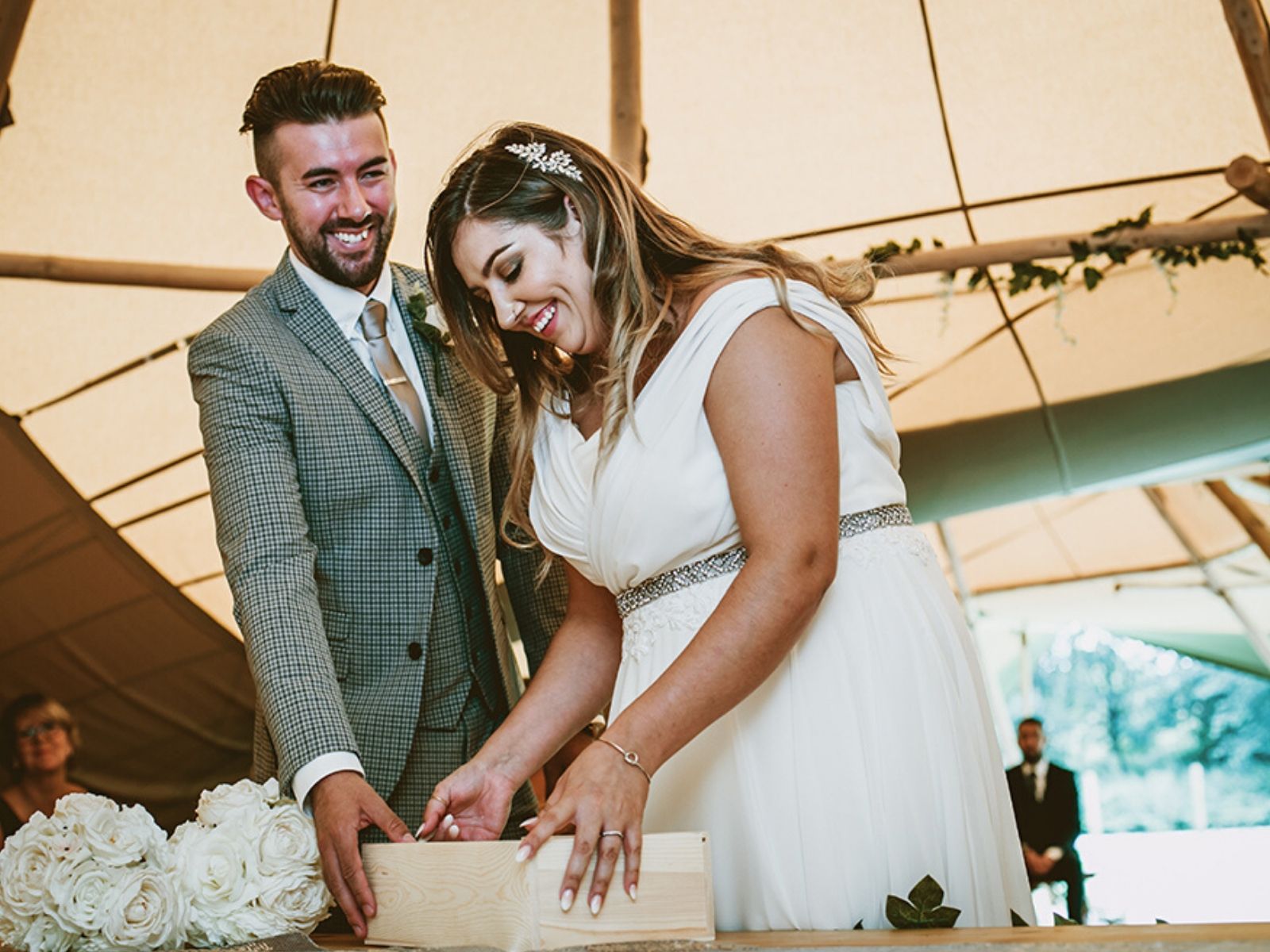 If we face hardships in our marriage before then, we'll open the box, drink the wine, read the letters and be reminded why we fell in love.
"While thinking about the hardships of marriage possibly isn't the most romantic thing to do on your wedding, we wanted to be realistic and open about our commitments to each other.
"Hopefully, we won't need to open the before our 5th wedding anniversary, and instead we'll just open the box, read the letters, write new ones every five years, eventually making a treasured time capsule that we'll be able to look back on over the years.
"Our Celebrant Alison created such a beautiful ceremony and was by far the most memorable part of our day."
Having recently had your wedding, what advice do you have for brides who are just about to have theirs?
"My honest advice is to not let other people's opinions influence your decisions. I'm so glad that we followed our own path and didn't stick to traditions for the sake of it.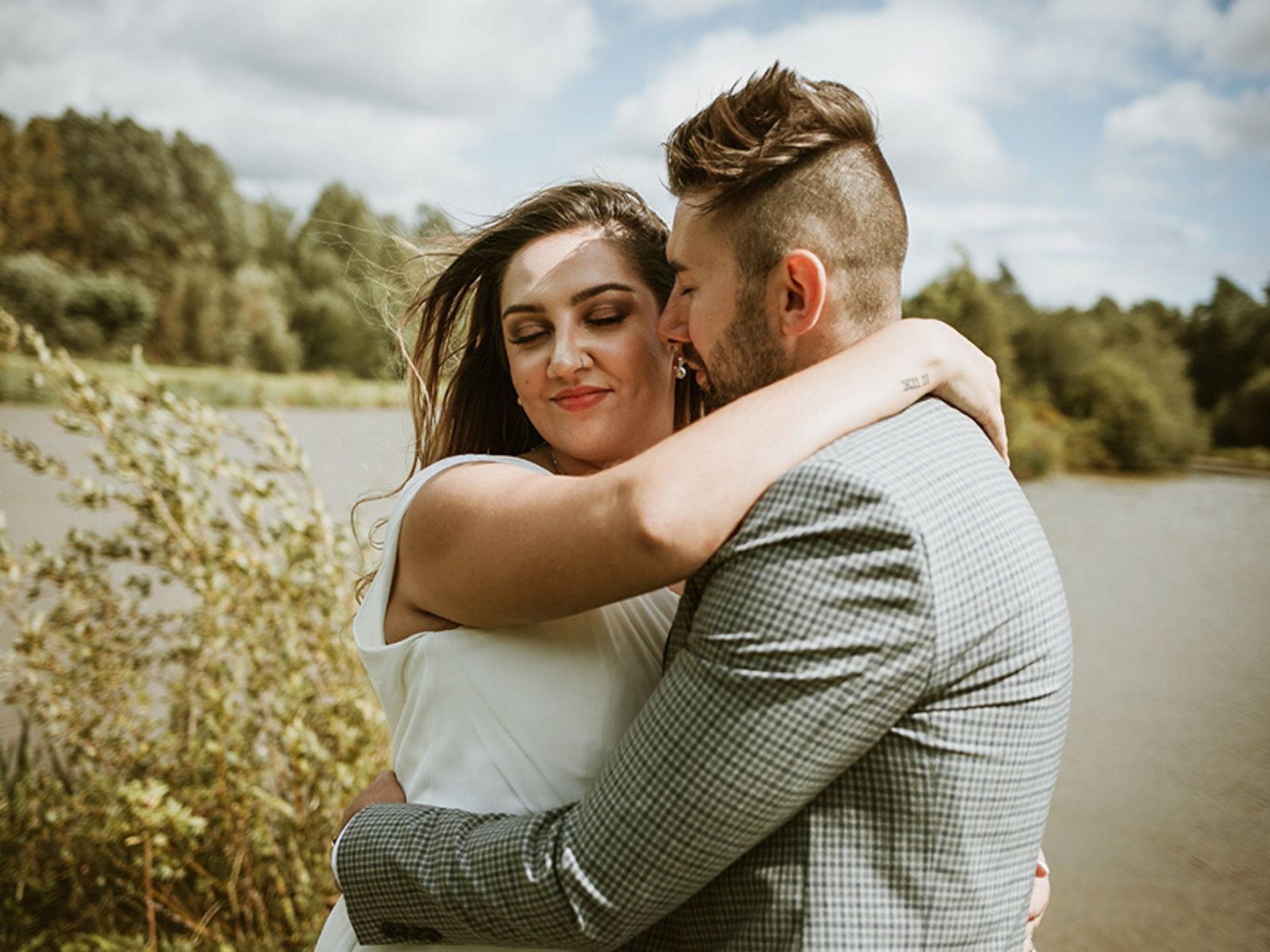 "I always ask myself, "Will I regret this?" when making tough decisions and that seemed to help a lot when making a lot of the decisions about our wedding day.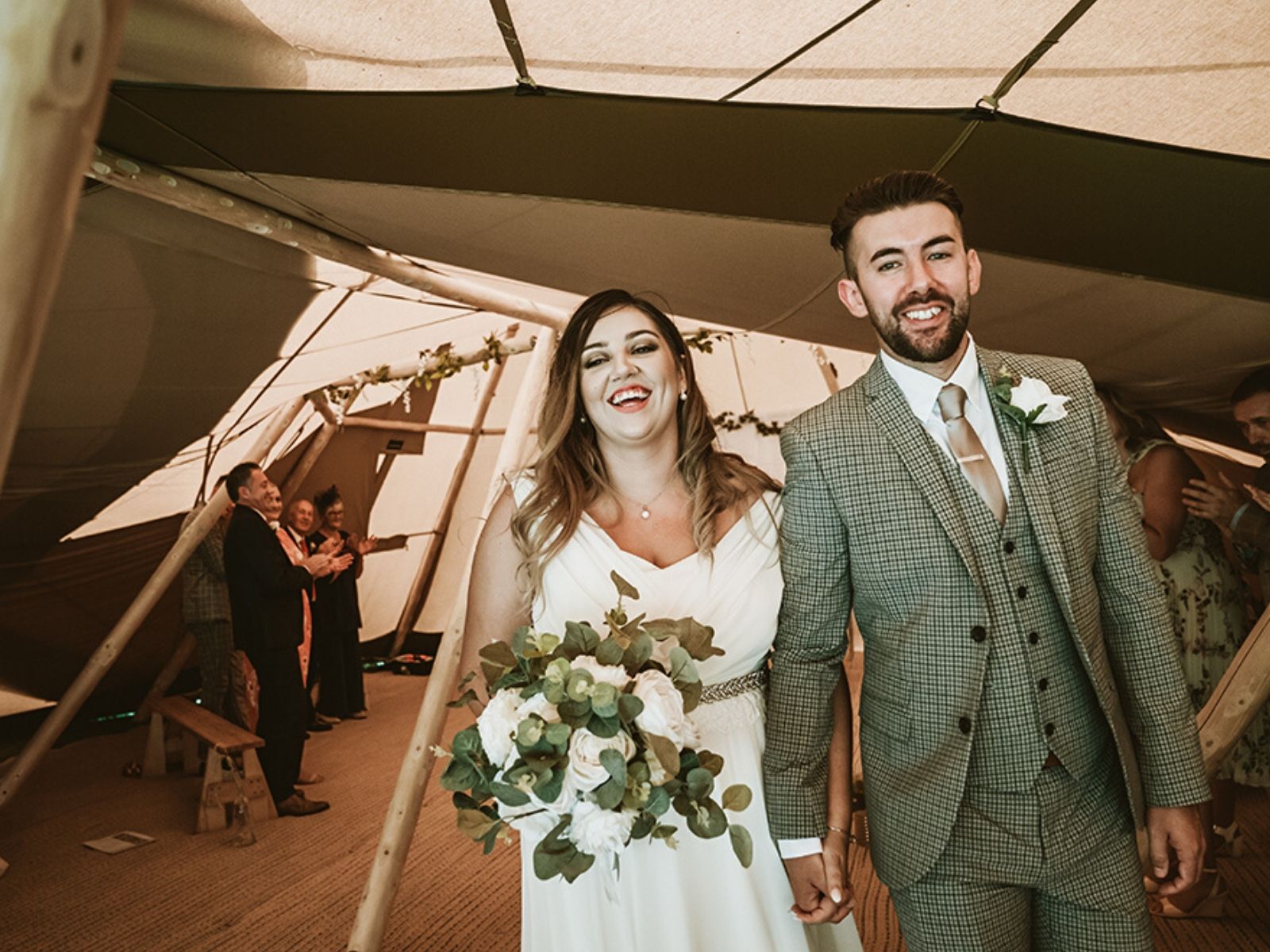 "Another piece of advice I have is to meet your suppliers. We met everyone and can honestly say we feel like we chose the best people who truly cared about our day and making it special."
We love forming strong relationships with our brides. See more reviews from our happy brides on our Facebook page, or check out Sophie's winter wedding dress and Harriet's gorgeous garden party gown.
The Dream Team:
Wine box ceremony celebrant: Alison from Beloved Celebrancy
Dress: Bespoke Service at Boho Bride Boutique
Hairpiece: Claire's Accessories
Shoes: Tesco
Doughnut tower: Krispy Kreme
Venue: Hidden Hive in Rosliston
Tipis: Peak Tipis
Hair and makeup: Aimee's bridesmaid Jordanne
Photographer: Benni and Carol Wedding Photography
Bridesmaid dresses: Asos
Mariachi band: Beato Burrito
DJ: The Best Men DJ