Boho Bride Jeanie's Relaxed Boho-Barn Wedding
---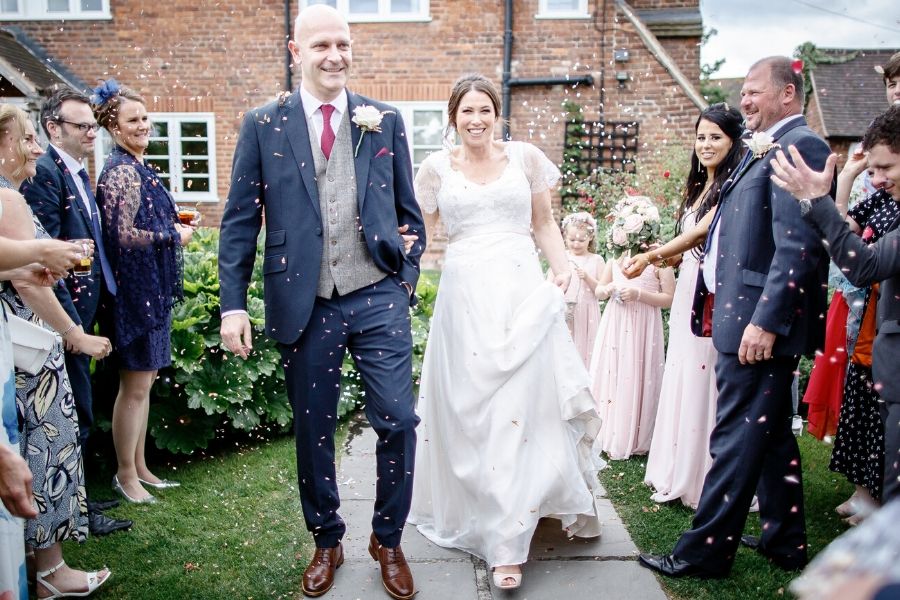 "Dave and I were in the same year at high school, so we met at 13! But we only got together at 29," Jeanie told us. "As we went to the same high school, we both know each other's oldest friends and so the wedding was good fun as lots of people knew each other from 25 years ago!"
"We got engaged on Christmas, with the children present, and booked the venue, photographer and band that week while we were off work (and before I changed my mind!)."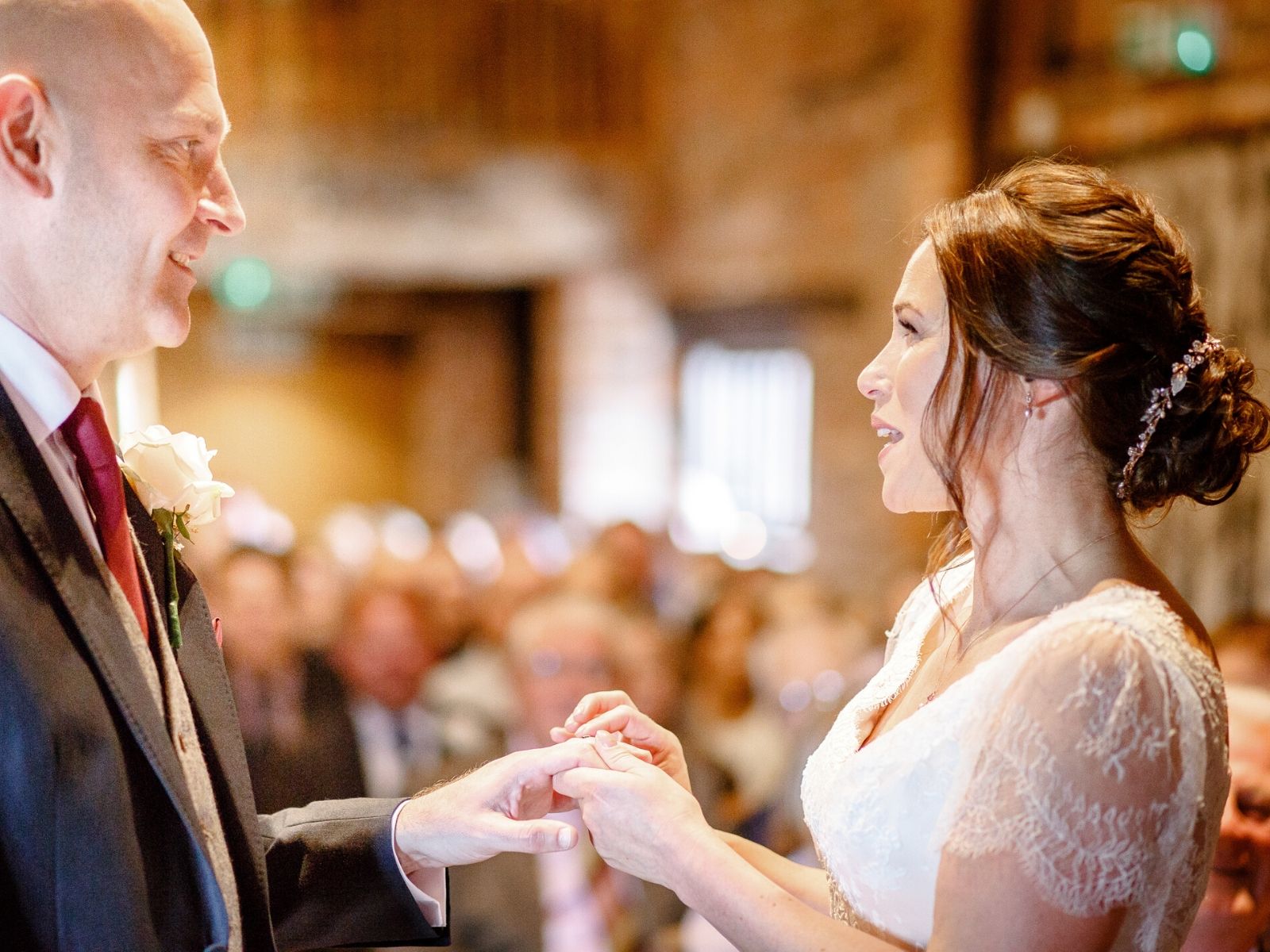 We love hearing our brides' love and proposal stories, especially when they're as funny as Jeanie! We also love catching up with them after their weddings, to find out all about their big days! Here's Jeanie's wedding story:
Tell Us How You Found Your Dress
"I was a real tomboy growing up and never dreamed of a being a bride in a big white dress! So psychologically getting married and wearing a bridal dress was a genuine fear of mine. I'd found Boho Bride Boutique's dresses on the internet, so popped in with my 8-year-old daughter Holly to try on a couple of dresses I'd liked online.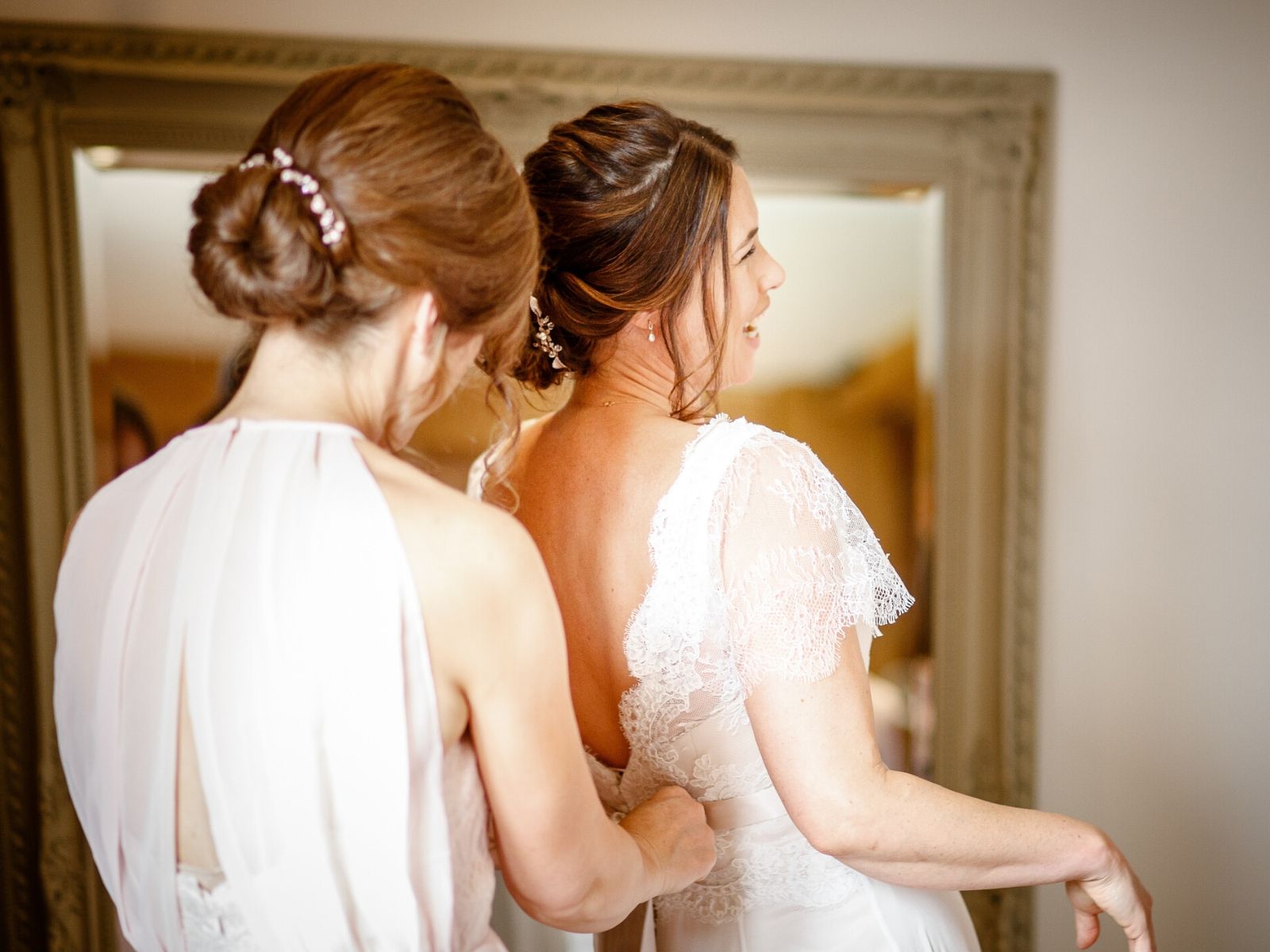 "What a fantastic experience! I was unsure whether 8-year-olds are allowed in bridal boutiques, but we were made very welcome! The boutique is such a lovely environment. Lynette picked out Orchid by Ivory & Co for me to try on. It was lower-cut than I would normally wear, so I would never have chosen it – but it was fantastic!"
Tell Us About Your Experience at Boho Bride
"Lynette could tell what dresses suited my body-shape, which was reassuring. My wedding dress was a warm blush silk, boned and shaped on top, but loose and flowing from the waist. I felt like a bride, but it was a mix of modern and traditional.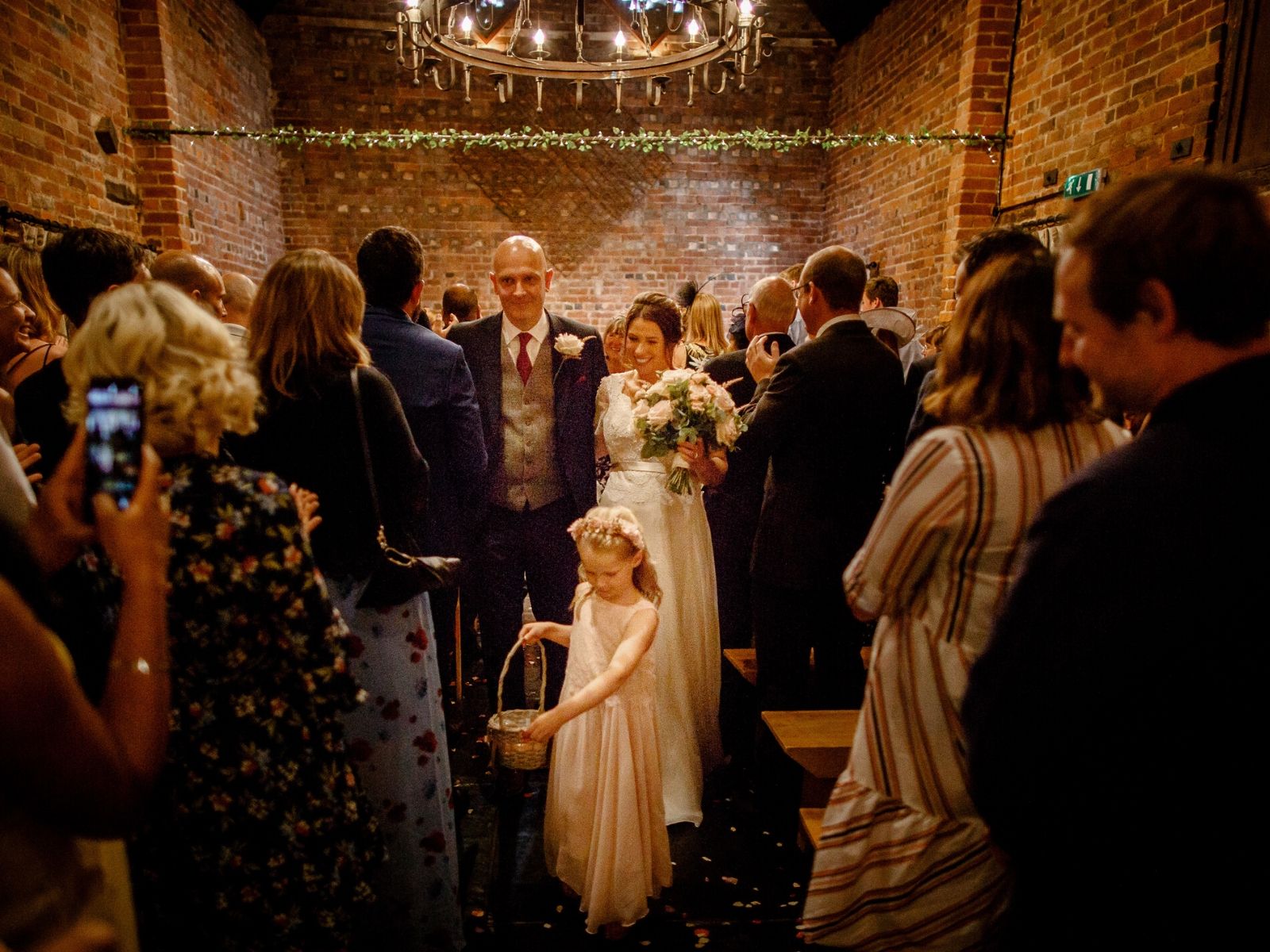 "I loved how much knowledge Lynette had about all the alterations and customisations that she and her designer Laura could do to the dress; I had lace cap sleeves added to mine. Lynette also let Holly try on a bridesmaid dress and we were both prancing about the boutique feeling fantastic and at ease. We knew we would be coming back for that dress."
Watch our video to see some of our statement wedding dresses.
How Did You Accessorise Your Dress?
"I fell in love with some beautiful Di Hassell wedding shoes from Boho Bride Boutique – the colour and lace detail matched my dress perfectly and were very comfortable to wear.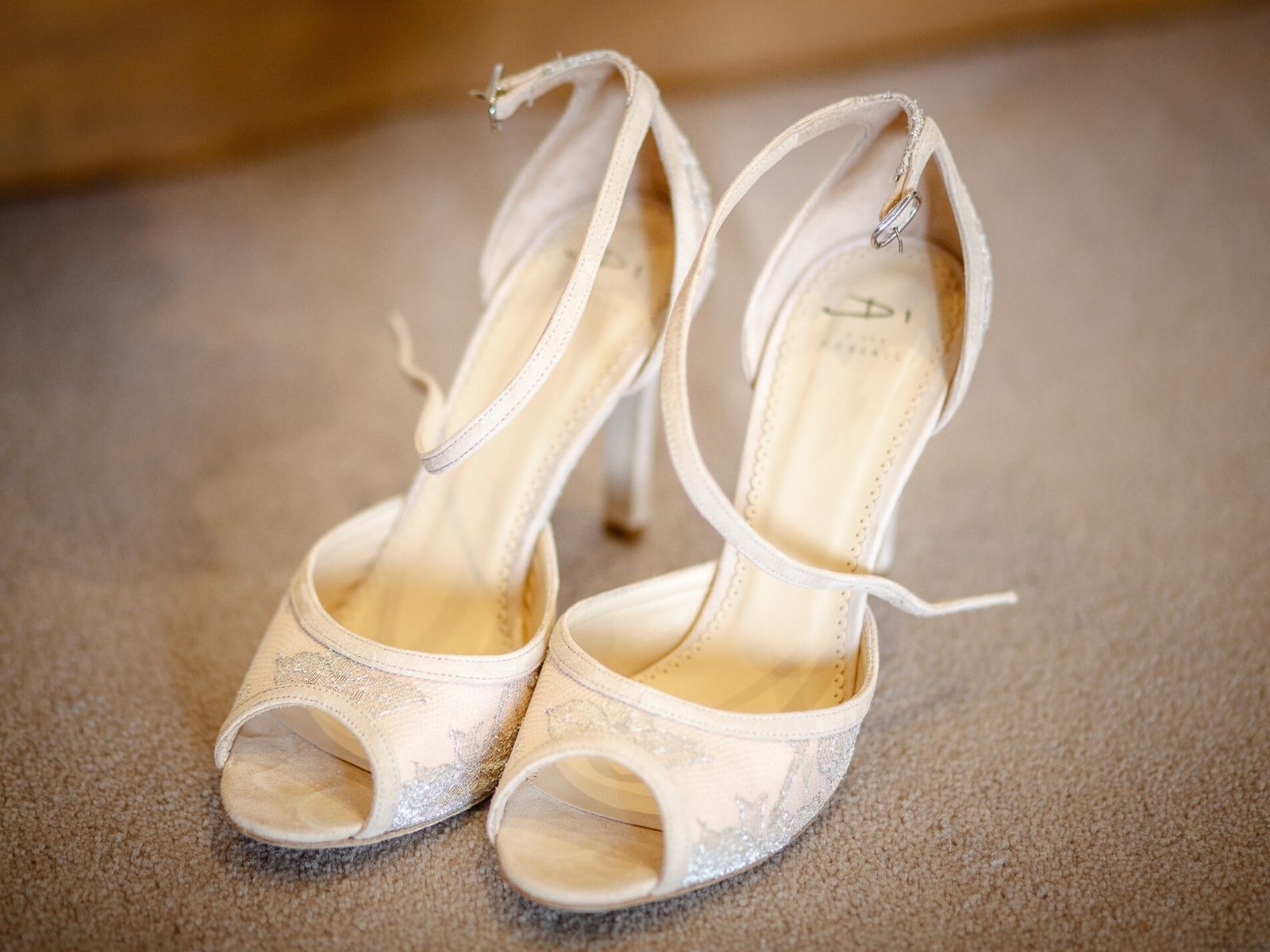 "I was so happy to find them as I struggle to find shoes that fit my slightly wide feet! That was another huge relief to find them."
Tell Us About Your Venue
"We got married at Curradine Barns in Shrawley. We were lucky enough to go to a friend's wedding there and fell in love with the venue.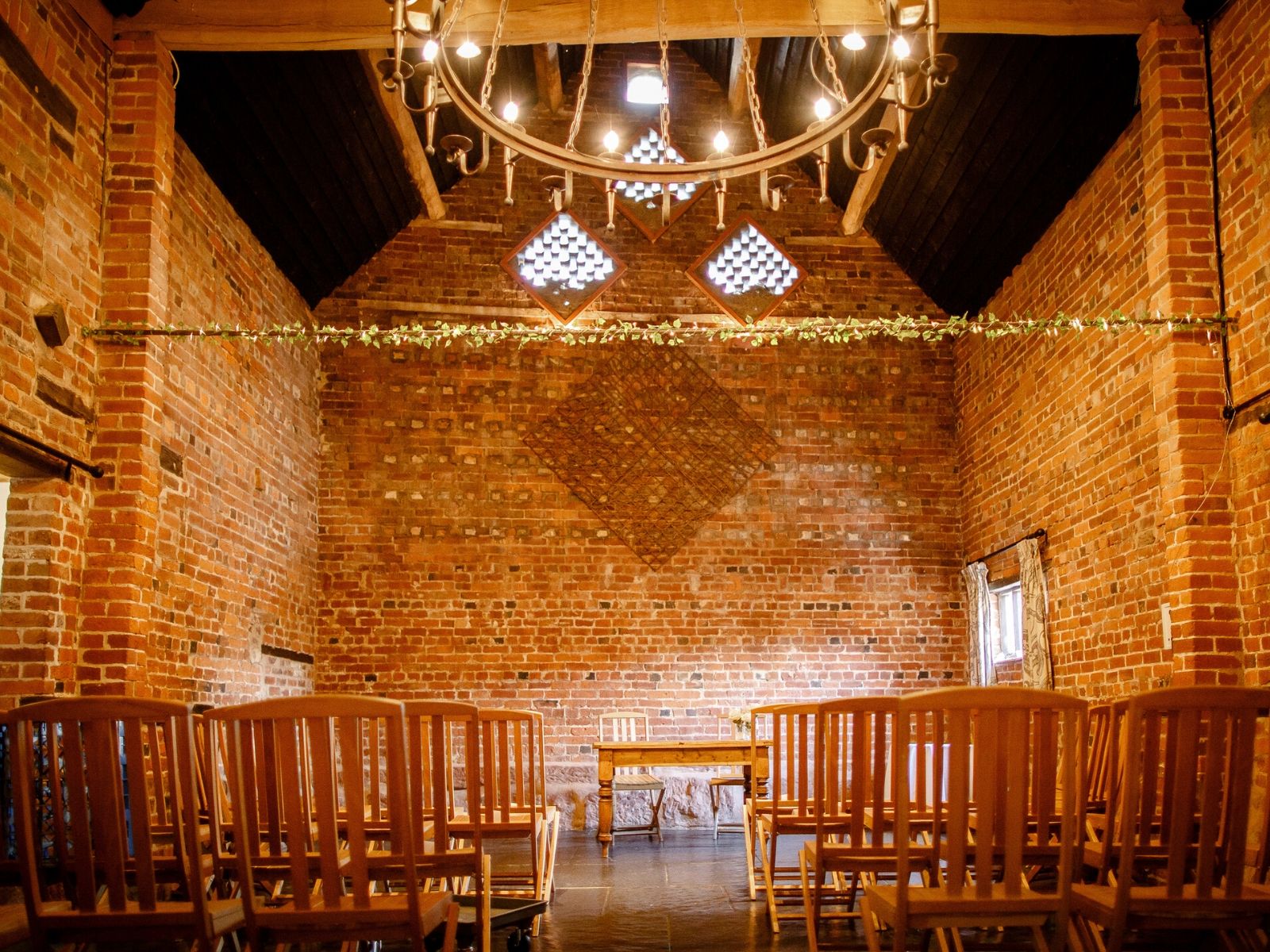 "We're not religious and wanted to marry in the UK, so friends and family didn't have to travel. With its rustic ambience but high-end dining and service, Curradine Barns was definitely the only place for us.
"We didn't follow traditions like having a wedding cake or a line-up, something old, something new etc… We just wanted a relaxed party with family and old friends catching up."
Read more: Boho Bride Alice's Last Minute Perfection 
Your Photos Look Amazing! Who Took Them?
"As soon as I got engaged, I asked my friend Brian to be our photographer. He is a talented wedding and music photographer based in Cornwall but was happy to travel for our big day. I love his relaxed and documentary-style photographs, he is very artistic and captures the mood well. I would totally recommend him."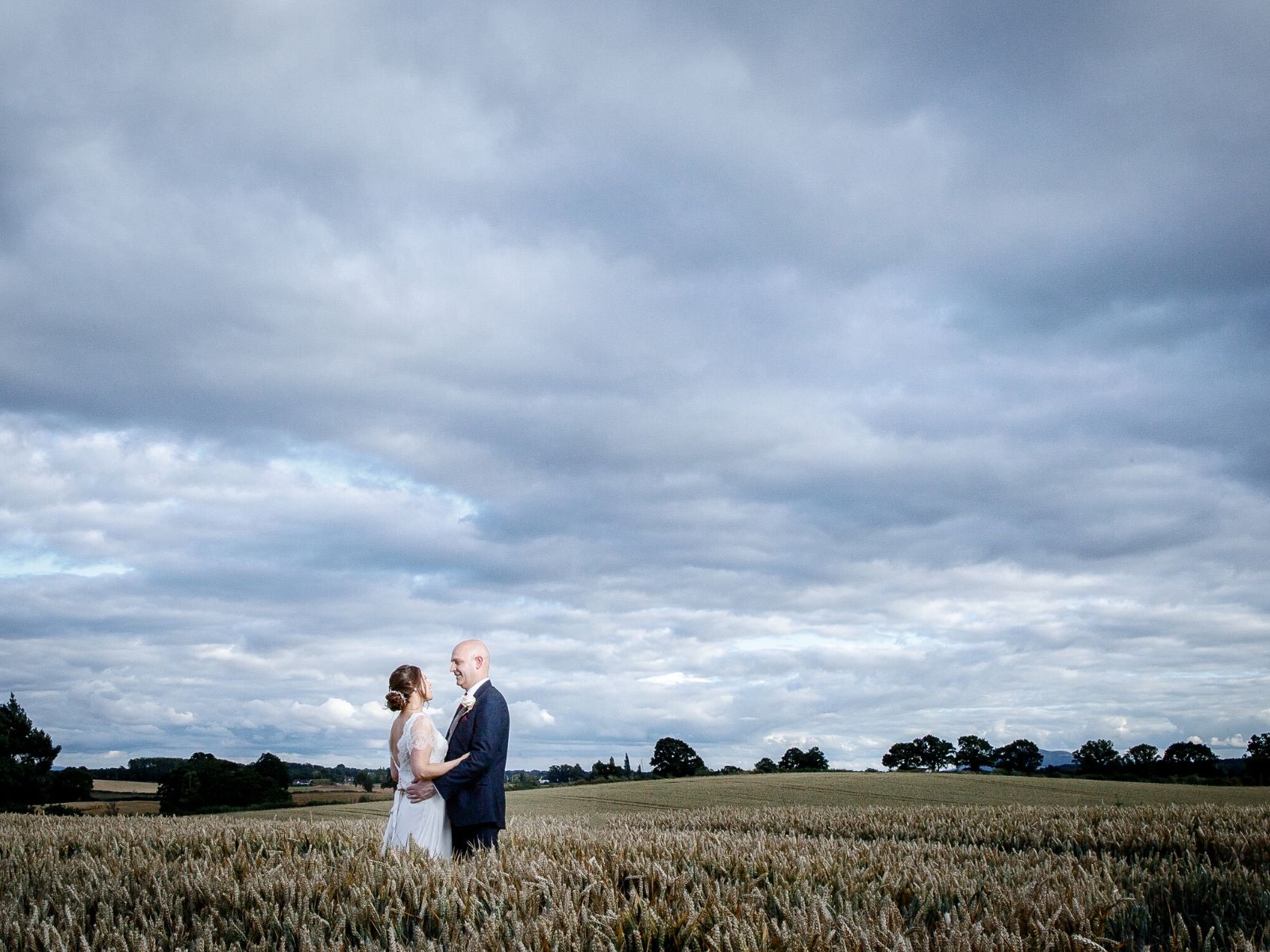 How about Your Catering?
"Curradine Barns organised all the catering – we just had to decide on the menu. We went for steak for the main course (except the fussy bride, who had chicken!). Our venue also has such a wide choice of vegetarian dishes, which was important to us. We had a BBQ in the courtyard in the evening."
Who Did Your Hair and Makeup?
"A trusted friend recommended Sarah Hunston to do my makeup, who in turn recommended Tracey-Anna to do my hair, as they had worked together before.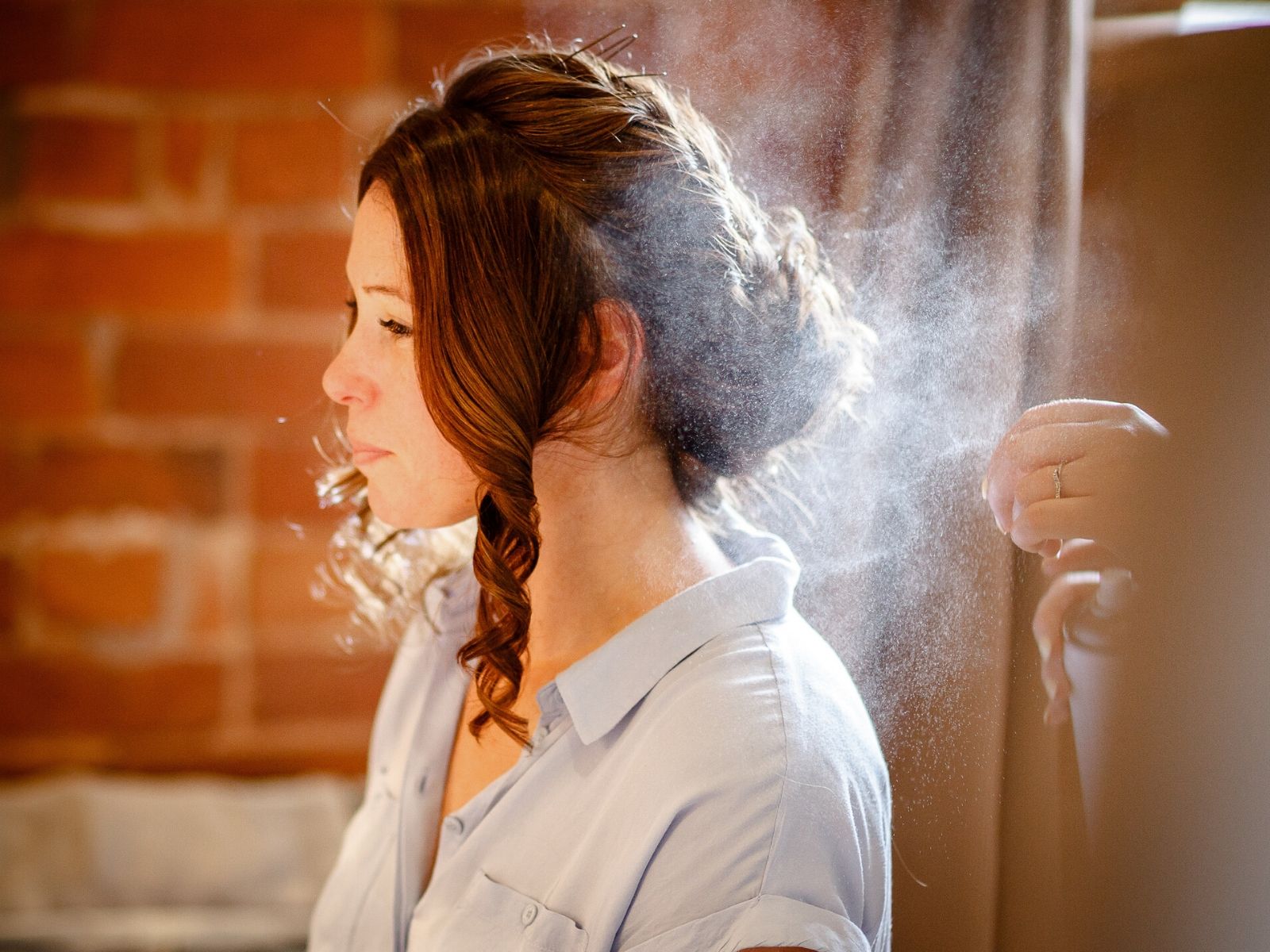 "I put my trust in these talented ladies, and I didn't really give them much of a brief. I wanted the makeup to make me look my best, a natural look. I wanted a relaxed (slightly messy), rustic up-style for the hair. I had an Ivory & Co rose gold hair vine woven into my hair at the back."
Read more: Naomi and Jon's Art Deco-Inspired Wedding 
Who Crafted Your Flower Displays?
"We did the flowers ourselves! I glued lace onto jars to make the vases. I was very lucky that one of my bridesmaids has some floristry experience, so I was more than happy to be in charge of flowers. A month before the wedding we went to a local flower wholesaler to have a look at what was in season and get a vague pricing.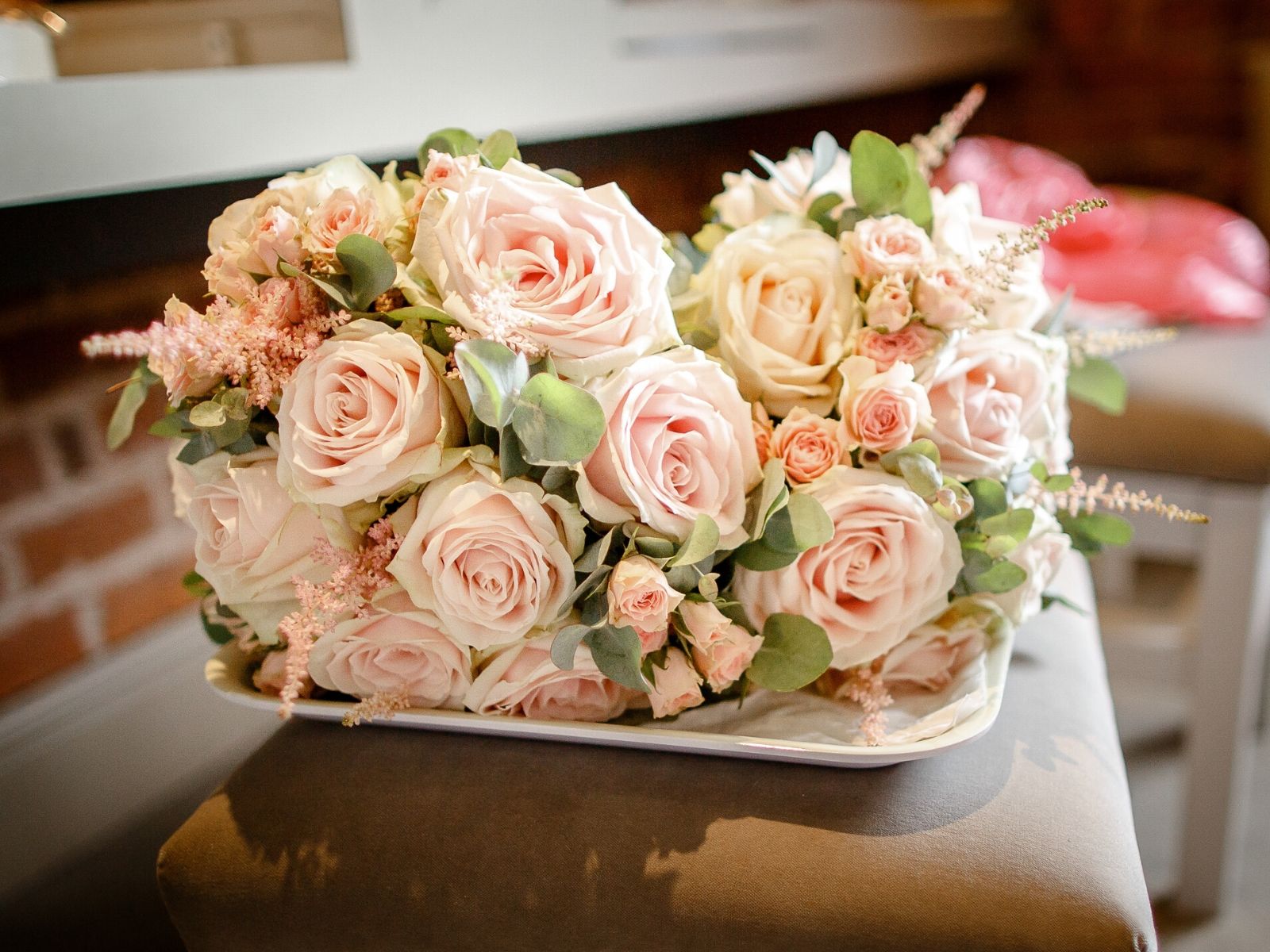 "Two days before the wedding we went back and bought a mixture of pale pink roses and some rustic flowers like gyp and eucalyptus. A few of us made the table flowers that afternoon over a glass of wine and helped prepare the roses for Susi (who knew how to make a bouquet). It was a lovely afternoon, just the girls and mums eating, drinking and gossiping together before the big day."
Read more: Boho Bride Harriet's Relaxed Garden Party Wedding 
Can You Tell Us About Your Sweetie Table?
"We didn't have a wedding cake because I don't really see the point in this tradition. I did a sweetie jar table for the kids, which my daughter enjoyed helping with and we also bought a lot of farmhouse-style cakes to put on a cake table, in case anyone really wanted to eat cake."
And Your Bridesmaids?
"My bridesmaids and flower girls made up two adult bridesmaids, a teenager and three children – that's a lot of people to find dresses for!
"My niece lives in Northern Ireland, so we only had one day only to find a dress she liked, and we chose 3rd January – when lots of bridal boutiques were shut for New Year!
"Luckily, we found a lovely Dessy bandeau dress that was just what she wanted in the first shop we looked in – Daisy B Nell in Evesham. It was perfect. I let her choose the colour (pale pink) and that set the colour scheme for everything else. To suit both the adults and my 8-year-old, we chose Dessy dresses in the same fabric but slightly different styles. They do 'tween' dresses which was fantastic for my 8-year-old."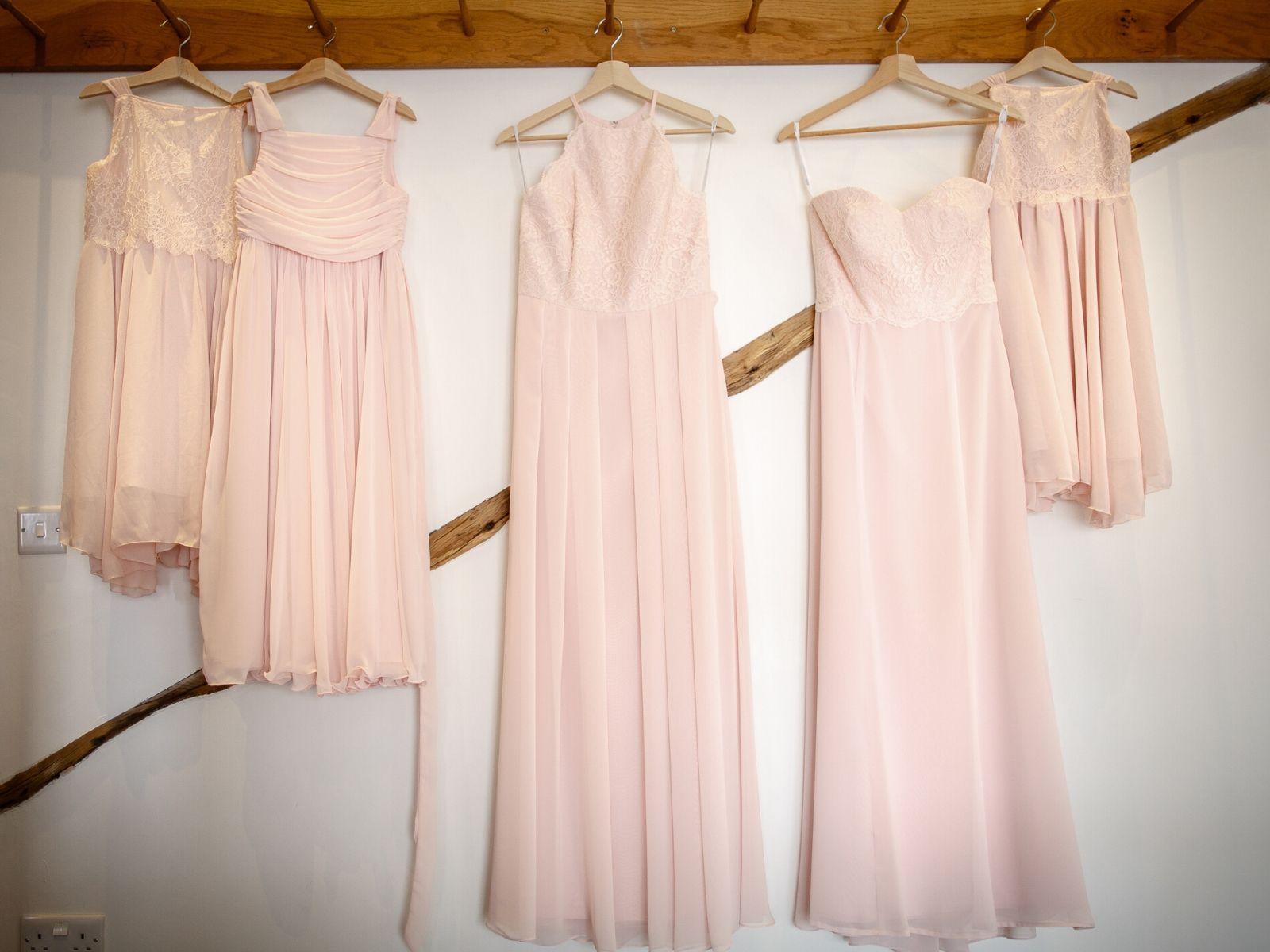 What Did Your Flower Girls Wear?
"I couldn't find anything right for my two flower girls in high street or boutiques. Lynette and her designer Laura from Lola & Em have a bespoke service, where they can make pretty much anything! Laura she was fantastic and designed the dresses from scratch with me."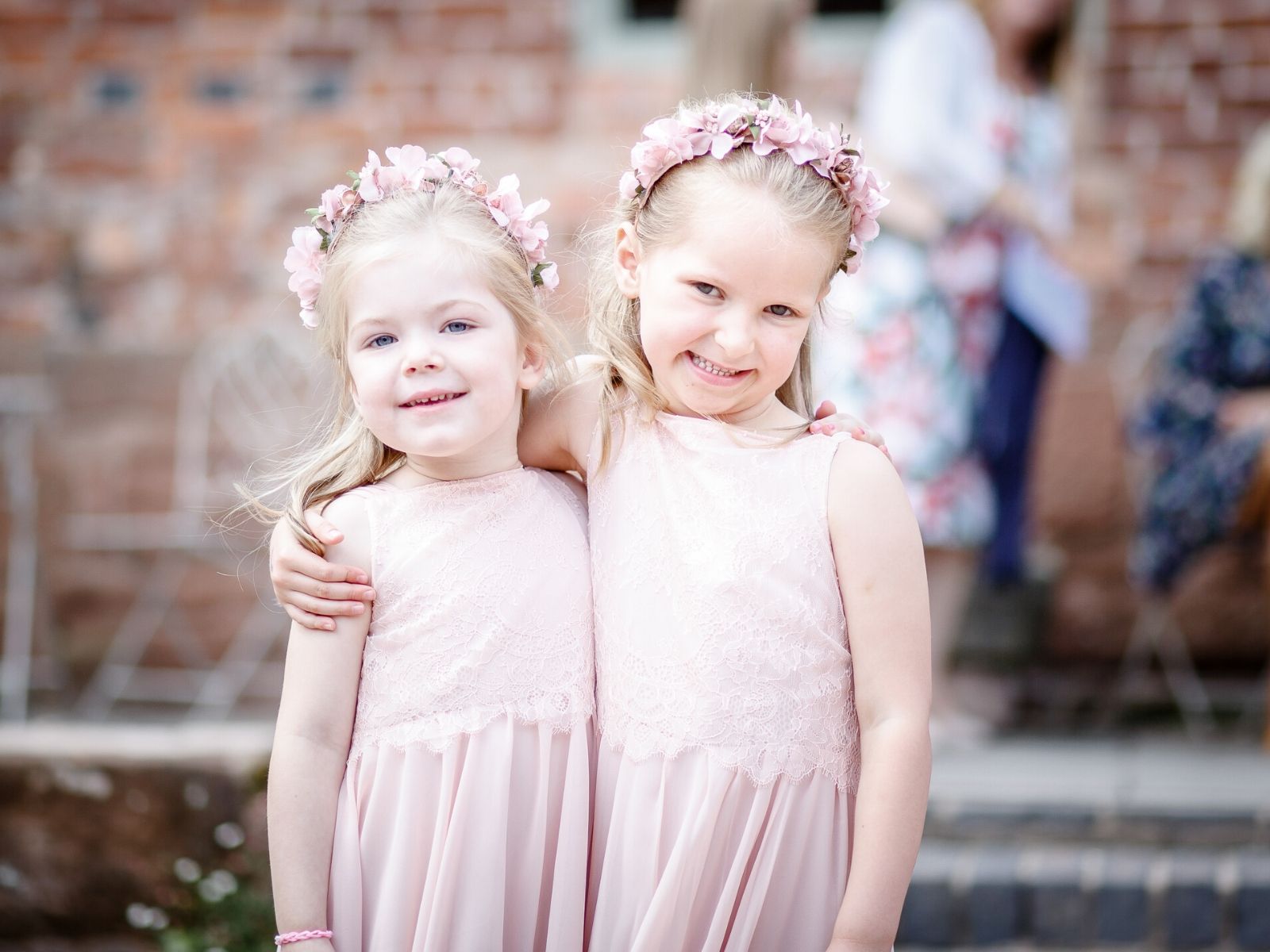 Read more: Boho Bride Aimee's Bespoke Wedding Dress and 2019's Most Sentimental Wedding
"We chose fabric and lace to compliment my dress and the bridesmaid dresses: they were totally unique, beautiful and comfortable. Most importantly, they passed the twirling test from a 4 and 6-year-old. (Another issue that was playing on my mind but was easily solved by the Boho Bride team!)"
Read more: Boho Bride Jacqui's Bespoke Wedding Dress Journey 
Did You Have Wedding Transport?
"As we got ready at the venue, we didn't need transport (I did clean my car, though!).
"The bridal preparation room is at the top of the barn so you can see guests arriving out of a small window, but they can't see you. Dave got ready in the converted stables which was the honeymoon cottage. We had brunch and bubbles and got ready.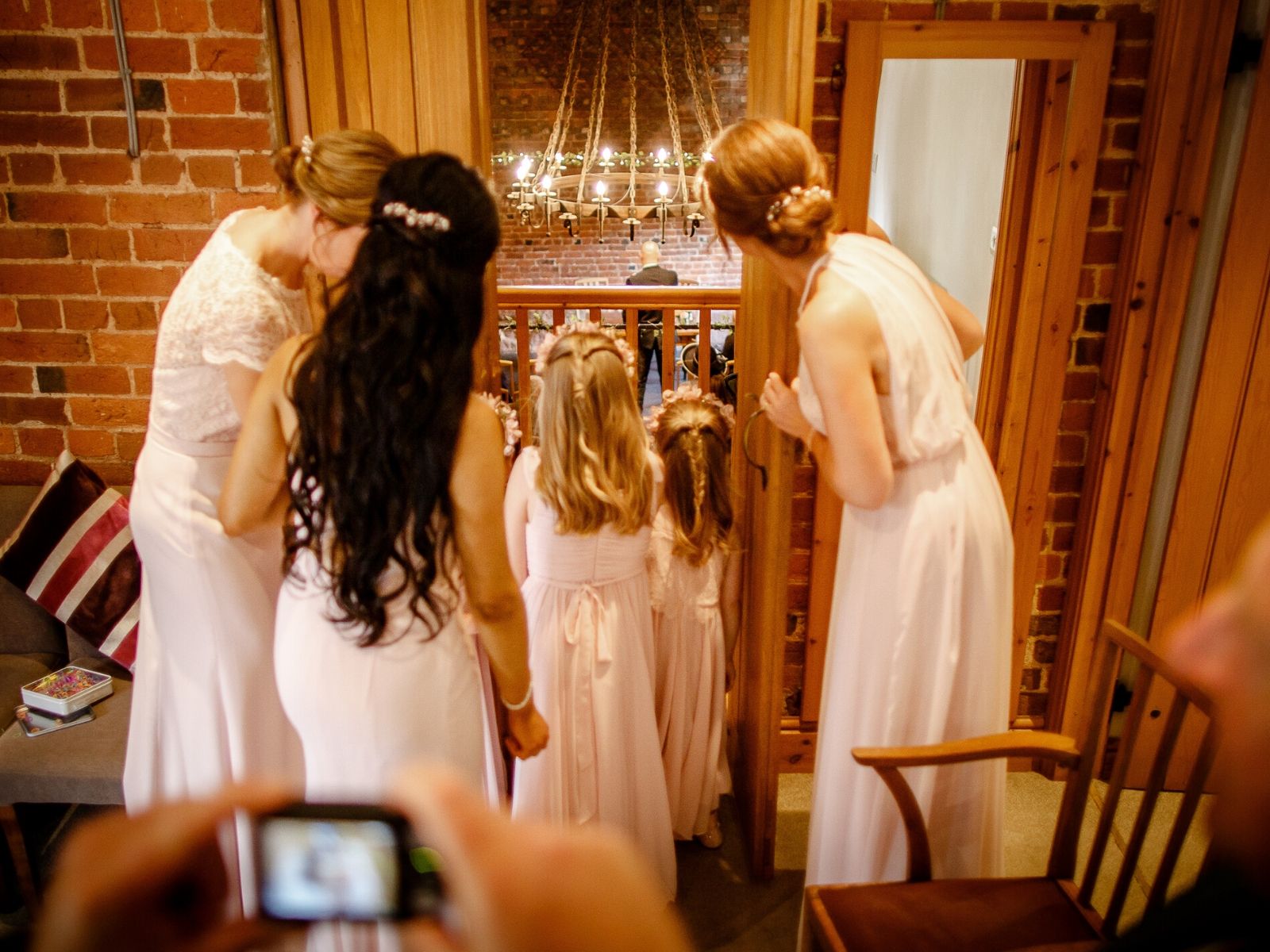 "While guests arrived inside the barn, we could hear Dan Greenaway playing guitar and see everyone from the balcony, but they couldn't see us, which was lovely."
Who Made Your Wedding Stationery?
"We got invitations from Etsy and my daughters, and I made the seating plan and name place cards with natural colour card, glue, lace and white pens. It was a special and fun wedding activity that we could do together."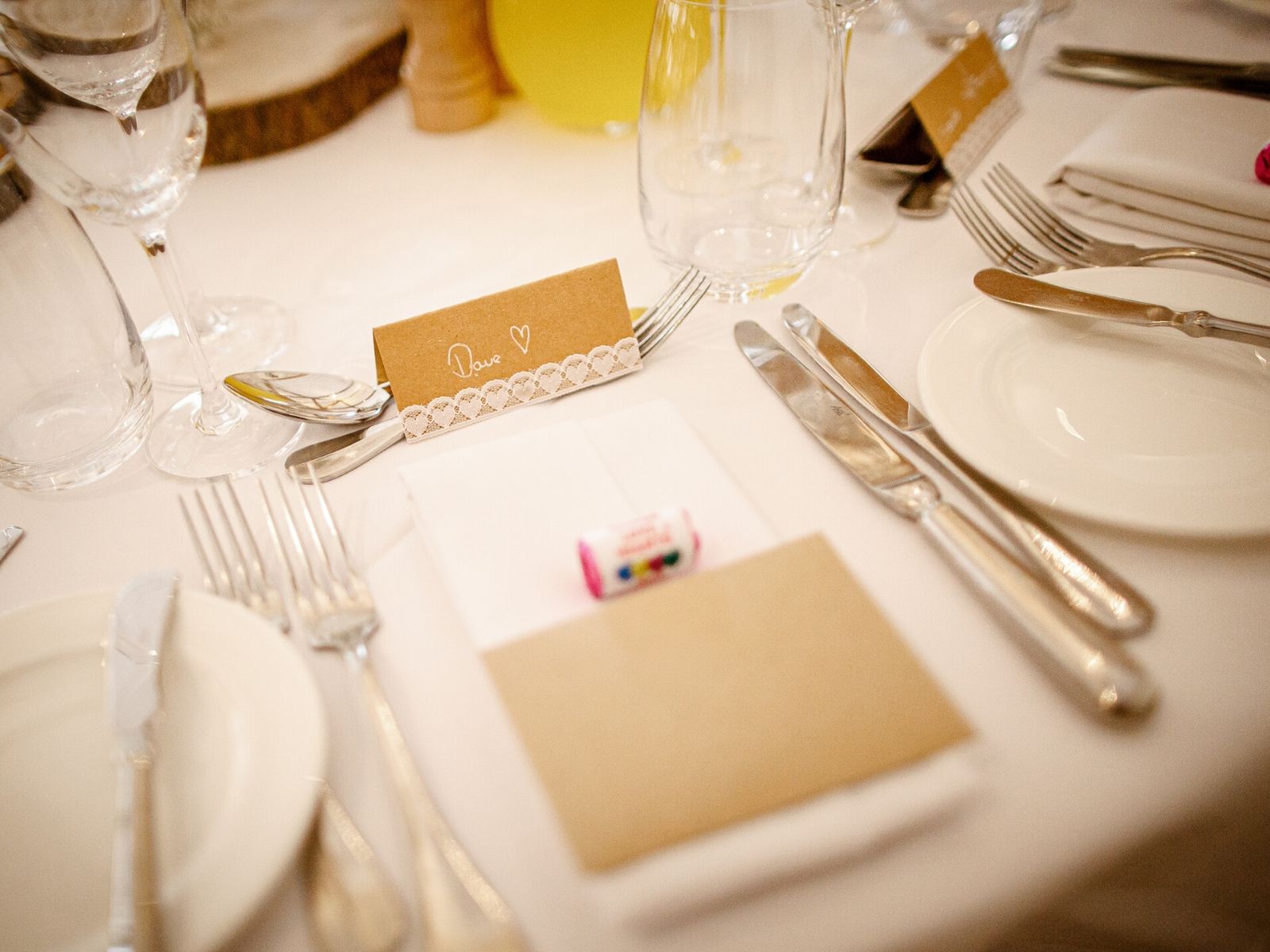 What Entertainment did You Have?
"We might have scrimped on cake, but we did spend on entertainment! We thought it important to spend money on the entertainment as we wanted a party.
"We booked Dan for welcome drinks, ceremony and after drinks. His sound was perfect for us; it suited the relaxed, chilled afternoon. We could choose any songs before the day, which we thought was wonderful because we could have an acoustic version of our favourite songs from the 80's all the way through to 2019, and then on the day Dan also had a large setlist of songs that guests could request. Dan played both inside at our ceremony and also outside when we were in the sunshine after.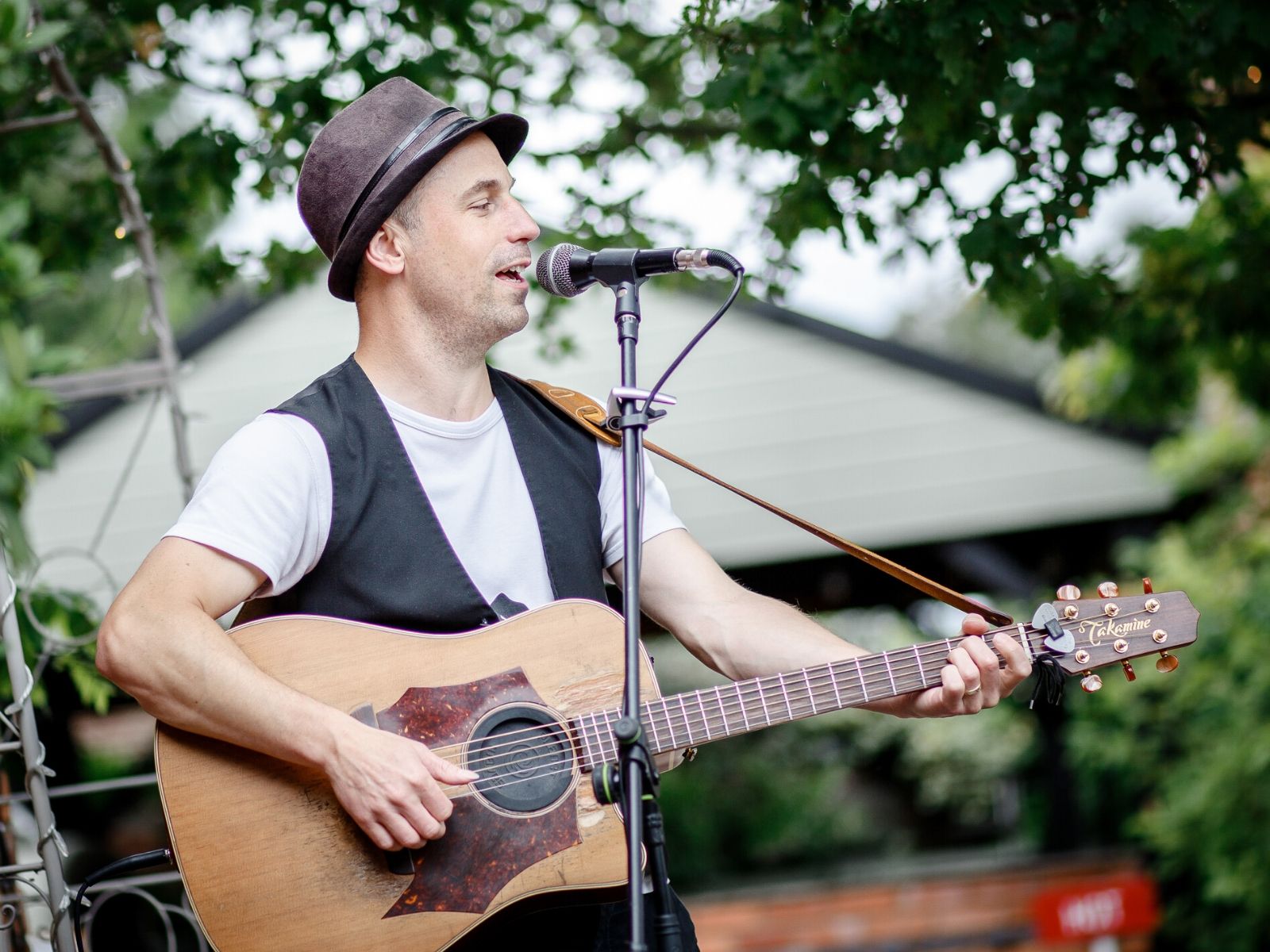 "We also booked a local band, The Wedding Crashers and a DJ acquaintance of theirs for the evening. We also booked an old school friend, turned magician, to entertain in the lull between day and evening which worked really well."
Read more: Boho Bride Sophie's Gorgeous Winter Wedding 
How did You Feel on Your Wedding Day?
"I can't put into words the emotions and feeling on the day itself. To be surrounded by all of your favourite people, who are all there to celebrate with you; it's just overwhelming. We were all so ridiculously happy, on an emotional high, and had such a great time.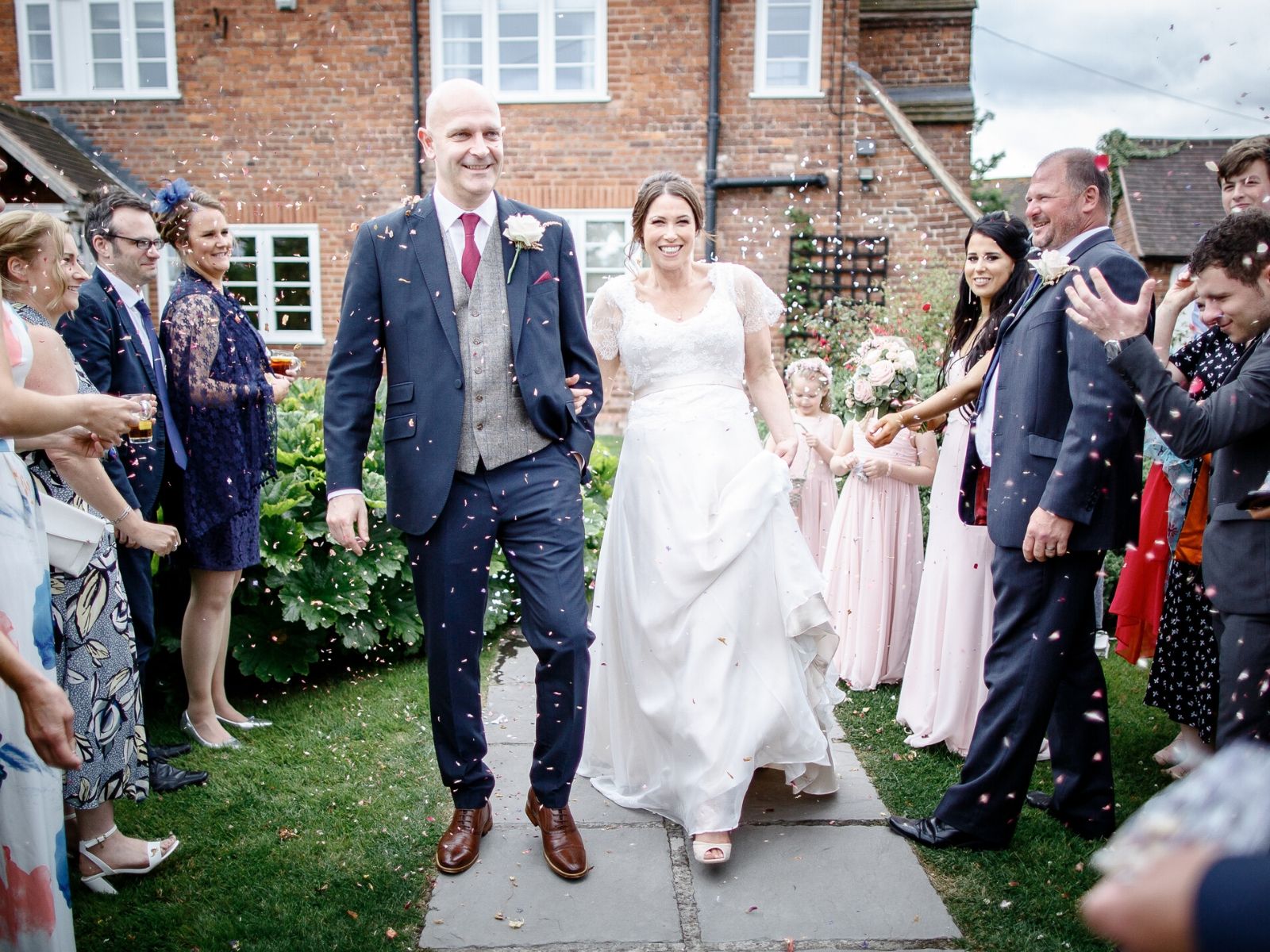 "We had had a rough time personally the month leading up to the wedding, a few sad and stressful events happened. I think the fact that we had a rough and emotional time really made us celebrate more, celebrate a positive thing such as a marriage and family and friends all coming together."
Do You have any Advice for Brides-to-Be?
"This is your day. Don't worry about what other people have done in the past, you don't have to follow any traditions you don't agree with; spend your budget on the things that are important to you.
"Do not try and engage your fiancé in anything pretty – he probably doesn't want to plan table flowers, he just wants to marry you. Expect that not everything will go according to plan and don't sweat the small stuff. With your friends and loved ones close, everything will be lovely. It's the best day of your life – don't try and make it the best day of everyone's lives."
Find out more from our brides by reading Boho Bride's Facebook reviews here.
The Dream Team:
Photographer: Brian Robinson Photography
Entertainment: ceremony guitarist Dan Greenaway
Evening band: The Wedding Crashers and DJ acquaintance
Magician: Wayne Humphries
Transport – none
Venue: Curradine Barns in Shrawley
Caterers – Curradine Barns/Galloping Gourmet
Wines and Spirits as above
Wedding stationery – Bride and flower girls
Flowers: Bridesmaid Susi, Bridesmaid Katherine, bride and Susi's mum!
Suits: Peter Posh in Warwick
Bridesmaid dresses: Dessy
Flower girl dresses: Lola & Em at Boho Bride Boutique
Shoes: Diane Hassall at Boho Bride Boutique
Hair Vine: Ivory & Co
Necklace and earrings: Cupitt Jeweller in Bromsgrove (support local business!)
Makeup – Sarah Hunston
Hair – Tracey-Anna Hair
Dress: Boho Bride Boutique
Want more real bride stories and wedding advice? Check out our blog here! And contact us with any questions or to book an appointment! We can't wait to hear from you, and to welcome you into the family!