Melissa Wears Boho Bride's Freedom Collection
---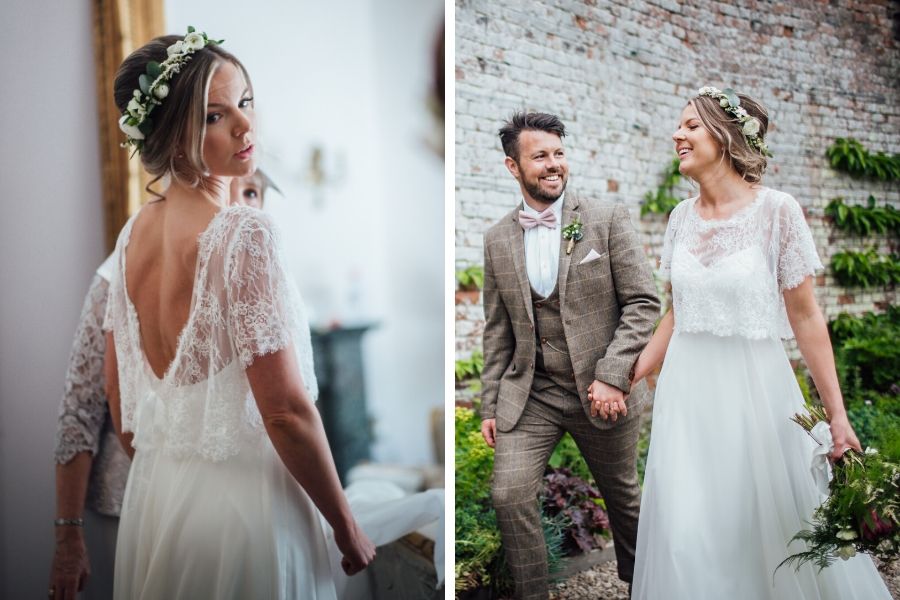 Melissa booked an appointment at Boho Bride Boutique as soon as she heard about our line – The Freedom Collection. This collection by (and exclusive to!) Boho Bride gives brides the freedom to mix and match different materials, shapes and styles when creating their unique, alternative wedding dresses.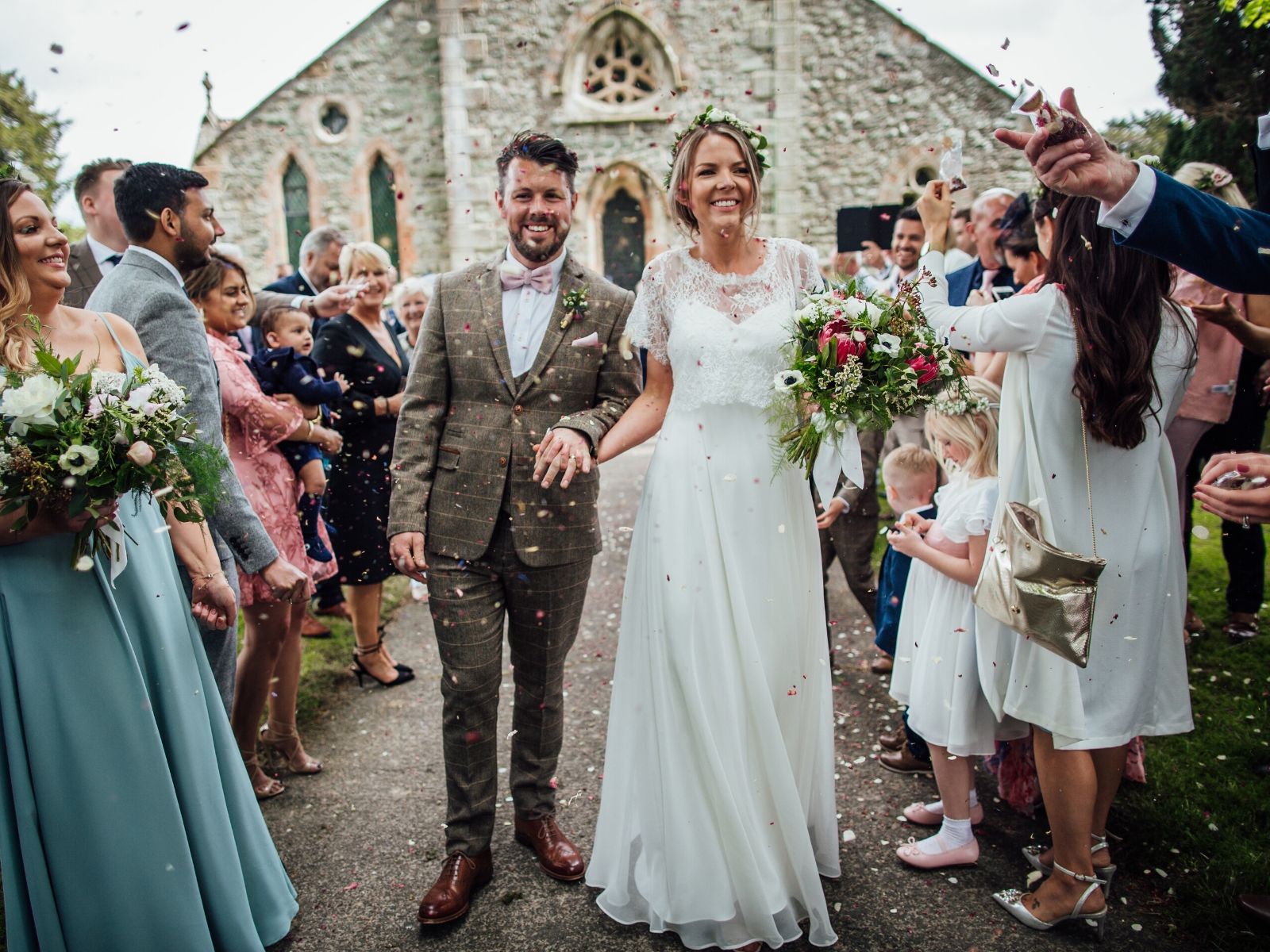 We caught up with Melissa, who told us all about her wedding day and how she "never looked back" since booking her first Boho Bride appointment.
Countryside-lovers Melissa and Nathaniel chose a relaxed, bohemian and rustic wedding theme which dictated everything from the dress and wellington boot pairing to the floral and bunting adorned Land Rover wedding transport. So, if you're planning a festival or outdoor wedding like Melissa's, this blog post is your ultimate source of inspiration!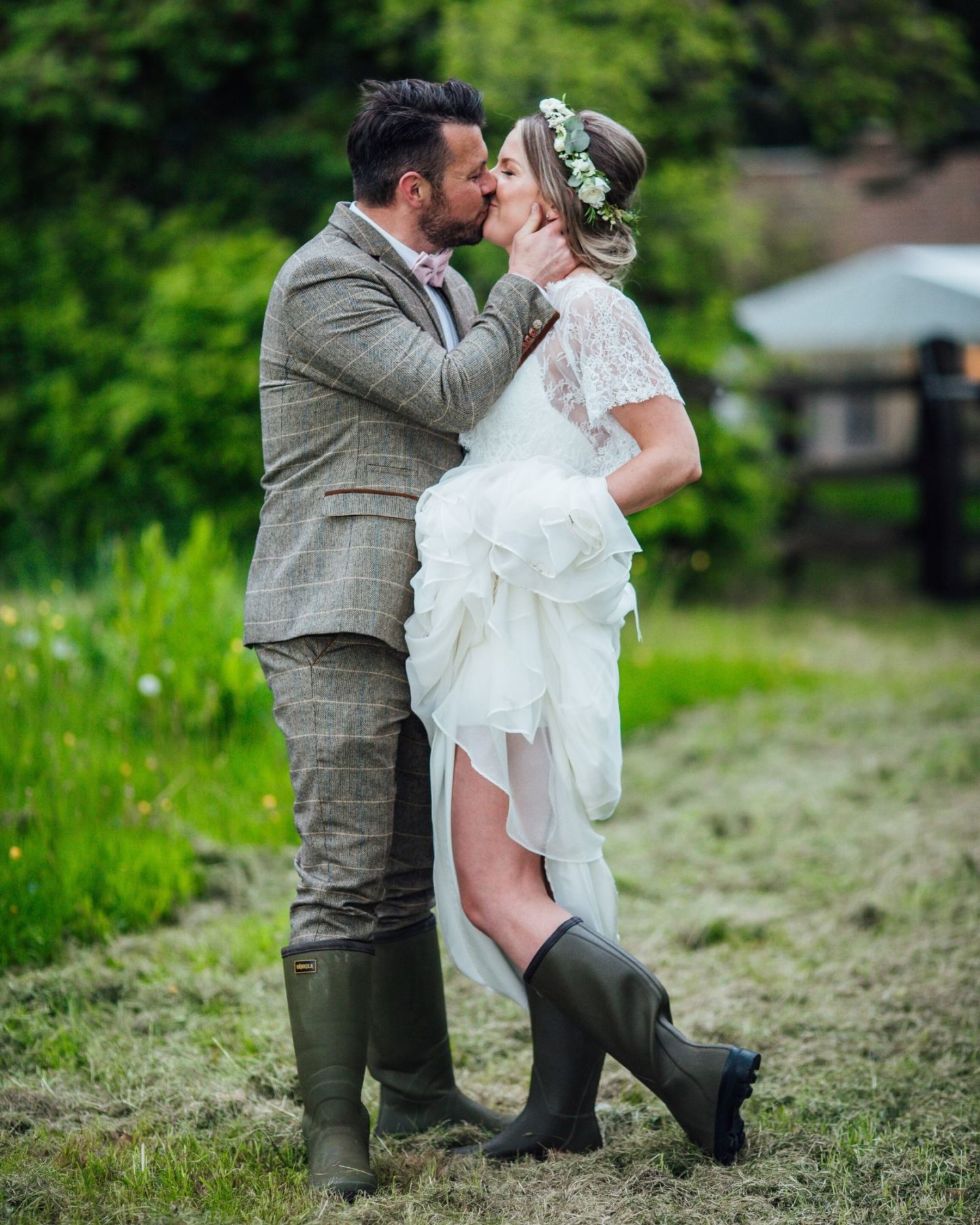 Has your wedding been affected by Covid? Feel inspired by Boho Bride Alice's wedding story and find out how she planned the perfect vintage-themed day in an astonishing 11 weeks!
How did you choose your dress?
"When I started looking for wedding dresses, I tried on quite a few that I liked, but didn't love. I didn't seem to get that moment when you try a dress on and you know it's 'the one'. Instead, I liked certain elements of each dress, which was proving frustrating.
"I knew what I liked and what I didn't so when I visited Boho Bride and discovered they had a bespoke Freedom Collection, where you could design your own. I was so pleased!"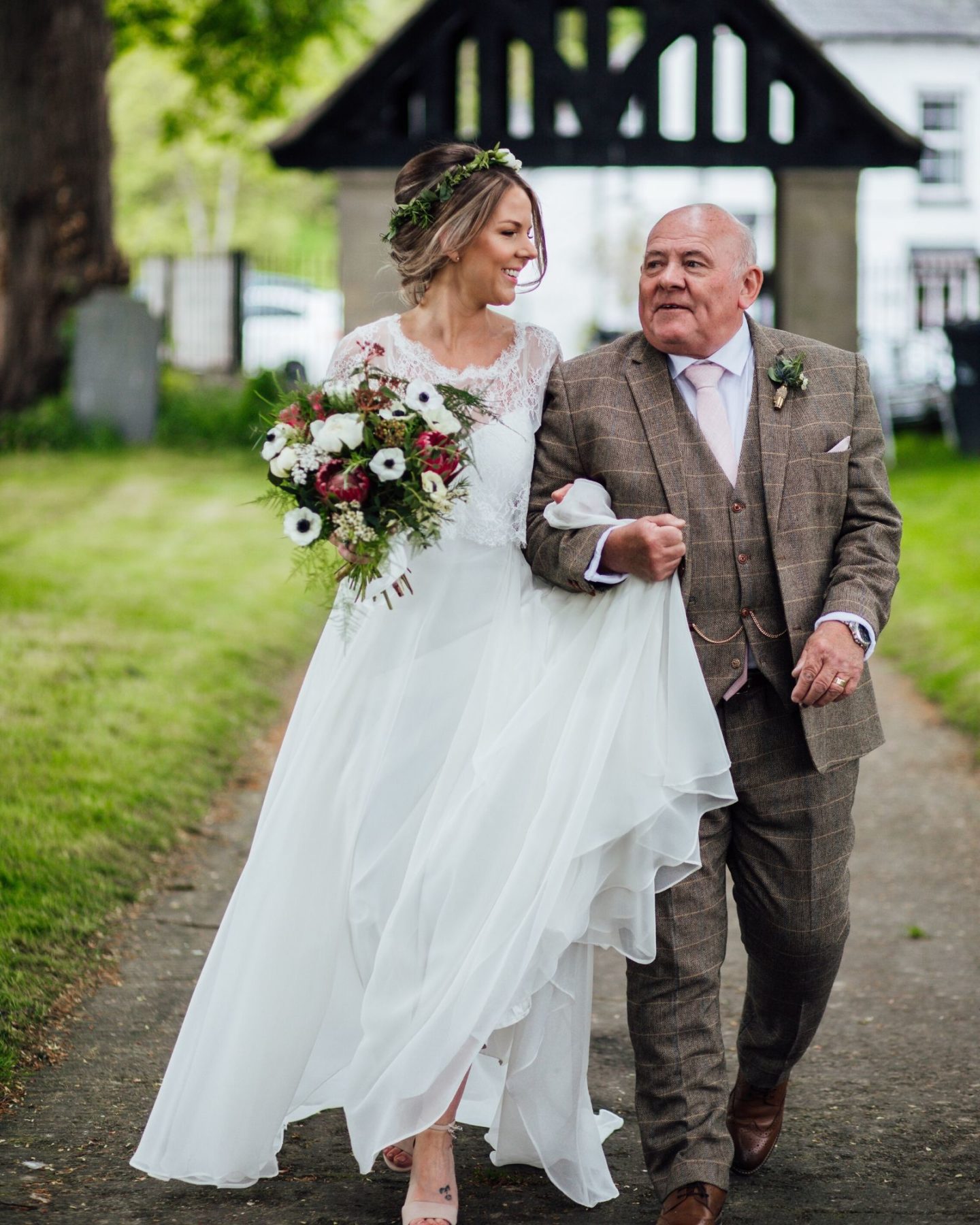 Read more: Naomi's art-deco wedding and bespoke boho gown
"The Freedom Collection let me choose all of the different parts of dresses that I had liked and merge them all for my perfect dress. It also meant that I could create two different looks: a day look with my bolero and an evening look, swapping my bolero for a sash and big bow.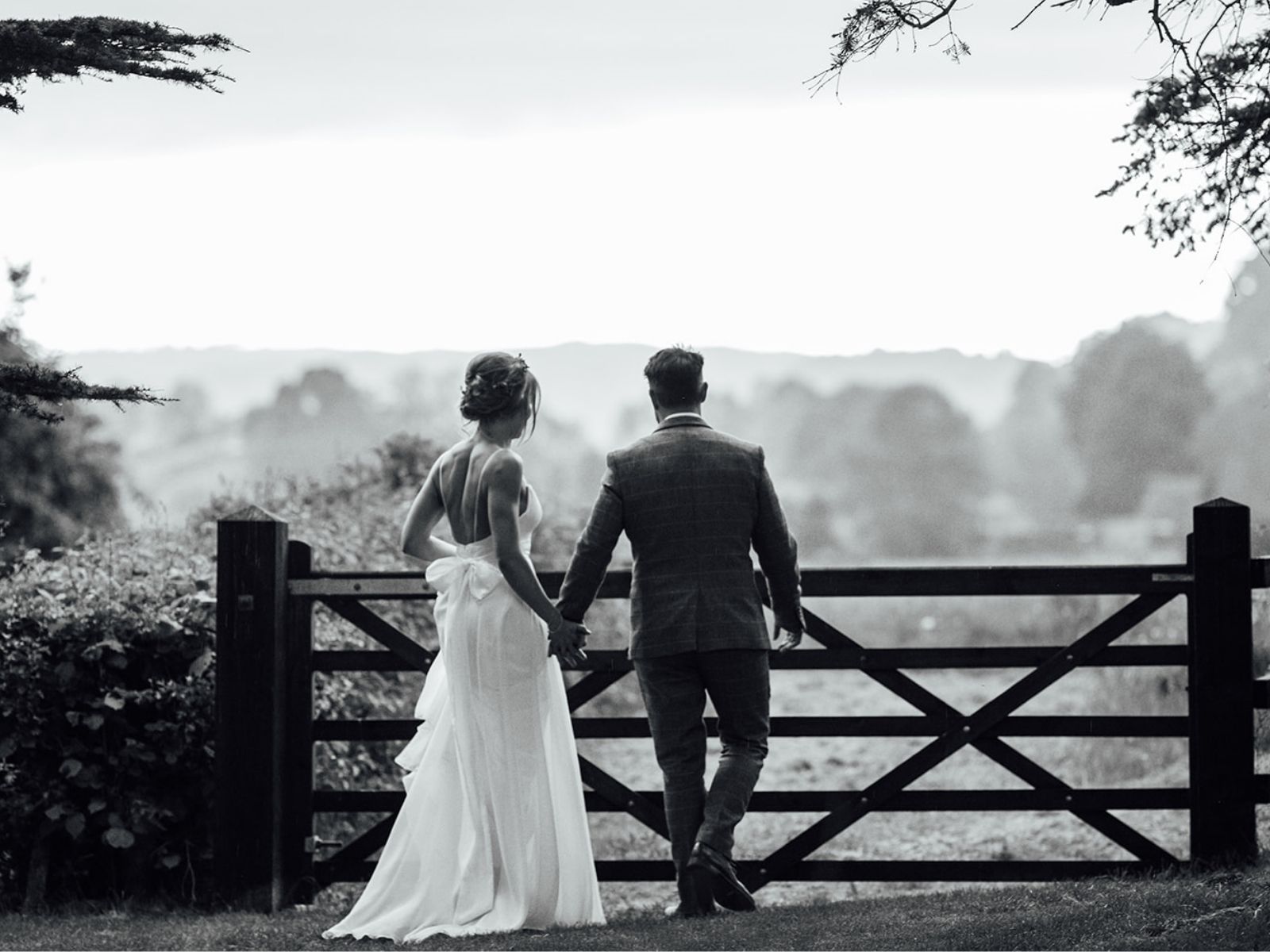 "As my dress was bespoke and there were lots of stages to the process, it was hard to envisage how it would look on the day, which was quite scary. But when I tried on the finished dress, I felt like a princess!"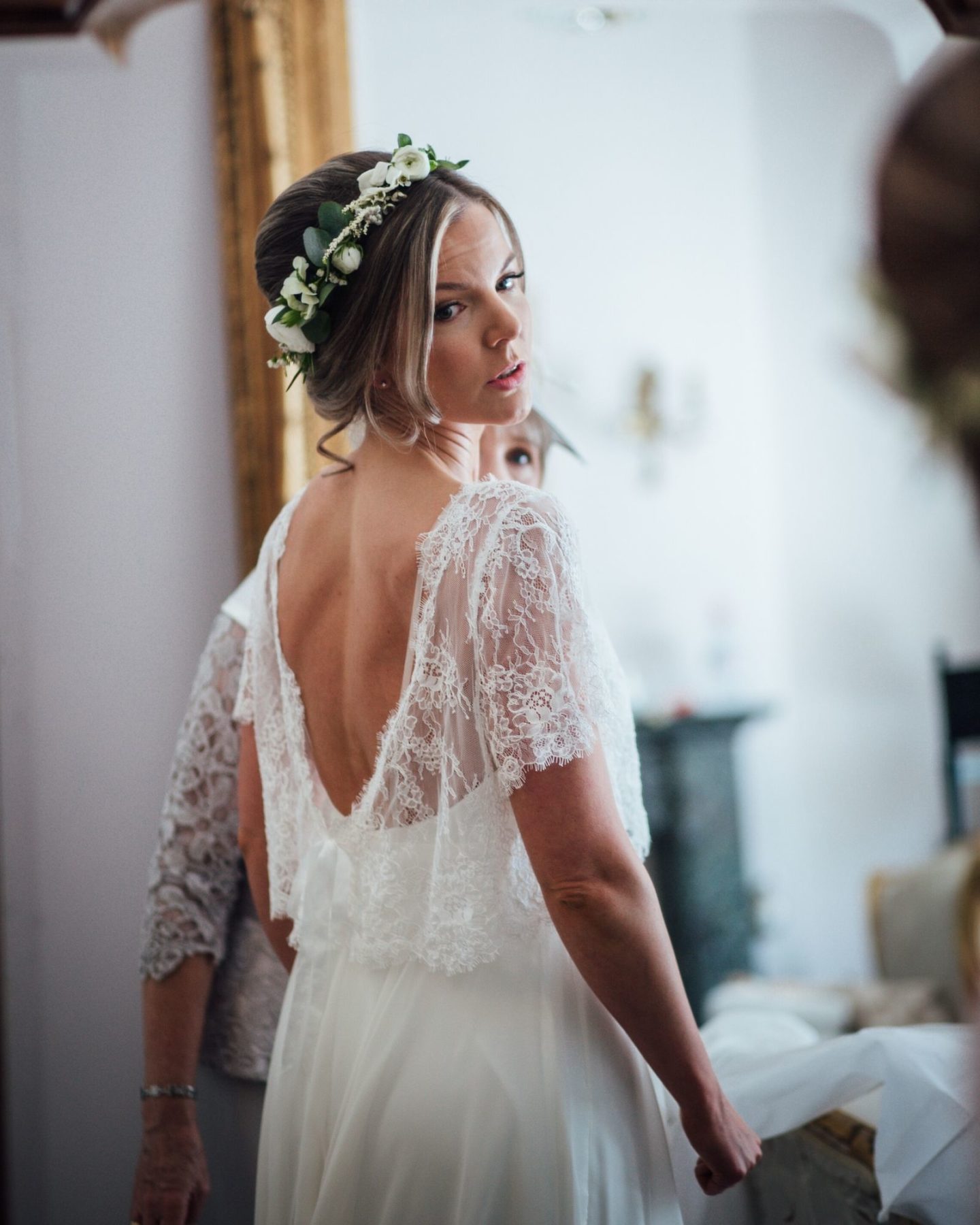 Read more: Wedding Dresses for Your Body Shape
"My dress was everything I had imagined, and Lynette and Laura made sure I was 100% happy with it by accommodating some last-minute tweaks too! On my wedding day, I felt like a true Boho Bride and felt like I floated everywhere. It was so comfy too, so I felt relaxed the whole day! I just wish I could wear it again!"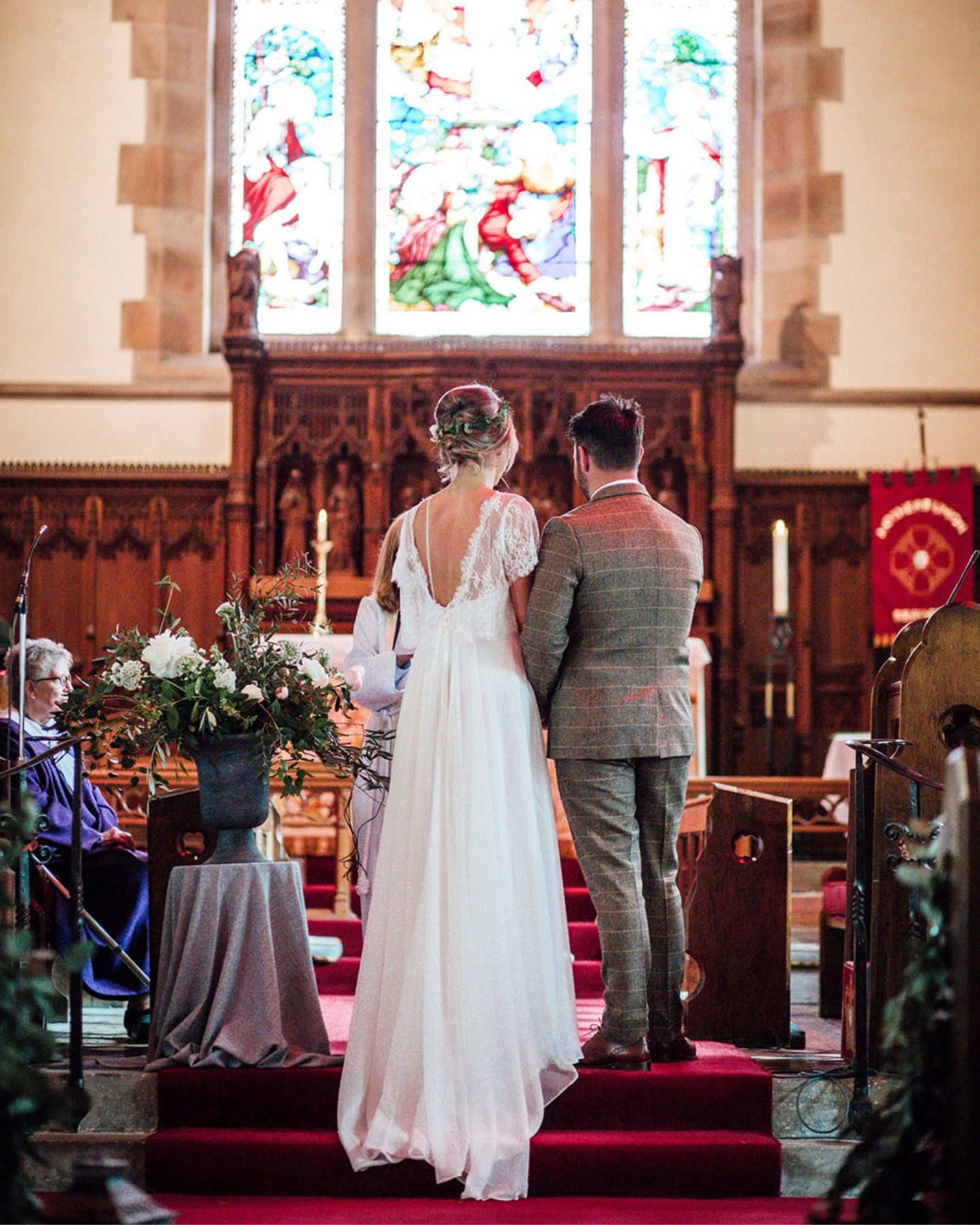 For the ultimate wedding dress inspiration, watch our video of our favourite statement gowns at boho bride or check out Bowen Dryden's alternative vintage designs here.
How did you accessorise the look?
"I don't like anything too fussy or bling, so I wanted quite a simple look for the day. I went for nude strappy shoes from Aldo (which are great because I can wear them again and again); they were super comfy!"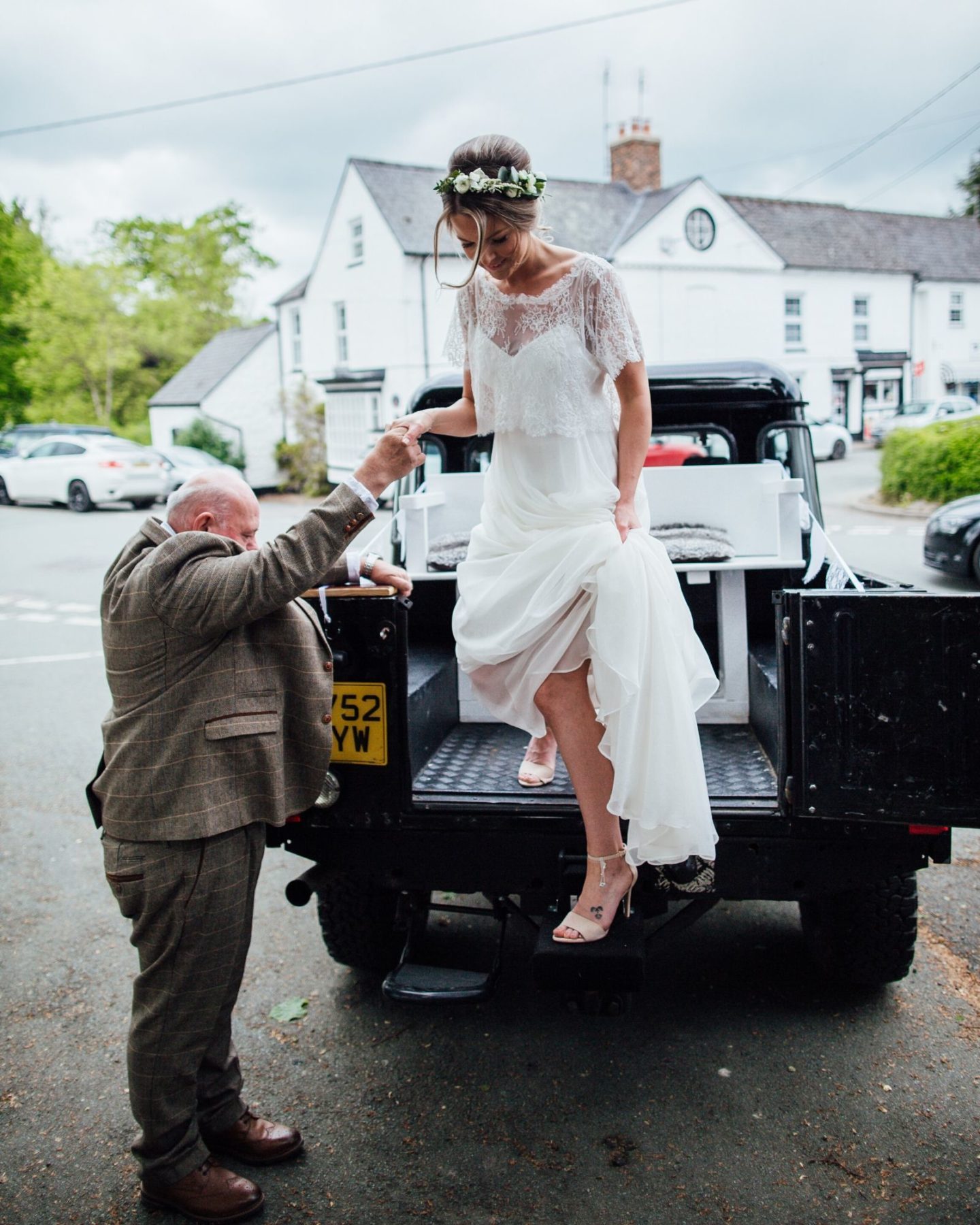 "I didn't have a veil – I opted for a flower crown instead as I really wanted that boho look and I didn't wear a necklace as it would have distracted from my lace bolero.
"For my jewellery, I went for simple and dainty pieces, so not to distract from my dress. Both my mum and Nathaniel gave me gifts on my wedding morning: a gorgeous silver bracelet and diamond stud earrings bought from the jeweller that made our wedding rings. They were really special!"
Read more: Bohemian and vintage wedding shoes you'll love!
What was your experience shopping at Boho Bride?
"I found out about Boho Bride through a colleague who was also getting married. She told me about the Freedom Collection, which sounded perfect for me as it would let me design my dress.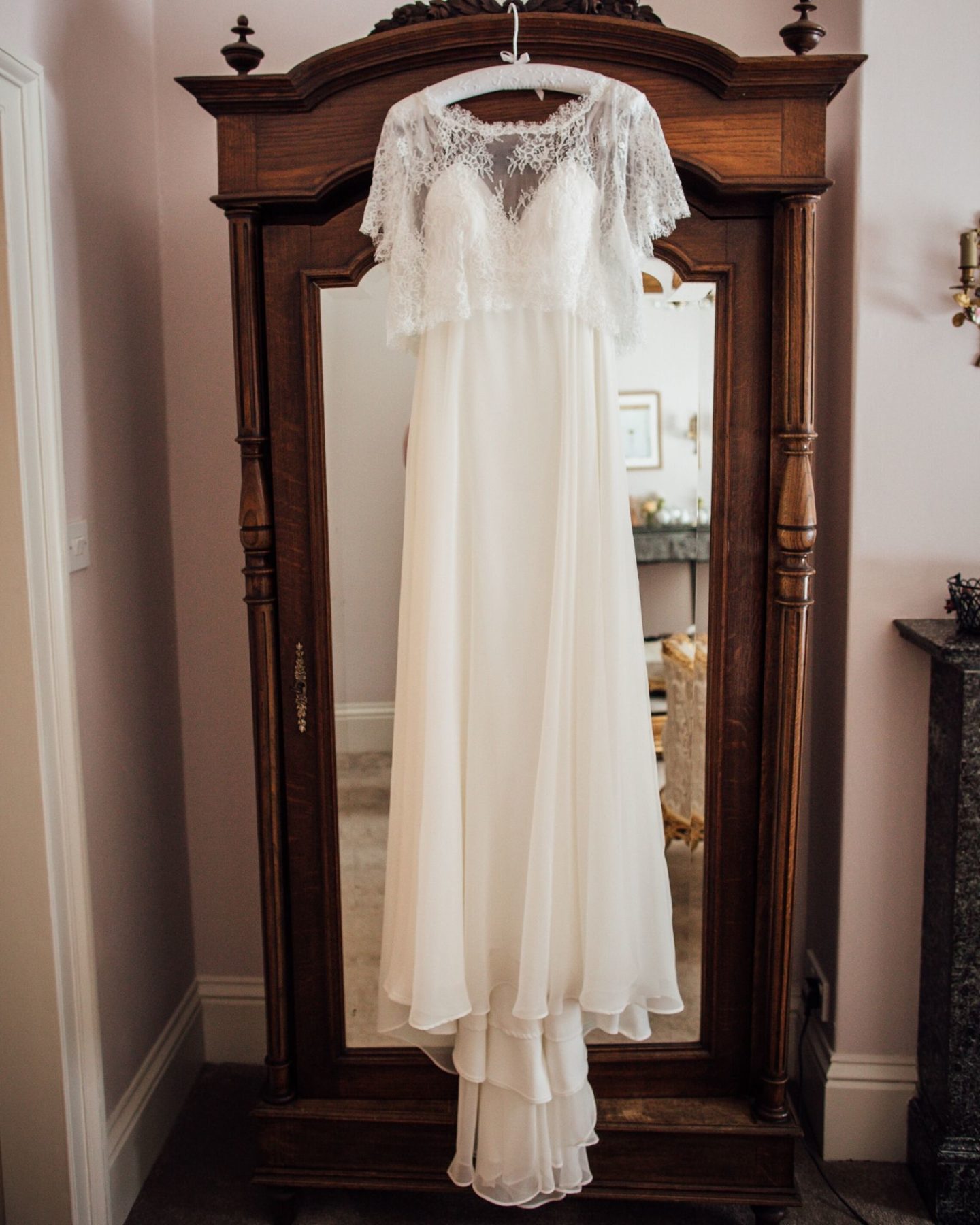 "This was the main reason I decided to book an appointment, and I never looked back! The whole experience from start to finish was so enjoyable. Lynette makes you feel so welcome at the boutique as soon as you arrive and really listens to everything you like and don't like. It was such a pleasure to work with Laura too on designing and developing my dress.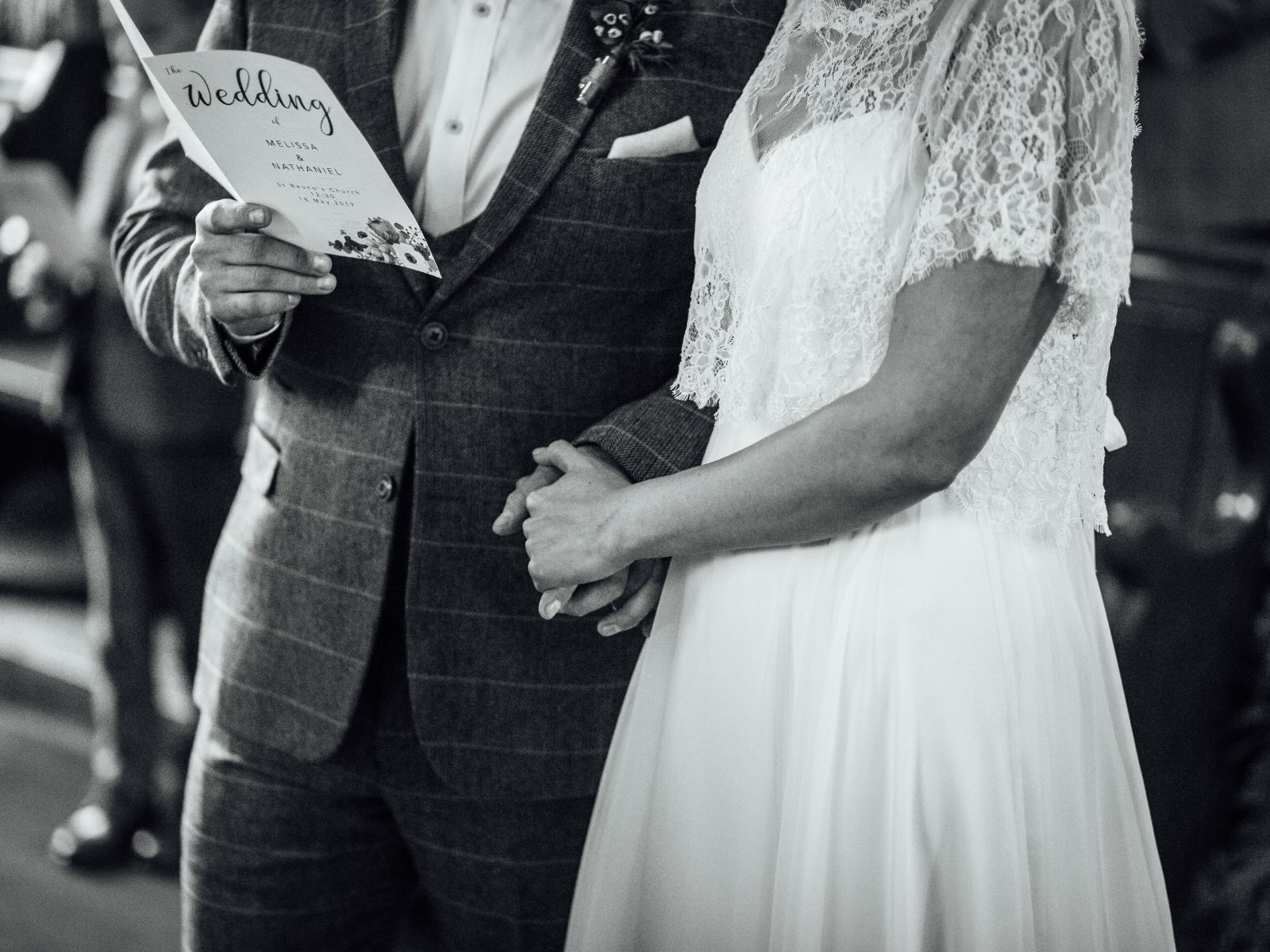 "Nothing was too much bother for them, and they really work their socks off to make sure they create your dream dress. I loved my visits to Boho Bride with my mum and will remember them forever."
Tell us about your venue
"Our venue was an exclusive hire wedding venue on the Wales/Shropshire border called Garthmyl Hall. It's a beautiful Georgian house that is owned and run by an amazing lady called Julia Pugh.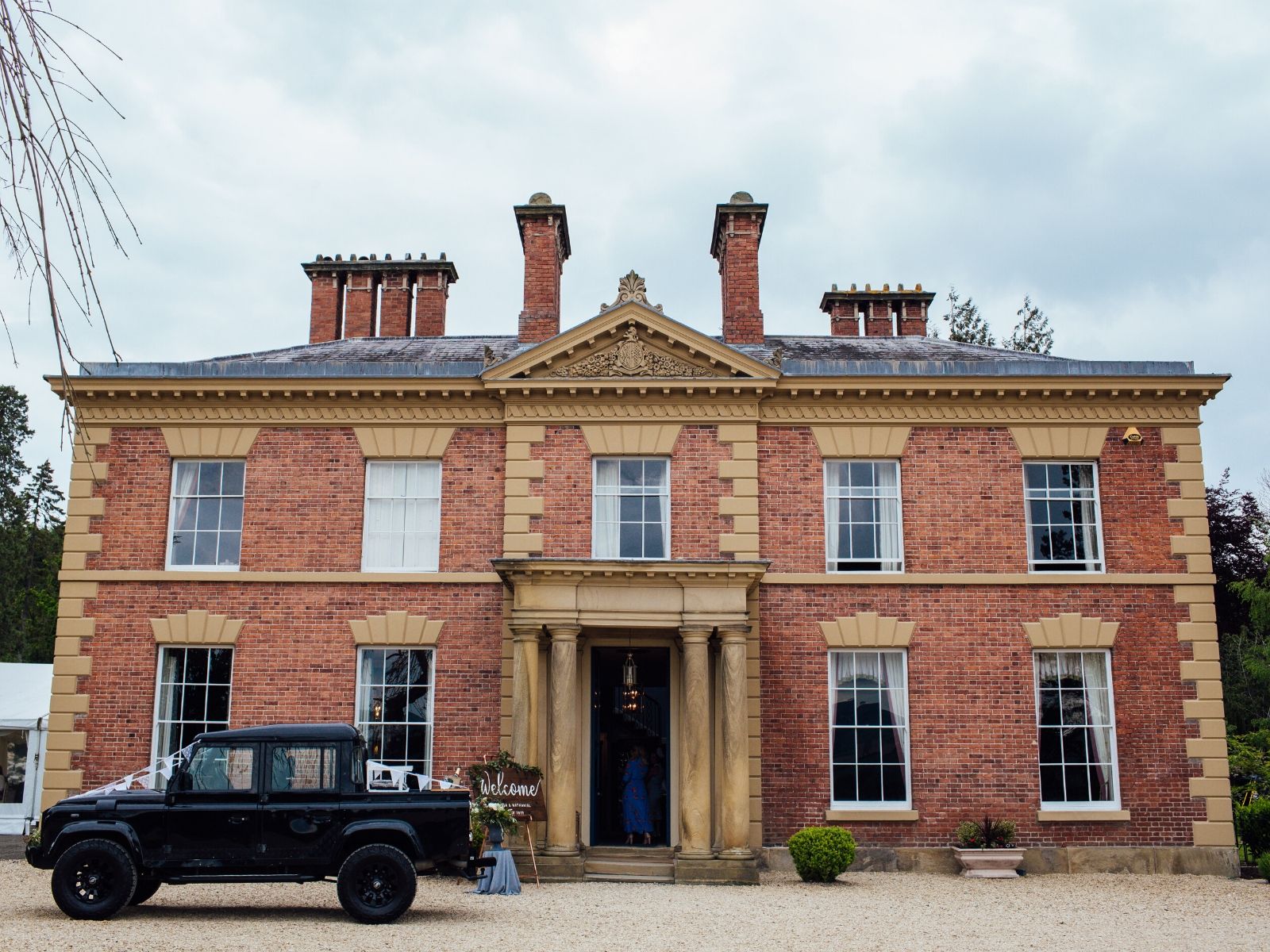 "The venue has a stunning walled garden and beautifully decorated grand rooms including 10 bedrooms and additional accommodation on-site where we stayed alongside close friends and family (and our dogs!).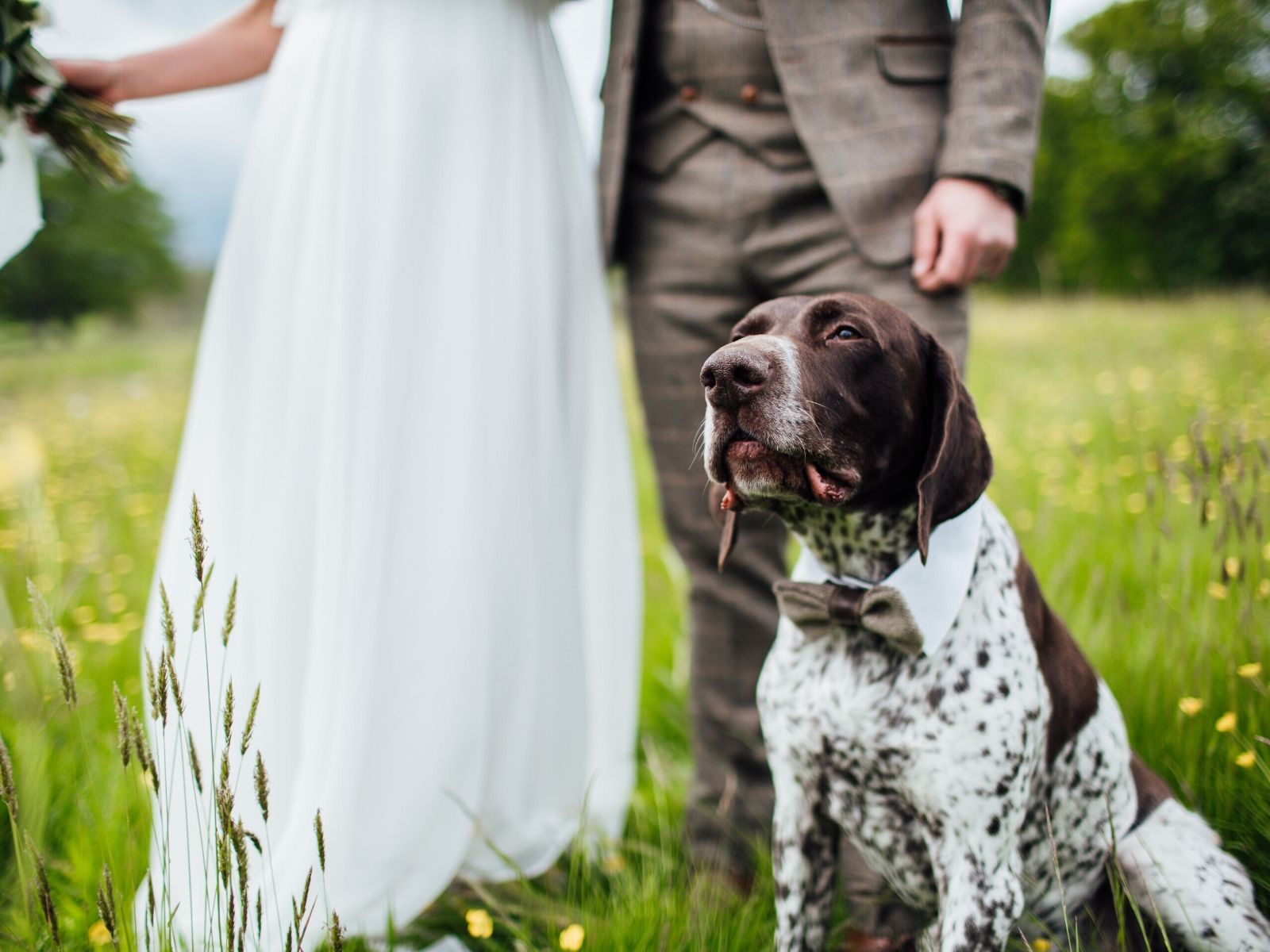 "One of our biggest priorities was choosing a venue that didn't feel like it did weddings on a 'conveyor belt'. Garthmyl Hall lets couples hire their venue out for the whole weekend, so it felt like a little holiday instead of it all being over in one day.
Did you have a theme?
"We didn't have a theme as such, but we were keen to have a boho/countryside style wedding.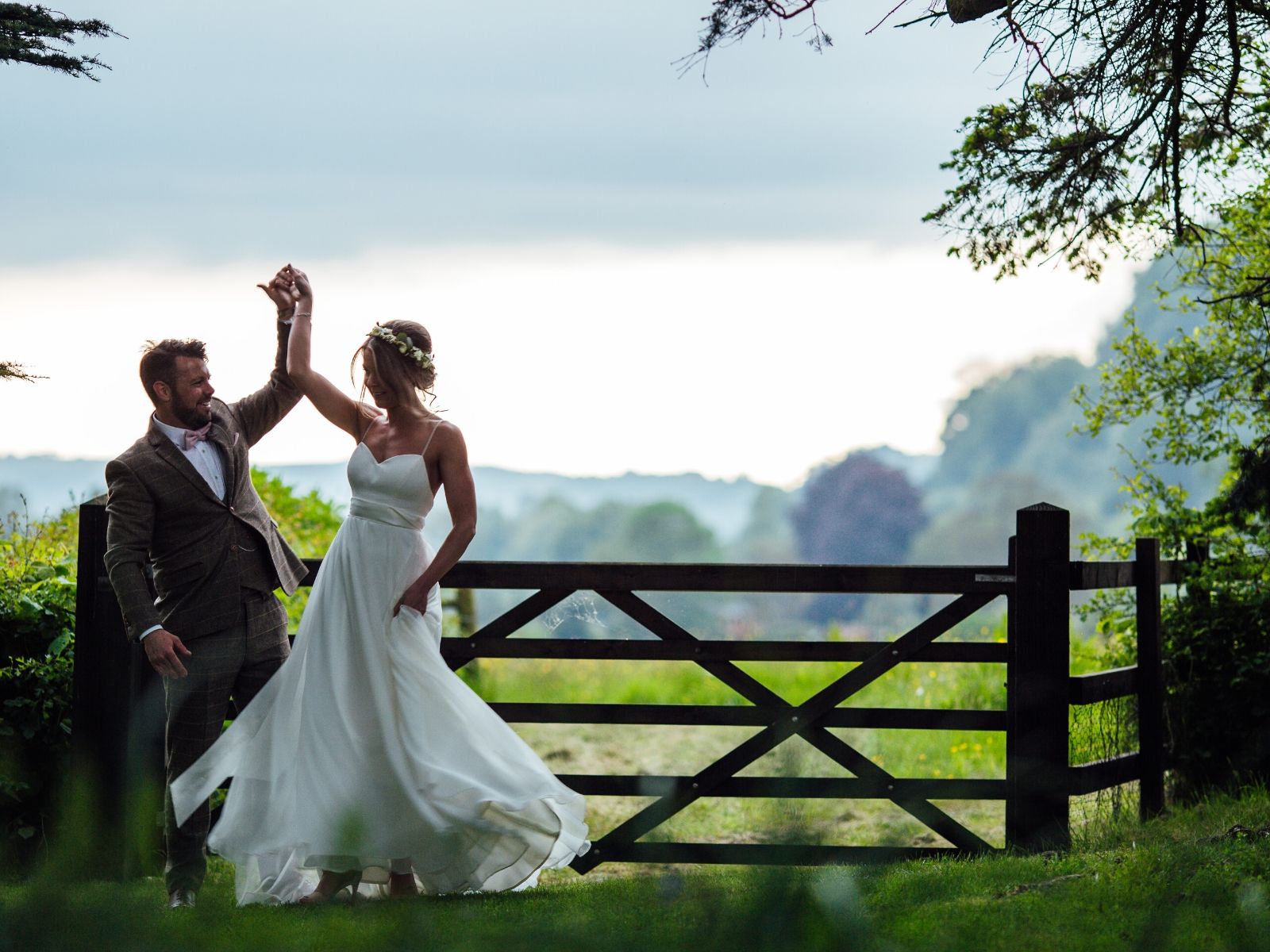 "Garthmyl let us bring our two dogs along, and our wedding car was our Land Rover Defender, so there were lots of nods throughout the day to our love of country life. The groomsmen even had shotgun cartridges for their buttonholes."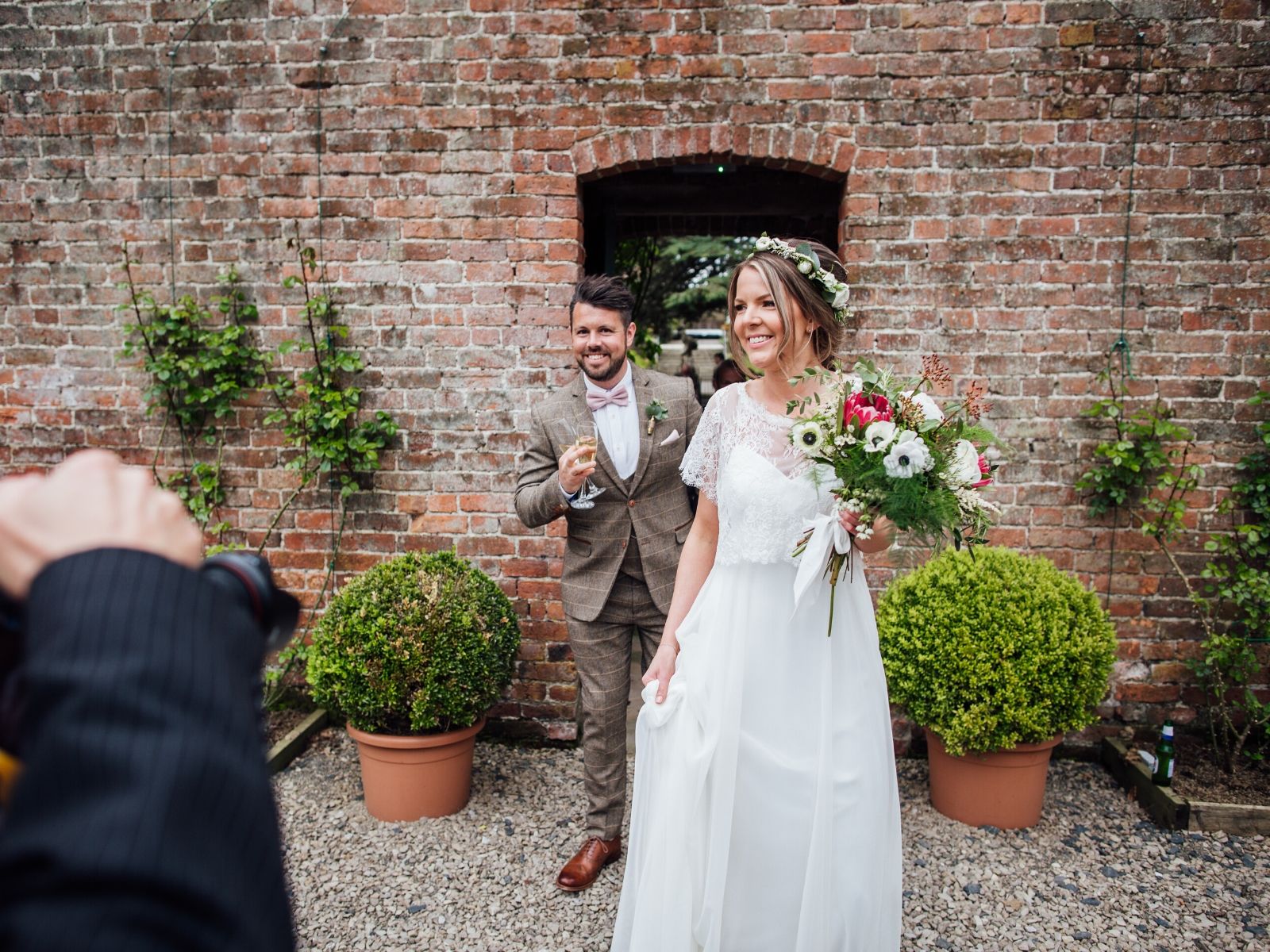 Tell us about your wedding photographer
"Our photographer, Matt Willis, was great!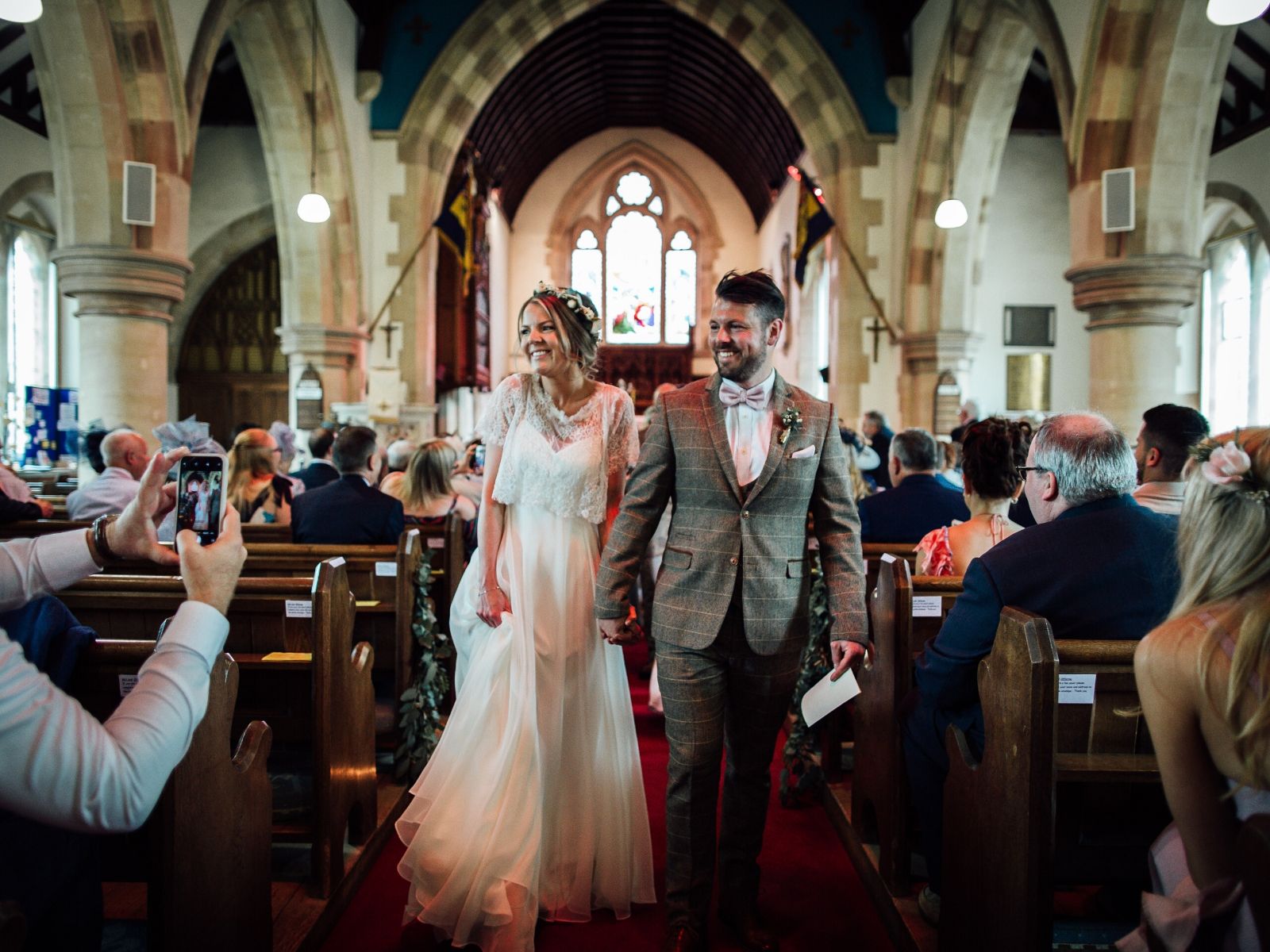 "Matt was recommended by Julia at our wedding venue. We loved Matt's relaxed and natural style and how he captured nice little un-staged moments throughout the day, and he also knew the venue well, which was a bonus!"
What hair and makeup look did you go for?
"For my hair, I opted for a relaxed and loose up-do that let my flower crown stand out, and this fit in with our relaxed boho style wedding. I am very fortunate that my best friend doubles up as a very talented hairdresser, and so Jesica did my hair for me.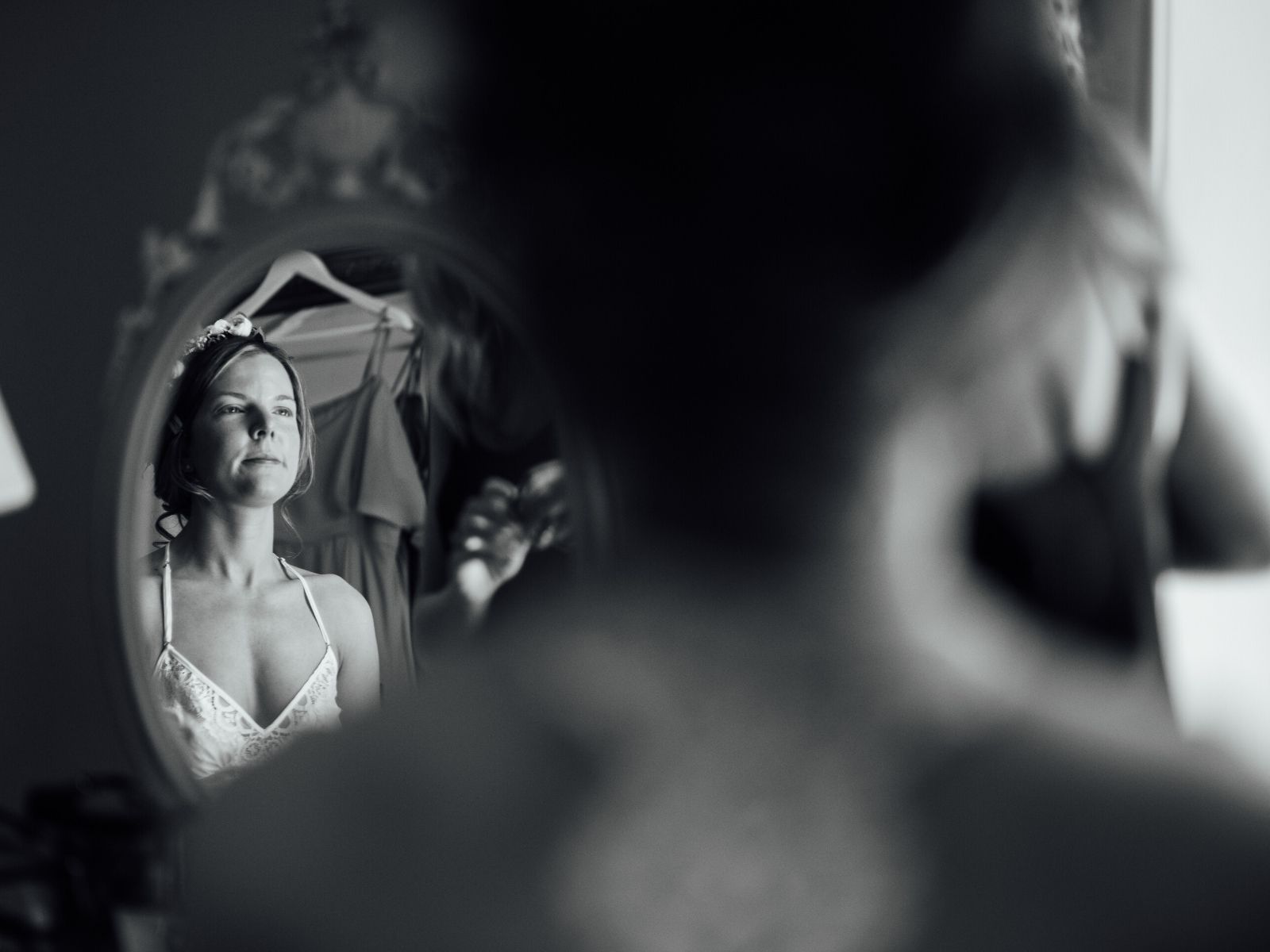 "I wanted an equally natural look for my makeup because I didn't want to feel too 'made up' and wanted to feel like myself on the day."
Tell us about your rustic flowers
"The general style we wanted for the flowers was relaxed and country garden, to match the countryside theme. I love protea, anemones and peonies, so these were a vital part of the bouquets, flower crowns and arrangements along with lots of foliage.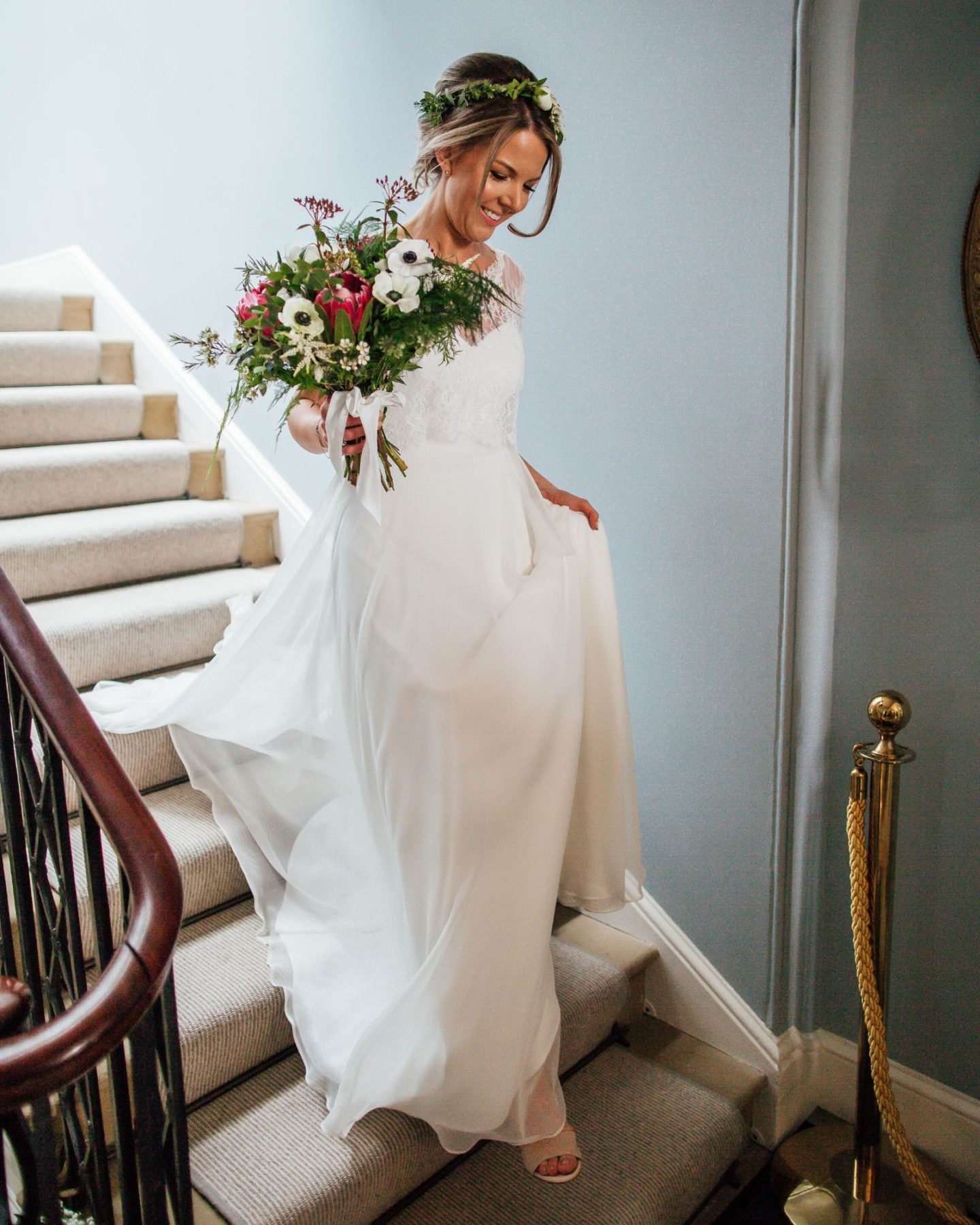 "We collected lots of gin bottles for the tables to hold beautiful relaxed blooms, and our florist made an amazing hanging plank for the marquee which was dressed with summer foliage: sweet peas, protea, clematis, viburnum and astilbe as a focal point. For the top table, we reused the small foliage aisle garlands from the church to add a bit more impact, creating a full-length garland along the table.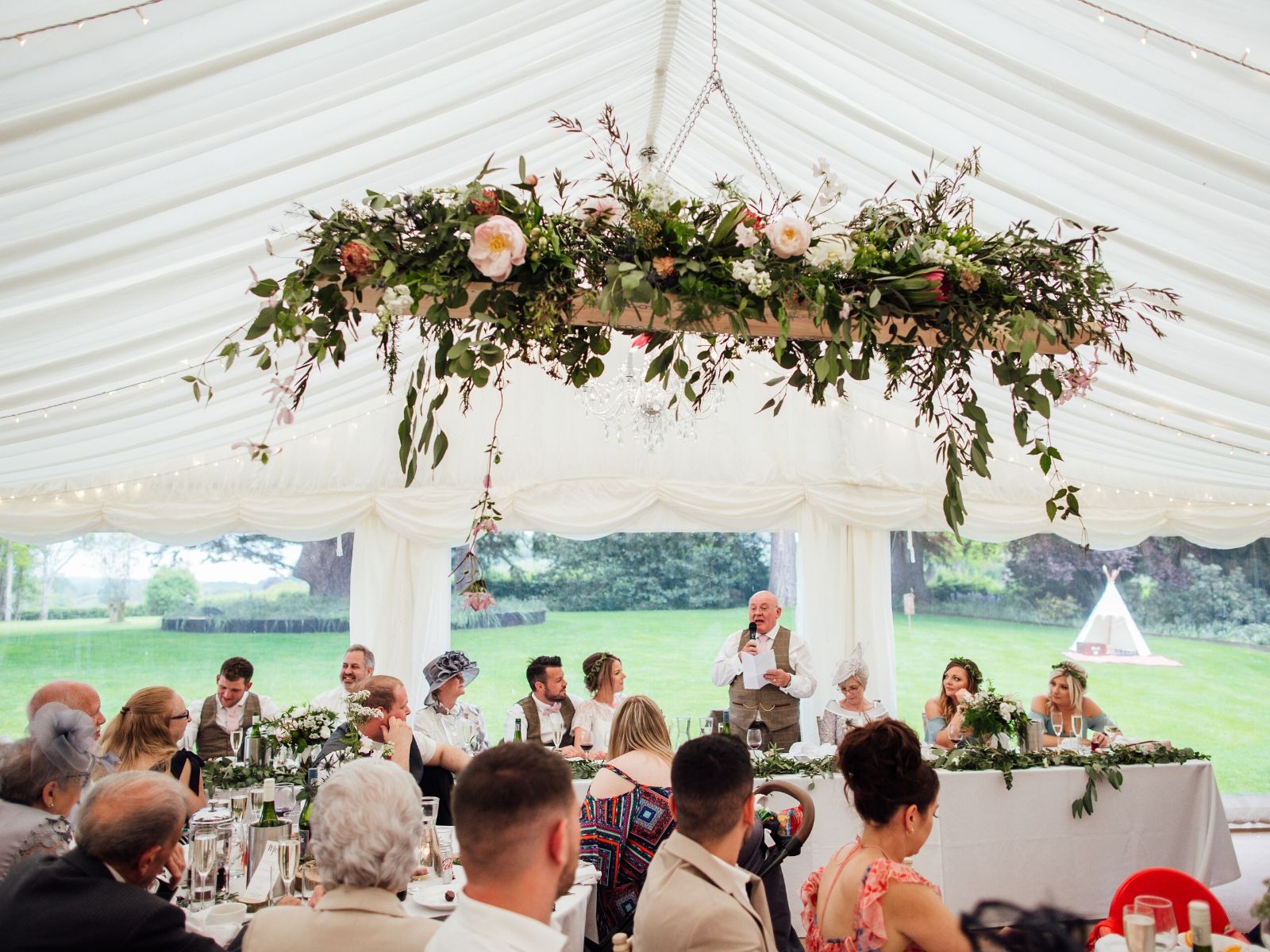 "A few days before the wedding Nathaniel and I also went to a flower market and picked up lots of extra foliage and blooms to further decorate the venue and add some finishing touches."
Did you have a cake?
"We opted for a semi-naked three-tier cake with a salted caramel drip by Buttercream and Dreams, which is run by a lovely talented lady and previous colleague of mine. Our cake was decorated with beautiful foliage and anemones and placed on top of a large wooden board that Nathaniel made.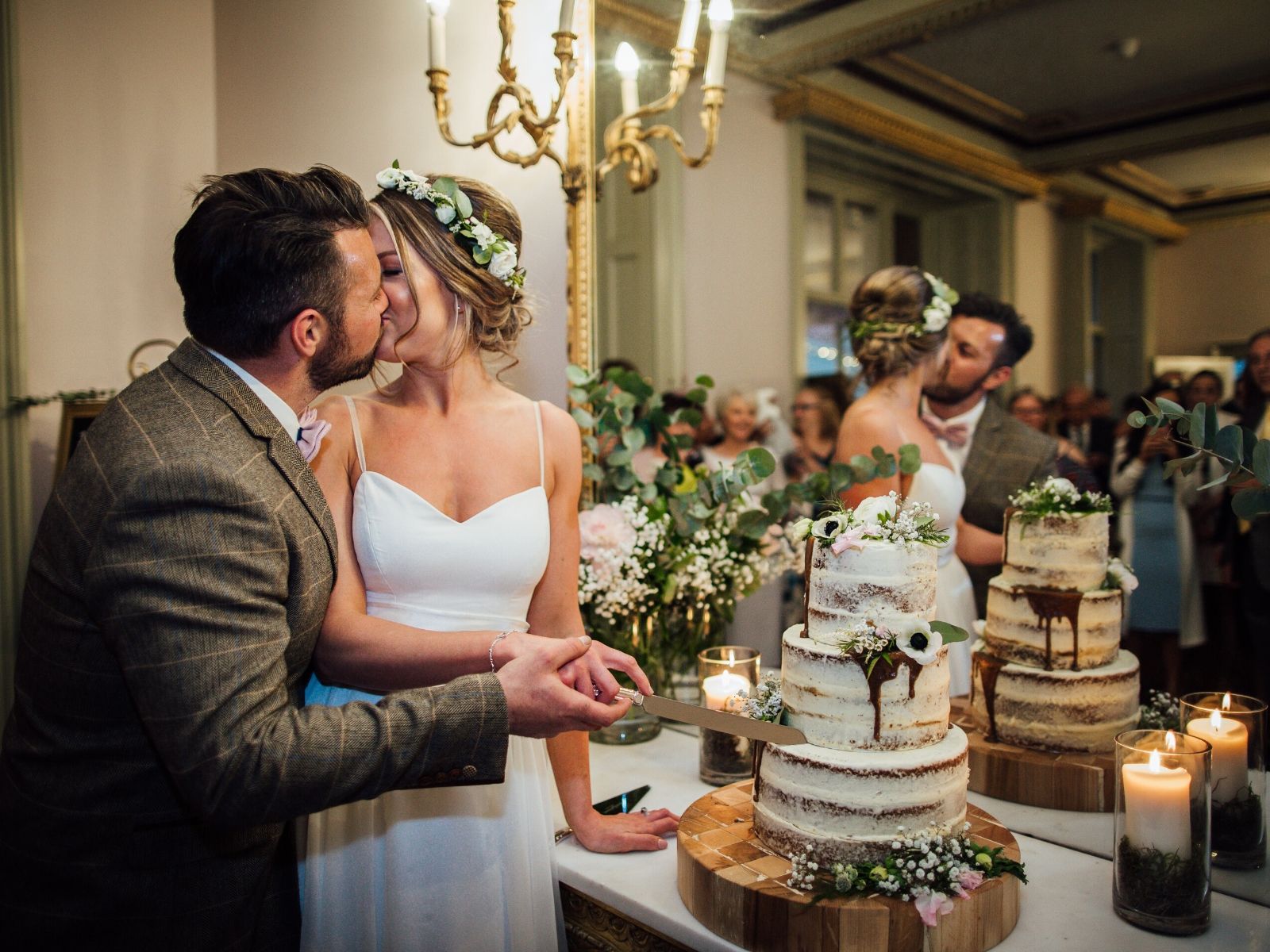 We went for the following flavours:
• Apple streusel for the top layer
• Salted caramel for the middle
• Lemon drizzle for the bottom layer
• And, carrot cake as the cutting cake"
Tell us about your bridesmaids and flower girls
"I had two bridesmaids: my maid of honour was my big sister Hannah and my other bridesmaid was Sarah – a close family friend who's like a sister to me. Their dresses were sage green/marine, relaxed maxi dresses with floaty sleeves. I got them from Rewritten.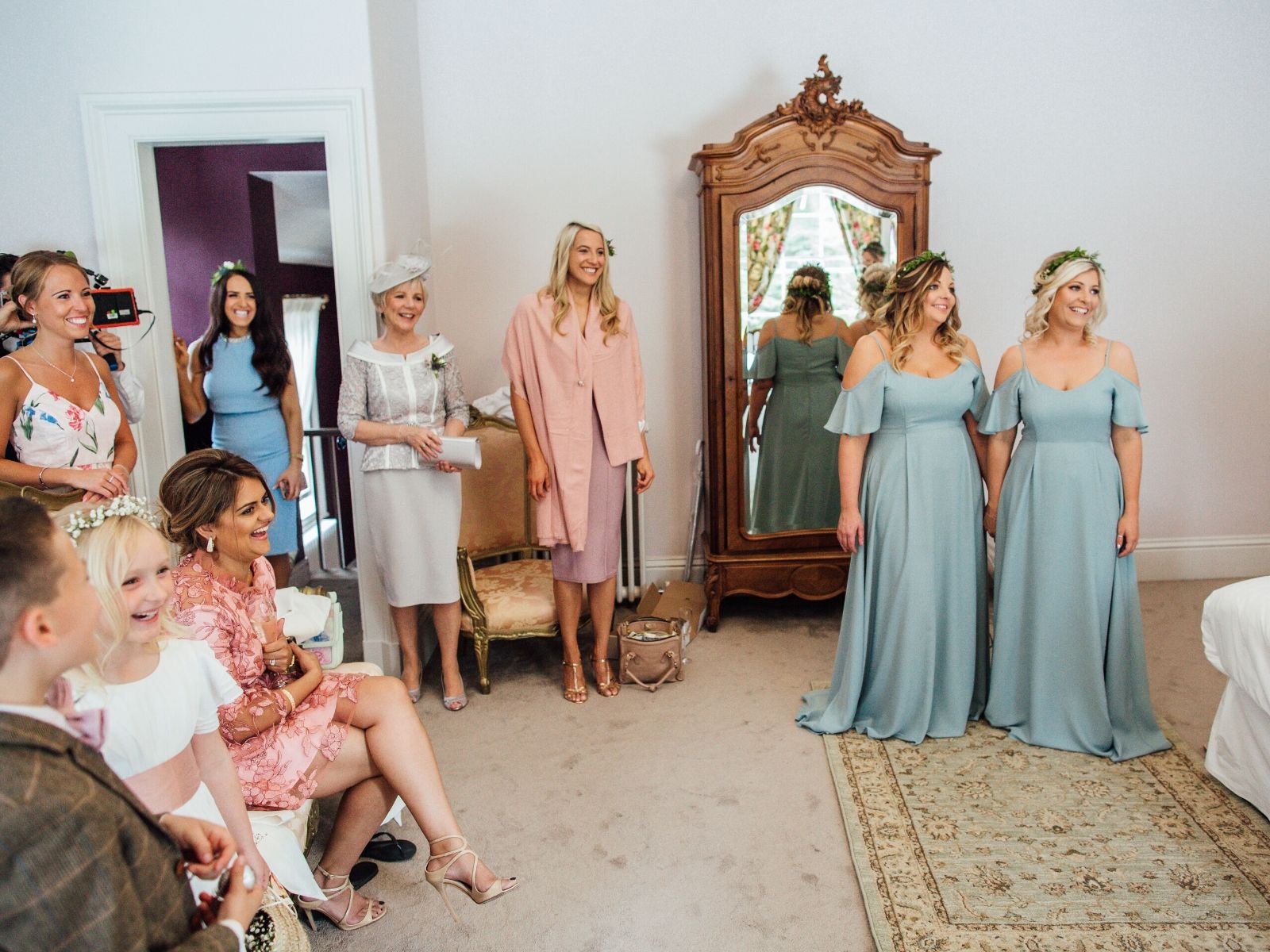 "I also had two flower girls: my goddaughter Madison and Nathaniel's goddaughter Decla. They wore little white dresses which we finished off with pink sashes made by my mum."
Want your flower girl dresses made bespoke? We can do that! Check out the bespoke flower girl dresses we did for Boho Bride Jeanie.
Tell us about your transport
"Our transport to the church was our own Land Rover Defender, which was dressed with a gorgeous flower arrangement along the front grill and white bunting.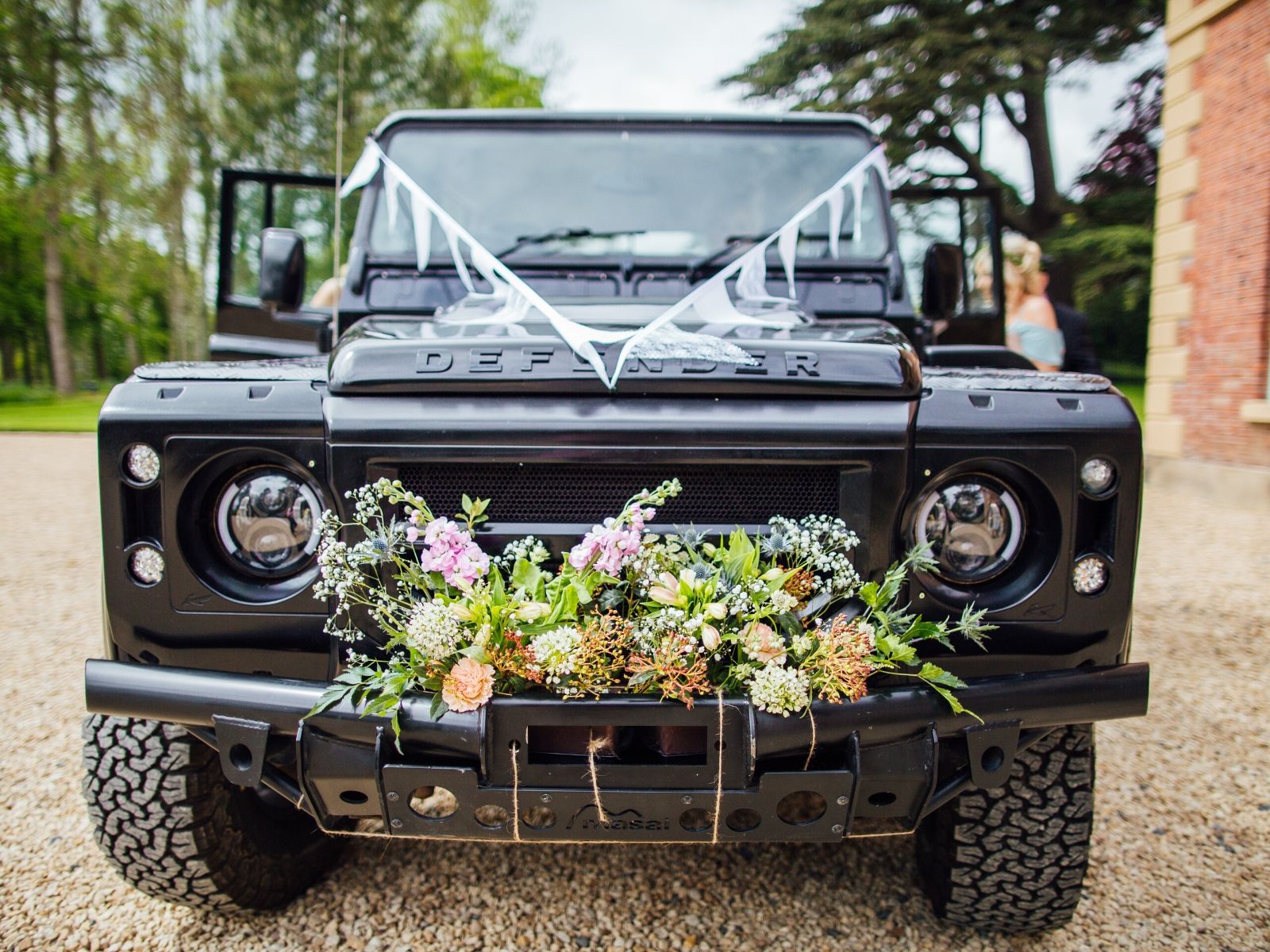 "Nathaniel made a bench with a champagne ice bucket holder for the back so we could travel to and from the church in the open air. We choose this style of transport to echo our love of country life."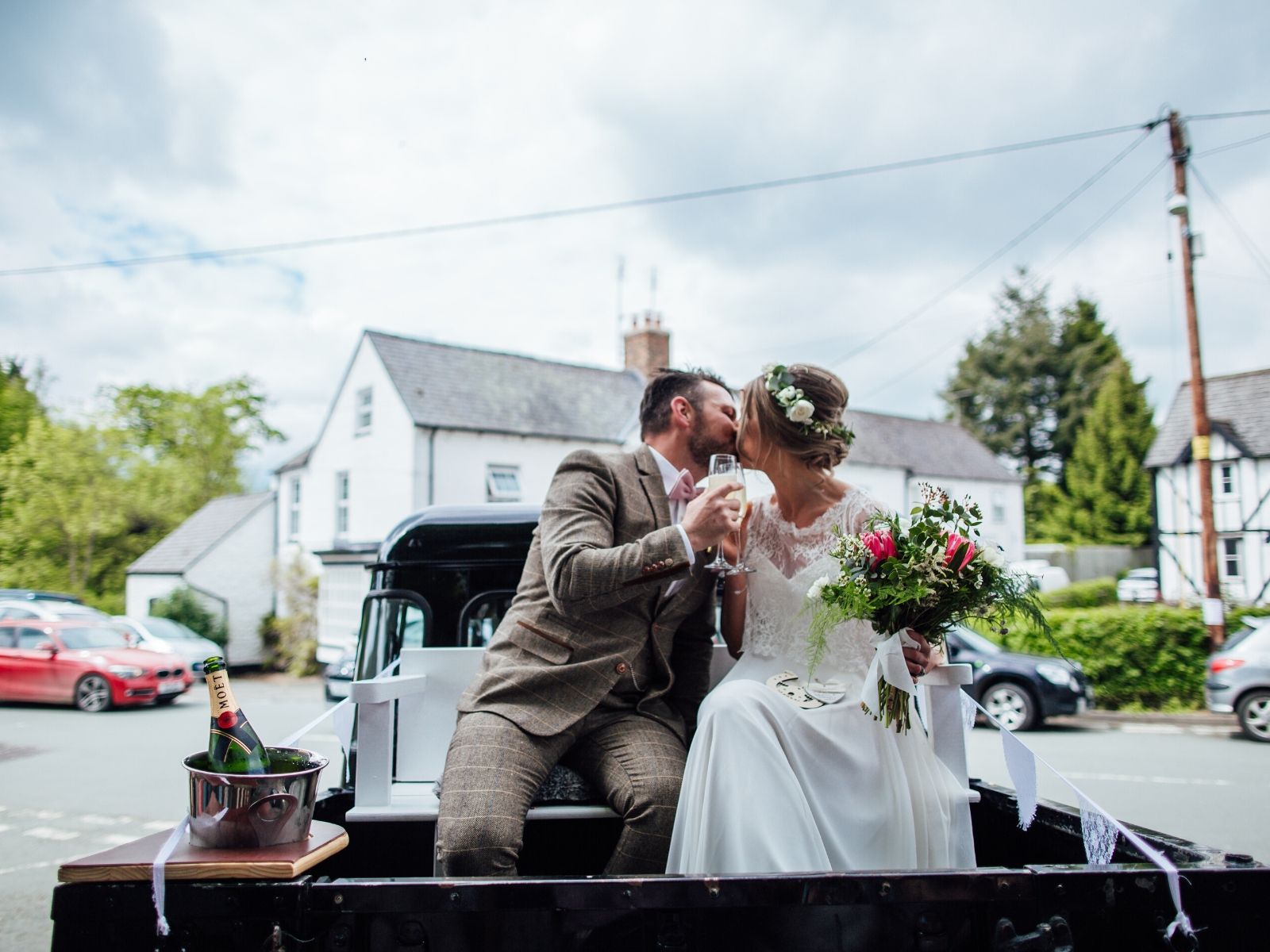 Read more: Striking Summer Wedding Dresses at Boho Bride
Where did you get your wedding stationery?
"Our lovely friend Lauren designed our wedding invites for us. She designed them to match our flower theme with gorgeous protea, anemones and foliage.
"I designed our menus and order of service myself as well as all of our signage. Nathaniel then bought the signage to life and made them all himself from scratch, including our table plan and welcome sign. He even made the easel for our welcome sign.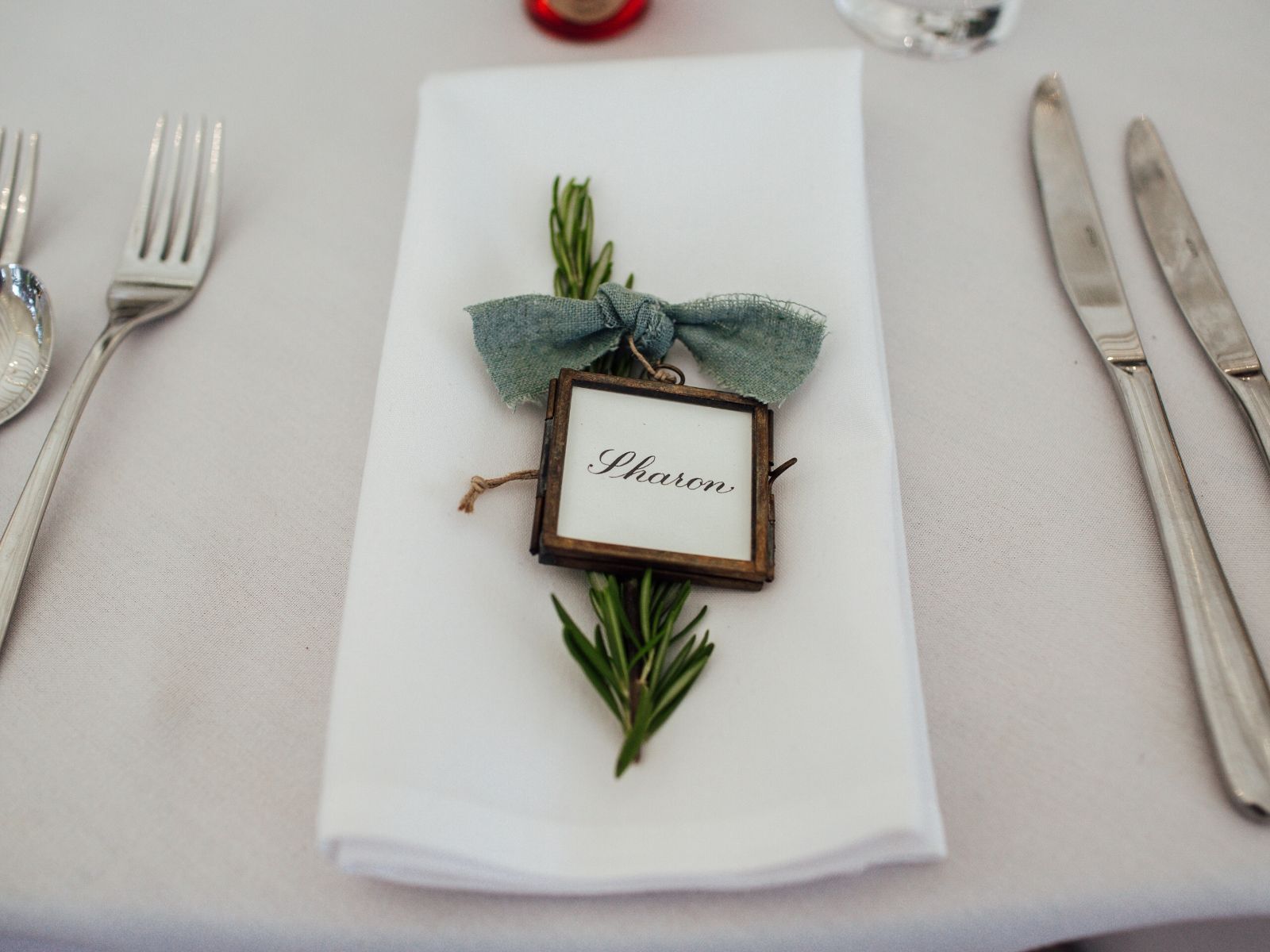 "For our table place names, we had little brass frames, and all of the names were handwritten by my Auntie Helen, who is very talented at calligraphy."
What entertainment did you have for your guests?
"When people arrived for drinks and canapés, we had a very talented musician, Esther Turner, play in the walled garden. I discovered Esther on a night out and loved the way she remixed songs both new and old, making them her own.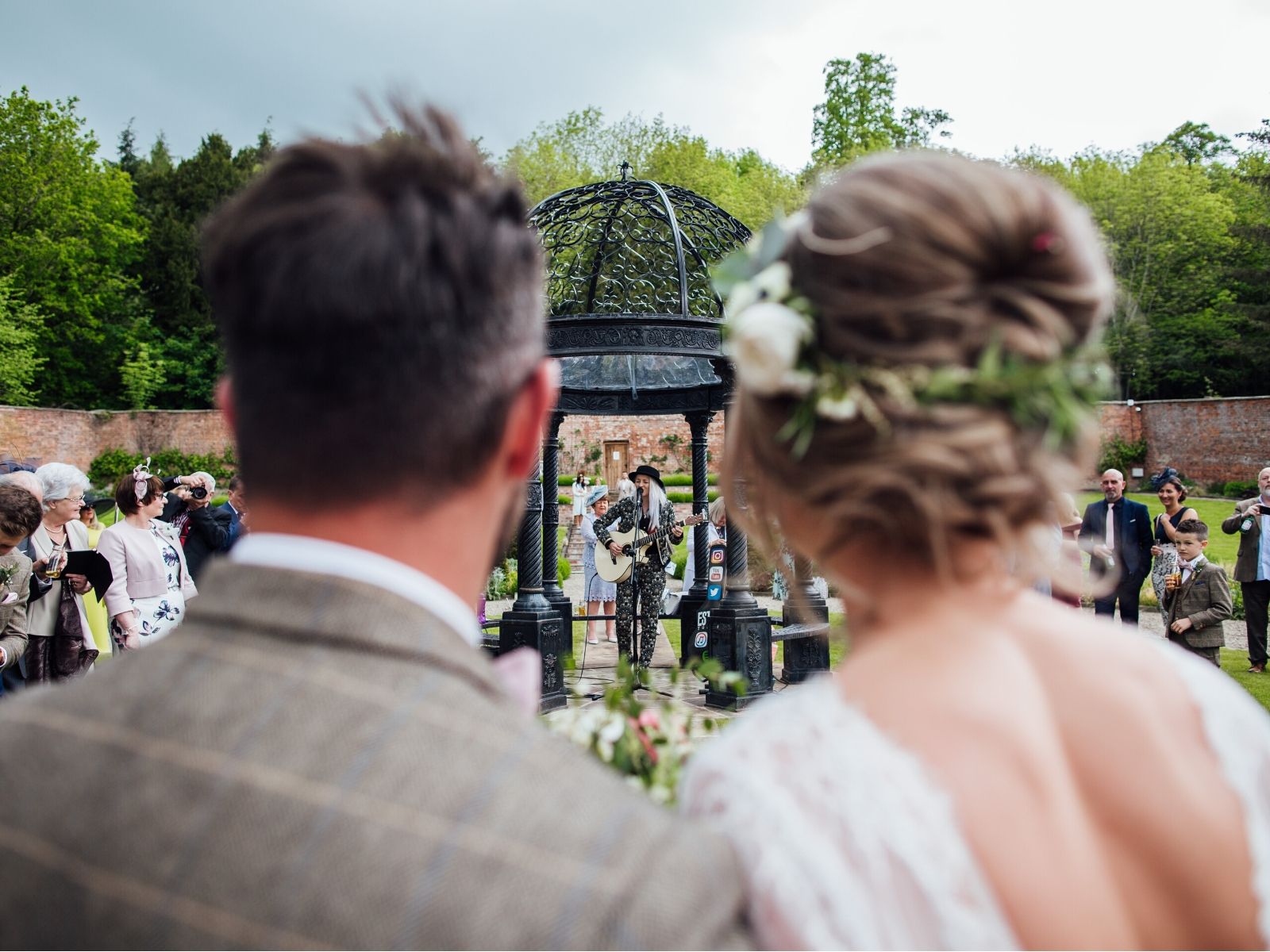 "One of the highlights of our day was when my dad announced that he had written a song with her which she then went on to play. There wasn't a dry eye in the house!
"In the evening we had a live band called The Perfect Day Party Band who got everyone on the dancefloor!"
What was the most memorable moment of your big day?
"It's so hard to pick one memorable moment as the whole day was so magical. From travelling to the church in the back of the Defender with my dad and walking down the aisle and saying 'I do', to being surprised with a song that my dad wrote for us, our first dance as husband and wife, and partying the night away with our friends and family.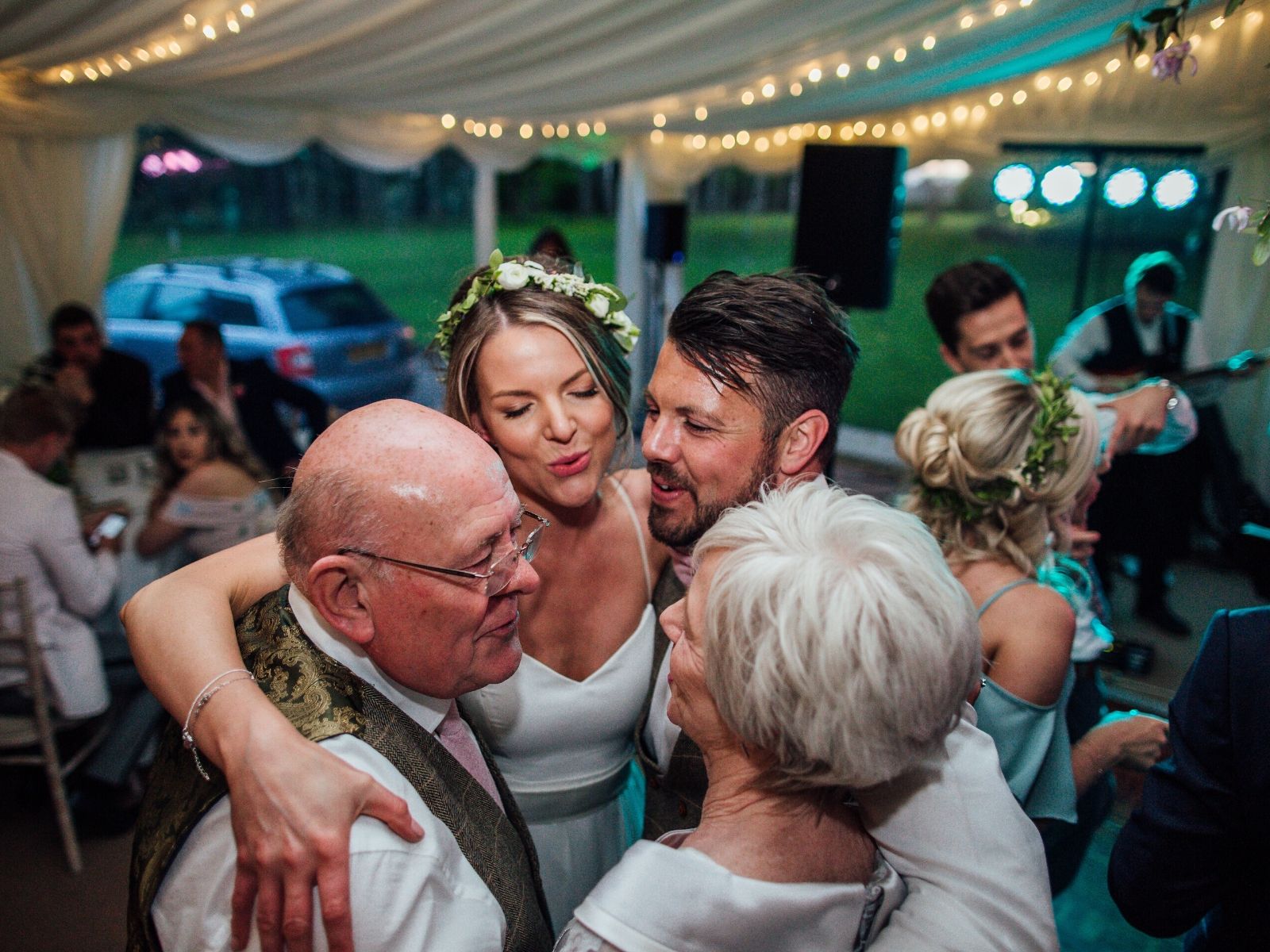 "It was all so amazing and a day we will never forget."
What's your wedding advice for those just about to have theirs?
"Don't sweat the small stuff and make sure you enjoy your day; you spend so much money on your wedding, so make the most out of it!
"And, enjoy the process. When you're in the midst of it, it can seem pretty stressful, but now it's all over I miss all the planning and shopping!"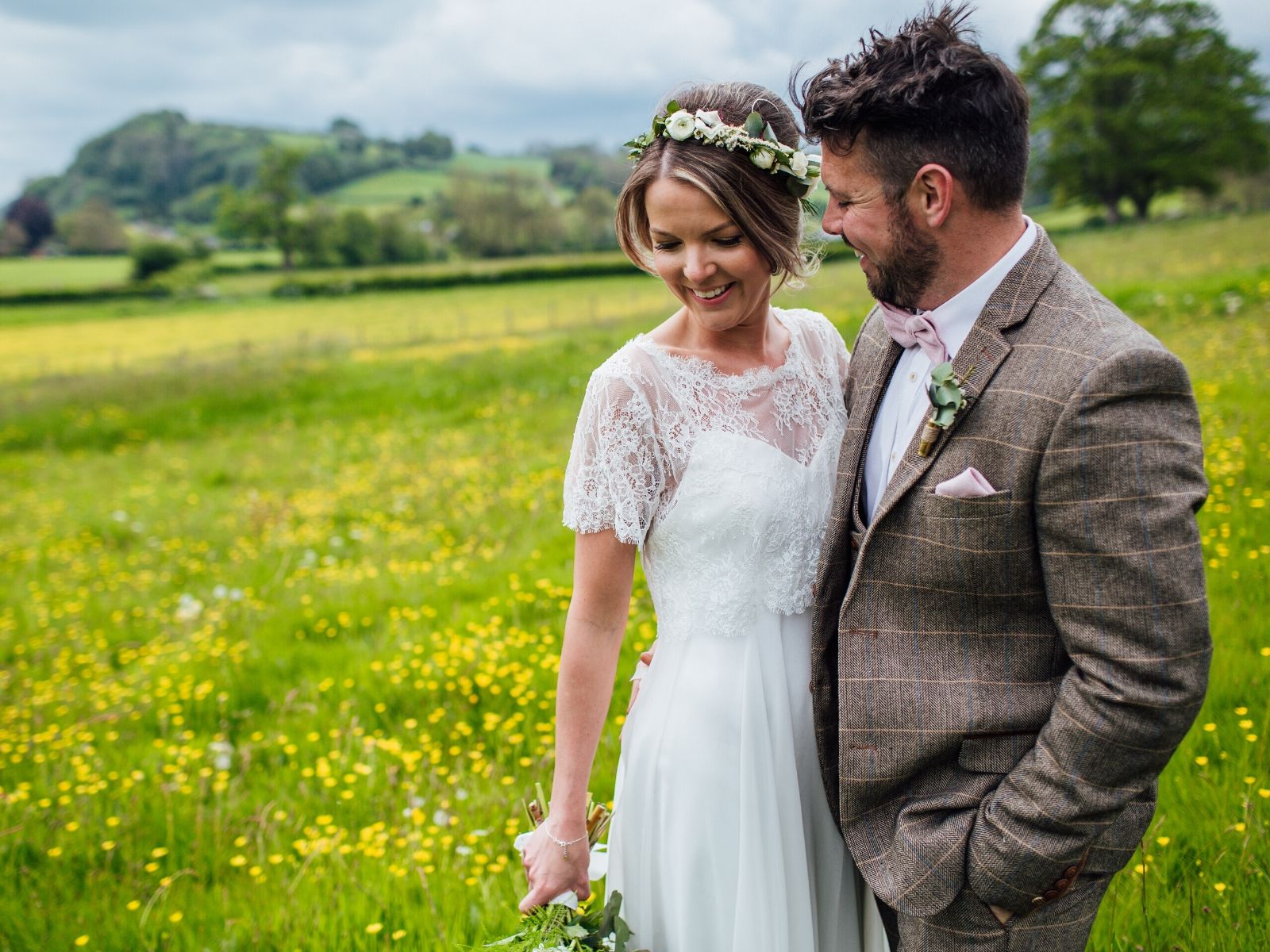 The Dream Team:
Venue: Garthmyl Hall
Photographer: Matt Willis Photography
Flowers and flower crown: Ivy Pip & Rose
Day Caterers: AtoZest
Evening Caterers: The Wildfire Pizza Company Ltd
Cake: Buttercream and Dreams
Day Singer: Esther Turner
Band: Perfect Day Party Band
Transport: Own Land Rover Defender
Bridesmaid dresses: Rewritten
Groom's suit: Marc Darcy
Bride's hair: Jesica Marwaha
Bridesmaid and MOTB hair: Hair by Emmie
Makeup: Jessica Jackson
Bride's shoes: Aldo
Want more from our relaxed and alternative boho brides? See our Facebook reviews here or check out Aimee's tipi wedding and Boho Bride Harriet's relaxed garden party wedding.